Home > Choosing a Motherboard > B550 vs X570
B550 vs X570 Differences: Choosing the Right AMD Motherboard for Ryzen 5, 7, 9
Are the Extra Features of X570 Worth It? Why Does B550 Sometimes Cost More?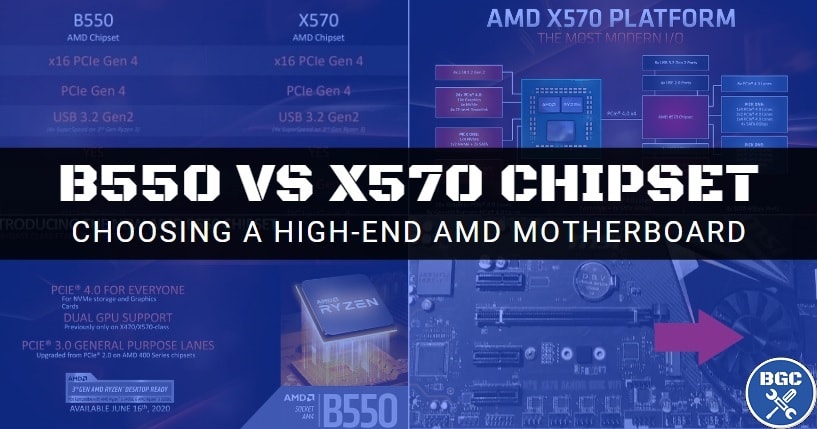 It can be a confusing choice, but we'll break it down in simple terms for anyone to understand
Last Updated: January 12, 2023
With the release of AMD's mid-range B550 motherboard chipset, choosing the right AMD motherboard for a new gaming or workstation computer became more confusing than it already was in the first place, with the B550 range offering both cheap budget models and high-end options priced well into X570 territory. 
Here we'll simplify the X570 vs B550 decision by looking at the main differences between these two cutting-edge AMD chipsets, and what they actually mean to you in practice as a gamer or power user. After reading you'll hopefully find it much easier to choose the best motherboard for a Ryzen 5000 or Ryzen 3000 build.
The new B550 chipset not only competes with its lower-cost predecessor (B450) but also with the high-end enthusiast X570 chipset, as many B550 boards are priced around the same or higher than cheaper X570 models. There are certain differences between the two chipsets which we'll get to below, but if you're strapped for time and just want the overall gist of B550 vs X570, in general either chipset is just fine for building a great modern AMD gaming/work PC, even if using the fastest AMD CPUs on the market like a Ryzen 7 or 9. 
Building a Budget PC? B550 vs B450
For most, since the chipsets are similar overall, choosing between B550 and X570 comes down to comparing specific models and what they offer for the price. However, for certain users, the actual chipset differences may be a factor. X570 is the slightly more advanced, flexible platform, but its benefits over the B550 chipset (which some call a watered-down X570) aren't huge, and only really benefit more advanced power users (non gamers) who want to either:

Run multiple next-gen PCIe Gen4 SSDs (PCIe Gen 4 is not important for gaming)

Connect a higher than average amount of storage drives (X570 generally have more SATA ports)

Do extreme CPU overclocking (X570 has the best high-end VRMs)

Have access to extreme networking speeds (ie 5G or 10G LAN ports)

Run multiple GPUs for high-end workstation purposes
Simply put, if you have to ask whether or not X570 is worth it, or if you're building a PC mainly for gaming, chances are you won't have much (if any) need for X570, and should probably just buy a B550 and save that money for other components like your CPU or GPU. Oh, and keep in mind if you're building with a Ryzen 5000 CPU like the 5600X, 5800X, 5900X, or 5950X, no matter whether you buy X570 or B550 there is a chance you may need to update the BIOS for Ryzen 5000 to work. It's easy to do, especially if you buy a board that has a BIOS flash button that allows you to update the BIOS without needing to have a CPU installed. 
Eventually, and perhaps even by the time you read this, all/most B550 and X570 models should come already shipped with an updated BIOS that will boot up with Ryzen 5000 out of the box, and therefore you won't need to update the BIOS yourself. But for now in early 2021, keep in mind you may still need to update the BIOS. Anyway, if you want to know all the differences between B550 and X570 and what they mean in practical terms with the complex jargon and enthusiast speak toned down to a minimum, let's break it all down.
B550 vs X570 Prices (General Comparison)
First let's look at the pricing overlap of B550 compared to X570 motherboards, showing the former sometimes being more expensive than the latter. In other words, certain B550 models will set you back more money than some X570 models, hence the confusion surrounding X570 vs B550.
The old simple rationale of "buy B450 if on a budget" and "buy X570 for high end builds"? B550 has crashed that party, with B550 models ranging from under $100 all the way up to $300, meaning that B550 can make sense for either budget builders or performance-perfectionist enthusiasts. To exemplify the now more-muddled landscape of AMD motherboards, here are the more expensive/premium B550 motherboards over $150 US which square off against X570 competition.
Note: Prices are just estimates at the time of writing.
Premium B550 Models vs Budget X570 Models
B550
Launch MSRP (USD)
Similar-Priced X570
Current Price Estimate (USD)
ASRock
ASRock B550M Steel Legend
$154.99
ASRock X570 Phantom Gaming 4S
~ $140
ASRock B550 Steel Legend
$179.99
ASRock X570 Phantom Gaming 4
~ $170
ASRock B550 Extreme 4
$184.99
ASRock X570M Pro4
~ $185
ASRock B550 Phantom Gaming-ITX/ax
$199.99
ASRock X570 Steel Legend
~ $200
ASRock B550 PG Velocita
$219.99
ASRock B550 Taichi
$299.99
ASRock X570 Taichi
~ $300
ASUS
ASUS TUF Gaming B550M-Plus
$159.99
ASUS Prime X570-P
~ $160
ASUS TUF Gaming B550-PLUS
$169.99
ASUS TUF Gaming X570-Plus
~ $165
ASUS TUF Gaming B550M-Plus WiFi
$179.99
ASUS ROG STRIX B550-F Gaming
$189.99
ASUS TUF Gaming X570-Plus (Wi-Fi)
~ $190
ASUS ROG STRIX B550-F Gaming WiFi
$209.99
ASUS Prime X570-Pro
~ $244
ASUS ROG STRIX B550-E Gaming
$279.99
Gigabyte
Gigabyte B550 Aorus Pro
$179.99
Gigabyte X570 Gaming X
~ $170
Gigabyte B550 Aorus Pro AC
$189.99
Gigabyte X570 Aorus Elite
~ $200
Gigabyte B550 Vision D
$260.99
Gigabyte X570 Aorus Pro WIFI
~ $260
Gigabyte B550 Aorus Master
$279.99
Gigabyte X570 Aorus Ultra
~ $300
MSI
MSI MAG B550 Tomahawk
$179.99
MSI X570-A Pro
~ $160
MPG B550 Gaming Edge WiFi
$189.99
MSI MPG X570 Gaming Plus
~ $170
MSI MPG B550I Gaming Edge WiFi
$199.99
MSI MPG X570 Gaming Edge WIFI
~ $210
MSI MPG B550 Gaming Carbon WiFi
$219.99
MSI MAG X570 Tomahawk WIFI
~ $235
Remember this isn't a complete list of X570 and B550 models out there, simply a collection of some popular models that are priced around the $150 to $300 range (where the B550 vs X570 debate applies). And please note the X570 prices are just mere estimates of what you can expect to pay on the market right now. But yeah, the overlap in pricing between B550 and X570 boards is confusing, and the now common question of whether you should buy a B550 or X570 motherboard is a legitimately good one. As already mentioned, and as is par for the course when it comes to almost any tech purchase, the answer is those same 2 immortal words: it depends.
Differences Between the B550 and X570 Chipset
Due to the price overlaps of B550 and X570 models, choosing between them is largely a matter of comparing specific models for their price, features, and quality, etc. Many general consumers will automatically assume that X570 is better than B550 though, based on previous chipset generations where there was a clear separation of budget and high-end chipsets (B450 and X570 for instance). But is their assumption correct?
Technically, X570 is the slightly superior chipset, and can offer more overall features, connectivity, and flexibility than a B550 can. That doesn't mean you should buy an X570 over a B550 though, as "high-end" B550 boards can be just as (if not better) than a competing X570. Besides, a good B550 can offer absolutely everything you'd ever need; X570 boards aren't going to offer tangible benefits to most users. If you're curious about the advantages of buying a X570, these are the overall technical differences between the B550 and X570 chipsets:
X570 Supports Dual PCIe 4.0 M.2 Slots: B550 motherboards can support multiple M.2 SSDs, but only one of those slots will be PCIe 4.0 compatible (with just one exception; the Gigabyte B550 Aorus Master does have dual PCIe 4.0 M.2 slots) with the 2nd slot running up to PCIe 3.0 speeds. Certain X570 motherboards do have dual PCIe 4.0 M.2 slots, but this is an extreme feature that's unnecessary for the majority as the chances you'll be buying a single PCIe Gen4 SSD is quite low these days due to cost (let alone buying 2).
X570 Supports Multiple PCIe 4.0 PCIe Slots: On both X570 and B550, the main PCIe x16 slot (full length slot for graphics cards) does support PCIe 4.0. But with secondary PCIe slots, whether full-length x16 slots (for GPU) or smaller x8/x4/x1 slots (for expansion cards), those will be PCIe 3.0 on B550 boards but may be PCIe 4.0 on X570 (depending on the model). Not a biggie as not many people use these extra slots anyway, nor run devices that would benefit from PCIe Gen4 in the first place.


X570 Has More PCIe 4.0 Lanes: Not to be confused with the PCIe slots to connect SSDs and GPUs/other cards, X570 has more PCIe 4.0 lanes (as in, connections) available on the CPU, and also uses PCIe 4.0 lanes to link the CPU and the chipset (on B550 this chipset link uses PCIe 3.0 lanes). This essentially means X570 has faster and more flexible Input/Output with multiple connected devices. If you're more advanced and wondering how many more PCIe 4.0 lanes X570 gives you (say if building a SLI/NVLink PC build where lanes can be important), a 3rd gen Ryzen 3000 CPU gives you 24 PCIe 4.0 lanes on the CPU and with a X570 all 24 can be used (16 for GPU, 4 for storage, 4 for chipset link) while 20 can be used with a B550 (16 for GPU, 4 for storage).


X570 Can Support 5G and 10G LAN:

B550 motherboards only have 1G or 2.5G LAN ports, whereas some X570 boards can include insanely-fast 5G and/or 10G LAN ports. Not an issue for most people though, as 1G LAN is more than fast enough for the majority of situations (gaming included).



X570 Supports Ryzen 3000 Series APUs:

B550 motherboards do not support the most recent AMD APUs (Ryzen 3 3200G and Ryzen 5 3400G). X570 motherboards do, though that's hardly going to matter to many out there as the chances of combining the high-end X570 platform with a budget APU are slim.
X570 Supports Ryzen 2000 CPUs:

B550 does not support the previous generation of Ryzen processors (2000 series, ie the 2700X), but X570 does. Again, this won't matter to the far majority who will be pairing an X570 with a new Ryzen 3000 or 5000 processor.



X570 Has (Built-in) Onboard Cooling: Almost all X570 motherboards have a small built-in chipset fan to help keep the board cool, whereas B550 boards do not have a chipset fan as they have lower power consumption and generate less heat. If you're wondering what this means exactly, we'll discuss this next.
X570 Can Support More SATA and USB 3.2 Gen 2 Ports: How many more depends on the specific model in question, but X570 allows for more of these ports to connect more devices. Like pretty much all of these differences between B550 and X570, this isn't going to matter to most people, but is worth mentioning for certain use cases.


B550 is essentially a slightly less feature-rich version of X570 (Image Credit: AMD)
Why Do X570 Motherboards Have Fans?
Since X570 motherboards have more PCIe 4.0 lanes (from both the processor and the chipset; B550 only has PCIe 4.0 via the processor), the chipset consumes more power than B550 and therefore has the potential to generate a bit more heat. That's why all X570 motherboards with the exception of a single anomaly (Gigabyte X570 Aorus Extreme) have a small built-in fan, technically referred to as a chipset fan.
Chipset fans haven't been used on motherboards for a while, and some enthusiasts aren't too pleased with their return on X570 as they create the potential for a little extra noise. Small fans are louder than larger fans as they have to work harder to push the same amount of air, and their sound is a higher-pitched, "whinier" quality that can be a little annoying to some. 
The general consensus from X570 owners is the noise isn't noticeable over other fans in the system though, and that's if the fan even spins; in many situations the X570 chipset fan often sits idle, only firing up once PCB (the physical board) temperatures reach a certain threshold (such as when running multiple super-fast PCIe 4.0 devices, when overclocking, etc). I'd only consider the noise a factor if you're super-picky about building a silent system.
The chipset fan on the MSI X570 Gaming Edge WiFi motherboard
But the other potential downside to having a chipset fan present is the extra point of failure within your system that can also be a little annoying to replace. Small chipset fans can fail, and since they're a proprietary fan you can't generally replace them yourself. Overall, unless these two things are important to you, I wouldn't factor in the chipset fan when choosing between X570 and B550. But it was worth mentioning so you get the full picture.
Is X570 Better for Overclocking Than B550?
Moving on from the chipset fan to a more important factor if overclocking a mid to high-end CPU, or if simply running a high-end Ryzen 9 3900X or 3950X at stock speeds: VRMs. Do X570 motherboards have better VRMS than B550? If you don't know what VRMs are, see our motherboard buyer's FAQ, though it's essentially the area on the board that is responsible for keeping things cool. The better the VRM on a board, the more suitable it is for overclocking and/or running high-end CPUs. You'd assume that the higher-end enthusiast chipset (X570) would have better VRMs than B550, and that's true to an extent as the absolute best VRMs of any AMD board belong to high-end X570 models.
But here's the kicker; I'm talking the super premium, very expensive boards that just aren't worth it for the far majority, and in the mid-range board battle where premium B550 boards face off against budget X570 models, the former actually has the stronger VRMs overall. See this general B550 vs X570 VRM test by benchmark beast Steve from HardwareUnboxed (I can recommend his videos as a good, reliable source), but the gist is that you can get a sub $200 (US) B550 like the B550 Tomahawk or B550 Aorus Pro that has better VRMs than similar-priced X570 boards like the X570 Pro4 or X570 Gaming Edge WiFi. Yup; slightly strange IMO, given X570 is supposed to be the high-end enthusiast chipset, but B550 is the newer chipset after all (X570 has been out for a fair while now) and so the bolstered VRMs do make sense.
These are just a couple examples, but there are plenty of affordable B550 motherboards with better VRMs than budget X570 motherboards. That means it's hard to recommend a budget X570 over a top B550, as the latter gives you better cooling for the money, with an X570 in this price category only really making sense if you need the benefits of the X570 chipset (explained earlier). 
Related: Overclocking Your Gaming PC (Beginner Intro)
Is X570 More Future Proof Than B550?
Technically you could say yes, but generally speaking - no. Let me explain. In terms of future CPU compatibility, B550 and X570 have the same lifespan, as both chipsets will likely only support up to Zen 3 (Ryzen 5000) and any CPUs beyond that will probably require a new motherboard (and new CPU socket ie AM5).
But the argument for X570 being more "future proof" than B550 is the "deeper" PCIe 4.0 support, as X570 has more PCIe 4.0 slots (supports multiple PCIe Gen4 devices) and more PCIe 4.0 lanes compared to B550. However, as mentioned, in practice this isn't important for most users.
Do B550 and X570 Support Ryzen 7000 CPUs?
No, B550 and X570 motherboards do not support AMD's latest Ryzen 7000 series processors, since these processors are based on a newer Zen 4 architecture that uses an entirely new CPU socket (AM5, as opposed to AM4 which the Ryzen 5000 series and earlier processors were based on). Ryzen 7000 series processors require a new motherboard chipset, such as a B650 or X670, in order to be compatible.
Summary: Is X570 Worth It Over B550 (Pros of Each)
Let's recap and summarize the reason why you should choose either X570 or B550. The new kid on the block is B550 which replaces B450, with X570 being AMD's high-end chipset for enthusiasts and power users wanting the most features.
Is X570 better than B550? Technically yes. But does it matter for most people? No; the quality and features present on many B550 boards is more than enough for a typical PC build, even if sporting high-end components. 
B550 is more a watered-down X570 rather than a direct replacement of B450, and the extra fancy features and capabilities of the X570 platform isn't likely to be something you're going to take advantage of now or in the future.
For example, one of the main benefits of X570 over B550 is the ability to run multiple PCIe Gen4 M.2 SSDs, but unless you're building a high-end video editing PC and investing heavy into storage, doing this is unlikely to be worth the cost.
See Also: Does PCIe 4.0 Matter?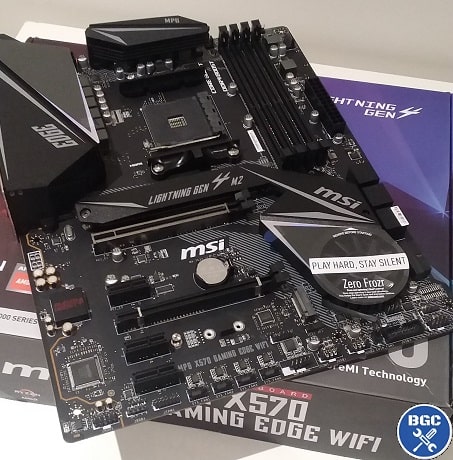 The MSI X570 Gaming Edge WiFi I recently used for someone's build
Plus, B550 VRMs (cooling and overclocking ability) are on par with X570, and sometimes even better (when comparing price). Many B550 models also look better than similar-priced X570 boards, and you've also got more choice if chasing affordable models that are mITX or have certain features like internal USB-C. But put simply, either B550 or X570 can serve you well for a powerful AMD Ryzen 7 or 9 build, so it really doesn't matter and as mentioned ad-nauseam it all comes down to your price range and comparing the specific models available.

Pros of B550
Only real choice if you want a smaller mATX motherboard as X570 has few Micro ATX models




Cheaper way to get an internal front USB Type-C header for cases like the NZXT H510 that have a front USB C port (X570 boards with USB-C front headers cost more).
If you're curious which specific models we suggest right you can see our top B550 and X570 recommendations within our continually updated gaming PC build examples (and feel free to leave a comment on that page if you need help or have general feedback on this article).
Anyway hope this guide helped clear up the confusing X570 vs B550 issue and you now are more confident in picking the right board for your needs. If you need help or have feedback on this guide, feel free to leave a comment over on the main PC builds guide. 
To finish off, if you want to get even more technical on X570 vs B550 chipset differences and the different I/O configurations available to each, here were the official slides from AMD on each chipset for your reference:
Shows which devices and ports are linked directly to the CPU, and which are to the motherboard's chipset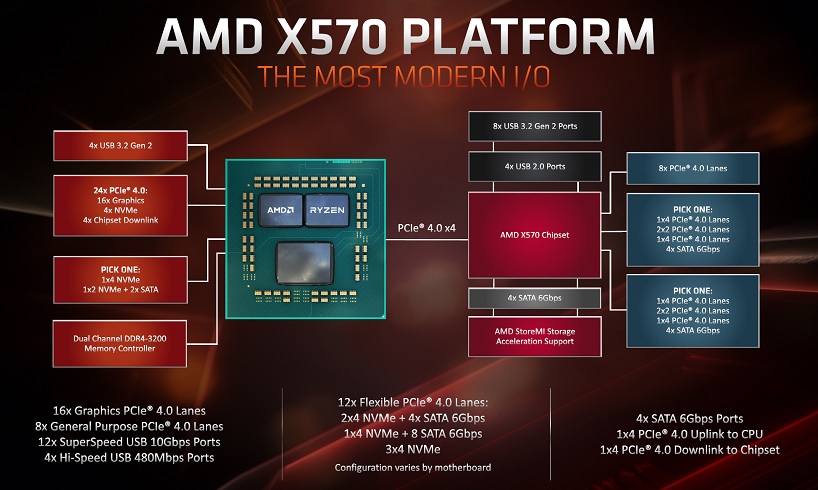 X570 offers more and faster device connectivity, but for most PC users it's not going to matter much (if at all)
Other Sources/References
---
Trusted VPNs
VPN software is quite important in this day and age and will improve the security and privacy of your PC when online. There are also benefits to using VPNs for gaming.

There's lots of VPNs out there but the ones I recommend most to gamers is ExpressVPN (special link that gets you 3 months off. they also offer a free trial here) and NordVPN which are both highly rated gaming VPNs because they're the fastest and most secure.
Search the Site
About the Author
Indie game dev currently working on my first public release after years of hobby projects, a story-driven VR FPS built with Unreal Engine (to be announced soon here for anyone into VR FPS's). Also likes writing about tech, which also helps fund development of the game.
My favs of all time are OOT, Perfect Dark, MGS1, MGS2, GE007, DKC2, THPS3, HL1, and HL2, with the most recent addition to my list of immortals being the VR masterpiece Alyx. If you want help with a new build feel free to ask on the main PC builds guide. If you found the site extra helpful and wish to support the work I do here, sharing an article with a friend helps a lot and is much appreciated. - Julz