Home > Choose a Motherboard > B450 Zen 3 Support
Will B450 Motherboards Be Compatible With AMD Ryzen 5000 CPUs? (Zen 3)
Breakdown of What AMD's Reversal on B450 Support Means (and FAQ)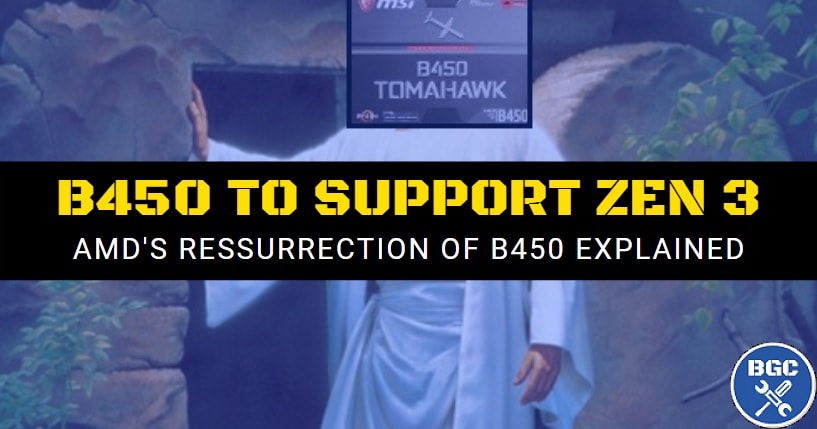 Despite B550 having arrived, certain B450 motherboards can still be considered some of the best value motherboards for budget PC builds - even if you're eyeing off a 4th gen Ryzen 5000 processor upgrade. A while ago, before we knew that Ryzen 5000 was indeed called that (and not Ryzen 4000 as the industry naturally speculated), AMD made a surprising announcement that these new upcoming CPUs would not be supported and compatible with B450 motherboards (nor X470), but then fairly quickly did a backflip on that decision following disgruntled feedback from the community. In this short and sweet article we'll explain what AMD's reversal means if you're a current B450 owner looking to get a 5600X, 5800X or 5900X.
Related: B450 vs B550 (Which to Buy?)

Recapping AMD's Initial Bad News to B450 Owners
AMD's initial announcement last month that there will be no Zen 3 BIOS updates available for B450 board owners caused a bit of a stir in the community - nothing too crazy, but enough that AMD listened and gave the people what they wanted. Had AMD not done an about-face, and stayed firm on their initial (controversial) decision, current B450 owners would be in a slight (first-world) pickle if they had hopes on dropping in a brand spankin' new Ryzen 4th gen (5000 series) CPU at the end of the year (or in 2021 or later; like any good CPU series, Zen 3 should remain relevant for a few years to come).
In order to do said upgrade, B450 owners would need to also upgrade their motherboard, which is a royal PITA component to upgrade in a PC (Pain in the You Know What). I mean, everyone understands that every once in a while a new CPU series requires a new type of motherboard, but the sizeable amount of upset B450 owners following AMD's initial announcement was objectively warranted and understandable, as the (implicit but widely accepted) expectation was the B450 platform would indeed support the next generation.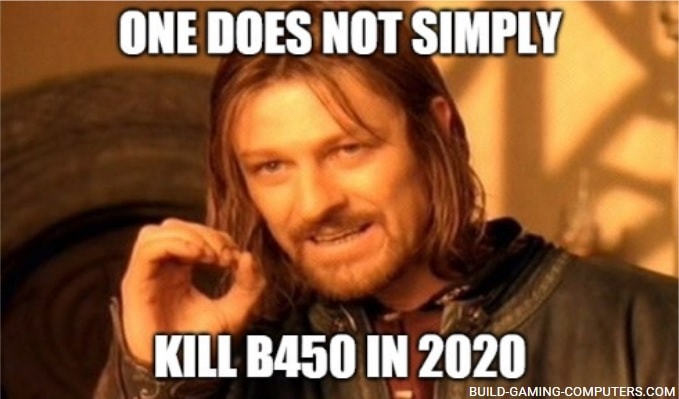 In an article breaking the tough-luck news, AMD Does An Intel, Axes Zen 3 on 400-Series Motherboards, Techspot articulated what many enthusiasts in-the-know were thinking. In terms of motherboard manufacturers, MSI stood to lose the most following the surprising announcement as they had implied that their refreshed B450 "Max" boards (like the super popular B450 Tomahawk Max) would be good for a future upgrade to Zen 3. To be more specific, MSI claimed that all "Max" boards would "support all future AM4 product releases" or something along those lines, which would be classified as false advertising if B450 ended up not supporting Zen 3 (which is still on the AM4 socket).
Tech Jesus weighed in on the issue and the backlash in his typical balanced, informative perspective:
A Welcome Reversal: AMD's About-Face Addressing the Backlash
Backlash might be a strong word in this situation, but there definitely were some unhappy customers after AMD's announcement. For good reason though because as I said, builders were implicitly promised (meaning, not directly but it was assumed) that buying a B450 motherboard over the past year or 2 meant that you'd be "future proofed" for upcoming next-gen Ryzen CPUs (specifically Zen 3).
Thankfully, after seeing the reactions to their announcement to drop support for B450 owners, AMD reversed its decision and announced that they would be opening up Ryzen 4000 (edit: now called Ryzen 5000) compatibility for 400 series (B450/X470) motherboards (in the form of a BIOS update provided by board manufacturers, ie MSI or Asus etc). Excellent news, and big props must go to AMD for listening to the fanbase, despite first causing a bit of a mess.
So, B450 Will Support Ryzen 5000 CPUs? (Zen 3)
To confirm, thanks to AMD's reversal following considerable backlash, they eventually decided that yes, B450 motherboards will support the Ryzen 5000 series ("Zen 3" architecture) by means of applying a BIOS update to B450 boards. This BIOS update, which will technically be a beta BIOS (explained below), will be engineered and provided by the actual motherboard manufacturers (such as MSI or Gigabyte) should they choose to release one for their particular boards.
AMD's surprising backflip on Zen 3 support covers all 400 series motherboards, meaning enthusiast X470 motherboards will support Zen 3 too. This is great news and gives the very popular 400 series a longer lifespan, and credit must go to AMD for doing this to the 400 series owners out there who are excitedly eyeing off the much-anticipated 4th generation Ryzen chips that will further build on AMD's now-sizable momentum in the desktop market.
See Also: The Best Value B450 Motherboards for the Money

What is a Beta BIOS? Potential Limitations of B450 + Zen 3
AMD announcing Zen 3 support for B450 motherboards is great, but just be aware of one small caveat - the BIOS provided by board manufacturers won't be the exact same fully-featured Zen 3 BIOS that 500 series (B550/X570) boards will have, but a slightly stripped-down "beta" BIOS instead. 
Historically, a beta BIOS is one that is as it sounds; temperamental and with the risk of issues. There may also be missing features such as losing certain graphical options in the BIOS navigation, as well as lost support for previous CPUs (in the case that your system becomes unstable and you need to revert back to a previous BIOS using an older CPU).
Here are AMD's exact words (paraphrased) on the matter from their statement announcing their backflip on B450 support for Ryzen 4000 (edit: now confirmed to be Ryzen 5000):
"Using one of these beta BIOSes will probably remove support for previous CPUs."
"The select beta BIOSes will enable a one-way upgrade path for AMD Ryzen Processors with "Zen 3," coming later this year. Flashing back to an older BIOS version will not be supported."
"BIOSes will only be made available to customers who have verified a Zen 3 CPU purchase, to minimize the chances that any motherboard is flashed for the wrong chip."
"Beta BIOSes for various boards may not be available at the Zen 3 launch."
"AMD continues to recommend a 500-series motherboard with a Zen 3 CPU for an optimal experience."
This is why some people (and AMD themselves as seen just above) recommend a 500 series board to get the optimal experience using Ryzen 5000 CPUs. How smooth or problematic the beta BIOS that manufacturers provide will end up being remains to be seen until the time comes, so it's really up to you to make a decision based on the information you have.
To give my personal input here based on your upgrade plans, I'd say that if you're a current B450 owner and looking to upgrade to Ryzen 5000, you might as well just go for it (especially with the MSI "Max" models as they have larger BIOS ROM chips than older B450 models).
If you're building a new PC now using a Ryzen 3000 processor, and you have no plans to upgrade to Ryzen 5000 (as you really shouldn't; very few people build a PC and then upgrade the CPU so soon) - the B450 vs B550 debate is on like Donkey Kong and either is going to be just fine. I'd even lean towards B450 if you want the best value for a budget/mid-range build, as the benefits of B550 over B450 aren't huge. Finally, if you're building a PC at the end of 2020 when Ryzen 5000 arrives, stay on the safe side and get a B550 to guarantee that you avoid any issues with the new CPUs (and get all the BIOS features). Besides, B550 should come down in price a bit by then (you'd hope so).
Will All B450 Motherboards Support Ryzen 5000?
Not necessarily, but most should. AMD said they'll allow B450 motherboards to be compatible with Zen 3 / Ryzen 5000, but it's up to motherboard manufacturers to actually create and release the BIOS updates for their boards. But yeah, most 400 series boards (B450 or X470) should eventually get support once Zen 3 comes out (see the next section below for details on when exactly), and you can be absolutely sure that the more popular models will be getting access to a Ryzen 5000 BIOS (ie most of MSI's boards, which are some of the best B450 motherboards going around for various reasons).
If you're buying a B450 these days and want to 100% guarantee future 4th gen (AKA Zen 3) support, I'd say your absolute safest bet to not miss out on a BIOS update for Ryzen 5000 is to get one of MSI's more recent "Max" B450 boards like the B450 Pro-VDH Max, B450-A Pro Max, B450 Tomahawk Max or B450 Gaming Pro Carbon Max. All "Max" models come with a bolstered BIOS ROM chip (32MB compared to the 16GB chips of older B450 models) which means better support for future BIOS revisions.
ASUS also recently released refreshed B450 models which also have a larger BIOS chip, so those would also be most suitable for Ryzen 5000 (besides the ideal scenario of buying a B550 or X570 for native Ryzen 5000 support). This release from ASUS is also testament that B450 is not dead just yet, and still has a nice lifespan that you could even argue will be the same length as 500 series boards, since the next CPU series after Zen 3 may require an entirely different CPU socket altogether (AM5, and potentially also with DDR5 memory) and also because of the pure fact that PCIe 4.0 doesn't matter for most people (yet, but unlikely for years to come as well if we're being honest since PCIe 3.0 is fast enough).
When Do B450 BIOS Updates Release for Ryzen 5000?
When Ryzen 5000 processors release in November, 500 series motherboards (B550 and X570) will have BIOS updates immediately available for download from board manufacturer sites to ensure full compatibility with Ryzen 5000. However, 400 series board owners (B450 and X470) will have to wait a little longer, as BIOS updates for these boards has been said to be available in January 2021. In other words, if you have a B450 and are planning to upgrade to Ryzen 5000 (like a 5600X, 5800X or 5900X), you'll need to wait until next year before you're able to install one of the new Ryzen 5000 processors in your board, as the new CPUs won't work on B450 until you update the BIOS.
Just remember that once you update a B450 to a Ryzen 5000 compatible BIOS version (when they release next year), it's expected that you will not be able to use previous generation Ryzen CPUs. So if something goes wrong, you can't decide to plop your old Ryzen 3000/2000 CPU back in (because they won't work once you've updated to the new BIOS). Anyway, take a look around your board manufacturer's website (ie Gigabyte, ASUS, ASRock, or MSI) for coming details or announcements on BIOS updates for 400 series boards.
See Also: Choosing the Best CPU for Gaming

Will B450 Support Future CPUs Beyond Zen 3?
To run AMD CPUs beyond Zen 3 (AKA Ryzen 5000), you will need a new motherboard. In other words, Ryzen 5000 will be the last processor series supported by 400 series AMD motherboards (AKA B450 and X470). And for anyone wondering about 500 series compatibility (B550 and X570) with future CPUs beyond Zen 3 (ie Ryzen 6000 or whatever it will end up being named), that's still unknown and only time will tell. Many predict a CPU socket change (AM5 etc) will happen then, and potentially DDR5 memory hitting the scene for the first time too, so there is a fair chance (unfortunately) that 500 series boards will stop at Zen 3 support.
How to Update a B450 Motherboard for Ryzen 5000
When the time comes, if the manufacturer of your particular B450 model decides to create and release a BIOS update for Ryzen 5000 compatibility, you'll need to update your BIOS by downloading an update if you want to drop in that brand spankin' new Zen 3 Intel-killing (apparently) goodness. The exact steps to update the BIOS of a B450 motherboard will depend on the manufacturer and model of your board (4 main manufacturers are Gigabyte, MSI, Asus, and ASRock), but there are essentially 2 different ways to update a BIOS.
Method A: Flash BIOS Button
Some motherboards, including many MSI motherboards (such as the B450 Tomahawk Max as just one example), have what's called a BIOS flash button on the actual board which makes updating the BIOS a bit easier. What you do is download the latest BIOS to a USB flash drive, plug the drive into a dedicated USB port, and press the button. The board will automatically update ("flash") the BIOS within a few minutes.
This beauty of this method is that it doesn't require you to have a CPU already installed on the board, so in the event that you bought a Ryzen 3000 CPU but your motherboard didn't come shipped with a Ryzen-3000-ready BIOS, you can still update the BIOS before then installing the CPU and being able to boot-up (without needing an older Ryzen CPU on hand to make the BIOS update work, which most first-time builders wouldn't have).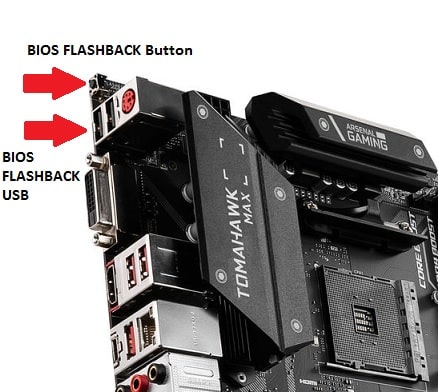 Many MSI motherboards have a handy Flash BIOS Button
Method B: Manual Update
If your board doesn't have a flash button, you'll have to go into the BIOS to do the update, but only once you've downloaded the BIOS update from the manufacturer website to a USB flash drive and plugged it into a standard USB port on your motherboard. Then when inside the BIOS, navigate to the BIOS update screen (called "M-Flash" for MSI boards but may be named something else for different manufacturers) to then proceed with the update. For more detail on these steps head on over to good-old Tech Jesus's article updating a MSI BIOS With M-Flash (slightly older but still relevant, and applies to Gigabyte, Asus and ASRock boards too).
See Also: How to Choose a Motherboard (Ultimate Guide)
---
Trusted VPNs
VPN software is quite important in this day and age and will improve the security and privacy of your PC when online. There are also benefits to using VPNs for gaming.

There's lots of VPNs out there but the ones I recommend most to gamers is ExpressVPN (special link that gets you 3 months off. they also offer a free trial here) and NordVPN which are both highly rated gaming VPNs because they're the fastest and most secure.
Search the Site
About the Author
Indie game dev currently working on my first public release after years of hobby projects, a story-driven VR FPS built with Unreal Engine (to be announced soon here for anyone into VR FPS's). Also likes writing about tech, which also helps fund development of the game.
My favs of all time are OOT, Perfect Dark, MGS1, MGS2, GE007, DKC2, THPS3, HL1, and HL2, with the most recent addition to my list of immortals being the VR masterpiece Alyx. If you want help with a new build feel free to ask on the main PC builds guide. If you found the site extra helpful and wish to support the work I do here, sharing an article with a friend helps a lot and is much appreciated. - Julz