Plan the Best Gaming PC Build Under $800
February 2019 Recommended 1080p 60FPS Ultra PC Build for the US, Canada, UK or Australia: How to Strategically Maximize Performance, Reliability, Cooling & Aesthetics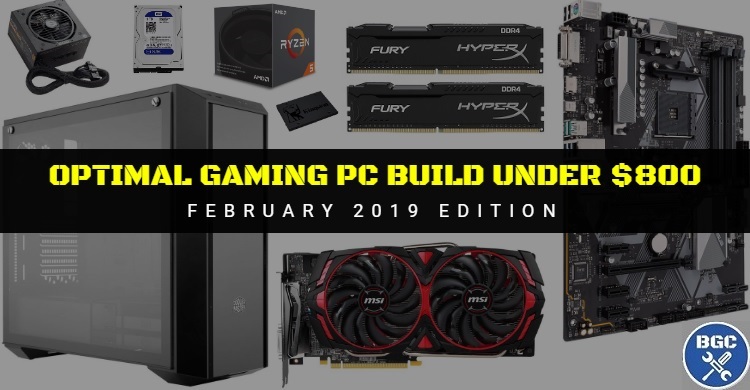 Last Updated: Feb 6, 2019
QUICK NAVIGATION
Current Best $800 Gaming PC Build: Recommended February 2019 Parts

CPU: AMD Ryzen 5 2600 3.4GHz 6-Core
CPU Cooler: Stock (included with CPU)
Graphics: MSI Radeon RX 580 8GB Armor OC
Motherboard: 

Asus Prime B450-Plus
RAM: Kingston HyperX Fury 2x4GB 2666MHz 
HDD: Western Digital 1TB 7200RPM
Power Supply: EVGA BQ 500 80+ Bronze
Case: Cooler Master MasterBox Pro 5
1080p 60FPS Ultra PC Build: Overview
Welcome to yet another comprehensive PC build guide for DIY gamers which breaks down the hardware hunt for top bang for buck when planning to assemble the very best gaming PC build under 800 dollars (and well under 800 euros/pounds for UK readers and a fair bit higher for Canada/Australia) based on the current February 2019 market.
In the 800 dollar price tier we start getting into seriously good performance territory, and by wisely picking parts you can not only afford a very solid gaming system capable of flawlessly-smooth frame rates in 1080p on maxed/ultra/extreme in-game settings (and quite good in 1440p, too), but it allows you to build a real well-balanced, high-quality, long-lasting AND aesthetically-pleasing computer with a nice set of features and flexible upgrade options for the future.

The stars of the best 1080p Ultra 60FPS gaming PC build for February 2019 is the excellent value for money pairing of an AMD RX 580 8GB video card and AMD Ryzen 5 2600 processor, which really isn't a setup you'd see in a pre-built gaming desktop around this price; when you choose your own parts and build your own custom computer, you can really stretch gaming (and non-gaming) performance much further than typically-overpriced off-the-shelf prebuilt systems.
Pre-built systems usually also have lower-quality supporting components, whereas when taking the superior DIY path you can pick a top-notch high-quality parts-list across the board, including a solid reliable motherboard, a decent-quality brand-name power supply to not let your system down, and an excellent case with effective cooling and impressive looks.
Speaking of aesthetics, if that's your thing and you want your custom gaming computer to rock cool-looking RGB efffects, this month's $800 gaming PC build is a real stunner with a quality (yet still affordable) RGB-lit tempered glass see-through case (LED fans included) as well as clean, crisp (& matching) internal parts.

Let's break down the best $800 gaming PC build and why each part made the cut, including a full specs cheatsheet, aggregated benchmarks from around the web for 1080p ultra (the average FPS you can expect from this setup for certain AAA titles), and suggested bang for buck accessories to go with it, along with everything else we feel you might need to know when building a custom gaming PC build under around 800 dollars/euros/pounds in February. 
See Also: The $600 Mid-Range Gaming PC Build (1080p High Settings)
Full Parts-List & Specs Cheatsheet
Note: Below links are for the USA. For Canada, UK & Australia links, see the build breakdown further below.

Best Gaming PC Build Under $800 (February 2019)


Check Price
Graphics Card
MSI Radeon RX 580 8GB Armor MK2 OC (Dual Fan)
CPU
Ryzen 5 2600 (2nd Gen, 6 Cores, 12 Threads, Unlocked)
CPU Cooler
Stock (comes with CPU)
Motherboard
Asus Prime B450 Plus (ATX, USB 3.1, 4 x DDR4 Slots)
RAM
Kingston HyperX Fury 8GB (DDR4, 2 x 4GB, 2666 MHz)
HDD
Western Digital Blue 1TB (7200 RPM, 64MB Cache)
SSD (system drive)
Kingston A400 240GB
Power Supply
EVGA 500 BQ (80+ Bronze, 500W, Semi-Modular)
Case
Cooler Master MasterBox Pro 5 (Mid-Tower, RGB Fans, Tempered Glass)

Estimated Total:


$761 - $781 (US Dollars)





(Orders Parts on Amazon, Our #1 Recommended Store)



Notable Features Cheatsheet


Estimated Wattage (Power Draw)
65W - 285W
RAM Slots
4 (2 slots free)
Max RAM Support
64GB
CPU Overclockable?
Yes (buy aftermarket cooler)
Built-in WiFi?
No (buy adaptor: see recommended add-ons below)
Hard Drives Supported
6x SATA Drives, 1x m.2 SSD
VR-Ready?
Yes
Case Fans
Included: 3 x 120mm RGB Fans (Front) + 1 x 120mm (Rear)

Extra Fan Mounts: 0 (Max of 4)
Front Panel USB Ports
2 x USB 3.0 (+ tons more on rear of case)
Optical Drive Support?
No
Multi-Monitor Support
Yes

Case Dimensions (L x W x H)

500 x 223 x 475 (mm)
Total Weight (Once Parts Installed)
~ 30 lbs
Max GPU/PCI-E Card Length
410mm
Max CPU Cooler Height
167mm
AMD CrossFire Support
Yes
NVidia SLI Support
No
Full Motherboard & Case Specs
Asus Prime B450-PLUS | MasterBox Pro 5 RGB
Performance & 1080p Ultra Benchmarks
Let's get into aggregated benchmarks based on extensive analysis of multiple benchmark sources to estimate what frame rate you can roughly expect from this month's best $800 gaming PC build in specific AAA games in 1080p resolution with the settings turned all the way up to maximum/ultra/extreme/lit (however your favorite game calls it..).

Estimated Frame Rate for 1080p ULTRA/MAXED

(2600, RX 580 8GB, 2x4GB DDR4 2666MHz)


GAME
AVERAGE FPS
Fortnite
95 - 105 FPS

PUBG
65 - 75 FPS
Overwatch
120 - 140 FPS
CSGO
210 - 230 FPS
DOTA 2
140 - 160 FPS
GTA V
85 - 95 FPS
AS Origins
60 - 70 FPS
Battlefield 1
85 - 95 FPS
COD WW2
85 - 95 FPS
SW Battlefront 2
95 - 105 FPS
Witcher 3
55 - 65 FPS
Far Cry 5
60 - 70 FPS
Performance Overview by Resolution:

1080p (1920 x 1080):


1440p (2560 x 1440):

VR and 4K:

FLAWLESS!


GOOD

AVERAGE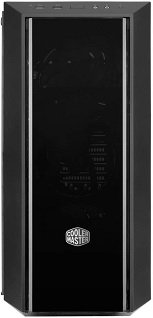 Green = 40FPS and Over (Smooth)
Orange = Under 40FPS (A Little Stutter/Lag)
Red = Under 30FPS (Quite Noticeable Stutter/Lag)
A Note on the Average FPS Ratings

The average FPS ratings are an aggregated estimation based on carefully studying multiple online benchmark sources. Note these are averages, meaning that in the most action-packed scenes the frame-rate will go lower. For example, if we list the Witcher 3 average as 50-60FPS, your FPS may drop to 30-40FPS in the most intense scenes, so take that into account in your build planning.

Whilst we do everything we can to make these as accurate as possible, please note there's no guarantee you'll get this exact average as there are different factors that could affect your frame rate such as other hardware differences, software differences (OS, drivers, game patches/versions, etc), cooling/airflow of your build, enabled game features/settings such as Anti-Aliasing, different RAM setups you might be using, and so on. We always err on the side of being conservative with our numbers though, so we'll round things down if we need to instead of rounding up, so you can rest assured our averages are pretty safe bets in terms of what performance you can expect from a certain setup.
Confused About Frame Rates & Game Settings?
What's the Best PC Gaming Frame Rate?
Hardware Component Breakdown
Best $800 PC Build: Recommended Processor
AMD's Ryzen 5 2600 prevails for this month's best $800 gaming PC build once again, as it's clearly one of the better value choices for a mid-tier gaming system like this, and is all the processing power you need to dominate 1080p gaming (or 1440p, for that matter). If you can't afford an i5, which costs a little more, the 2600 is a great cheaper alternative that pretty much matches it in gaming, though if you're spending $1000+ on your custom setup then do consider an Intel i5-8400 or i5-8600K for slightly better single threaded gaming performance.
Best bang for your buck $150-$190 CPU, and an excellent multi-tasking/production chip for creators/editors, too
Another plus to the Ryzen 5 2600 chip, on top of the excellent current value it offers at a price cheaper than Intel's current Core i5 range, is the fact that the stock cooler it comes with, the Wraith Stealth cooler, isn't just a cool-sounding setup but a very capable stock cooler. Stock CPU coolers - the ones that come shipped with CPUs - aren't always of the highest quality and efficiency, but these ones from AMD's latest Ryzen 2 range do shine. Point is, when getting a 2600 you absolutely don't need to get your own cooler, which'll save you some further coin.

You might be thinking "but why would I buy a cooler if it comes with one anyway and I won't be overclocking?", and to that I say fair point, however the fact is that Intel's current stock coolers are notoriously average and so theoretically if you were getting an i5 instead of the 2600, you'd probably wanna get your own $20 - $40 cooler (even if you aren't overclocking) which would further add to your overall cost (and the i5 is more expensive, remember). Long story short is that the Ryzen 5 2600 is not just cheaper, and similar performance-wise, but you don't need to get a cooler either. So overall it's great bang for your buck. If you'll be pushing the 2600 with overclocking though, then do get an aftermarket cooler though.
Best $800 PC Build: Recommended Video Card
Now to what matters most as a gamer, your trusty video card, and the mid-range GPU battle is a tight one in this day and age. For a $800 gaming PC build, to squeeze out the most gaming performance you're looking at a card in the $200 - $300 range which brings us to the heated NVidia GTX 1060 vs AMD RX 580 conundrum. Specifically, the fastest cards you can get in this price range are the 6GB model of the 1060, or an 8GB variant of the 580.
So, what to do? 1060 6GB vs 580 8GB for a 1080p 60FPS ultra gaming PC? Ask around and you'll find opinions pretty split, but what do the facts and data say? Well, benchmarks don't help too much as the two cards are generally neck and neck frame-rate wise, with some games running faster on the 1060 and vice versa. See these benchmarks to see which games run faster on which card if you want to factor that into your decision:
Ultimately though, besides perhaps getting slightly stronger performance in a particular title, the choice of the 1060 6GB vs 580 8GB will come down to current pricing, and right now this is where the 580 wins as you can find a 8GB model for a fair bit less than the 1060 6GB. But feel free to get a 1060 if you can find one at a good price, as either GPU is going to serve you well for excellent 1080p performance on high/ultra settings for (hopefully) a few years to come.

Oh, and if you were wondering about the November released RX 590? Forget it - at its current price tag around 280 dollars or so, it's just not worth the slight 10% frame-rate improvement over the RX 580. If you crunch the numbers, you'll find the 590 costs around 30% more than the 580, and for only 10% gains it's hard to recommend. If you want to spend more on a GPU than the 580/1060 tier, go for a GTX 1070 instead which is better bang for buck than the 590, which is a release that hasn't impressed anybody.
Best $800 Gaming PC Build: Recommended AMD Motherboard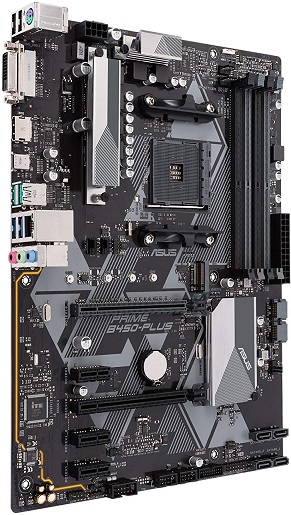 The latest B450 from Asus for Ryzen 2nd gen chips
Let's move onto the motherboard, which is always one of the trickier PC components to properly choose for a new computer as it's easy to get lost and confused in a sea of specs and endless options, especially if you're a first-time builder. See our guide to choosing the best motherboard for gaming for more in-depth detail.
Asus produce some of the overall best, most reliable and trusted boards out there, and we've gone with their all-new B450 board which is the very latest AMD chipset which is guaranteed to support the latest Ryzen 2 CPUs out of the box. If you weren't aware, when buying a B350 board and pairing that with the latest Ryzen 2 processors, there's a chance that you would need to do a BIOS update for the new CPU to work, as some of these older motherboards come shipped with the updated BIOS already whilst some do not (it's essentially luck of the draw sometimes which is frustrating). 
But getting the latest chip such as our recommended B450 motherboard in this month's build ensures no such issue when buying the latest Ryzens. But overall, the difference between the now older B350 and the brand new just-released B450 is unnoticeable, so either will work just fine, but for the reason above and for the fact that it's the very latest standard is why we've gone for a B450. Specifically, we've included the Prime Plus edition, which is well-priced and has all the features you likely need for the $800 gaming build. Looks cool, too, and goes well with your other parts.
Keep in mind, like most motherboards there's no built-in WiFi, so if you want wireless you'll need to get a separate adaptor as usual (either a PCI-E card or a USB dongle; either will work fine). See our builds FAQ for more, but also keep in mind that we highly recommend using wired Ethernet for the best online gaming speed and stability. 
Best $800 PC Build: Recommended RAM Modules
For 800 bucks you can't really realistically fit in 16GB without sacrificing elsewhere on your parts-list, so the best balanced option in this build tier as a gamer is still 8GB, which despite what anyone tells you is all you need for maximum 1080p gaming right now and into the near future. You'd only absolutely need 16GB if you're a serious content creator or production pro, as workstation applications make use of extra RAM unlike the far majority of games today. Plus, you've got the 4 memory slots on your motherboard, meaning there's always room to upgrade to 16GB (ie adding another 2 x 4GB modules) later down the track to give you system a nice little general performance boost in a few years time or so.
As for RAM speed, as mentioned in more detail in our recommended $600 mid-range PC build, higher memory speeds are simply not necessary for a mid-range gaming setup and in most cases not worth the extra money. 2133, 2400 and 2666MHz is all the memory speed you need for gaming. To summarize what we said in that build, you'd only get a noticeably improved frame-rate from higher RAM speeds when and only when you're sporting a top of the range GPU like the 1080 or 1080 Ti.
With a mid-range GPU such as the RX 580 or GTX 1060, it's not going to make a difference, despite what some random may say on a forum. Although keep in mind that we're talking purely gaming here, and for other demanding applications the extra RAM speed may make more of a difference. So, for the best 1080p 60FPS ultra gaming PC build for this month, we've included good value for money modules from Patriot which run at a healthy 2666Mhz, and they look pretty cool and fit nicely with the overall look and feel of this build.
$800 Build Storage, PSU and Case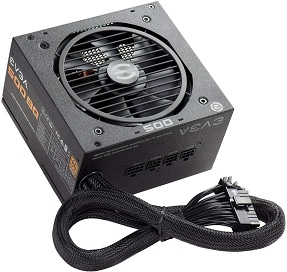 In terms of storage for the $800 1080p 60FPS Ultra gaming build, we've got the same 1TB hard drive stays as with most our other builds as it's a great value pick from ever-reliable Western Digital, and we also have an excellent value 240GB SSD from Kingston which can fit your operating system and a handful of other programs and games for extra-fast loading. Solid state drives are a fair bit faster than traditional hard drives, so they're recommended for your most crucial applications to load as fast as possible.
For the good-old power supply we've got a good-quality, well-priced 500 watt 80+ Bronze EVGA PSU which is actually all the power you need for a build of this nature, including plenty of wiggle room to accommodate future upgrades. A common newbie mistake is overestimating how much power you need for your parts, and whilst it won't hurt your PC to have a lot more power than you need, it'll hurt your wallet unnecessarily and as with all our recommended builds getting the most bang for buck is what we're all about to help you avoid overspending for no reason. This EVGA unit is also semi-modular which is a nice feature and helps to avoid excessive extra cabling within your case once your build is done.
As for your chassis to store your shiny new components for years to come, the MasterBox Pro is another great value for money case from Cooler Master (they have tons of excellent models), with a standout design and 3 pre-installed customizable RGB fans in the front to create various color effects. One of the best looking affordable mid-tower cases around with an awesome tempered glass side panel to show off your fairly powerful new setup, yet internally it doesn't let you down with good airflow, usability, decent cable management, and a solid set of overall features.
Of course, feel free to pick your own gaming computer case for this $800 parts-list as case selection is definitely more subjective than any other component, and you'll want to ensure the one you choose won't be an eyesore to you over the next few years. We'd suggest sticking to a mid-tower for this parts-list as you don't need the monster size and space of a full-tower unless you're doing some serious upgrades.
Honorable Mentions: (hand-picked alternative cases for the $800 build)
Corsair Carbide 270R Mid Tower
Corsair Carbide 275R Tempered Glass Mid Tower
Thermaltake V200 Tempered Glass RGB Mid Tower
Cooler Master MasterBox 5 White Mid Tower
NZXT H500 White Mid Tower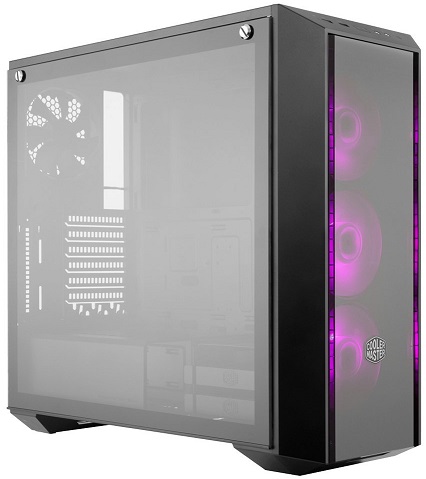 High-end features for a mid-range price, the MasterBox Pro 5 RGB is objectively impressive and includes 3 built-in customizable RGB fans
Recommended OS & Accessories
As with all our current recommended custom PC builds, 64 bit Windows 10 is what we recommend for the $1500 custom gaming build unless you have a seriously good reason to get another operating system like Linux. You have a few options with buying and installing Windows for your new PC:
Option C: Buy Windows from Microsoft and download it to an existing computer/laptop, then put it on a flash drive, then use that flash drive when booting up your PC. 
See our top value for money picks of the best mice, keyboards, screens, headsets, etc, in our peripheral buying guides (see the top menu) should you need to buy these new and you're not reusing old PC accessories which is of course a good way to save money on your new setup. These parts will all come down to personal preference, and of course how much more you have to spend on top of your core components.
Building the $800 Custom Computer
Assembling the $800 Parts-List
See our photo-filled written guide to installing PC parts or if you prefer video see our latest video tutorial recommendations in the full guide to planning and building your first PC. If it's your very first custom build, there's really nothing to be worried about, even if you're totally new to computers. Building a computer really is very straightforward these days and simply a matter of following instructions, plugging things in, connecting things, perhaps screwing a couple things in here or there with a basic screwdriver, and then installing Windows which has its own simply on-screen instructions. 
Conclusion
This wraps up our guide to building the best $800 gaming PC build in the US, Canada, UK or Australia (don't forget to take your own currency into account; ie for Australia you're looking at over $1000 for this same power). As with all our monthly gaming desktop builds, all of the above hardware and accessory recommendations are based on a combination of our monthly extensive, objective, obsessive research as well as our own subjective opinion based on a lifelong fascination with the latest in computer and graphics technology and over a decade of helping gamers to make smarter purchase decisions. Good luck and we hope this build guide helps you in your research.
Stay in the Loop

Building your 1080 PC build in the near future and want to be notified exactly when the next full update of this $800 parts-list is complete next month? Subscribe to our email list below to receive a free monthly heads-up in your box of the moment that we release our new monthly builds, including any relevant PC building news, deals, or new guides that we release:
Your Comments/Feedback
Got a question or want to share your thoughts on this guide? We're listening and you can reach us on the platforms below (or feel free to email us). Also, constructive criticism is always appreciated as it helps us continue making BGC the best noob-friendly DIY resource it can be.
Get a Tailored Build

Have more specific wants and needs for your build and want to tap into our build design experience to thoroughly plan the perfect parts-list for your exact situation?
We'll be glad to help: send in your budget, performance aims and any other requirements here in as much detail as possible, then leave a small tip in our tip jar to cover the time necessary to properly do this for you (we'd love to research builds all day for free but BGC would suffer for this as the site requires a 110% workload as-is and that math doesn't add up ;p)
We'll then get to work on your build ASAP and email it within 1-4 business days (depends on our current schedule) including any relevant info on your parts that we think you may need. If instead you simply want us to look-over your parts-list feel free to email us here and we'll gladly give you a few pointers (100% free of course) assuming we're not too crazy-busy.
About the Author
Former hobbyist game programmer turned tech enthusiast, Julz is the founder of BGC and has kept a keen eye on the latest in DIY gaming since starting the site in his spare time over a decade ago as an almost-laughably basic, unimpressive little site with a simple aim to try and make building a PC more accessible to the average gamer since most resources were far from noob friendly.
Over countless reinventions and reiterations to the quality and depth of content over the years, the site has steadily grown into the fairly expansive, comprehensive and constantly-updated PC building resource that it is today, now reaching and helping thousands of gamers and power users each and every month to more effectively plan optimal setups for their exact needs. His fav PC games of all time are HL1, WC3, C&C TS and SWKOTOR (OOT, Perfect Dark, DKC2 & MGS2 for consoles) and he promises never to speak in third-person again. You can learn more about the BGC mission here & how to support it.