Best 1080p 60FPS Ultra Gaming PC Build Under $800
Current Recommended September 2018 PC Parts-List for ~ $800 to Maximize Gaming Performance, Reliability, Cooling, Aesthetics & Lastability for the Money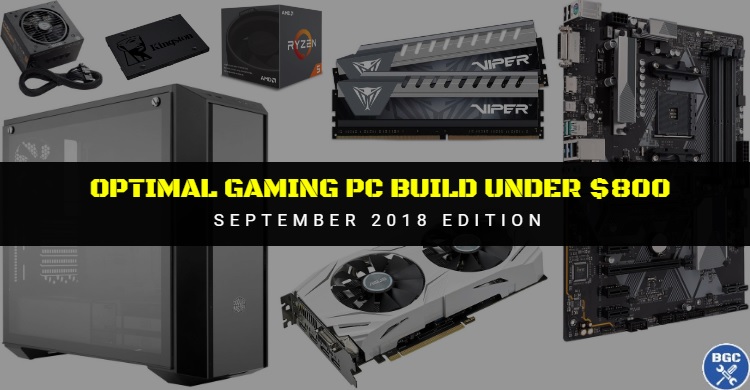 Last Updated: Sep 9, 2018

Learn how to strategically plan and build the best 1080p 60FPS ultra gaming PC build for under $800 based on the current PC hardware market to spend your money more wisely and take into account everything important to you as a PC gamer: maximum gaming performance, component reliability, cool (and matching) looks, effective airflow and cooling, maximum noise-reduction, upgrade options, build longevity...the whole gammit. 
The chief aim of this gaming PC build example is simple and all in the name: which are the best bang for your buck parts right now, in our honest humble unbiased opinion, to build a computer that will deliver a consistently super-smooth 60FPS in 1080p on ultra/maxed settings in the majority of modern games (and that'll provide a playable 1440p experience, too).
Just a heads-up that the keyword is the "majority" of games, and uniquely demanding games with unusually high requirements such as the mighty Witcher 3 will not reach a flawless 60FPS frame-rate level on maxed/ultra settings at all times (though it'll get close). 
But for the most part, if you're a picky gamer wanting flawlessly-smooth 1080p/Full HD on maximum settings to experience 1080p gaming at its finest, this is the gaming rig we recommend to make the most of your money.
If you wish to save some money and you don't mind turning down the settings in 1080p to around medium/high (depending on the game) and still get 60FPS or thereabouts, see our best $600 build instead. 
Let's get into the best 1080p 60FPS ultra gaming PC build in our humble opinion based of years of planning builds for gamers, which includes our typical detailed objective breakdown of the exact reasoning behind why each part was carefully hand-picked for this month's recommended setup.
Best Gaming PC Build Under $800 for September 2018
Estimated Gaming Performance:
1080p (1920 x 1080):


1440p (2560 x 1440):

VR and 4K:

Solitaire:

FLAWLESS


GOOD/AVERAGE

POOR

UNPLAYABLE
The above is the average expected performance of this build at different resolutions when playing a typical, graphically-demanding modern PC game on high/ultra/maxed settings. Disclaimer for dummies: A cheap joke may or may not be included.

| | |
| --- | --- |
| CPU | Ryzen 5 2600 (2nd Gen, 6 Cores, 12 Threads, Unlocked) |
| GRAPHICS CARD | Asus GeForce GTX 1060 3GB OC |
| MOTHERBOARD | Asus Prime B450-Plus (ATX, 4xDDR4 Slots) |
| RAM | Patriot Viper Elite 8GB (DDR4, 2 x 4GB, 2666MHz, Dual Channel) |
| SSD | Kingston A400 240GB |
| HARD DRIVE | Western Digital Blue 1TB (7200 RPM, 64MB Cache) |
| POWER SUPPLY | EVGA 500 BQ (80+ Bronze, 500W, Semi-Modular) |
| CASE | Cooler Master MasterBox Pro 5 (Mid-Tower, ATX/mATX/mITX support, 3 RGB fans) |

Note: Keep in mind hardware prices fluctuate often, so the current total cost could slightly exceed our target budget of $800 at any given time. To check current pricing, clicking "Build This PC" quickly and conveniently shows all exact prices for these parts on Amazon.
Recommended CPU for the $800 PC Build
AMD's latest mid-range processor, the Ryzen 5 2600, takes the cake for this month's best $800 gaming PC build. The 2600 has recently dropped a little in price and is now clearly one of the best value choices for a mid-tier gaming system. Plus, the fact that the stock cooler it comes with is very decent means you don't need to fork out extra cash on a better cooler unless you plan on doing intense overclocking. But for running it at its standard stock speed or mild overclocking, the Wraith Stealth cooler it comes shipped with is adequate. If you'll really be pushing the 2600 though with more intense overclocking, then do get an aftermarket CPU cooler though.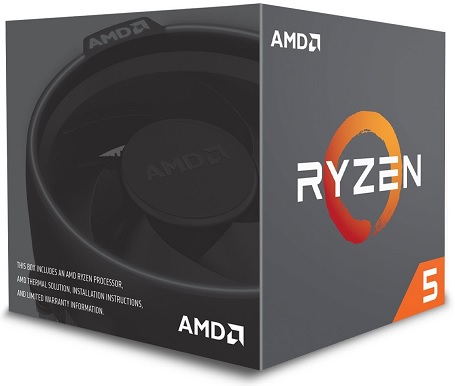 Best bang for your buck $160-$190 CPU
Recommended Graphics Card for the $800 PC Build
Now to what really matters most as a gamer, your trusty video card, and at this moment in time if you're looking for the absolute most bang for your buck based on the current market, in this price range your best bet is opting for a NVidia GTX 1060 3GB model. Yes, a 3GB version, not a 6GB variant. Why?
Well, either is going to perform super well for excellent 1080p gaming, however the 3GB just comes in slightly ahead in terms of overall bang for your buck - if you're sticking to 1080p that is. The 6GB version is typically 20-30% more expensive than the 3GB right now, yet the 6GB only offers approximately 10% extra performance in 1080p. 
The performance boost in 1440p is slightly more for the 6GB model (perhaps around 15%), so for that resolution getting a 6GB over a 3GB makes slightly more sense, but this build is aimed for 1080p gaming and so for that a 3GB is all you really need. Of course, feel free to get a 6GB version if you don't mind spending the extra 50 dollars or so.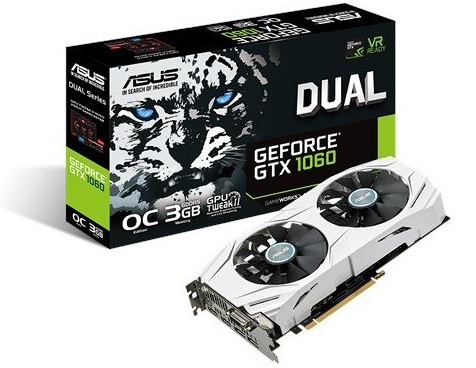 Great mid-range gaming card for excellent 1080p and good 1440p
Recommended Motherboard for the $800 PC Build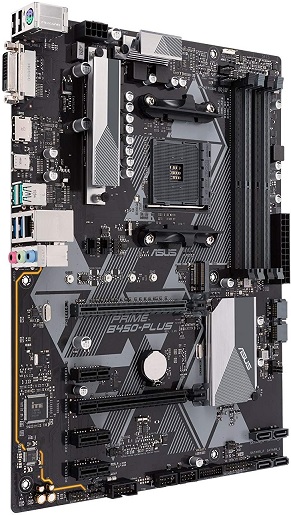 The latest B450 from Asus for Ryzen 2nd gen chips
Let's move onto the motherboard, which is always one of the trickier PC components to properly choose for a new computer as it's easy to get lost and confused in a sea of specs and endless options, especially if you're a first-time builder. See our guide to choosing the best motherboard for gaming for more in-depth detail.
Asus produce some of the overall best, most reliable and trusted boards out there, and we've gone with their all-new B450 board which is the very latest AMD chipset which is guaranteed to support the latest Ryzen 2 CPUs out of the box. If you weren't aware, when buying a B350 board and pairing that with the latest Ryzen 2 processors, there's a chance that you would need to do a BIOS update for the new CPU to work, as some of these older motherboards come shipped with the updated BIOS already whilst some do not (it's essentially luck of the draw sometimes which is frustrating). 
But getting the latest chip such as our recommended B450 motherboard in this month's build ensures no such issue when buying the latest Ryzens. But overall, the difference between the now older B350 and the brand new just-released B450 is unnoticeable, so either will work just fine, but for the reason above and for the fact that it's the very latest standard is why we've gone for a B450. Specifically, we've included the Prime Plus edition, which is well-priced and has all the features you likely need for the $800 gaming build. Looks cool, too, and goes well with your other parts.
Keep in mind, like most motherboards there's no built-in WiFi, so if you want wireless you'll need to get a separate adaptor as usual (either a PCI-E card or a USB dongle; either will work fine). See our builds FAQ for more, but also keep in mind that we highly recommend using wired Ethernet for the best online gaming speed and stability. 
Recommended RAM for the $800 PC Build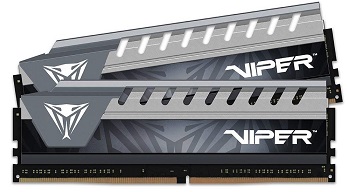 For 800 bucks you can't really realistically fit in 16GB without sacrificing elsewhere on your parts-list, so the best balanced option in this build tier as a gamer is still 8GB, which despite what anyone tells you is all you need for maximum 1080p gaming right now and into the near future. You'd only absolutely need 16GB if you're a serious content creator or production pro, as workstation applications make use of extra RAM unlike the far majority of games today.
Plus, you've got the 4 memory slots on your motherboard, meaning there's always room to upgrade to 16GB (ie adding another 2 x 4GB modules) later down the track to give you system a nice little general performance boost in a few years time or so.
As for RAM speed, as mentioned in more detail in our recommended $600 mid-range PC build, higher memory speeds are simply not necessary for a mid-range gaming setup and in most cases not worth the extra money. 2133, 2400 and 2666MHz is all the memory speed you need for gaming.
To summarize what we said in that build, you'd only get a noticeably improved frame-rate from higher RAM speeds when and only when you're sporting a top of the range GPU like the 1080 or 1080 Ti. With a GTX 1060, it's not going to make a difference, despite what some random may say on a forum. Although keep in mind that we're talking purely gaming here, and for other demanding applications the extra RAM speed may make more of a difference. 
So, for the best 1080p 60FPS ultra gaming PC build for this month, we've included good value for money modules from Patriot which run at a healthy 2666Mhz, and they look pretty cool and fit nicely with the overall look and feel of this build.
Recommended HDD & SSD for the $800 PC Build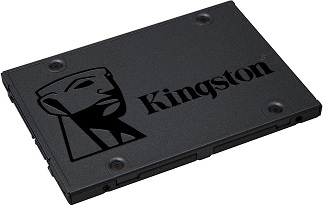 The 1TB HDD from Western Digital stays the same from our previous setups, but in this tier we introduce an SSD (Solid State Drive) as in this sort of price it starts to make sense to include a moderately sized SSD to install your operating system and your most-used programs/games on for super-fast loading. The Kingston A400 240GB is super-fast and reliable for the money and a solid choice for a medium sized SSD.
Recommended PSU & Case for the $800 PC Build
For the good-old power supply we've got a good-quality, well-priced 500 watt 80+ Bronze EVGA PSU which is actually all the power you need for a build of this nature, including enough wiggle room for future upgrades. A common newbie mistake is overestimating how much power you need for your parts, and whilst it won't hurt your PC to have a lot more power than you need, it'll hurt your wallet unnecessarily and as with all our recommended builds getting the most bang for buck is what we're all about to help you avoid overspending for no reason. This EVGA unit is also semi-modular which is a nice feature and helps to avoid excessive extra cabling within your case once your build is done.
As for your chassis to store your shiny new components for years to come, the MasterBox Pro is another great value for money case from Cooler Master (they have tons of excellent models), with a standout design and 3 pre-installed customizable RGB fans in the front to create various color effects. One of the best looking affordable mid-tower cases around with an awesome tempered glass side panel to show off your fairly powerful new setup, yet internally it doesn't let you down with good airflow, usability, decent cable management, and a solid set of overall features.
Of course, free to pick your own gaming computer case for this $800 parts-list as case selection comes down to personal preference more so than any other component. We'd suggest sticking to a mid-tower as you don't need the monster size and space of a full-tower unless you're building a seriously extreme rig.
Good value Mid-Tower with cool built-in RGB lighting
Recommended Operating System & Peripherals
Windows 10 is what we'd recommend for most people, which if you need to get new comes in a handy USB/flash-drive version or a disk version if you want to make your own bootable flash drive from that (since this build doesn't have an optical drive as they're totally optional these days: feel free to get one, though). Linux is also an option but we don't recommend it unless you know what you're doing, so if you're a newbie just stick with Windows.
See our top value for money picks of the best mice, keyboards, screens, headsets, etc, in our peripheral buying guides (see the top menu) should you need to buy these new and you're not reusing old ones. These parts will all come down to personal preference, and of course how much more you have to spend on top of your core components.
Conclusion & Building Your PC
That wraps up the current best PC build under $800 in September 2018, for an awesome experience of 1080p 60FPS on ultra/max settings (in most games). See our Gaming Computer Builds Hub/FAQ for all our build tiers and answers to common questions about our monthly-updated recommended PC builds. Also see our individual hardware guides for more detail about picking each component.
If you're putting together your first PC, fear not as it's very simple to do these days and in 2018 if you can build Lego you can build a PC no problems. See our PC installation guide if you just require the core installation steps, or see our more comprehensive eBook if you want more thorough guidance and all the steps of planning, ordering, building, troubleshooting, maintaining and upgrading your first PC in detail. Good luck and long live PC gaming.