Home > PC Builds > $800 Gaming PC
Plan the Best $800 Gaming PC Build (Q3 2019)
How to Build the Fastest Gaming Computer Under 800 US Dollars for Flawless 1080p 60FPS Ultra or Good 1440p/1080p 144Hz (& Estimated FPS for 25 Games)
How to strategically stretch $800 for the fastest gaming performance, reliability, upgrade flexibility, airflow & aesthetics

Last Updated: August 19, 2019
If you're planning the best gaming PC build for 800 dollars, this guide explains how to pinpoint the current best value components on the Q3 2019 hardware market to assemble a killer custom PC for flawless 1080p 60FPS Ultra gaming in pretty much ANY demanding game out there. With a strategic pairing of the AMD Ryzen 5 2600X and NVidia GTX 1660 Ti, this $800 gaming PC build is also good for smooth 1440p and 1080p 144Hz performance in many games.
But for most gamers building a gaming computer under/around 800 dollars who are looking to achieve a consistently super-smooth 60FPS frame rate in 1080p, our current highest recommended combination of parts below will absolutely dominate 1080p gaming for years to come.
The main aim of this $800 computer build guide is showing you how to maximize performance for gaming, but in carefully tweaking this parts-list to the best of our ability based on over a decade designing optimal builds for gamers, we also take into account everything else that makes for a good custom computer that is built to last including:
Don't Have Time to Build a PC?  Suggested Prebuilt Desktop Alternatives

This guide explains how to choose the best value parts to build your own $800 gaming PC, but if you don't have the patience or interest to build a computer yourself (and despite understanding the advantages of building a PC), these are the closest-spec prebuilt PCs we can suggest as an alternative:

CyberPowerPC Gamer Xtreme
(9400F, 1660 Ti, 8GB RAM)

OR

SkyTech Blaze II
(2600, 1660 Ti, 8GB RAM)

If you look closely neither desktop is as good as our $800 custom PC build, with just one example being our parts-list has 16GB of RAM at 3000MHz, while these prebuilts have 8GB at 2666MHz, but they are decent value overall if you'd rather pay for the time convenience of buying a premade system.

The star of this $800 custom PC is the fairly recently-released GTX 1660 Ti graphics card which brings GTX 1070 levels of performance at a sub 300 dollar price, along with excellent power efficiency and low noise. Matched with a top value gaming CPU in the 2600X, now at a mouthwatering price following the Ryzen 3rd gen launch, and a very healthy 16GB of super-fast 3000MHz DDR RAM, and you have a seriously impressive gaming system.
It doesn't stop at just super fast gaming performance though, as we've also carefully picked out a good value, beginner-friendly, stylish motherboard from ever-reliable ASUS that has the features to satisfy most, along with a super-speedy 500GB M.2 SSD as your boot drive for blazing fast load times, a good-quality affordable PSU, and a perfectly-slick yet practical case that'll show off your finished battlestation in style once fully operational.
The components picked for the current best gaming PC build for $800 are based on a combination of extensive, objective analysis of the current hardware market with a blend of our own subjective opinion based on over a decade helping gamers and power users make smarter purchase decisions. We back our selections with explanations of why they made the cut, and mention any relevant alternative components to consider based on your particular PC use.
These builds make for a good starting point for your planning, and is basically what I would personally buy myself if I were building a new PC right now for this amount and my main priority was getting the fastest gaming performance (and balancing that by not sacrificing on the other parts).
But despite the painstaking hours that go into our continually-updated, carefully-chosen recommendations, always remember to do your own research to ensure you buy the right parts for any specific needs that you may have. Alright, let's get into what we believe to be the current best custom PC build for $600 to get the fastest gaming performance and reliability for the money.
Don't need 60FPS on ultra in every game? Save money with a $600 PC build
Full Parts-List & Specs Cheatsheet
(Adds All Parts to Cart on Amazon - For USA Readers Only)

Estimated FPS for 1080p Ultra Settings
As we'll explain in further detail below in the full breakdown of the $800 PC build, this parts-list will run even the most demanding games on the market on high/ultra settings perfectly smooth at 60FPS+, and will also fair quite well in 1440p resolution.
It's also a decent performer for 1080p 144Hz monitors should you be looking to get up and around 144FPS to take full advantage of such a monitor, though you'll need to dial back the settings in many games to achieve high frame rates of 100-144FPS to put that 144Hz display to good use.
But for less demanding games like Fortnite, Rainbox Six Siege, Overwatch, Doom, League of Legends, DOTA 2, and of course - CSGO, a Ryzen 6 2600X and GTX 1660 Ti is more than enough grunt to make good use of a 144Hz screen (and even on high/ultra settings). You could even use this type of $800 gaming PC build for more demanding games like Apex Legends, Call of Duty Black Ops 4, or PUBG on a 1080p 144Hz monitor if you're willing to lower settings.
The $800 Custom PC Build:
Gaming Performance Overview

1080p 60Hz

1080p 144Hz

1440p 60Hz

1440p 144Hz

4K 60HZ

FLAWLESS!


GOOD

GOOD

AVERAGE/POOR


AVERAGE/POOR

AVERAGE
Learn More About Resolutions and Refresh Rates: 
PC Gaming Resolutions Explained (1080p vs 1440p vs 4K)

PC Gaming Refresh Rates Explained (60Hz vs 144Hz vs 240Hz)
Let's get into aggregated benchmark averages based on extensive analysis of multiple sources to estimate what average frame rate you can roughly expect from the $800 gaming PC build in various AAA games in 1080p resolution with the settings cranked up all the way to maxed/ultra/extreme/lit/super-saiyan settings. Just remember that you don't need to run maximum settings to fully enjoy a game, and medium to high settings is just fine for most people and will get you higher frame rates than what we predict below (and sometimes much higher depending on the game).

Estimated Frame Rate for 1080p ULTRA Settings

(R5 2600X, GTX 1660 Ti 6GB, 2x8GB DDR4 3000MHz)


GAME
AVERAGE FPS
Apex Legends
90 - 100 FPS
PUBG
90 - 100 FPS
Fortnite
120 - 140 FPS

Anthem
50 - 60 FPS
Resident Evil 2
90 - 100 FPS
Ghost Recon Wildlands
70 - 80 FPS
Assassin's Creed Odyssey
60 - 70 FPS
Hitman 2
80 - 90 FPS
Overwatch
130 - 150 FPS
The Division 2
80 - 90 FPS
Shadow of the Tomb Raider
65 - 75 FPS
Final Fantasy XV
60 - 70 FPS
Far Cry New Dawn
80 - 90 FPS
Fallout 76
105 - 115 FPS
Forza Horizon 4
80 - 90 FPS
Monster Hunter World
60 - 70 FPS
Fallout 76
105 - 115 FPS
Doom
130 - 140 FPS
Total War: Warhammer
75 - 85 FPS
GTA V
75 - 85 FPS
Rainbox Six Siege
150 - 170 FPS
Battlefield V
80 - 90 FPS
Destiny 2
110 - 120 FPS
Deus Ex Mankind Divided
55 - 65 FPS
Dishonored 2
55 - 65 FPS
Average FPS Disclaimer (How We Calculate)

The average FPS (Frames Per Second) ratings are an aggregated estimation based on studying multiple online benchmark sources. These are estimated average frame rates, meaning that in the most action-packed scenes the frame-rate will go lower. For example, if we list the Witcher 3 average as 50-60FPS, your FPS may drop to 30-40FPS in the most intense scenes.
But while we do our best to bring to you the most accurate FPS estimates possible, and we do lean towards being conservative in the numbers (we'll round them down if we're in doubt), please note we can't 100% guarantee you'll get the average frame rates listed as there are various factors that could affect your performance such as hardware differences (eg differing GPU clock speeds, RAM speeds), software differences (eg OS, drivers, game patches/versions), cooling/airflow of your build (eg how hot your specific system may be running), extra enabled rendering features such as Anti-Aliasing, and so on. Overall though our average FPS numbers are pretty safe ballpark estimates but do your own research if specific performance in certain games is important to you.
Got Feedback? Think we messed up an FPS estimate for a certain game, or are you getting different performance with the same specs? Let us know in the comments on our best gaming PC builds hub.
Build Breakdown & Honorable Mentions
Graphics Card: MSI GeForce GTX 1660 Ti Ventus XS (6GB GDDR6)
Honorable Mentions:

MSI GeForce GTX 1660 Ti Armor OC (6GB GDDR6) (slightly better but at a premium)

MSI GeForce GTX 1660 Ventus XS (6GB GDDR5) (to save money and if sticking to 1080p 60Hz)
In the sub 200 dollar gaming GPU market, AMD steals the show with the RX 570 and RX 580, but bump up to the 200 to 300 dollar range and it's very much advantage NVidia right now. Their launch of the GTX 1660 and 1660 Ti earlier this year was well received, and these 2 cards easily take the cake as the best gaming graphics cards to buy between $200 and $300 with no real competition from AMD.
Beyond 300 dollars is a different story and where the GPU battle really heats up, but we'll save that for another day and another build. When building the best $800 PC for gaming, the GTX 1660 Ti is hands down the best card you can get, and MSI have produced some sweet models that we can comfortably recommend above other 1660 Ti models right now.
MSI GTX 1660 Ti Ventus XS vs Armor OC
The 1660 Ti Ventus XS and 1660 Ti Armor OC are hard to split though, because while the Armor OC is the better overall card with slightly better cooling and design, the Ventus XS is usually a fair bit cheaper. The Armor OC is clocked slightly higher meaning marginally faster performance, but the difference is minuscule and not worth the extra 20 bucks or so to most people. Take your pick on which to buy; we've included the Ventus XS as our top recommendation simply because we're cutting it real close on our target $800 budget for this build.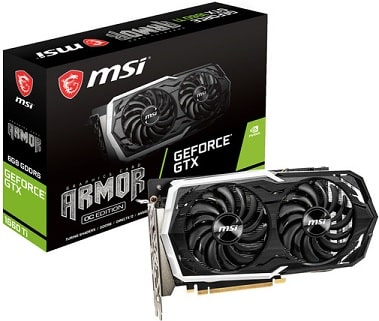 A gangster card for 1080p gaming domination, but choose the cheaper Ventus XS to be most cost-effective
GTX 1660 vs GTX 1660 Ti (for 1080p)

Obviously the 1660 Ti is the faster card, but while it will give you slightly better performance than the standard 1660, and also uses faster GDDR6 video memory compared to the GDDR5 used in the 1660 (both have 6GB though), they're both good value choices right now for 1080p gaming without any real competition (and both are very power efficient).
Luckily for this latest recommended $800 gaming PC build, we can fit the faster 1660 Ti without sacrificing our other parts, but if you save your cash by opting for a standard GTX 1660 instead, you're not missing out on too much especially if you're sticking to standard 1080p resolution on a 60-75Hz monitor. Either card will get you to that magical 60FPS level on ultra settings in the AAA games of 2019, but the Ti will do it for longer (as in, it's more "future proof").
What About 1440p or 1080p 144Hz?
The 1660 Ti is also well worth it if you're using a 144Hz monitor, as in that case you'd see practical real-world benefits to your frame rate allowing you to get closer to the 144FPS mark. The Ti is also a much better choice for 1440p resolution, as the standard 1660 is going to struggle at that resolution in AAA games over the next few years. Although personally I'd look at getting an 8GB card like a RTX 2060 or above if you want a great 1440p experience now and over the next few years, although to be fair a GTX 1660 Ti is more than capable of decent 1440p frame rates.
CPU: AMD Ryzen 5 2600X (6 Core)
Honorable Mentions:

Intel Core i5-9400F (+ switch motherboard to ASRock Z390 Pro4)

AMD Ryzen 5 2600 (to save a bit)
Choosing the best processor when buildings $800 PC for gaming isn't all that easy, as you have various ways to approach this depending on your usage and preferences. When including the excellent 1660 Ti graphics card, which is pretty much the fastest gaming GPU you can fit into a 800 dollar rig without sacrificing your other parts, that leaves around 150 dollars for your CPU which is plenty to get something very decent that won't bottleneck you in 1080p or 1440p.
So, that means you're looking at either a Ryzen 5 2600, Ryzen 5 2600X, or Intel's latecomer to the mid-range gaming CPU battle: the Core i5-9400F. Technically, you do have more choices, such as an older i5 8400, or even squeezing in the more expensive Ryzen 5 3600 and sacrificing your GPU down to a 1660 instead of a 1660 Ti. But the 8400 is essentially out of the game due to the 9400F being a tad faster AND cheaper, with the only downside being the 9400F has no integrated graphics (but if you're getting a graphics card like 95% of gamers, that's a non-issue). 
Ryzen 5 2600X vs Ryzen 5 3600
Plus, I'd rather the 2600X/2600 and 1660 Ti combination instead of a 3600 and weaker 1660, as it'll get you better gaming performance overall as your video card is more important than your CPU for gaming (but of course, CPU is still important, and make that very important for 144Hz pro gamers). Furthermore, using a R5 3600 with a B450 motherboard would require you to update the BIOS for compatibility, which isn't hard to do really but can be a little confusing and/or a potential slight hassle if you're a first-time builder (hence why here at BGC we never recommend builds that require BIOS updates to work as many fresh-faced non-technical newbies use our guides to get started with PC).
Ryzen 5 2600X vs Core i5 9400F
For a gaming computer, it's too close to call between these two, so much so that I've changed my mind a bunch of times before publishing this and I originally was going to make this a 9400F build. The 9400F gets slightly higher FPS in some games such as PUBG, but the 2600X wins in other games (eg Assassin's Creed Odyssey and Watch Dogs 2). Eventually I settled on the 2600X as the top pick for this sample build because it not only provides neck and neck gaming performance with the 9400F, but is the overall more flexible processor of the two having the higher thread count, better stock cooler, and the fact it's overclockable (the 9400F is not). 
Either a 2600 or 2600X is a fine value choice though, but if you value getting the fastest multitasking/productivity performance, the 2600X is the clear winner. That includes anyone building a PC for streaming too, where the 2600X is absolutely the better choice without a doubt thanks to its superior thread count; the 2600X has 6 cores and 12 threads, while the 9400F has 6 cores and 6 threads.
2600X vs 2600
This is a heated debate as both these 2nd generation processors are at very attractive prices right now following the Ryzen 3000 series launch, and both offer good gaming performance as well as great multitasking/streaming performance for the money. I've gone for the 2600X for the $800 gaming computer simply because it can fit in the target budget, but if you want to save a few bucks on your build then using a 2600 for this setup instead won't have much of a noticeable difference for most people.
However, since the 2700X is around 7% faster at stock speeds, it will net you slightly higher frame rates, so if your build budget is 800 dollars I would definitely get it over the 2600. Especially if you'll be gaming on a 144Hz display and aiming to fully maximize your FPS. Oh, and the 2600X has the better stock cooler too, making it better to overclock with if you're not shelling out the extra cash for an aftermarket cooler. If you are buying your own cooler though, you could argue the 2600 is better value as an overclocker though, as you can overclock the 2600 to 2600X levels of performance.
CPU Cooler: AMD Stock Cooler (Wraith Spire)
Honorable Mentions: (for anything more than mild overclocking)

Arctic Freezer 34 eSports Duo White Edition

Cooler Master Hyper 212 Black Edition

The 2600X has a very decent stock cooler, which is better than Intel's 9400F stock cooler and also superior to the 2600's Wraith Stealth. If not overclocking, it's absolutely all you need to keep temps low, even during strenuous sessions of gaming and/or streaming/multitasking. However, it must be said that even for mild overclocking, the 2600's stock cooler holds up surprisingly well and may be all you need.
But if you're doing any sort of real overclocking, definitely bring your own air cooler to the party because while the 2600X does sport a solid stock cooler, it's still limited for overclocking. Can't go wrong with the top value CM 212 Evo (black edition looks great), and the Arctic Freezer 34/33 are other solid value units we like that also look the part too.
If you're going to rock our recommended Phanteks P400 beauty of a case, either of these coolers will fit (come on now, didn't think we just randomly throw up any 5-min rushed builds without thinking things through like some other sites seem to do..). But if mixing and matching CPU coolers and cases of your own liking, don't forget to check your dimensions as not all cases will support aftermarket CPU coolers as they can be quite large. Have you not seen the Dark Rock Pro 4? Scary stuff, but on a serious note; another great cooler though overkill for a mid-range CPU like the 2600X.
Motherboard: ASUS ROG Strix B450-F Gaming (ATX)
Honorable Mentions:

ASRock B450 Pro4 (more plain board to save money)

Gigabyte B450 Aorus Pro WiFi (affordable WiFi option)
Let's move onto the mother ship of your new battlestation of gaming glory, which is always one of the trickier PC components to choose for a new computer as it's easy to get lost in a sea of specs and endless options, especially if you're a first-time builder. The resident BGC canine agrees over in our guide to choosing the best motherboard for gaming - have a skim over that if you want detail on what specs to look out for. For a Ryzen 5 2600X build, your best  value option is a B450 chipset motherboard, as there's no need to get the more expensive X470 (or newer X570) platform for a gaming desktop of this nature (unless overclocking a lot).
ASUS produce some of the overall best quality, reliable and beginner-friendly boards, and their ROG Strix B450-F is a good affordable option of theirs that you can't go wrong with for a Ryzen 2nd gen build. Overclocking is also simple with the built-in ASUS software. It's not meant for extreme overclocking, in which case you're better off spending more on a higher-quality board with better VRMs, but for most people who are not hardcore enthusiasts it's absolutely good enough for decent overclock of a 2600X (or 2600 if using that).
Perhaps the best going for it though is its design, which is a standout like other ROG Strix products, and it also has real nice RGB lighting to make your setup shine once up and running. It's not just all show and no go though: in terms of practicality it's got all bases covered for a good gaming rig including a ton of expandability, lots of USB ports, support for two M.2 SSDs, good on-board audio, and the BIOS is perhaps one of the easiest to work with compared to the competition. Like most motherboards it doesn't come with WiFi though, so get an adapter if you want that or consider a board like the Gigabyte B450 Aorus Pro WiFi for built-in support.
See Also: The Best Wireless Adapters for the Money (2019)
RAM: Corsair Vengeance LPX 16GB DDR4 (2x8GB, 3000MHz, White)
Honorable Mention:

Corsair Vengeance LPX 16GB DDR4 (2x8GB, 3000MHz, DDR4) (black version)
We've jumped up to 16GB of RAM for the first time in this build tier, as memory prices are a lot better these days and 16GB is the most future proof option if you can afford it. Plus, some of the most demanding games on the market are starting to take advantage of more than 8GB of RAM, and plus, having 16GB just makes for an overall super-speedy PC for years to come.
8GB vs 16GB RAM for Gaming
Don't get me wrong though, if you're on a tight budget and you get 8GB instead, your gaming performance isn't really going to suffer much (if at all in many situations). So if you're eyeing off a cheaper setup like our $600 gaming PC build which can only afford 8GB of RAM, don't worry too much as it won't hold you back much in 2019 if you have a decent graphics card and CPU like the R5 2600 and RX 580 combo in that particular build (and you can always upgrade to 16GB later on). But if assembling a PC around the $800 mark, this is where you can start considering 16GB from the get go as the price difference between 8GB and 16GB is a fair bit more narrow compared to earlier in the year and last year.
Is 3000MHz Fast Enough for Gaming?
You really can't go wrong with Corsair Vengeance RAM of any sort, and we've gone for the super-slick white LPX 3000MHz modules which fit nicely into the white theme of this PC build, but the black sticks are just as appealing. In terms of speed, 3000MHz is a fast speed and the overall sweet spot right now in terms of price and performance in this price range. For cheaper rigs 2666MHz is fine, but at the $800 build level and beyond you really want 3000MHz as a minimum. Going faster such as 3200MHz would only be worth it for gaming if you find such modules around the same price as 3000MHz ones, as the jump up in speed is generally not worth it as it doesn't make a huge difference in gaming. 
Storage: Crucial MX500 500GB
Honorable Mentions:

Intel 660p 512GB (M.2 SSD)

Sabrent Rocket 512GB (M.2 SSD)

Optional Add-On: Western Digital Blue 1TB (HDD)
For $800 gaming computer builds and above, using an SSD as your main boot drive is an absolute no-brainer thanks to much better pricing nowadays, so don't let me catch you using an old HDD ever again as a boot drive. I'll let you off the hook if you're on a budget, but an SSD boot drive is a modern must for any respectable $600-800+ rig. Once you use an SSD for your operating system and most frequently-used games/apps, it's impossible to go back. Kinda like trying to use dial-up internet after broadband; excruciating stuff. If you're too young to understand that last sentence (or maybe I'm too old now :P) just know you dodged a bullet having to live through the dial-up era of doom.
If you want extra storage though, go ahead and get a large 1TB+ HDD like the ever-reliable and affordable Western Digital Blue 7200RPM drive, but for your main drive look at a 500GB-1TB SSD and you'll thank me later. I wouldn't go smaller than 250GB for a main SSD though, as it'll quickly fill up especially if you throw a couple large games on there, but 500GB is a nice starting point. The Crucial MX, Intel 660p, and Sabrent Rocket are our top value 500GB SSD picks right now and are all M.2 models (so slightly faster than traditional SSDs) and you can't go wrong with either of these. 
Power Supply: Corsair CX550M 80+ Bronze (Semi Modular)
Honorable Mention:

Seasonic SSR-550FM 80+ Gold (Semi Modular) (well-priced gold unit)
For the good-old power supply we've replaced our previously recommended EVGA 500 BQ for the slightly better-quality Corsair CX550M which doesn't cost much more but gives you slightly better overall reliability and an extra 50 watts which is handy seeing as we now also have a 2600X and 16GB of RAM in this build tier for the first time (as opposed to a 2600 and 8GB).
The CX550M is an 80+ Bronze unit too, which is a good minimum efficiency rating to shoot for, and is semi modular meaning less excess cables left over when you've finished building your PC. If you want a gold rated unit, the Seasonic Focus is very reasonably priced and a reliable unit, but the Corsair is currently cheaper and 80+ Bronze is good enough.
550 watts is more than enough for the $800 gaming PC build, with lots of room to grow for future upgrades and/or overclocking. A common newbie mistake when choosing a power supply for a PC build is overestimating how much power you need for your parts, and a decent 550 watt unit like the CX550M goes a long way and could even handle more powerful GPUs like a RTX 2060, 2060 Super and RX 5700 -  even an RTX 2070 and RX 5700XT to be honest.
Case: Phanteks Eclipse P400 Tempered Glass Mid Tower
Honorable Mentions:

Cooler Master MasterBox Pro 5 RGB Mid Tower

Cooler Master MasterBox 5 White Mid Tower

NZXT H510 White Mid Tower

Corsair Carbide 275R Tempered Glass White Mid Tower

Cooler Master MasterBox MB500 Mid Tower
The Phanteks Eclipse P400 truly is a beautiful, spacious, high-quality and overall excellent bang for your buck Mid-Tower, with good cable management, airflow (comes with 2 fans), and plenty of space to support long-length GPUs or larger aftermarket CPU coolers. It comes in various styles but the white edition we've listed here is fairly universally attractive and will look awesome with pretty much any component theme, though it'll look extra slick with the matching components we've carefully picked out for the $800 gaming PC build this quarter.
The tempered glass side-panel shows off internal system in style too, and if you want to spruce things up further feel free to add in some LED or RGB case fans (any color would look good with this setup IMO so take your pick) though getting additional fans isn't necessary as the two included 120mm Phanteks fans (one in the front and one in the back) provides adequate airflow for this particular parts-list as is. 
Phanteks produce some high-quality, very aesthetically-pleasing (IMO at least) cases at affordable prices, with the Eclipse P400 series being a prime example of that and arguably their best overall value for money model on the market right now. Kinda sounding like some cheesy infomercial here friends, but my excuse is the P400 is genuinely one of my personal favs out there, though in the $60 to $80 price range there are indeed many good value choices and I've listed a fair bunch of my other top picks right now as choosing a case for your gaming PC is one of the more subjective choices when planning a parts-list so don't limit yourself to the first good one you see. But if in doubt, any of the models I listed are great places to start and some of the best quality for the money.
A practical work of art at an affordable price. Highly recommended.
Recommended Software & Accessories
Operating System
Most people will use Windows 10 and there's various ways to use it for a new rig:




As for other good programs to consider installing to kick-off your new machine in style (such as anti-virus/malware, system/temps monitoring, handy utilities, etc) see our list of suggested applications for ideas:

What to Install on a New Gaming PC Build
Recommended 1080p Monitors (60Hz and 144Hz)
60Hz/75Hz:

ASUS VS248H-P 24" Full HD 1920x1080 LED Monitor (60Hz, 2ms response time)

144Hz:

Acer XFA240 24" Full HD 1920x1080 1ms LCD Monitor (Has GSync)

BenQ Zowie XL2411P 24" Full HD 1920x1080 1ms LCD Monitor (No GSync)
As explained earlier, in terms of choosing a monitor this particular $800 gaming PC build can be suited for either 1080p at 60Hz/75Hz, or 1080p at 144Hz, so feel free to get either type of monitor depending on your budget. Just keep in mind that in the most demanding AAA games on high/ultra settings, you're not going to get 144FPS with the above parts and you'd need to up your CPU and GPU to make the most of a 144Hz display. That said, this $800 custom PC build is a decent entry-level 1080p 144Hz build.
Suggested Peripherals for the $800 PC
As for your mouse, keyboard, monitor, and headset/speakers, reusing your old PC accessories is the first place to start to save money, but if you're buying these new these are some of our top recommendations to go along with this particular $800 computer. These are completely personal preference and how much more you're willing to invest on top of your core 800 dollar parts-list. Casual gamers will do fine getting basic accessories, whereas a pro or aspiring future eSports star will want to be more strategic in their peripheral selections as every little extra edge counts in competitive play. For all our top recommendations and what all the specs mean, see our accessory buying guides:
Building the $800 PC & Upgrade Path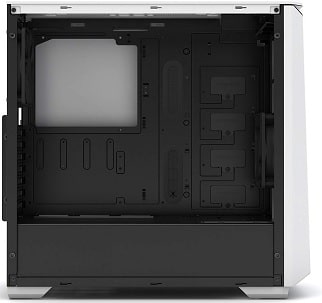 Tools to Use
Required: Phillips-head screwdriver (size #2)

Optional:
Anti-static Wrist Strap (if you want to be extra safe)
Flashlight
Cable/Zip Ties and Scissors (the Phanteks P400, like most good cases, comes with Velcro straps and zip ties)
Get Fancy: Full PC Toolkit
How to Build
See our photo-filled walkthrough if you prefer a written guide that you can take at your own pace:
How to Install Your PC Parts (Step by Step Noob Guide)
To follow a video tutorial instead, see our current top recommended YouTube tutorials in our main newbie guide:
Introduction to Building a Gaming PC
If it's your first time, it really isn't anything to be afraid or overwhelmed by if you simply take your time, follow safety precautions carefully, and do one step at a time. We also always include easy to use components in all our sample builds, such as the first-time-builder-friendly Phanteks P400 case, which also makes cable management straightforward (not all cases are created equal in terms of user-friendliness). Whichever case or other parts you decide on, have fun, good luck, and if you build this exact or similar setup and have any feedback to share we'd love to hear how it goes for you.
Future Upgrades for the $800 PC
These parts are chosen with future flexibility in mind, with a full-sized ATX motherboard with plenty of expansion options, a decent 550 watt PSU which goes a long way (most people overestimate how much wattage they need), and a versatile case that supports all sorts of upgrades. So while this setup will last you a good few years of flawless 1080p performance, should you want to upgrade later on there's a lot you can do here including upgrading the RAM (though 16GB will last a long time), upgrading to a faster Ryzen processor later on (by doing a BIOS update first if it's a Ryzen 3rd gen; easy to do on an existing system), or getting a more powerful graphics card in a few years time to stay on the cutting edge of flawless 60FPS ultra performance in the latest AAA titles. Whatever you upgrade first will depend on your particular usage and where your system is lacking most.
Additional References
---
Hope this guide helped in your research, and good luck with your new setup. Need further help?
For Simple Questions
If you need further help choosing the optimal bang-for-buck parts-list for your specific requirements, feel free to post a question in our main comments section (on our Latest Gaming PC Builds page). We'll respond to you ASAP and do our best to help steer you in the right direction.
For Detailed Help (Premium Email Support)
To have ongoing access to our exclusive support email (reserved for customers only), check out the "Master" or "VIP" editions of our book (The Gaming Build Blueprint Manual). These editions come with included long-term support. This might come in real handy if you're building your first PC but are still a bit worried or intimidated. You'll have the peace of mind to be able to ask us for help at any stage of your build.