Best 1080p 60FPS Ultra Gaming PC Build Under $800 for July 2018 (Maxed 1080p/FHD)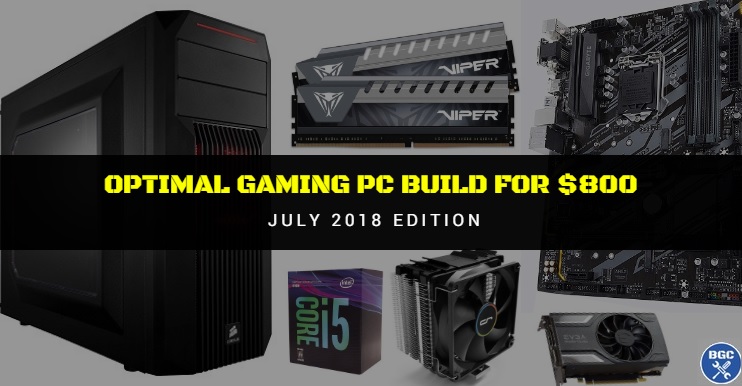 Recommended $800 Computer for Gamers Looking to Maximize Performance, Component Reliability, Cooling, Looks & Lastability for the Money in July 2018
Last Updated: July 8, 2018
Learn how to build the best 1080p 60FPS ultra gaming PC build for under/around $800 based on the current July 2018 market to spend your money more wisely, and to take into account everything important to you as DIY gamer: pure gaming performance, reliability, features, looks, cooling, noise-reduction, longevity...the whole gammit. 
The chief main aim of this recommended gaming PC build is simple and all in the name: which are the best bang for your buck parts right now, in our honest humble unbiased opinion, to build a computer that will deliver a consistently super-smooth 60FPS in 1080p on ultra/maxed settings in the majority of modern games (and that'll provide a playable 1440p experience, too).
Just a heads-up that the keyword is the "majority" of games, and uniquely demanding games with unusually high requirements such as the mighty Witcher 3 will not reach a flawless 60FPS frame-rate level on maxed/ultra settings at all times (though it'll get close). But for the most part, if you're a picky gamer wanting flawlessly-smooth 1080p/Full HD on maximum settings to experience 1080p gaming at its finest, this is the gaming rig we recommend to make the most of your money.
If you wish to save some money and you don't mind turning down the settings in 1080p to around medium/high (depending on the game) and still get 60FPS or thereabouts, see our best $600 build instead. Ok, let's get into the best 1080p 60FPS ultra gaming PC build in our opinion, including our typical detailed objective breakdown of the exact reasoning why each part was carefully hand-picked for this month's 800 setup.
Oh, and as always, don't just take our word for it and always do your own research to take into account any specific needs you may have; we don't claim to know it all and the following are just our thoughts based on years of being hardware enthusiasts.
Best Gaming PC Build Under $800 (July 2018)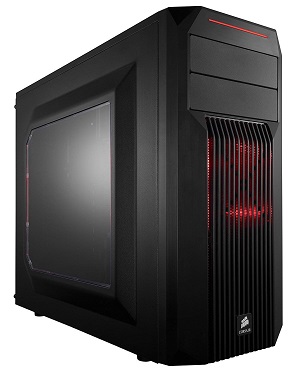 Estimated Gaming Performance:
1080p (1920 x 1080):


1440p (2560 x 1440):

VR and 4K:

Solitaire:

FLAWLESS!


GOOD/AVERAGE

AVERAGE/POOR

UNPLAYABLE
The above is the average expected performance of this build at different resolutions when playing a typical, graphically-demanding modern PC game on high/ultra/maxed settings. Disclaimer for dummies: A cheap joke may or may not be included.


Note: Keep in mind that hardware prices can fluctuate often, so the current total cost could slightly exceed our target budget of $800 at any given time. To check pricing, click "Build This PC" which conveniently shows all exact current prices for this parts-list on Amazon.
Recommended $800 Build: CPU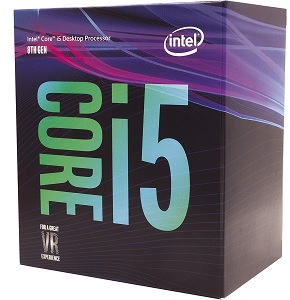 Best overall bang for your buck 2018 gaming processor
If pure gaming performance is the most important focus, go with an Intel i5-8400 when building a PC in this sort of price tier as they have better single threaded performance than competing AMD chips, which is key to the best gaming performance possible. Simply put, the 8400 is hands-down the best mid-range gaming CPU for the money right now.
Getting a competing AMD option instead, such as the Ryzen 5 2600, is worth considering if you really prefer AMD for whatever reason and especially if you value demanding workstation-type applications as much as gaming, as Ryzens are slightly better for a workstation build overall.
But if gaming is what you care about most, which is likely true as we are Build-GAMING-Computers.com after all ;), then just go with the Intel for the best possible frame-rate in most gaming situations. Besides, an i5-8400 has 6 cores and 6 threads, meaning its no slouch when it comes to demanding non-gaming applications either.
Recommended $800 Build: CPU Cooler
The i5-8400 does indeed come with a stock cooler, meaning that getting an aftermarket one (which for anyone wondering simply means a non-Intel or non-AMD cooler) for this CPU is not an absolute requirement. However, whilst AMD's recent stock coolers on their Ryzens are actually very decent and something we can comfortably recommend to most gamers, Intel's stock coolers are a different story and we do recommend getting your own cooler if you want to build the best overall gaming PC possible.
The stock cooler that the i5-8400 comes shipped with is basically the bare minimum cooling solution, and "good enough" to cool the 8400 decently-enough under most circumstances such as general use, light gaming, etc. But here's the thing: they can get quite noisy when under load, and won't cool your 8400 effectively enough if you're more of a heavy user as most gamers tend to be.
Your best bet if you'll be doing a ton of demanding gaming on your system and/or you'll be doing other intensive applications for long periods of time is to get an aftermarket cooler. Even a really cheap aftermarket CPU cooler will cool and quieten your i5-8400 better than the stock fan could ever do.
It'll keep your CPU running cooler, quieter, and will increase its lifespan over the long haul. Plus, Intel's stock cooler is an ugly looking thing and aftermarket coolers will look much better, especially if you get a see-through side panel case like the one we recommend for this build. Don't worry about the added installation step you have to do, as it's really no more difficult to install than the stock cooler, really.
So, after all that, we still haven't even mentioned which cooler we've included for the best 1080p 60FPS ultra gaming PC build...goes to show that there is a lot of confusion surrounding the topic of CPU coolers and there's a fair bit to say about it.
To summarize; unless you don't mind potentially extra noise, and you're going to really thrash your system, and you don't mind the potentially higher temps AND you don't mind the look of your cooler, feel free to stick with the i5's stock one.
Otherwise, trust me and go with an aftermarket one like the CRYORIG M9i, as the tiny added investment will be worth it overall. The M9i is a great little thing (well, little compared to some of the other MASSIVE coolers out there), and the perfect budget cooler for an i5-8400 that'll serve it well and keep quite a fair bit cooler and quieter. It's a steal for the price, and it does come with its own thermal paste which is of good enough quality.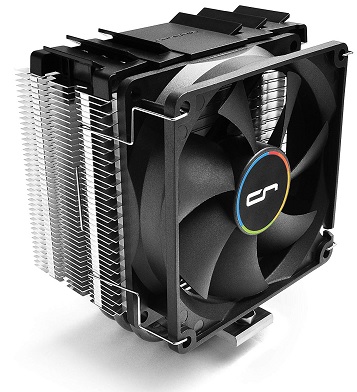 Recommended CPU cooler to replace Intel's average-at-best stock cooler
Recommended $800 Build: Graphics Card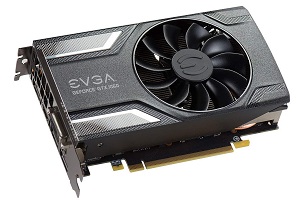 Now to what really matters most to us gamers, your trusty video card, and at this moment in time your best value for money bet based on the current market IMO is opting for a NVidia GTX 1060 - either a 3GB or 6GB variant. AMD's competing cards on either side of the 1060 in terms of price, the RX 570 and 580, are also excellent gaming cards however to assemble the best gaming PC build under $800 right now a 1060 fits into this budget better IMO.
As for the performance differences between a 1060 3GB and a 1060 6GB model: it isn't huge and so your choice depends mostly on current pricing, but lean to a 6GB variant if you'll be running higher resolutions than the standard 1080p as the extra video memory will come in handy for those added pixels on screen. But either 3GB or 6GB will do just fine for 1080p gaming now and over the next few years.
Recommended $800 Build: Motherboard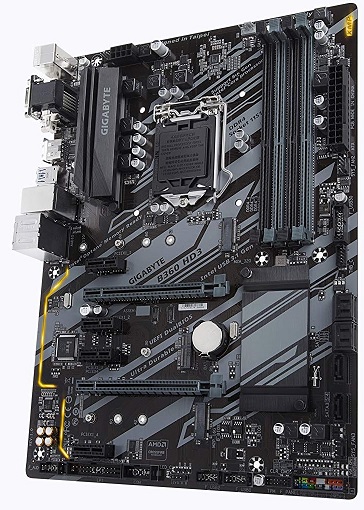 For an i5-8400 your best value bet is a B360 board like this
Let's move onto the motherboard, which is always one of the trickier PC components to properly choose as it's easy to get lost and confused, especially if you're a first-time builder. So, for the Intel Core i5-8400, the best option you have in terms of bang for your buck is to get a 2018-released B360 motherboard.
This chipset doesn't support overclocking, which is what you want for the i5 8400 as it's a locked (read: not overclockable) processor. If you want to overclock you'll have to see one of our other recommended monthly builds (some of our builds are overclockable, some aren't, but we generally don't recommend it to first-time builders).
Getting an overclocking-friendly board for your locked i5-8400, which would be a "Z370" chipset motherboard, is going to be more expensive and a waste of money 'cause you won't be using its full functionality. In other words, Z370 boards aren't ideal for an i5-8400, and only recommended if you're getting an unlocked processor instead such as the i5-8600K (any Intel CPU with a "k" in the model number is unlocked/overclockable).
The Gigabyte B360 HD3 is a good value option for the i5-8400 that fits the needs of this build, and has all the basic features you likely need for a standard gaming PC like this. Gigabyte boards are generally great bang for your buck and this one is no exception assuming you don't need any fancy features. But all the basics are covered; 4 RAM slots, good LAN, good sound, decent durability, and whilst not the flashiest looking board it does look clean and sharp.
Keep in mind, like most motherboards there's no built-in WiFi so if you want wireless you'll need to get a separate adaptor as usual (either a PCI-E card or a USB dongle; either will work fine).
Recommended $800 Build: RAM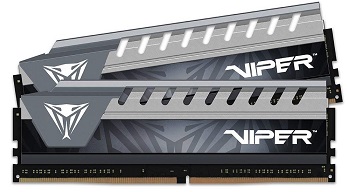 For 800 bucks you can't realistically fit into 16GB without sacrificing your other components, so the best balanced option is 8GB which despite what anyone tells you is all you need for maximum performance 1080p gaming right now. Plus, you've got the 4 memory slots on your motherboard, meaning there's always room to upgrade to 16GB (ie adding another 2 x 4GB modules) later down the track to give you system a nice little boost gaming and non-gaming wise in a few years time.
As for RAM speed, as mentioned in more detail in our recommended $600 mid-range PC build, higher memory speeds are simply not necessary for a mid-range setup and in most cases not worth the extra money. 2133, 2400 and 2666MHz is all the memory speed you need.
To summarize what we said in that build, you'd only get a noticeably improved frame-rate from higher RAM speeds when and only when you're sporting a top of the range GPU like the 1080 or 1080 Ti. With a GTX 1060, it's not going to make a difference, despite what some random may say on a forum. Although keep in mind that we're talking purely gaming here, and for other demanding applications the extra RAM speed may make more of a difference. 
So, for the best 1080p 60FPS ultra gaming PC build for this month, we've included good value for money modules from Patriot which run at a healthy 2666Mhz, and that look pretty cool and fit nicely with the overall look and feel of this build.
Recommended $800 Build: Case
Corsair's Spec 02 is a good value Mid Tower that fits our needs well and has a pretty cool design that'll please many, but of course feel free to swap to your case of choice (most mid-full towers will be compatible with these parts but of course do your homework). The Spec 02 has decent cooling/airflow, good enough room for all our parts and then some, and all the features you'll probably need for a standard gaming computer like this.
Recommended $800 Build: Storage and PSU
These picks stay the same from our lower-tier $600 gaming rig because they're solid value picks and all we need for this setup as well. To summarize, we've got a trusty 1TB HDD from Western Digital (feel free to get more of course but 1TB is typically enough for most gamers).
We've left out an SSD to concentrate the $800 budget to fully maximize gaming performance: we were gonna opt for a 3GB 1060 instead of the 6GB and use that extra $50 or so to include a small SSD, but decided on sticking with the slightly faster, more "future-proofed" 6GB 1060 version and left the SSD out of this month's $800 build. As always, feel free to include an SSD if you want, as this build is just what we'd suggest to do to maximize every dollar and cent of this build's target price-tier for gaming purposes first and foremost.
Then we've got a decent-quality 500 watt 80+ Bronze EVGA PSU which is actually all the power you need for a build of this nature, including enough wiggle room for future upgrades. A common newbie mistake is overestimating how much power you need for your parts, and whilst it won't hurt your PC to have a lot more power than you need, it'll hurt your wallet unnecessarily and as with all our recommended builds getting the most bang for buck is what we're all about to help you avoid overspending for no reason.
Recommended Operating System
Windows 10 is what we'd recommend for most people, which if you need to get new comes in a handy USB/flash-drive version or a disk version if you want to make your own bootable flash drive from that (since this build doesn't have an optical drive as they're totally optional these days: feel free to get one, though). Linux is also an option but we don't recommend it unless you know what you're doing, so if you're a newbie just stick with Windows.
Recommended Peripherals
See our top value for money picks of the best mice, keyboards, screens, headsets, etc, in our peripheral buying guides (see the top menu) should you need to buy these new and you're not reusing old ones. These parts will all come down to personal preference, and of course how much more you have to spend on top of your core components.
Wrapping Up the Recommended $800 Rig
Continue Your Build Research
That wraps up the current best PC build under $800 for an awesome experience of 1080p 60FPS on ultra/max settings. See our Gaming Computer Builds Hub/FAQ for all our build tiers and answers to common questions about our monthly-updated recommended PC builds. Also see our individual hardware guides for more detail about picking each component.
Get 1 on 1 Help With Your Build
If you want specific, detailed 1 on 1 help choosing the right parts and accessories for your exact budget (or to get a critique of your parts list) and you don't want to play the waiting game of posting in a forum and praying for an answer (or praying that whoever replies actually know what they're talking about), our premium PC building beginner's eBook comes with unlimited email help and support for 90 days where you can ask us anything and we'll take the time to help you 1 on 1.
Have Us Research the Best Personalized Build for Your Needs
Alternatively, if you want us to plan, research and optimize a fresh new build for you based on your exact wants and needs, we can also research the best specific build for you with our Personalized Parts-List Service. 
Feedback & Comments Are Welcome
Unlike big companies who might not care what you have to say, we're an open book here at BGC and we encourage and take onboard any and all feedback (good, bad, ugly) as it may help us to improve our builds and help the site become the best beginner-friendly hardware resource it can be. Feel free to share your feedback by emailing us or share your thoughts on our Facebook Fanpage.