Home > PC Builds > Best $2000 Gaming PC
Plan the Best Gaming PC Build Under $2000
November 2019 Extreme Gaming PC Build Guide: Planning the Perfect Parts-List Using a RTX 2080 Super (& Estimated FPS for 4K/1440p 60Hz and 1080p 144Hz)
How to choose the fastest, best-value, highest-quality parts to build the best extreme gaming computer under $2000
Last Updated: November 4, 2019

In this guide we tackle how to build the very best $2000 gaming PC in November or December 2019 for extreme performance. This 2000 dollar (USD) custom PC build is suitable for 4K gaming as it packs a powerful RTX 2080 Super graphics card and capable Intel Core i7-9700K processor, along with a high-quality host of supporting components to make for an excellent overall gaming PC that's built to last, flexible, and well-cooled. Like all PC builds we recommend, our current recommended $2000 gaming PC build below is thoroughly thought-out to take into account everything that makes for a great custom PC including:
But while we do our best to provide the best sample PC builds for gaming we can possibly muster based on many years of experience, we encourage you to always do your own research when building the best $2000 PC for gaming, especially if you have more specific wants and needs as a gamer or power user. Let's get into this fairly monstrous setup and why each carefully-chosen part made the cut as our top recommendation for November.
See Also: Assembling a PC from Scratch (Installation 101)

Best Gaming PC Build Under $2000 (November 2019 Updated)



Full Specs


Graphics Card
EVGA GeForce RTX 2080 Super Black (8GB GDDR6)
EVGA
CPU
Intel Core i7-9700K (3.6GHz Base, 8 Cores, 8 Threads, Unlocked)
Intel
CPU Cooler
Cryorig H7 Air Cooler (120mm Fan)
Cryorig
Motherboard
MSI MPG Z390 Gaming Edge AC (ATX, WiFi, SLI)
MSI
RAM
Corsair Vengeance LPX 16GB (2 x 8GB, DDR4, 3200MHz)
Corsair
SSD (Primary/Boot)
Samsung 860 EVO 1TB SSD (SATA)
Samsung
HDD (Secondary Drive)
Seagate Barracuda 2TB (7200 RPM, 64MB Cache)
Seagate
Power Supply
EVGA SuperNOVA 750 G3 (750 Watts, 80 Plus Gold, Fully Modular)
EVGA
Case
Corsair Carbide Air 540 (Mid Tower, 3 x 140mm Fans Included)
Corsair



Estimated Total: $1850 - $1920 (US Dollars)




Additional Build Features Cheatsheet


Estimated Wattage
469W
RAM Slots
4 (2 free)
Motherboard Support
mITX, mATX, ATX, eATX
Max RAM Size / Speed
128GB / 4400MHz
CPU Architecture / Generation
Coffee Lake / 9th Gen
CPU Overclockable?
Yes
Built-in Wireless?
Yes (802.11ac)
PCIe Slots
PCIe x16: 3 (GPUs)

PCIe x1: 3 (Add-On Cards)
Storage Support
6 x SATA Drives

2 x m.2 SSD

RAID 0, 1, 5, 10
VR-Ready?
Yes
Front Ports
2 x USB 3.0 / 2 x USB 2.0 / 1 x Headphone / 1 x Microphone
Optical Drive Support?
Yes (2 x 5.25" Bays)
Multi-Monitor Support
Up to 4 Displays
Case Fans
Front: 3 x 120mm or 2 x 140mm fan (2 x 140mm Included)

Rear: 1 x 120 / 140mm (1 x 140mm Included)

Top: 2 x 120 / 140mm
Max GPU Length
320mm
Max CPU Cooler Height
170mm
Max PSU Length
250mm
SLI / CrossFire Support
Yes / Yes
(Adds All Parts to Amazon Cart in 1 Click - USA Only)

Gaming Performance Overview
1080p 60Hz:

1080p 144Hz:

1440p 60Hz:

1440p 144Hz:

4K 60Hz:

FLAWLESS

GREAT

FLAWLESS

AVERAGE


GOOD/VERY GOOD


GREAT

The above is the average expected performance of this build at different resolutions and refresh-rates when playing a typical, graphically-demanding modern PC game on high/ultra/maxed settings. If you're not sure what refresh-rate your gaming monitor is, chances are it's a standard 60Hz screen. See PC gaming refresh rates explained for more.
Estimated FPS for RTX 2080 Super and 9700K (& 16GB RAM)
The average FPS (Frames Per Second) estimations below were calculated based on studying multiple benchmark sources that use either the exact or similar parts we recommend for our latest $2000 gaming PC build (i7-9700K, RTX 2080 Super, 16GB 3200MHz).

These are just ballpark averages, so in the most action-packed scenes the frame-rate can go lower. For example, if we list the Witcher 3 average as 60-70FPS, your FPS may drop under 50-60FPS in the most intense areas.

Also keep in mind these aggregated benchmarks are estimated for ultra/maxed settings so you can get higher (or much higher) FPS on lower settings such as high or medium. Plus, these numbers are assuming fancy rendering features like RTX Real-Time Ray Tracing, AA (Anti Aliasing), and Hairworks are disabled.
4K (3840 x 2160)
GAME
AVERAGE FPS
Metro Exodus
30 - 40
Call of Duty Modern Warfare
70- 80
Gears 5
40 - 50
Apex Legends
45 - 55
PUBG
40 - 60
Fortnite Battle Royale
60 - 70
Far Cry New Dawn
50 - 60
Anthem
35 - 45
F1 2019
60 - 70
Shadow of the Tomb Raider
40 - 50
Assassin's Creed Origins
40 - 50
The Witcher 3
50- 60
GTA V
80 - 90

Rainbow Six Siege
90 - 110
Monster Hunter: World
35 - 45
1440p (2560 x 1440)
GAME
AVERAGE FPS
Metro Exodus
60 - 80
Call of Duty Modern Warfare
110 - 130
Gears 5
70 - 90
Apex Legends
70 - 90
PUBG
60 - 80
Fortnite Battle Royale
100 - 120
Far Cry New Dawn
80 - 90
Anthem
70 - 90
F1 2019
85 - 115
Shadow of the Tomb Raider
70 - 90
Assassin's Creed Origins
75 - 95
The Witcher 3
85 - 105
GTA V
105 - 125

Rainbow Six Siege
210 - 280
Monster Hunter: World
65 - 85
1080p (1980 x 1080)
GAME
AVERAGE FPS
Metro Exodus
85 - 95
Call of Duty Modern Warfare
140 - 160
Gears 5
100 - 120
Apex Legends
110 - 130
PUBG
100 - 110
Fortnite Battle Royale
130 - 150
Far Cry New Dawn
110 - 130
Anthem
100 - 120
F1 2019
120 - 150
Shadow of the Tomb Raider
90 - 110
Assassin's Creed Origins
95 - 115
The Witcher 3
95 - 115
GTA V
120 - 130

Rainbow Six Siege
260 - 300
Monster Hunter: World
100 - 120
Average FPS Disclaimer (How We Calculate)
But while we do a lot of benchmark research to bring to you the most accurate FPS estimates possible, and we do lean towards being conservative in the numbers (we'll round the numbers down if we're in doubt), please note we can't 100% guarantee you'll get these average frame rates listed as there are different factors that could affect your performance.
These variables include hardware differences, software differences (OS, drivers, game patches/versions), cooling/airflow of your build (and how hot your specific system may be running, enabled game features/settings such as Anti-Aliasing, different RAM setups/speeds you might be running, and so on. Overall though, you can rest assured our averages are pretty safe ballpark estimates though, assuming we didn't mess up in our research which could of course happen as we don't claim to be infallible hardware gods.
If you think we miscalculated please let us know in the comments on our PC builds hub page (or email us direct) to help us keep the builds as helpful as possible for the next reader- much appreciated in advance). We recommend doing your own research if performance in certain games is important to you.
Component Breakdown & Honorable Mentions
Note: All "honorable mention" recommendations below were also checked for compatibility
Note 2: For details on our storage choices, see the $2500 build guide as they're the same in that build
Graphics Card: EVGA GeForce RTX 2080 Super Black 8GB
The best value 2080 Super right now
The RTX 2080 Super is the new version of the RTX 2080 and provides better performance for not too much more money, and is arguably the best value graphics card you can buy for gaming within the $600 to $800 mark - a good amount to spend for a $2000 gaming PC build to fully maximize gaming performance.
With a 2080 Super you can achieve very solid 4K performance, and as you can see from our estimated frame rates earlier you'll reach very nice FPS numbers in the most demanding AAA games on high/ultra settings. If you tone down the graphics settings you can get the holy 60FPS mark consistently.
A 2080 Super paired with the 9700K also means excellent 144Hz performance for 1080p or 1440p monitors, but 1440p 144Hz is pushing it a little for this build if we're talking about demanding AAA games on high settings.
CPU: Intel Core i7-9700K
As already mentioned briefly, Intel gets the nod for the $2000 extreme gaming PC build once again as the Core i7-9700K cannot be matched in its price point for pure gaming performance which is what these builds are primarily about. Consider a Ryzen if building a hybrid gaming and workstation computer though, as AMD CPUs are the more flexible productivity/multitasking CPUs, though in saying that Intel is no slouch in that department either (and can also win in certain work applications like the Adobe suite). Anyway, the 9700K is an amazing gaming CPU for any resolution, and while actually being a tad overkill for most gamers (especially if just gaming on a 60-75Hz monitor as getting 60FPS performance doesn't require a killer CPU), it's something you can easily afford if looking to put together the best gaming PC build under $2000 or thereabouts. 
CPU Cooler: Cryorig H7 Air Cooler
The Cryorig H7 is hard to beat for price vs performance and great for stock or overclocking
Honorable Mentions:

Cooler Master Hyper 212 RGB Black Edition (great bang for buck cooler)

Cooler Master Hyper 212 Black Edition (" ")

Dark Rock Pro 4 Air Cooler (best air cooler for extreme overclocking)
The i7-9700K requires you to buy your own cooler as it doesn't come with one. Your choice will mostly come down to whether you'll be overclocking or not, and if so, how much of an overclock you'll be doing. First of all, for the beginners who won't be overclocking (or those who just can't be bothered), a basic aftermarket cooler under 50 bucks is going to be just fine, and in that category the Cooler Master 212 Evo is hard to beat.
One of the very best bang for buck air coolers on the market (for what seems like an eternity), the 212 Evo comes in various styles and we've included the slick black RGB edition for the $2000 extreme build which you can customize to match the color of your case fans. For non-RGB black edition is also a great choice if you don't care for the extra lighting that the RGB edition would bring your setup. The standard (non-black) version is also a popular choice, but I think the black ones look better personally.

For overclocking, you'll want to invest in something more high-end that will keep the 9700K cool and quiet under load, with the Dark Rock Pro 4 and Noctua DH-15 being excellent choices here if you're going for an air cooler. A liquid CPU cooler isn't necessary, even for high-end overclocking, as you're going to get around the same performance as top air coolers like the ones I just mentioned. But some prefer the look of a fancy liquid cooler, so feel free to get one instead such as the good performing, solid value H100i Pro RGB.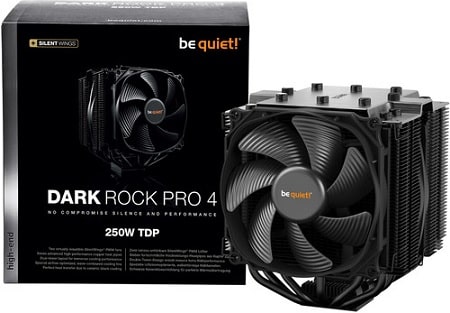 Big black beast; the Dark Rock Pro 4 is a quality high-end air cooler for overclockers
Motherboard: MSI MPG Z390 Gaming Edge AC WiFi
Great value, feature-rich Z390 motherboard
Honorable Mentions:

Asus Z390-A (cheaper option but no WiFi so you'll need a PCIe or USB adapter)

Asus ROG Strix Z390-E WiFi (another good-quality board for an Intel i7)
The MPG Z390 Gaming Edge AC is an excellent value motherboard from MSI that's perfect for an i7 (or i5) processor, and comes with an impressive feature list for the price including wireless capability, good overclocking support (with respectable VRMs), two m.2 SSD slots, RGB lighting, 5 fan headers, and SLI support (plenty of space too as a SLI 2080 Super build for the minority of readers building a SLI PC).
To top things off, the MSI Z390 Gaming Edge AC looks awesome, too. Hard to go wrong with this one at its current price. The Asus Z390-A is another good value motherboard for an Intel i7-9700K, though not as impressive overall in terms of features for the price, but would look great for an all-white gaming PC build such as for the NZXT H510 Elite, NZXT H500, or Phanteks P400 White just to name a few good white PC cases off the top of my head.
Power Supply: EVGA SuperNOVA 750 G3 Gold Modular
Honorable Mention: Corsair RM750x Gold Modular (another high-quality, top-tier 750 watt PSU)
Last but not least for the $2000 extreme gaming PC build we have the power supply, and we've opted for the top-tier EVGA SuperNova G3 750 which rivals other high-quality, efficient PSUs from top-name power supply brands like Seasonic. It's an 80 Plus gold rated unit which is what you want for an extreme desktop like this, and is fully modular which means no excess cabling leading to better/easier cable management and a neater finished product.
EVGA really have taken over the PSU game in recent years, and for good reason as they have a range of quality, super-efficient and reliable units just like the G3 series. 750 watts of power is also more than enough for the full parts-list of the current recommended $2000 gaming PC build, with plenty of included wiggle room to take into account future upgrades (as you'll see when comparing the estimated power draw of this build in the specs table above; plenty of room to move).
A common newbie builder mistake is overestimating how much power you need, and with single GPU setups you really don't need 850/1000 watts and can easily get away with a lot less. Heck, you could even get away with a 650 watt PSU for this particular parts-list if you knew for sure you weren't gonna do hardly any upgrades in future, but since PSUs (even good ones like this EVGA) aren't too expensive you might as well get a version that's 200 watts-ish above what you need instead of just 100-150 watts (which would still be safe). But yeah, many beginners go even higher than this and get like 300 watts+ what they actually need, which doesn't harm your build but is a bit of a waste. Each to their own, though, but I feel 750 watts for this $2000 custom PC is perfect.
Case: Corsair Air 540 Mid Tower
Honorable Mentions:

NZXT 510 Elite RGB Mid Tower

Fractal Design Meshify S2 Mid Tower

Corsair Obsidian 750D Airflow Edition Full Tower

Cooler Master MasterCase H500 Mid Tower

Phanteks Enthoo Pro Full Tower

Rosewill THOR V2 Full Tower
The Corsair Air 540 is a true tank of a case; technically a Mid Tower but quite large overall and its cube shape will take up a fair amount of space so make sure you have the room for it. More importantly though, it's a high-quality case with excellent airflow, and a more low-key yet super-slick design (IMO at least). Installation and cable management is also easy, with tons of space to hide cables for a clean finished product.
It comes with 3 140mm fans which is adequate for this parts-list as it is, and it has a side window to show off your system in action. As with most build tiers, there are a lot of cases you could choose here. If the wide, cube-shape of the Air 540 is not your style, we've gone ahead and listed our top favorites for a PC build under $2000 or so in terms of value for money - all checked for compatibility with our top recommended CPU coolers for this build (Cryorig H7, Cooler Master 212, Dark Rock Pro 4).
Software and Accessories:
See the main PC Builds Tier List for operating system advice, and see the $2500 PC Build Guide for recommended high-end monitors that would also suit this $2000 rig.