Home > PC Builds > Best $2500 Gaming PC
Plan the Best Gaming PC Build Under $2500
November 2019 Guide to Building the Best $2500 Gaming PC Build with All-RGB, Intel i7 and NVidia RTX (& Estimated FPS for 4K 60Hz and 1440p/1080p 144Hz)
Last Updated: November 4, 2019
Obi-Wan Built This
Planning the best $2500 gaming PC build for top performance, great looks, and optimal cooling in November or December? In this detailed guide to the current Q4 2019 hardware market we'll explain how to go about strategically selecting the current fastest, highest-quality compatible custom PC parts-list for under 2500 US dollars (higher for Canada/Australia, less for UK readers) that's as impressive on the inside as the outside, and that will look seriously awesome in action.

This $2500 gaming PC build with its Intel i7-9700K and NVidia RTX 2080 Ti is intended for gamers whose primary aim is to maximize gaming performance, hence us choosing Intel over AMD in this particular tier to squeeze out the highest frame rates possible. Though AMD is still a great choice for gaming too, and also often the better choice for a flexible gaming and workstation hybrid PC (see the full build breakdown below for more details).
CPU selections are always important, but the standout component of our current recommended $2500 gaming PC build is of course the mighty NVidia GeForce RTX 2080 Ti 11GB video card, which is luckily something you can comfortably fit into a 2500 dollar budget. A GPU like this will deliver amazing 4K 60FPS gaming performance on high settings (ultra in some games, medium in others) throughout 2020 and beyond. 
Or if you're more of a competitive fast-paced FPS, MOBA or racing type of gamer, you'll want to use a 1440p or 1080p monitor instead with a higher refresh rate of 144Hz or higher, in which case this $2500 gaming PC build will also shine.
These parts are also more than enough firepower to double up as an excellent virtual reality gaming PC build for any high-end VR headset like the HTC Vive Pro, Oculus Rift, or Valve Index. Like all desktop builds we carefully-craft and recommend on the site, our current top recommended best gaming PC build under $2500 below is thoroughly thought-out to take into account everything that make for a great custom PC including:

Quigon Built This
That said, while we do our very best every quarter (and every month; while this $2500 PC build guide is updated every 3 months, we update the main table of the best gaming PC builds every single month) to provide you with the best sample PC builds for gaming that we can possibly muster based on many years of experience, we encourage you to always do your own research too - especially if you have more specific wants and needs as a gamer and/or professional creative, content creator, video editor, 3D designer/developer, etc. 
But if maximum gaming performance is your primary aim, you'll find the following custom $2500 gaming computer to be a very safe bet to stretch your money as far as possible based on the current November 2019 market. Without further ado, let's get straight into the build, followed by estimated frame rates for 4K, 1440p, and 1080p, and a detailed build breakdown explaining why each part made the cut.
See Also: How to Assemble a PC (Beginner's Walkthrough)

Best $2500 Gaming PC Build (November 2019 Updated)



Full Specs


Graphics Card
EVGA GeForce RTX 2080 Ti Black Edition (11GB GDDR6)
EVGA
CPU
Intel Core i7-9700K (3.6GHz Base, 8 Cores, 8 Threads, Unlocked)
Intel
CPU Cooler
Corsair Hydro H100i RGB Platinum SE (240mm Radiator, 2 x 120mm Fans)
Corsair
Motherboard
Asus ROG Strix Z390-E (ATX, WiFi, SLI)
ASUS
RAM
Corsair Vengeance RGB Pro 16GB (2 x 8GB, DDR4, 3200MHz)
Corsair
SSD (Primary/Boot)
Samsung 860 EVO 1TB SSD (SATA)
Samsung
HDD (Secondary Drive)
Seagate Barracuda 2TB (7200 RPM, 64MB Cache)
Seagate
Power Supply
EVGA SuperNOVA 750 G3 (750 Watts, 80 Plus Gold, Fully Modular)
EVGA
Case
Corsair Crystal 570X RGB (Mid-Tower, Tempered Glass, 3 x 120mm Fans Included)
Corsair



Estimated Total: $2450- $2590 (US Dollars)






(Adds All Parts to Amazon Cart in 1 Click - USA Only)





Additional Build Features Cheatsheet


Estimated Wattage
474W
RAM Slots
4 (2 free)
Motherboard Support
mITX, mATX, ATX
Max RAM Size / Speed
64GB / 4266MHz
CPU Architecture / Generation
Coffee Lake / 9th Gen
CPU Overclockable?
Yes
Built-in Wireless?
Yes (802.11ac)
PCIe Slots
PCIe x16: 3 (GPUs)

PCIe x1: 3 (Add-On Cards)
Storage Support
6 x SATA Drives

2 x m.2 SSD

RAID 0, 1, 5, 10
VR-Ready?
Yes
Front Panel USB Ports
2 x USB 3.0 on top of case
Optical Drive Support?
No
Multi-Monitor Support
Up to 4 Displays
Case Fans
3 x 120mm RGB LED Fans Included (Room for 6 Total)
Max GPU/PCIe Card Length
370mm
Max CPU Cooler Height
170mm
SLI / CrossFire Support
Yes / Yes
Gaming Performance Overview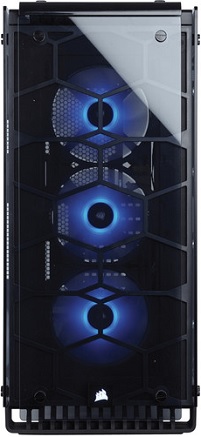 1080p 60Hz:

1080p 144Hz:

1440p 60Hz:

1440p 144Hz:

4K 60Hz:

4K 144Hz:


FLAWLESS

GREAT

FLAWLESS

GOOD/VERY GOOD


GREAT


AVERAGE/POOR


FLAWLESS

The above is the average expected performance of this build at different resolutions and refresh-rates when playing a typical, graphically-demanding modern PC game on high/ultra/maxed settings. If you're not sure what refresh-rate your gaming monitor is, chances are it's a standard 60Hz screen. See PC gaming refresh rates explained for more.
Estimated FPS for 9700K and RTX 2080 Ti (& 16GB RAM)
The average FPS (Frames Per Second) estimations below were calculated based on studying multiple benchmark sources that use either the exact or similar parts we recommend for our latest $2500 gaming PC build (i7-9700K, RTX 2080 Ti, 16GB 3200MHz).

These are just ballpark averages, so in the most action-packed scenes the frame-rate can go lower. For example, if we list the Witcher 3 average as 60-70FPS, your FPS may drop under 50-60FPS in the most intense areas.

Also keep in mind these aggregated benchmarks are estimated for ultra/maxed settings so you can get higher (or much higher) FPS on lower settings such as high or medium. Plus, these numbers are assuming fancy rendering features like RTX Real-Time Ray Tracing, AA (Anti Aliasing), and Hairworks are disabled.
4K (3840 x 2160)
GAME
AVERAGE FPS
Metro Exodus
35 - 45
Call of Duty Modern Warfare
80- 90
Gears 5
50 - 60
Apex Legends
55 - 65
PUBG
50 - 70
Fortnite Battle Royale
70 - 80
Far Cry New Dawn
60 - 70
Anthem
45 - 55
F1 2019
70 - 80
Shadow of the Tomb Raider
50 - 60
Assassin's Creed Origins
50 - 60
The Witcher 3
60- 70
GTA V
90 - 100

Rainbow Six Siege
100 - 120
Monster Hunter: World
45 - 55
1440p (2560 x 1440)
GAME
AVERAGE FPS
Metro Exodus
70 - 90
Call of Duty Modern Warfare
120 - 140
Gears 5
80 - 100
Apex Legends
80 - 110
PUBG
75 - 95
Fortnite Battle Royale
110 - 130
Far Cry New Dawn
90 - 110
Anthem
85 - 105
F1 2019
100 - 120
Shadow of the Tomb Raider
85 - 105
Assassin's Creed Origins
85 - 105
The Witcher 3
95 - 115
GTA V
120 - 140

Rainbow Six Siege
240 - 310
Monster Hunter: World
80 - 100
1080p (1980 x 1080)
GAME
AVERAGE FPS
Metro Exodus
90 - 110
Call of Duty Modern Warfare
170 - 190
Gears 5
110 - 130
Apex Legends
120 - 140
PUBG
115 - 125
Fortnite Battle Royale
150 - 160
Far Cry New Dawn
120 - 160
Anthem
110 - 130
F1 2019
140 - 170
Shadow of the Tomb Raider
100 - 120
Assassin's Creed Origins
100 - 120
The Witcher 3
110 - 130
GTA V
130 - 170

Rainbow Six Siege
290 - 340
Monster Hunter: World
110 - 130
Average FPS Disclaimer (How We Calculate)
But while we do a lot of benchmark research to bring to you the most accurate FPS estimates possible, and we do lean towards being conservative in the numbers (we'll round the numbers down if we're in doubt), please note we can't 100% guarantee you'll get these average frame rates listed as there are different factors that could affect your performance.
These variables include hardware differences, software differences (OS, drivers, game patches/versions), cooling/airflow of your build (and how hot your specific system may be running, enabled game features/settings such as Anti-Aliasing, different RAM setups/speeds you might be running, and so on. Overall though, you can rest assured our averages are pretty safe ballpark estimates though, assuming we didn't mess up in our research which could of course happen as we don't claim to be infallible hardware gods.
If you think we miscalculated please let us know in the comments on our PC builds hub page (or email us direct) to help us keep the builds as helpful as possible for the next reader- much appreciated in advance). We recommend doing your own research if performance in certain games is important to you.
Component Breakdown & Honorable Mentions
Note: All "honorable mention" recommendations below were also checked for compatibility
Graphics Card: EVGA GeForce RTX 2080 Ti Black Edition 11GB
No surprises the NVidia RTX 2080 Ti surfaces as our top GPU for a 4K gaming PC build right now, and that's unlike to change for the foreseeable future. While the price is out of reach for most gamers, and it not being the best overall value for money either (in terms of frames per dollar the 2070 and 2080 are better value), if you're lucky enough to be assembling a powerful $2500 gaming PC build then a 2080 Ti is the only real choice. At least for now - here's hoping AMD can someday bring back healthy competition in the high-end GPU market once again.
The 2080 Ti is an absolute gangster of a card that pushes the boundaries of what single consumer GPUs are capable of, and the new real-time ray tracing feature is a nice bonus that makes modern blockbusters that support this early-days feature (such as Battlefield 5) look even more lifelike than they already do (if you don't mind the performance hit this feature brings). I've seen the new feature in action and it's genuinely impressive, and can't wait for what real-time ray traced AAA titles in a few years will look like once developers start (hopefully) putting more focus on it. I'm a sucker for realism, and the type that plays Crysis-style epics at a mouth-wide-open-Grandpa-like pace just to soak in all those perfect pixels.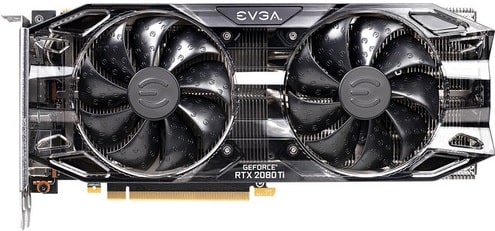 The 2080 Ti is the obvious choice when building a $2500 PC, and EVGA = reliable quality and service
Anyway, as the above aggregated benchmarks compiled for this build guide show that a mighty RTX 2080 Ti can deliver 60FPS on high/ultra settings in practically any AAA title (in 4K), which is a first as the previous king of gaming GPUs (1080 Ti) fell short in that regard. But you will have to dial back the graphics settings if you want flawless 60FPS performance in the most demanding games of all, though 40-50FPS is still smooth so you don't have to do this. A 2080 Ti is also the perfect GPU for VR gaming, and while you can get away with a lesser card for high-end VR, the 2080 Ti will give the best performance possible now and over the next exciting few years of the VR unknown (besides a Titan RTX though it's way overpriced for the performance boost you'd get).
As for which RTX 2080 Ti model to get, that's a solid question as there are lots of juicy models to choose from, but you'll be hard pressed to find a bad 2080 Ti out in the wild. Athough some models are definitely better buys than others. Right now EVGA's Black Edition is sitting pretty as one of the most bang for buck yet high-quality options without a doubt, and easily gets our top recommendation right now.

CPU: Intel Core i7-9700K
Not too much to say about the CPU choice for the $2500 gaming computer, because while AMD definitely has closed the gap on Intel in recent times when it comes to pure gaming performance, in the high-end segment of the market Intel is still the slightly faster choice if your aim is to crank out the most frames possible. The 9700K and 9900K are still the two best gaming CPUs on the market bar none, but for most high-end builds the 9700K is absolutely more than enough. Don't think you need a 9900K (like in the $3000 gaming PC build) unless you have the money to spend and aiming for the highest frame rates you can muster for high refresh-rate gaming (144Hz or 240Hz monitors).
A 9700K is going to satisfy the majority of demanding gamers out there, and is a powerhouse gaming chip that'll last you a fair while, and is also more than enough processing grunt for flawless VR and excellent productivity/workstation applications. Though if you're building a PC more for workstation and multitasking, AMD can be the better choice and worth considering too, however it depends on the specific programs/workflow you'll be using as Intel is no slouch either (and Intel has historically been better for the Adobe suite, and that's still the case ever so slightly). But yeah, if you're building a PC for gaming and your chief aim is maximum frames, we highly recommend the 9700K for builds anywhere in the $1750 to $2750 range.
CPU Cooler: Corsair Hydro H100i RGB Platinum SE
Honorable Mentions:

Corsair Hydro H100i PRO RGB (another good value AiO with less lighting)

Corsair Hydro H100i PRO RGB (top quality air cooler)

Cooler Master Hyper 212 RGB Black Edition (budget air cooler if not overclocking)
Just as with any Intel processor with a "K" in the model number, the i7-9700K doesn't come with a heatsink and fan, so you gotta bring your own CPU cooler to the $2500 PC party. To keep a high-end CPU like this cool and quiet, you have the choice of air or water cooling - closed-loop water cooling using an AiO (All in One) liquid CPU cooler that is, as open-loop PC water cooling are a different beast altogether and only recommended for enthusiasts.
Good Liquid Coolers for i7-9700K
So, do you choose an air cooler, or a liquid cooler for your 9700K? Take your pick, as either can work great, no matter whether you're overclocking or not. Liquid cooling does look better and isn't any more difficult than installing an air cooler, and is a popular choice for a PC build around $2500 if you use a case with a see-through side panel. But don't think you need to go water, as a quality air unit can provide the same performance (and for less money) and is the better choice if you don't care for how your build looks (or if using a closed case design).
For our current recommended $2500 gaming PC build we've gone with a quality yet good-value Corsair 240mm AiO liquid cooler, the H100i, which is more than enough to keep the 9700K cool and quiet under load (even if overclocking). There's no need for an extra large 360mm radiator, as a good 240mm unit like this is adequate.
Good Air Coolers for i7-9700K
If you choose an air cooler instead, the Be Quiet Dark Rock Pro 4 (or non-Pro variant) is our top pick, but just check clearance with your case if you get a large air cooler like this (it really is a beast). If you choose our current recommended Crystal 570X Mid Tower though, you're all clear as the Dark Rock Pro 4 will fit without problems. If not overclocking and looking to be cost-effective, the Cooler Master 212 Evo models are adequate for a 9700K, too (but if overclocking, we recommend something better like the Dark Rock Pro 4).
Corsair H100i RGB Platinum vs Pro
There are two current models of the H100i - the "RGB Platinum", our top pick, and the "Pro RGB", which are very similar and both good choices. We've gone for the RGB Platinum as it has more RGB lighting (the Pro has RGB, but less), and this particular $2500 gaming PC build for this month/quarter is an all-RGB example (hence the "Lightsaber" tier for this build within our gaming PC builds tier list). But the H100i RGB Platinum also has slight physical differences vs the H100i Pro - a different pump, an expanded radiator core which means slightly better cooling efficiency, and higher maximum speeds of the included fans (up to 2000RPM). Not huge differences though, so again, either is going to serve this 9700K build well.
The H100i RGB Platinum is a top-performing liquid cooler that looks great in action
Motherboard: Asus ROG Strix Z390-E WiFi
Honorable Mentions:

Asus Z390-A (cheaper option for non-overclockers, but no WiFi so you'll need a wireless adapter)

ASUS ROG Maximus XI Hero Z390 WiFi (best for enthusiasts/overclockers)
For your mainboard you ideally want a high-quality model from a reliable manufacturer that also has the features you want and good looks for a decent price. The ROG Strix Z390-E from Asus is all of those things IMO, and not too expensive overall at under 250 dollars at the time of writing, and will provide a solid, reliable, flexible base for a high-performance gaming desktop like this for (hopefully) many, many years to come.
The ROG Strix Z390-E also comes with built-in wireless capability, so there's no need to buy a separate PCIe wireless network adapter. If you want to cut costs, there are cheaper Z390 boards like the Asus Z390-A which are good enough for a high-end $2500 gaming PC build like this, but you'll be sacrificing on features such as built-in WiFi so just keep that in mind. But it's definitely a worthy consideration if you're not overclocking (technically you could get away with mild overclocking on a Z390-A, but it's not recommended).
The ROG Strix is decent for overclocking a 9700K CPU, but for extreme overclocking you will want to consider investing in a more heavy-duty overclocking board with better VRM and power delivery such as the Maximus Hero XI. The Hero also has a few minor improvements like a couple extra USB ports and slightly better design, although that's subjective and the Rog Strix looks awesome IMO. But for most people though (read: non or light/medium overclockers), the ROG is better overall value for money than the Hero as it practically has the same exact feature set.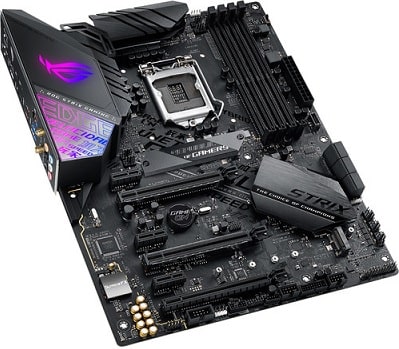 Can't go wrong with most Asus boards, and the RoG Strix is a great overall middle-of-the-pack model with nice features
RAM: Corsair Vengeance RGB Pro 16GB 3200MHz
Honorable Mention: Corsair Vengeance LPX 16GB 3200MHz (to save money by getting non-RGB sticks)
For memory, 16GB is all you need to fully maximize gaming performance, even in the most memory-hungry games. You could squeeze 32GB in a $2500 gaming PC build instead if you wanted to by rearranging some of the other part selections, but there's just no practical benefit in doing so when it comes to gaming performance. That said, if you're planning a hybrid gaming and workstation PC build, do consider 32GB of RAM instead as the extra memory can actually help with things like video editing.
As for which 16GB memory to buy, even though brand doesn't matter anywhere near as much as for other components like your motherboard or GPU, you can never really go wrong with Corsair, and their RGB Pro modules make the cut for our current recommended $2500 rig as they're great-looking and currently very well-priced.
3200MHz is plenty of speed too, especially for an Intel CPU (Ryzen benefits more from faster RAM), as for gaming you're not going to see much difference by spending more on faster modules. Anything over 3200MHz has diminishing returns for gaming in most instances. We also suggest two 8GB modules instead of four 4GB sticks, as that way you have two spare memory slots for future upgrades.
Storage: Samsung 860 EVO 1TB SSD + Seagate Barracuda 2TB 7200RPM HDD
Honorable Mentions:

Samsung 970 EVO 1TB m.2 SSD (faster SSD for a top-tier workstation PC build)

Western Digital Black Performance 2TB HDD (fastest HDD on the market)
Because storage is a very individual thing and can vary a lot based on your usage, our SSD and HDD recommendations are merely suggestions (well, all our recommended parts are suggestions but you get my point). But for most people building a gaming PC, we suggest a 500 or 1TB SSD as your main drive for Windows and frequently-used games/applications, and HDD/s for additional storage if you can't afford multiple SSDs.
While SSDs are much more affordable these days (and there's no excuse NOT getting one for your main boot drive), it's not practical (ie cost-effective) for most people to get 2-3 SSDs for all your storage needs. Samsung's 860 Evo range are excellent value fast SSDs (no need for high-end m.2 SSDs for a gaming PC), and so is Seagate for the HDD side of the equation. Just be aware the 3TB and larger Seagate HDDs are NOT 7200RPM despite what some product listings falsely state .They actually run at 5200RPM, so stick with the 1 or 2TB models (or get a Western Digital Black for the best reliability and speed).
Power Supply: EVGA SuperNOVA 750 G3 Gold Modular
Honorable Mention: Corsair RM750x Gold Modular (another high-quality, top-tier 750 watt PSU)
To power a high-performing gaming computer like this one, it's imperative to pick a high-quality, reliable power supply from a reputable brand that won't let your expensive parts down now or in future. Power supply selection is important for any type of custom PC at any budget, but the more you're spending the more important it becomes. 
Risking a $300 set of PC parts by throwing in an average or straight-up low-quality no-name PSU is nothing compared to the potential calamity waiting to happen when you include a bad PSU in a powerful rig like this. Corsair produce some top-notch power supplies, and their RMX series is currently very well priced at the time of writing. But so is the EVGA Supernova G3.
Hard to choose between these two currently-great-value Gold-rated units (always aim for 80 Plus Gold power supplies as a minimum efficiency rating for a high-end PC), so I'd just buy the cheaper option if you're unsure. The white RM750x would also look sick if you're building a white-themed system that doesn't have a PSU shroud to cover up your PSU (in which case your PSU would be hidden).
For this 2080 Ti and 9700K build, and taking into account all other components in the parts-list as well as common future upgrades, getting a 750 watt PSU is all you need and gives you plenty of wiggle room. Go for 850 watts if you're planning out of the ordinary add-ons beyond the average gamer, such as custom water loops or dual video cards (the power requirements of SLI is a lot higher than a single card as you can imagine). But 750 watts of efficient power from a reliable unit like the EVGA G3 or RM570x goes a long way and is sufficient for this $2500 custom PC.
Case: Corsair Crystal 570X RGB Mid-Tower (any color)
Honorable Mentions:

NZXT 510 Elite RGB Mid-Tower

Corsair Air 540 Mid-Tower

Fractal Design Meshify S2 Mid-Tower

Corsair Obsidian 750D Airflow Edition Full-Tower

Rosewill THOR V2 Full-Tower

Corsair Graphite 780T Full Tower
Darth Maul Would Build This
And that finally brings us to the case; always a tough decision, and even more so for a high-end gaming computer as we've spoilt for choice these days. The Corsair Crystal 570X is a popular safe-bet buy though, and is universally stunning with its high-quality tempered glass construction, cool front mesh design, and built-in RGB fans. It's also a beginner-friendly case to work with if you're building your very first PC, and includes handy tool-free drive installation, and supplied velcro straps and cable routing to make cable management a breeze.
The 3 included 120mm fans are very decent and look just great, so no need to replace them which is unfortunately something you kinda need to do with some stock fans. There's also a handy built-in lighting controller. In terms of airflow - always an important factor when choosing the best gaming PC case - the 570X stacks up nicely against the competition. There's plenty of room for any type of high-end PC build despite it being a Mid Tower (no real need for a Full Tower).
It's a pricey but excellent overall choice if in the market for a super-stylish design to show off your rig once fully operational, but if you don't want such an aggressive in-your-face case then more low-key designs like the Corsair Obsidian 750D Full Tower, Corsair Air 540, or Fractal Design Meshify S2 are worth considering and all get the BGC stamp of approval as good airflow cases for a high-end gaming rig.
On the other hand, if you are a fan of flashier "gaming" cases but the Corsair Crystal 570X isn't your cup of tea, other models we can comfortably recommend that fit in nicely for a $2500 gaming PC build would be the and the NZXT H510 Elite, Corsair Graphite 780T Full Tower (long-time favorite of BGC that features in many a high-end build over the years), and Rosewill Thor V2 Full Tower - all checked for compatibility with both our top liquid and air CPU cooler picks. For even more high-end case ideas see our $3000 PC build guide.
Recommended Monitors and Accessories
Best Monitors for the $2500 Gaming PC
In terms of choosing a monitor for a i7-9700K and RTX 2080 Ti build, thanks to the immense power at your fingerips with a system like this you have various options depending on what type of gamer you are and the games you play. Play fast-paced games like FPS or MOBA? We suggest a 1440p 144Hz or 1080p 144Hz-240Hz display for the smoothest possible experience. For all other games, go for a 4K monitor for the ultimate high-quality experience.
4K Monitors (3840 x 2160)

1440p Monitors (2560 x 1440)

1080p Monitors (1980 x 1080) - for FPS/BR eSports (CSGO, Overwatch, PUBG, Apex, Fortnite)

Recommended VR Headsets
These parts are perfect for VR gaming; a 9700K and 2080 Ti along with 16GB of RAM is all the power you need for a great experience with top-tier headsets like the Valve Index, HTC Vive Pro, and the Oculus Rift S. See How to Build a PC for Virtual Reality for more detail.

Recommended Software and Peripherals
See the main gaming PC builds guide for these recommendations.
Standout Sources/References Used In Our Research