Home > PC Builds > Best $3000 Gaming PC
Plan the Best Gaming PC Build Under $3000



November 2019 Guide to Strategically Building the Best Value $3000 Gaming PC (and Estimated FPS for 4K 60Hz, 1440p 144Hz, 1080p 144Hz/240Hz)
We explain how to build the ultimate gaming PC, but the real question remains...can it run Crysis?
Last Updated: November 1, 2019
In this guide we explain how to strategically choose the fastest compatible high-end PC components on the November 2019 market to help you plan the best gaming PC build under $3000 (USD; a bit more for Canada and Australia, and less for UK readers) based on where the current value is within the upper-echelon of the November 2019 market. With such a healthy budget when building a gaming computer, you can use pretty much choose any gaming monitor and resolution you wish. Assembling the best $3000 gaming PC build the November 2019 market has to offer means you're fortunate enough to be able to include the very best gaming CPU and GPU on the market right now.
Of course, I speak of the lethal Intel Core i9-9900K/KF and the notoriously powerful RTX 2080 Ti, but with a 3000 USD budget you also have the means to select a high-quality host of supporting components including an awesome AiO liquid cooler to keep the 9900K running optimally, a large super-fast m.2 SSD for lightning-fast loading of your OS and a fair few amount of games/apps, a top-notch power supply and case, and a whopping 32GB of RAM for flawlessly-fast multitasking/productivity (this $3000 gaming PC build doubles up nicely as a powerhouse workstation, though do consider an AMD 3900X build instead if you value work over gaming).
Simply put, this build is a MONSTER, but most definitely overkill for most gamers. With such a powerful combination you can get excellent 4K and VR performance, as well as higher refresh-rate 1440p and 1080p gaming performance if you'd rather the higher frame rate instead of a higher resolution (if you're an eSports pro player, you'll want to go for 1080p 240Hz or 1440p 144Hz instead of 4K). These parts were selected and combined together for a reason, and this isn't some quick random hack-job of a build that you may see posted elsewhere online. 
3000 USD allows you to build the ultimate long-lasting PC for 4K and VR gaming with all the bells and whistles
Like all our recommended gaming PC builds here at BGC, the following best gaming PC build under $3000 is thoroughly thought-out to take into account all things that make for the best custom gaming PC (fastest gaming performance for the money, optimal cooling and airflow, matching aesthetics, etc) and is based on our continual deep analysis of the constantly-evolving market, to always strive to maintain our high standard of always dishing-up the very best example builds possible that are sure to please the majority of gamers building around this budget.

That said, while we do our very best every quarter (and every month; this specific $3000 PC build guide is updated every 3 months, however we update our main chart of the best gaming PC builds monthly) to provide you with the best gaming PC builds that we can possibly muster based on many years of experience, we encourage you to always do your own research too, especially if you have more specific wants and needs as a gamer and/or professional creative, content creator, video editor, 3D renderer, etc (as many people who build a $3000 PC also use it for work).
But if maximum gaming performance is your primary aim, you'll find the below best $3000 gaming PC build to be a very safe bet to stretch your money as far as possible. Lastly before we dive into the build and the breakdown, for recommended software and accessories see the best PC builds page which includes a full FAQ.

Best $3000 Gaming PC Build (Q4 2019 Edition)



Full Specs


Graphics Card
Asus ROG Strix GeForce RTX 2080 Ti Gaming OC (11GB GDDR6)
ASUS
CPU
Intel Core i9-9900KF (8 Cores, 16 Threads, 3.6GHz Base)
Intel
CPU Cooler
NZXT Kraken X72 (360mm Radiator, 3 x 120mm Fans)
NZXT
Motherboard
Asus ROG Maximus XI Hero WiFi (Z390, ATX, 4xDDR4, SLI)
ASUS
RAM
Corsair Vengeance RGB Pro 32GB (2 x 16GB, DDR4, 3200MHz)
Corsair
SSD (Primary/Boot)
Samsung 970 EVO 1TB SSD (NVMe M.2 V-NAND)
Samsung
HDD (Secondary Drive)
Seagate Barracuda 2TB (7200 RPM, 64MB Cache)
Seagate
Power Supply
EVGA SuperNOVA 850 G3 (80+ Gold, 850 Watts, Fully Modular)
EVGA
Case
NZXT H710i (ATX Mid-Tower, 4x120mm Fans, RGB/Fan Control)
NZXT



Estimated Total: $2970 - $3030 (US Dollars)




Additional Build Features Cheatsheet


Estimated Wattage
489W
RAM Slots
4 (2 free)
Motherboard Support
mITX, mATX, ATX, EATX
Max RAM Size / Speed
64GB / 4400MHz
CPU Architecture / Generation
Coffee Lake / 9th Gen
CPU Overclockable?
Yes
Built-in WiFi?
Yes (802.11ac)
Storage Support
6 x SATA Drives

2 x m.2 SSD

RAID 0, 1, 5, 10
VR-Ready?
Affirmative
Front Panel USB Ports
2 x USB 3.1, 2 x USB 2.0
Optical Drive Support?
Nope
Multi-Monitor Support
Up to 4 Displays
Case Fans
Front: 3 x 120mm or 2 x 140mm (3 x 120mm Included)

Top: 3 x 120mm or 2 x 140mm

Rear: 1 x 120mm or x 140mm (1 x 140mm Included)

Case Dimensions (W x H x D)

230mm x 494mm x 494mm (without feet)
Max GPU/PCI-E Card Length
413mm
Max CPU Cooler Height
185mm
SLI / CrossFire Support
Yes / Yes
(Adds All Parts to Amazon Cart in 1-Click - USA Only)

Gaming Performance Overview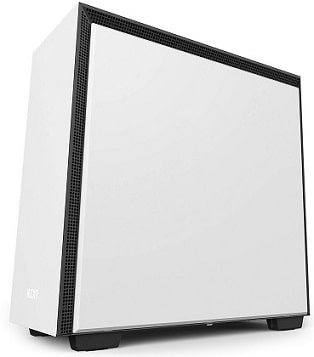 1080p 60Hz:

1080p 144Hz:

1440p 60Hz:

1440p 144Hz:

4K 60Hz:

4K 144Hz:


Minesweeper:


FLAWLESS

GREAT/FLAWLESS

FLAWLESS

GREAT


GREAT/FLAWLESS


AVERAGE


FLAWLESS


UNPLAYABLE

The above is the average expected performance of this build at different resolutions and refresh-rates when playing a typical, graphically-demanding modern PC game on high/ultra/maxed settings. If you're not sure what refresh-rate your gaming monitor is, chances are it's a standard 60Hz screen. See PC gaming refresh rates explained for more.
Estimated FPS for 9900KF and RTX 2080 Ti (& 32GB RAM)
The average FPS (Frames Per Second) estimations below were calculated based on studying multiple benchmark sources that use either the exact or similar parts (9900KF, RTX 2080 Ti OC, 32GB 3200MHz). 
Remember these are averages, so in the most action-packed scenes the frame-rate can go lower. For example, if we list the Witcher 3 average as 70-80FPS, your FPS may drop under 60FPS in the most intense areas.
These aggregated benchmarks are for ultra/maxed settings, so you'll get higher FPS on high/med settings.
4K (3840 x 2160)
GAME
AVERAGE FPS
Metro Exodus
40 - 50
Call of Duty Modern Warfare
85 - 95
Gears 5
55 - 65
Apex Legends
60 - 80
PUBG
55 - 75
Fortnite Battle Royale
70 - 90
Far Cry New Dawn
65 - 75
Anthem
45 - 55
F1 2019
75 - 85
Shadow of the Tomb Raider
55 - 65
Assassin's Creed Origins
55 - 65
The Witcher 3
65 - 85
GTA V
95 - 110

Rainbow Six Siege
115 - 125
Monster Hunter: World
45 - 55
1440p (2560 x 1440)
GAME
AVERAGE FPS
Metro Exodus
75 - 85
Call of Duty Modern Warfare
130 - 160
Gears 5
90 - 110
Apex Legends
90 - 130
PUBG
85 - 105
Fortnite Battle Royale
115 - 135
Far Cry New Dawn
95 - 115
Anthem
90 - 110
F1 2019
110 - 130
Shadow of the Tomb Raider
90 - 110
Assassin's Creed Origins
90 - 110
The Witcher 3
100 - 120
GTA V
130 - 160

Rainbow Six Siege
280 - 360
Monster Hunter: World
85 - 105
1080p (1980 x 1080)
GAME
AVERAGE FPS
Metro Exodus
100 - 120
Call of Duty Modern Warfare
210 - 230
Gears 5
130 - 150
Apex Legends
140 - 180
PUBG
130 - 150
Fortnite Battle Royale
160 - 180
Far Cry New Dawn
140 - 180
Anthem
120 - 140
F1 2019
160 - 190
Shadow of the Tomb Raider
120 - 140
Assassin's Creed Origins
110 - 130
The Witcher 3
120 - 140
GTA V
150 - 190

Rainbow Six Siege
310 - 350
Monster Hunter: World
120 - 140
Average FPS Disclaimer (How We Calculate)
But while we do a lot of benchmark research to bring to you the most accurate FPS estimates possible, and we do lean towards being conservative in the numbers (we'll round the numbers down if we're in doubt), please note we can't 100% guarantee you'll get these average frame rates listed as there are different factors that could affect your performance.
These variables include hardware differences, software differences (OS, drivers, game patches/versions), cooling/airflow of your build (and how hot your specific system may be running, enabled game features/settings such as Anti-Aliasing, different RAM setups/speeds you might be running, and so on. Overall though, you can rest assured our averages are pretty safe ballpark estimates though, assuming we didn't mess up in our research which could of course happen as we don't claim to be infallible hardware gods.
If you think we miscalculated please let us know in the comments on our PC builds hub page (or email us direct) to help us keep the builds as helpful as possible for the next reader- much appreciated in advance). We recommend doing your own research if performance in certain games is important to you.
Component Breakdown & Honorable Mentions

Note: All honorable mention picks below were also checked for compatibility
Graphics Card: Asus Rog Strix RTX 2080 Ti OC 11GB
Honorable Mention: EVGA GeForce RTX 2080 Ti FTW3 11GB
We'll start with the star of the $3000 show, and due to a lack of AMD competition at this level of GPU prowess there's only one real choice when it comes to choosing a graphics card to include in the ultimate gaming PC build.
With a mighty RTX 2080 Ti in your system, as mentioned earlier you can take on pretty much any resolution you like, whether that's 4K, virtual relaity gaming, or 144Hz/240Hz 1440p or 1080p for competitive eSports (higher refresh rates are ideal for FPS and MOBA).
So the real question is, which 2080 Ti brand and variation should you buy? Asus and EVGA are typically the cream of the crop, and at the moment there's no exception and their triple-fan Strix and FTW3 editions respectively are bar-none the best 2080 Ti's money can buy right now.
It's real hard to split these two powerhouse triple-fan variants, and either is going to serve you well with not only the fastest performance (both are clocked slightly faster than other 2080 Ti's) but the most effective cooling (and looks). You truly can't go wrong with either if you just want the absolute best single GPU money can buy in November or December 2019.
However, you could argue these two 2080 Ti's aren't the best overall bang for your buck if you're looking to be as cost-effective as you can (well, as cost-effective as high-end $3000 build's go, that is). In other words, choosing a more "standard", cheaper 2080 Ti as we've done in the better overall value $2500 gaming PC build guide is going to be very close in terms of pure gaming performance.

Speaking of that build, the 9700K processor is also more than enough for 4K 60Hz gaming, and you'd only really "need" a faster 9900K (few gamers ever need such a beasty CPU) as included in this $3000 build if you simply have the money to burn and want the absolute best CPU on the market today bar none (or if you're gunning for 240FPS in 1080p or 1440p with highly-demanding games; yes, 1440p 240Hz monitors are now a thing!).
But back to the GPU, and with a $3000 build budget you can comfortably squeeze in both the 9900K and a top of the range 2080 Ti to build the absolute ultimate gaming PC build on the planet - well, besides an even more expensive SLI 2080 Ti build but let's not go there as dual GPU territory is definitely not for most gamers.
CPU: Intel Core i9-9900KF
Honorable Mention: Intel Core i9-9900K (if want integrated graphics capability)
Just like with picking a video card for a $3000 gaming PC build, the CPU choice is also an obvious - if your aim is primarily to maximize gaming performance that is. The i9-9900K/KF is the most powerful gaming CPU on the market right now, and edges out AMD competitors for the top spot, though do consider a Ryzen 9 3900X instead should you be assembling this is a hybrid gaming and workstation PC (and if your particular workflow would benefit from team red; the 9900KF is no slouch either for work tasks, especially Adboe which has historically favored Intel chips).
With 8 cores and 16 threads, the 9900K can handle even the most processor-intensive modern games with ease and then some, and along with its great single core performance it's the ideal brain to have in your build for getting those consistently high frame rates for 144Hz or 240Hz displays (which ask a lot of your CPU). The 9900K will also overclock to at least 5GHz should you want to go down that road for some extra free performance.
Note that we recommend the 9900KF over the regular 9900K model for most people, as it's slightly cheaper and performs exactly the same, with the only difference being the 9900KF doesn't have built-in graphics capability - not something most gamers would ever need, seeing as you'll always have your dedicated graphics card for that. Only real reason you'd need to use the graphics portion of a CPU is in the rare case your GPU fails or something, where built-in graphics comes in handy to still be able to output graphics to your screen until you get a new GPU.
CPU Cooler: NZXT Kraken X72 360mm AiO
Honorable Mentions:

Cooler Master Hydro H150i Pro RGB (another top-notch AiO liquid cooler)

Dark Rock Pro 4 (great air cooler)
To cool the beast that is the 9900K you'll want a good-quality liquid or air cooler, and NZXT's Kraken X72 is a great choice with widespread praise across the community with all the cooling capability needed even if you're going to be overclocking. But even if not, it's a wise move to get a high-end cooler like this for such a powerful processor.
There are some very good alternatives out there like the Corsair H150i, another great high-end 360mm radiator with RGB as well that would make a great pairing with the 9900K, however don't think you need to get a liquid cooler as a good-quality air unit like the Dark Rock Pro 4 (or Dark Rock 4 non-pro model) will do just as good of a job.
NZXT's Kraken range of AiO liquid coolers are arguably among the best-performing on the market, and look just great in action, too
We stuck with liquid here as our top recommendation for most gamers, as it does make for a cooler looking build overall and is something we can afford for a $3000 target budget. If you do get a large air cooler like the Be Quiet Dark Rock (Cooler Master 212 Black is a great budget option too and just fine if you're not overclocking the 9900K/KF), just make sure to check your case dimensions for compatibility as saying these beasts are large is an understatement (you're all-clear if using our recommended NZXT H710i case).
For the first-time builders, don't let the term liquid cooling psyche you out though, as it's not going to require a complicated installation nor a computer engineering degree. All-in-one liquid coolers like the Kraken or Hydro series are relatively straightforward installations and nothing like building a full custom water-cooling loop.
Speaking of which, that's always something you could add to this setup later down the track should you have the audacity to venture into those waters (pun intended), but it's far from needed for 99% of builds and more of an aesthetic fun-to-do luxury feature rather than something practical (though we do recommend it if you're a crazy mofo building a SLI gaming PC as dual cards generate a ton of heat).
Motherboard: Asus ROG Maximus XI Hero WiFi Z390
The Asus Rog Maximus XI Hero is a safe bet to be a highly-reliable, well-designed and quality central nervous system for your ultimate gaming PC, and comes with every feature you'd expect from a top-notch board from the best motherboard manufacturer overall (IMHO; MSI a close second). It's got built-in 802.11ac WiFi too, so no need to include a wireless network adapter.  The Aura Sync RGB effects on this board can be matched with the RGB of the Asus Rog Strix RTX 2080 Ti graphics card, making for an impressive lighting display that you can easily control and sync using the Asus software. 
RAM: Corsair Vengeance RGB Pro 2 x 16GB 3200MHz
Honorable Mentions:

G.Skill TridentZ RGB 2 x 16GB 3200MHz (another good dual channel set)

Corsair Vengeance RGB Pro 4 x 8GB 3600MHz (if you want 4 sticks and to pay more for slightly faster RAM)
The RAM also plays its part in the light show, with the aesthetically-pleasing set of two 16GB Corsair Vengeance modules that gel well with the Asus Rog Maximus XI Hero. 32GB of memory is a boatload and most definitely overkill for gaming right now, as 16GB is all you need for even the most demanding memory-hungry games right now. However, for $3000 gaming PC build you can comfortably fit in 32GB, so you might as well go for it in my opinion as it does mean you'll be "future-proofed" for a long, long time to come.
Plus, 32GB of RAM will come in handy for demanding non-gaming tasks such as flawless multitasking, video editing, streaming, music production, or whatever floats your goat. As for which memory speed to get for the 9900KF, here's the deal. Memory speeds of over, say, 3200MHz, has diminishing returns - especially for Intel processors. AMD Ryzen CPUs are a different matter, and getting 3600MHz or higher for those CPUs is more important as it helps performance more so than with higher RAM speeds for Intel CPUs.
For an Intel gaming PC - and even a high-end one like this $3000 rig - there's really no need to get faster memory than 3200MHz unless you find 3600MHz or higher at a very similar price, or if you're using this custom PC as a high-level workstation and the specific applications you're using really tax the CPU cores and threads (in which case faster RAM can theoretically help a fair bit). But at the time of writing the Corsair Vengeance Pro 3200MHz modules are the best value overall for this setup IMO, and while in some gamers you'll notice a slightly performance increase with faster RAM, in most games you just won't notice much of a difference.
The G.Skill TridentZ sticks are an excellent alternative to the Corsair Pro modules; G.Skill memory is top-notch and these are no exception and well-priced. Since any good motherboard will have 4 RAM slots, I would personally favor getting 2 x 16GB modules instead of the 4 x 8GB memory kits to keep your options open for future upgrades, but if you don't want to upgrade later then consider going all-out now and fill up all your slots with 4 sticks (it also makes for a slightly more finished looking system).

Storage: Samsung 970 EVO 1TB m.2 SSD + Seagate Barracuda 2TB HDD
Honorable Mentions:

Samsung 860 EVO 1TB SATA SSD (cheaper SSD but still real fast)

Western Digital Black Performance 2TB (better HDD than the Seagate)
With a $3000 build budget you also have the flexibility to include the ideal storage setup for your particular needs, but for most people getting a large m.2 SSD as your main boot drive is what we recommend. Samsung hold the crown right now for SSD performance, and their 970 Evo is blazing fast and worth the extra money IMO if you value storage access speed. 

The fastest SSD you can get, but to save money opt for the still-fast 860 Evo instead (especially for a gaming-only PC)
For cheaper builds a standard SSD (non M.2) like the 960 Evo is better overall bang for buck as a gamer, as most people aren't going to notice real-world differences between a good standard SSD and a higher-end m.2 model. But when building the ultimate $3000 computer, you can afford including a top-notch m.2 SSD like the 970 Evo, and it will make a slight difference in speed for the general performance of your system, as well as being important if you're also doing demanding non-gaming tasks like video editing (where m.2 SSDs are much more "needed" compared to a straight gaming computer).
As for additional storage, we've included a large 2TB traditional HDD from Seagate, which runs at 7200RPM speed (not too shabby). Just note that the 3TB and larger models of the Seagate Barracuda only run at 5400RPM, so you're better off with the faster 2TB model and you can always add more drives later on if you need.
Power Supply: EVGA SuperNOVA 850 G3 80 Plus Gold Modular
Honorable Mention: Corsair RM850x 80 Plus Gold Modular (another quality gold unit)
For an extreme rig like this with a power-hungry RTX 2080 Ti, 9900KF, 32GB RAM, and so on, the estimated wattage as you can see in the build specs above is around 489 watts. So technically, a power supply of 650 watts could do the trick for the $3000 PC build and you'd still have a little leeway. However, you ideally want a little more wiggle room for future upgrades and/or overclocking, so you're better off getting 750 watts or more to be on the safe side.
Seeing as high-quality 850 watt units like the EVGA Supernova G3 and Corsair RM850x aren't too much more expensive than 750 watts variants, we've included them here as our top recommendations and they'll give you a very nice buffer to take on any sort of upgrades later on without having to worry about power requirements - even for SLI should you want to add a second RTX 2080 to the mix as the Asus Maximus XI Hero does support SLI (but don't forget SLI has pros and cons and isn't for everyone). But yeah, if you're not planning on much upgrades, and you find a 750 watt unit for much less, feel free to go for a high-quality gold-rated 750 watt unit instead.
Case: NZXT H710i RGB Mid Tower
Honorable Mentions: (checked for compatibility with the Kraken X72 cooler)

Lian Li PC-O11DW Mid Tower (more compact but still fits everything nicely)

Corsair Obsidian 500D RGB Mid Tower (another great high-end, roomy mid tower)

Corsair Crystal Series 680X RGB Mid Tower (another awesome mid-tower on the flashier side)

Phanteks Enthoo Evolv X Mid Tower (top pick for custom water cooling loop)

Thermaltake View 71 RGB Full Tower (a popular full-tower for its slick black design)

Corsair Obsidian 750D Full Tower (quality, low-key/classic-looking full tower)
Slick and stylish from the outside looking, but feature-rich and high-airflow on the inside
Choosing the core components for a 3000 dollar gaming PC build such as the video card and CPU is fairly straightforward, as nothing is going to beat an RTX 2080 Ti and i9-9900K/KF combo when it comes to pure maximum gaming performance at this level. 
But picking the right case for a high-end ultimate PC build like this is another story, as you're spoilt for choice and there are a nice amount of great cases out there so our recommendations are mere suggestions but good, safe-bet buys for everything that makes a good gaming PC case; airflow, construction quality, features, flexibility, aesthetics, and so on.
Keep in mind our recommended cases are in no particular order, but if we had to pick just one to house these particular parts, NZXT's H710i is a great value "safe-bet" option without a doubt. Improving slightly upon the previous H710i model which we recommended for this build tier in Q2 and earlier, the H710i is a high-end Mid Tower case, but don't let that fool you into thinking it's not suitable for an extreme monster like this as it's on the roomier side of things as far as mid-tower cases are concerned.
Thing is, you don't need a full-tower unless you want the most room you can get (or even roomier Super Towers, though we rarely recommend such large cases), as a good-quality mid-tower like the H710i is enough for our needs here. 
The large see-through side panel, tempered glass construction, and RGB lighting with included fan controller will show off your completed battlestation of gaming glory in true style once everything is fully operational. Like with most great high-end cases that also look the part, photos don't do the H710i justice, as it looks kinda plain and uninspiring in product images if I'm being honest, but it really comes to life when up and running.
In terms of airflow, like its predecessor the H700i, the design of the H710i means good airflow to begin with, but add the fact it comes shipped with an impressive 4 120mm fans (3 120mm ones on the front and 1 140mm on the back) and you have a recipe for very solid airflow (though not the best of all time; for eg, the Lian Li edges out the 710i on pure airflow metrics).
There's no need to buy any more fans for cooling (or extra RGB) purposes unless you want to. Or need to; if you'll be doing some extreme overclocking and/or you live in a seething hot climate like Mustafar, you may want to consider a couple extra fans to mount on the top of the case.
But for most people, the 4 included fans are more than enough. With the H710i you also get two included RGB strips, and a unique stand-out feature: a smart fan hub that uses a software called CAM to tap into machine learning to automatically find the best settings for your fans to run at an optimal noise to performance ratio. Pretty impressive stuff, and despite some people complaining about CAM being hard to use, if you follow a YouTube tutorial you should be just fine with it.
A close second must go to the Lian Li PC-011DW Mid Tower, which despite the uninspiring generic name is a top-notch quality, very attractive piece of enthusiast machinery with great airflow, looks and flexibility, and a standout choice if installing a custom open-loop water system.
Plus, even though cutting costs isn't really a big agenda when we recommend a $3000 gaming PC build like this (at least compared to cheaper builds we recommend), and the whole idea for many when building the ultimate gaming PC like this is to go all-out to maximize not just performance but getting the very best parts across the board, the best aesthetics, and the bells and whistle features, too, but if you did want to be as cost-effective as you possibly can with a $3000 budget (in other words, to save as much money on your PC build), definitely consider the Lian Li Dynamic as it is currently cheaper than the other cases on our list above. I like my long sentences, but that was a contender for longest ever. Thank god for commas.

Recommended Gaming Monitors and Accessories
Best Monitors for the $3000 Gaming PC
The powerful performance of this $3000 gaming computer means you can pick and choose any resolution you like to use with these parts, so for this build there's no right or wrong answer as to which resolution to choose. It depends on the games you play, really (and your monitor budget). But whatever you do, if you get a 1080p or 1440p monitor, make sure to get a 144Hz (or 240Hz one for competitive 1080p FPS gaming), as pairing this build with a 1080p/1440p 60Hz screen is a waste of all that power.
See Also: The Best Gaming Monitors for the Money (all our top picks and features 101)

As for 4K, for most people a 60Hz screen is recommended, however in some games you can get fairly high FPS in 4K (especially if you turn down the settings), so there's no reason you can't use this build with a 4K 100/144Hz screen if you have the (crazy) budget for that. Also, a widescreen 3440 x 1440 monitor is another consideration too, such as the epic curved Alienware gaming screen listed below which is a stunning display, and is in-between 4K and 1440p in terms of pixel count if you were wondering.
4K/UHD (3840 x 2160) and UltraWide/Curved/QHD Monitors (3440 x 1440)
1440p Monitors (2560 x 1440)

1080p Monitors (1980 x 1080) - for FPS/BR eSports (CSGO, Overwatch, PUBG, Apex, Fortnite)

Recommended VR Gaming Headset
These components are also ideal for the ultimate VR gaming build too, and without a doubt the best headsets you can get right now are the HTC Vive Pro, the Oculus Rift S, or the Valve Index. See our guide to building a VR PC for more tips, but if we had to pick we recommend the Valve Index as it's the best headset right now (though expensive). But check the Amazon price versus buying direct from Valve as it could be cheaper from them direct.
Yes; I'm a believer, it will take over the world one day (go watch Ready Player One). It's only a matter of time. Oh, and if you're reading this, trying VR for the first time, AND you're a Star Wars fan, whatever you do don't miss Vader Immortal episodes 1 and 2 for the virtual ride of a lifetime. I'm still buzzing from the first time I tried Trials of Tatooine (play that first for a nice light intro to what VR is like and a feel for the limitless possibilities).

Recommended Peripherals
As for peripherals and other accessories, see our dedicated buying guides around the site, but for most gamers what matters most is your trusty mouse (especially for competitive FPS/MOBA/Battle Royale gaming).
The Best Gaming Mice for the Money (Q4 2019 Edition)
Standout Sources/References Used In Our Research
- ASUS GeForce RTX 2080 Ti STRIX OC 11 GB Review (TechPowerUp)

- ASUS GeForce RTX 2080 Ti 11GB RoG Strix Quick Review (Guru3D)

- EVGA GeForce RTX 2080 Ti FTW3 Ultra 11 GB Review (TechPowerUp)

- EVGA RTX 2080Ti FTW3 Ultra Review (Overclocked3D)

- This much GPU power is just insane. RTX 2080Ti FTW 3 (JayzTwoCents)

- Review: MSI GeForce RTX 2080 Ti Duke 11G OC (Hexus)

- MSI GeForce RTX 2080 Ti Duke Review (Guru3D)

- NZXT H710 Case Review (Gamer's Nexus)

- Lian Li O11 Dynamic Review (Gamer's Nexus)

- NZXT Kraken X72 360 Cooler Review: A Pretty Performer (Tom's Hardware)