Home > PC Builds > $1000 Gaming PC
Plan the Best $1000 Gaming PC Build (Q3 2019)
How to Build the Best Budget 1440p Gaming PC Around 1000 US Dollars in September 2019 (& Estimated FPS in 27 Games for an R5 3600 RTX 2060 Build)
Recommended value parts to strategically stretch $1000 for gaming performance, reliability, flexibility, airflow & aesthetics

Last Updated: Sep 1, 2019
Planning the best gaming PC build for 1000 dollars or less in September? In this in-depth, objective component buyer's guide freshly-updated to take into account the recent CPU and GPU releases of Q3 2019, we explain how to navigate the current market to strategically pinpoint where the current value is right now when building a new custom computer in this price range to maximize gaming performance. Spending around $1000 on a gaming desktop build (a bit higher for Canada and Australia, a bit less for UK readers) gives you plenty to work with to assemble something seriously impressive. 
With smart custom component selections, once fully operational building a 1K battlestation of gaming glory will be powerfully impressive - both inside AND out
But if you're a beginner to the world of hardware and building your first gaming PC (see that introduction guide for a refresher on hardware 101), a flexible spending amount of 1K might be great because you indeed have a ton of different component configurations you could purchase, but it can be quite confusing as to which combination of parts is best when you have so many options.
Compared to say, building a cheap gaming PC for $400, where your hardware selections are quite limited and there's only 1 or 2 real worthy choices for a gaming rig - when you're fortunate enough to be planning the best $1000 gaming PC build or even higher, your options really start opening up.

The bigger your spending budget, the easier it is to run a little wild and make mistakes in your component choices such as haphazardly overspending on certain parts, under-spending on others, including features that you perhaps won't ever need, and overall end up buying an ineffective, unoptimized parts-list (value-wise) that is a bit wasteful.
Fear not, because like in all our detailed gaming PC build guides, we've done the painstaking objective research for you to bring to you a great sample parts-list that lists a great current example of how to strategically stretch a 1000 dollar budget to build a finely-tuned, cost-effective, gaming-performance-optimized gaming system that's built to last and that covers all the important features you need for a good mid to high-end gaming PC.
Our below recommended $1000 gaming PC build contains a smart CPU and GPU pairing of the all-new Ryzen 5 3600 processor, which is an excellent choice when building a PC for $1000 right now as it's a proven high-performer for gaming, combined with an RTX 2060 graphics card from NVidia which makes for a well-balanced gaming system to dominate gaming in high-quality 1440p resolution for years to come.
The main aim of this recommended 1000 dollar gaming PC build is strategically choosing the best parts-list combination in this price range to get the fastest gaming performance in 1440p or 1080p. In other words, this $1000 gaming PC build guide is geared towards those of you who care first and foremost about getting the fastest gaming performance for your money.
However, in carefully designing this sample build to the best of our ability based on over a decade planning optimal builds for gamers, we also take into account everything else that makes for a good custom computer that's built to last including:



Don't Have Time to Build a PC?  Suggested Prebuilt Desktop Alternatives

This guide explains how to build your own $1000 gaming PC, but if you don't have the patience or interest to build a computer yourself (despite understanding the various benefits of building a PC and the fact it's easy to do these days), these are the closest-performing prebuilt PCs we can suggest as an alternative:


(R5 3600, GTX 1660 Ti 6GB, 16GB RAM)


or

(R5 3600, RX 5700 8GB, 16GB RAM)


The CyberPower has a GTX 1660 Ti graphics card instead of our more powerful RTX 2060, as well as slightly lower quality components across the board. Same thing for the SkyTech, and instead of a weaker GPU it has a weaker CPU than ours. 

Overall, these are decent for prebuilts, but for most people we strongly suggest building a PC, and we don't just say that because we run a site about building computers; it's genuinely better in every way, though again, prebuilts are an okay second option if you must.

When building a gaming PC build around the $1000 price range you can expect seriously solid gaming performance in either 1080p or 1440p resolution; with this type of powerful PC you can take your pick (though 4K is too demanding). Although for the very latest, most demanding AAA games you won't get 60FPS on ultra settings (1440p), but you'll still get good performance. Plus, you can always dial back the graphics settings because you don't need ultra settings to experience a game to its fullest (and medium/high settings is still absolutely fine for 95% of people).
As for those wanting to stick to 1080p gaming (ie full HD, still the most common gaming resolution in 2019), you'll get blistering performance with this $1000 gaming PC build, and you can absolutely use a 144Hz gaming monitor with this hardware configuration because you'll get up around 100-144FPS+ in some games (depends on settings though).
It's also a VR-ready build, though it's honestly more of an entry-level/budget VR system as you'd need more firepower to take full advantage as virtual reality has high PC requirements for flawless performance. See the estimated FPS benchmarks below for what sort of specific performance you can expect in 1440p, but generally speaking you will get a buttery smooth 60FPS in 1440p in many titles - even on ultra settings.
The components we carefully picked out for our current recommended best $1000 custom gaming PC build is based upon extensive, objective analysis of the current market as well as our own subjective opinion based on over a decade helping gamers and power users make smarter purchase decisions.
We back our selections with explanations of why they made the cut, and mention any relevant alternative components to consider based on your particular PC use. Our sample gaming computer builds make for a great starting point for your planning, but despite the painstaking hours that go into our continually-updated, carefully-chosen recommendations, remember to do your own research to ensure you buy the right parts for any specific needs you may have.
Related Builds: 
Plan the Best $800 Gaming PC (save money if only gaming in 1080p, and on a standard 60Hz monitor) 
Plan the Best $1200 Gaming PC (5700XT for faster 1440p and a 9600K for higher FPS for 1080p 144Hz monitors)
Full Parts-List & Specs Cheatsheet
Note: Below are our highest recommendations right now, but we also list any relevant good alternative selections in the full build breakdown should you wish to further tweak this build for slightly different budgets or requirements

Recommended $1000 Gaming PC Build (Q3 2019)



Full Specs


CPU
AMD Ryzen 5 3600 (6 Cores, 3.6GHz, Unlocked)
AMD
CPU Cooler
Wraith Stealth (comes with R5 3600)
-
Motherboard

MSI B450 Tomahawk MAX EDITION

(Releasing anytime now, already available in UK, AU and more)

OR

ASUS ROG Strix B450-F

(Warning: only if you or someone can update the BIOS first)


MSI



ASUS
Graphics Card
MSI GeForce RTX 2060 6GB Ventus OC

OR

Sapphire Radeon RX 5700 8GB
MSI



Sapphire
RAM
Corsair Vengeance LPX (2x8GB, 3200MHz, DDR4)
Corsair
Storage
Crucial MX500 500GB (M.2 SSD)
Crucial
Power Supply
EVGA Supernova 550 G3 (550 Watts, 80+ Gold, Fully Modular)
EVGA
Case
Cooler Master MasterCase H500 (Mid Tower, 3 Included Fans)

OR

Fractal Design Meshify C Dark TG (Mid Tower, 2 Included Fans)
Cooler Master



Fractal Design



Estimated Total: $1000 - $1040 (US Dollars)




Top Recommended Stores for All Countries



USA: Amazon (#1), BHPhotoVideo (#2)

Canada: Amazon CA

UK: Amazon UK (#1), Overclockers (#2)

Australia: Umart (#1), Amazon AU (#2)

Europe: Amazon Germany, Amazon France, Amazon Italy, Amazon Spain




Build Features Cheatsheet (for our top picks)


Estimated Wattage
Up to 319W
RAM Slots
4 (2 slots free)
Max RAM Support
64GB
Motherboard Support
ATX, mATX, mITX
CPU Overclockable?
Yes (3600 is unlocked)
CPU Architecture/Gen
AMD Zen 2 (Ryzen 3rd Gen "Matisse")
Built-in WiFi?
No (buy adapter; see recommended wireless desktop adapters)
Storage Support
6 x SATA Drives, 1 x m.2 SSD
VR-Ready?
Yes
Front Panel USB Ports
2 x USB 3.0, 2 x USB 2.0
Optical Drive Support?
No
Multi-Monitor Support
Yes
Case Fans
Included: 2 x 200mm (Front, RGB), 1 x 120mm (Rear)

Additional Fan Support: Top-Mounted 2 x 120mm / 2 x 140mm / 1 x 200mm
Max GPU/PCI-E Card Length
410mm
Max CPU Cooler Height
167mm
CrossFire/SLI Support
Yes/No
Estimated FPS for 27 Games (1440p Ultra)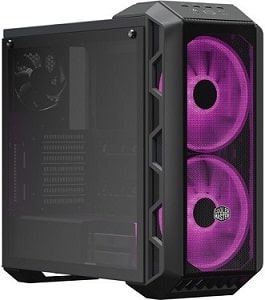 Performance Overview by Resolution (Ultra Settings/Maximum Graphics Quality)
1080p (1920 x 1080):

1080p 144Hz:


1440p (2560 x 1440):

1440p 144Hz:

4k (3840 x 2160)

 FLAWLESS!

 GOOD

 GREAT!

 POOR

 POOR/AVERAGE

 GOOD
Now to frame rate estimates for a Ryzen 5 3600 and RTX 2060 build in a boatload of different titles based on analyzing a bunch of different gaming benchmarks across the greater internet galaxy. Keep in mind these are for ultra settings (maximum graphical quality) so you'll get better performance on lower settings (much better if you don't mind medium or even low settings). Also, if spending a little more on the AMD Radeon RX 5700 8GB graphics card instead of our currently recommended RTX 2060 6GB, you can add a few frames to the estimates below (5-20FPS depending on the game).
Related: What's the Best Frame Rate? Is 30/40/50FPS Enough?

Estimated Frame Rate for 1440p (Ultra Settings)

(R5 3600, RTX 2060 6GB, 2x8GB DDR4 3200MHz)


GAME
AVERAGE FPS
Apex Legends
60 - 80 FPS
PUBG
50 - 60 FPS
Fortnite Battle Royale
60 - 70 FPS

Overwatch
80 - 100 FPS
CSGO
200 - 240 FPS
League of Legends
290 - 330 FPS
Rocket League
170 - 190 FPS
GTA V
50 - 60 FPS
Assassin's Creed Origins
45 - 55 FPS
Battlefield 5
60 - 70 FPS
Battlefield 1
70 - 90 FPS
Call of Duty Black Ops 4
50 - 60 FPS
Star Wars Battlefront 2
60 - 75 FPS
Witcher 3
50 - 60 FPS
Far Cry New Dawn
60 - 70 FPS
Resident Evil 2
70 - 80 FPS
Anthem
40 - 50 FPS
World War Z
60 - 70 FPS
Shadow of the Tomb Raider
40 - 50 FPS
Metro Exodus
30 - 40 FPS
Forza Horizon 4
70 - 80 FPS
Deus Ex Mankind Divided
35 - 45 FPS
Destiny 2
100 - 110 FPS
Final Fantasy XV
40 - 50 FPS
Hitman
60 - 70 FPS
Crysis 3
50 - 60 FPS
Monster Hunter World
40 - 50 FPS
Average FPS Disclaimer (How We Calculate)

The average FPS (Frames Per Second) ratings are an aggregated estimation based on carefully studying multiple online benchmark sources. Note these are averages, so keep in mind in the most action-packed scenes the frame-rate can go a little lower. For example, if we list the Witcher 3 average as 50-60FPS, your FPS may drop to 30-40FPS in the most intense scenes, so take that into account in your build planning. 
But while we do a lot of benchmark research to bring to you the most accurate FPS estimates possible, and we do lean towards being conservative in the numbers (we'll round the numbers down if we're in doubt), please note we can't 100% guarantee you'll get these average frame rates listed as there are different factors that could affect your performance.
These variables include hardware differences, software differences (OS, drivers, game patches/versions), cooling/airflow of your build (and how hot your specific system may be running, enabled game features/settings such as Anti-Aliasing, different RAM setups/speeds you might be running, and so on. Overall though, you can rest assured our averages are pretty safe ballpark estimates though, assuming we didn't mess up in our research which could of course happen as we don't claim to be infallible hardware gods.
If you think we miscalculated please let us know in the comments on our PC builds hub page (or email us direct) to help us keep the builds as helpful as possible for the next reader- much appreciated in advance). We recommend doing your own research if performance in certain games is important to you.
Many bothans & braincells died to bring you these numbers
As you can see, you'll get excellently-smooth 1440p performance with these parts, even in very demanding AAA games. This $1000 rig could definitely be considered a little overkill if all you're playing on is a standard 60Hz 1080p gaming monitor (which is the most common setup overall), and if that's all you're doing the $800 gaming PC build might be all the firepower you need.
As you can imagine, this type of $1000 custom PC will absolutely dominate 1080p resolution, and is also more than capable of great performance on a 1080p 144Hz monitor. For a high-end, expensive 1440p 144Hz display, you're pushing your luck a little though and you're not going to get anywhere near 144FPS in 1440p in the majority of games. However, for less demanding games, 1440p 144Hz is indeed a possibility. Same thing with 4K resolution (on a standard 60Hz screen, forget 4K 144FPS haha) as you can get away playing older titles in 4K resolution, but for modern demanding games you would need a better GPU such as a 2070 Super as explained in our $1500 gaming PC build guide.
Related: What's the Best PC Gaming Refresh Rate? 60Hz vs 144Hz vs 240Hz
Build Breakdown & Honorable Mentions
Note: See the $800 build guide for explanations on the RAM and storage as they're the same as in that build
Recommended CPU for a $1000 Gaming PC Build
Top Pick: AMD Ryzen 5 3600 (6 Cores, 12 Threads, 3.6GHz Base Clock Speed, Unlocked)
When building a 1000 dollar rig, spending around 200 dollars on your CPU and around 350 dollars on your graphics is around the type of CPU/GPU ratio we've found generally works best to both maximize gaming performance and avoid having to sacrifice on your other supporting components (which are still important, too). If you investigate the average random $1000 computer off the street (lol, as in most people's prebuilt or custom PCs at this price) you'd find the CPU/GPU ratio is often going to be a lot more closely-matched, and often more skewed in the CPU direction (especially if it's not a gaming PC).
Can't go wrong with a R5 3600 which is one of the best overall value gaming CPUs on the market right now
Meaning, you could see a $350/300 CPU paired with a $200/250 GPU. This is good for a workstation build where the CPU is typically most important, but when planning a custom PC for gaming it's the other way 'round and you want to allocate more on graphics if you want to strategically stretch performance. But you don't want to go overboard and say, pair a $450 GPU with a $100 to $150 CPU, as that means your CPU will hold you back (especially in CPU-intensive games).

So, long story short, the best CPU for gaming around $200 right now is AMD's latest Ryzen 5 3600, which improves upon the previous great-value Ryzen 5 2600 and offers similarly-sweet overall bang for buck. The R5 3600 has been proven to be a very solid gaming CPU, but it's also a great multitasking, productivity and streaming processor so it's hard to go wrong with no matter what you're doing with your machine.
For $200 there's nothing better right now; you've got Intel competitors for lower (9400F) and higher (9600K), but the 3600 is stronger than the 9400F, and provides very similar 1440p performance to the 9600K (which is slightly out of this budget, and only worth considering if you're purely gaming in 1080p 144Hz/240Hz as it does beat the 3600 slightly in those lower-resolution, higher refresh-rates situations).
Recommended CPU Coolers for a R5 3600 Build
The R5 3600 stock cooler is very respectable and all that most people will need
Top Pick: Wraith Stealth (Shipped With R5 3600)

Honorable Mentions: (for overclocking or just generally better cooling/looks)

Arctic Freezer 34 eSports Duo Red Edition

Cooler Master Hyper 212 Black Edition
The 3600 comes shipped with a decent stock cooler (Wraith Stealth) which is more than adequate if you're not overclocking. You could overclock a bit with the 3600's stock cooler, but it's not recommended, so to do so you'll ideally want to buy a better cooler.
Our listed usual suspects like the Arctic Freezer eSports Duo or Cooler Master 212 Evo (black edition looks better than the standard if your case has a side panel like the Mastercase H500) are safe bets if insure on what to get, but there are plenty of good affordable CPU coolers out there.
For taming an R5 3600 you don't need anything too beasty though, and a cheap yet still-effective sub $50 cooler will get the job done even with decent overclocks. Just don't forget to check your case clearance as coolers can be quite bulky/tall, but FYI if going for a CM 212 Evo our top 2 case picks for this build are all-clear.
Recommended Motherboards for a R5 3600
Top Pick:

MSI B450 Tomahawk MAX
(Releasing anytime, available in UK, AU and more)

Honorable Mention:

ASUS ROG Strix B450-F
(another good-quality, good-value B450, but you or someone must update the BIOS first)
This is where things get real interesting, because choosing the right motherboard for a Ryzen 5 3600 build can be confusing. I'll try to keep this short, but here goes. First of all, there are B450, X470 and newer more-expensive X570 boards to decide from (technically there's B350 but I don't see any reason for them as B450's are better and now very affordable).
But for a standard gaming build like this where you're not doing extreme overclocking (which most people reading this won't be doing) there's no real need for the higher-quality and more feature-rich X470 or X570 boards, as a good B450 has everything you need and is much more cost-effective. In other words, X470/X570 is overkill for a $1000 custom PC (if not overclocking a lot).
But to get a B450 motherboard for your new Ryzen 5 3600, you'd need to update your motherboard's BIOS software before installing a 3600 if you pick an old B450 or X470 motherboard as these platforms were released well before Ryzen 3000 CPUs like the 3600 came onto the scene. However, to update the BIOS on many boards you need to have an old AMD CPU installed to be able to do the update, so you'd need to either have access to old CPU somehow or bring the board into a local store to get updated for you (which could cost you a few bucks).
The good news is that some B450 motherboards like MSI's popular models come with a special BIOS flash feature that allows you to update the BIOS without needing an old CPU installed, and many people have been fine with doing this. However, many people all around the web have encountered issues updating and using the new BIOS with popular MSI motherboards like the Tomahawk B450, which we covered in this post on Ryzen 3000 bios updates and issues.
To rectify this, MSI quickly released a new "Max" model of the Tomahawk which comes with built-in support for Ryzen 3000 processors out of the box (without needing to update the BIOS), but as I write this now in late August it's still not been released in the USA and many of us have been waiting for it all month. It has released in other parts of the world though like the UK and Australia.
See Also: B450 Tomahawk MAX vs B450 Tomahawk (& Release Date)
If you're confused, you're not the only one, but don't stress as it's not too overly complicated once you get the idea for your options here. Here's the gist from my perspective:
Avoid Standard Non "Max" MSI B450s (for Ryzen 3000)
I got heat from some, including a mod who ended up deleting my thread due to it being interpreted as "fearmongering" for saying to avoid these boards for Ryzen 3rd gen on Reddit in a thread I started this month that surprisingly blew up real quick with a hefty 1000 upvotes within a few hours (most people agreed with what I said). But I'll say it again because I stand by what I said, and many others will agree - I can't recommend the standard B450 Tomahawk (or other MSI B450 boards with the bios flash feature) for a new Ryzen CPU like the 3600 due to the widespread BIOS problems people have experienced (during and after the update) which is inherently a motherboard BIOS memory limitation issue I explained here. These boards are totally fine for 2nd gen CPUs like the 2600, 2600X and 2700X, but for a 3600 - give it a miss in my opinion.

If building a 3600 gaming PC right now I would either wait for the MSI "Max" version of the B450 Tomahawk, which should hopefully release in the US any day now (but is released in UK, AU and other regions), or I'd get another B450 like the ASUS Rog Strix (good quality, affordable option, though not suitable for extreme overclocking although most reading this aren't likely to be into that) and bring it into a hardware store for them to do the update for you with one of their AMD CPUs (alternatively you could get AMD to send you a old CPU for free so you can do the update: learn more here).
You could spend the money on an X570 motherboard which comes with built-in Ryzen 3000 support straight away without needing to update the BIOS, however they start from $160 and higher and that's out of this build's budget. Plus, there's no real need for X570 unless you're building around a higher-end chip like the 3700X, 3800X or 3900X, overclocking a ton, and/or you have an actual need for the new PCI 4.0 feature (most people don't).

Recommended GPUs for a $1000 Gaming PC Build
The 2060 wins this round, but only just and only because it's currently cheaper than third-party 5700's
Top Picks:

MSI GeForce RTX 2060 6GB Ventus OC (slightly better than others for cooling and looks)

Sapphire Radeon RX 5700 8GB (if ~ $30 more to spend for higher FPS in most games)

Honorable Mentions:

MSI GeForce RTX 2060 6GB Ventus XS (slightly less impressive aesthetics than Ventus OC)

Zotac GeForce RTX 2060 6GB Twin Fan (slightly less impressive aesthetics than both MSI's)

Zotac GeForce RTX 2060 6GB AMP Edition (fraction faster than Zotac's base model)
In the $350 ish GPU market it's the RTX 2060 going head to head with AMD's new 5700, with the 5700 winning out by a little performance-wise and having 2GB more of video memory, but the 2060 runs cooler and quieter. Either is going to be a good choice to be honest, and both will deliver great 1440p performance, but we've given the 2060 the go ahead as the top pick for this edition of the $1000 build simply because it's currently a bit cheaper than the 5700 model that we can recommend (Sapphire Pulse). 
Besides, we're slightly over budget here, so choosing the 5700 would take us further over. The RTX 2060 is the more affordable option, but is still a powerhouse card for 1440p and don't be put off by the 6GB of video memory compared to the 5700's 8GB, as 6 is more than enough for 1440p gaming. But if you do have a little extra to spend on your build, getting the 5700 instead will give you a little boost in performance if you don't care about maximum quietness and cooling (third-party models like the Sapphire are cooler and quieter than the blower model cards, but will still be typically hotter/louder than a 2060). So if you do get a 5700, I'd avoid the blower fan models of the 5700 (ie reference models), which do match the 2060's price but operate much noticeably hotter and louder. Third-party models with custom coolers like the Sapphire Pulse, and other ones to be released anytime now, are the much better option and provide noticeably better cooling and lower noise. 
Recommended PSUs for a $1000 Gaming PC Build
EVGA's G3 series are great quality gold-rated units at a very respectable price
Top Pick: EVGA Supernova 550 G3 (550 Watts, 80+ Gold, Fully Modular)

Honorable Mentions:

Corsair RMX RM550X (550 Watts, 80+ Gold, Fully Modular) (another quality 550 at good price at time of writing)

Corsair CX550M (550 Watts, 80+ Bronze, Semi Modular) (to save money on an 80+ Bronze model)

EVGA 650 GQ (650 Watts, 80+ Gold, Semi Modular) (more power if planning extensive future upgrades)


For this budget 1440p gaming PC build you'll want a good-quality power supply to reliability and efficiently take care of your fairly powerful new setup for years to come. Choosing a good power supply is always important no matter your budget (don't forget that everytime you buy a cheap and nasty no-name dud of a PSU, it's been proven that somewhere in the world a kitten slowly dies a painful death). But when it comes to higher-end, more powerful systems from say $1000 and beyond, it comes even more crucial to be rocking a solid PSU that won't let your expensive parts down. 

EVGA produce some great value for money yet efficient, high-quality and reliable PSUs these days, and their Supernova G3 gold-rated models is one of their better quality ones but the good news for us is that it's often well-priced. Can't go wrong with it, but the Corsair RMX series is also good and usually affordable.
In terms of wattage to choose, a good 550 watt unit like this is more than enough and gives you plenty of headroom for future upgrades and/or overclocking. It's true that many beginners overestimate how much power they need, but do feel free to go for a 600 or 650 watt unit if you're planning out of the ordinary future upgrades. But the parts of this current $1000 build as-is won't draw more than 350 watts really, so 550 is plenty.

Recommended Cases for a $1000 Gaming PC Build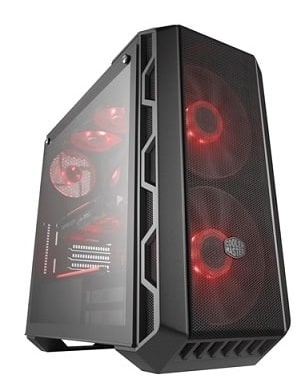 As some menacing dude in a black suit of armor would say; most impressive
Top Pick: Cooler Master MasterCase H500 Mid Tower

Honorable Mentions:

Fractal Design Meshify C Dark TG Mid Tower (great cheaper alternative)

Phanteks Pro M Mid Tower (" ")
Not gonna beat around the bush here; the Cooler Master MasterCase H500 is an absolutely amazing case and it's easily one of the very best cases that 100 bucks can buy (which is a good amount to allocate for your case when building a $1000 gaming PC). Not only does it look stunning (pics don't do it justice) with a universally attractive design and included RGB fans (plus an included fan controller), but it backs up the show with plenty of go and comes with all the features that you'd ever really need as a PC builder - whether you're a first-timer or more of an enthusiast.
Speaking of beginners, if that's you then this case is also easy to use and a joy to work with as a builder. Cable management is a breeze with places to slots and a shield to hide your cables. It's also quite spacious for a Mid Tower, meaning you can fit most configurations that'd you like including large CPU coolers and/or triple fan GPUs should you wish to tweak our recommended $1000 build.
Fan Setup for the Cooler Master MasterCase H500

It comes with two large 200mm RGB fans in the front, which not only look awesome but are of high quality and will effectively cool your rig. You also get a built-in 120mm fan in the back (non RGB). So, do you need more than the 3 stock fans that come with the Cooler Master H500? For this particular parts-list, no you don't, as these three fans are enough, but you can buy and add an extra 200mm fan on top if you want to further cool your rig (ie for overclocking, if adding more components or more powerful components, if you live in a hot climate, etc).
Feel free to replace the 120mm included fan in the rear with an RGB one if you want more lighting, as the 2 front RGB fans don't light the inside of the case much, though those front LED fans are bright enough looking from the outside; some cases borderline false-advertise by showing bright LED/RGB fans online whereas in-person they don't look as good, but the Cooler Master H500 is the opposite and actually looks better in person than in photos. They really make the case come alive; I don't own this case myself but I've seen it in action first-hand at a local store.
Cooler Master have smashed it out of the park with this one, and it's genuinely hard to fault this case if you find it for 100 bucks or less. If I had to be picky, I'd say you could use a 20 dollar cheaper chassis that'll match the H500 overall in quality and looks (such as the Phanteks Eclipse P400 which is equally as impressive inside and out IMO).
But for the marginally extra amount, I think the H500 is worth getting over the many slightly more affordable mid tower cases on the market as of 2019, and it's sure to impress with its slick design and standout, large RGB front fans. See the reviews we've linked down below in the references section if you want to delve deeper into why it's so well received in the DIY gaming community (eg it made the GamerNexus list of top cases of last year which is a site we generally trust for credible, accurate case reviews).
Recommended Operating System & Accessories
Recommended Software for the $1000 PC Build
Linux is free and more flexible, but Windows is the easiest way to get into PC gaming
Choosing an operating system comes down to Windows or Linux, but for most beginners you're better off sticking to the former for simplicity, because while Linux is indeed free and offers more control/security than Windows, it will take a while to learn and get used to (if interested though check out this good in-depth tutorial or this one). To get Windows 10 (the latest edition) for a new PC build you have various options:


4 Ways to Get Windows 10 for a New PC




Other Programs to Install

As for other software applications to consider installing to kick-off your new gaming machine in style (such as anti-virus/malware, system/temps monitoring, handy utilities, etc) see our continually-updated list of recommended applications for ideas:

What to Install After Building a Gaming PC Build
Recommended Monitors for the $1000 PC Build
The main intended resolution for this recommended $1000 gaming computer build is 1440p (2560 x 1440 pixels). But you could also use this setup nicely for 1080p resolution on a 144Hz refresh-rate monitor too, depending on the game (more demanding games would require more CPU and GPU firepower to get up near 144FPS to take full advantage of such a fast display). Just whatever you do, remember when picking a good monitor for gaming you want a response rate of 5ms or less (1-2ms is ideal, though 5ms is fast enough). You can bet your bottom dollar we'll never recommend a monitor on BGC with a response rate over 5ms, but if you ever catch us doing so, please punch us in the face somehow.
See Also: The Best Gaming Monitors for the Money (all our monitor picks + features guide)
Recommended Peripherals for the $1000 PC Build
See all accessory recommendations:
Building the $1000 Gaming Computer
The Mastercase H500, like all cases we include in our sample builds, is a beginner-friendly installation
Tools to Use
Required: Phillips-head screwdriver (size #2)

Optional:
Installing Your Parts
If it's your first time assembling a computer, it really isn't anything to be afraid or overwhelmed by if you simply take your time, follow safety precautions carefully, and do one step at a time. You will need a tutorial to follow though, as building a computer as a beginner isn't something you can do by just reading the manuals that come with your components (as they don't contain written instruction or explanations - though don't throw them out because you will need to refer to them, especially the motherboard and case manuals).
For a good step by step guide to building your first PC, you basically have 3 options: a written online guide, a written printed guide (book), or a video guide (depending on how you like to learn).
Recommended Written Tutorial: (Online)
How to Build a PC: Step-by-Step Photo-Filled Walkthrough
Call us biased, but our own written guide to building a PC was carefully-crafted with complete beginners in mind and includes all the little important details you need to know as a first-timer, plus photos from a real-life build. We created it because all the other written guides at the time were lacking certain details or information, and we spent a good 3 months to create the best written tutorial that we could. The parts used in the example build is from a couple years ago, but the steps are still 100% relevant today for a 2019 build as the instructions, safety precautions, and troubleshooting tips will be the same.
Recommended Written Tutorial: (Hardcover Book)
Build Your Own Gaming PC: The Step by Step Manual by Russell Barnes
Some people would rather have a physical book you can hold in your hands and lay beside your build during installation, in which case you could print out our above tutorial above, or get a hardcover manual like the Haynes one which is decent and includes lots of pics and diagrams. This one was published a few years ago however most of it still applies.
Recommended Video Tutorial:

How to Build a Computer: A Beginner's Guide
A YouTube video on building a PC can be good for a quick refresher, especially if you already have experience with computers in the past, but if you're a complete hardware beginner a 20 to 60 minute YouTube clip may not have enough meat for you to understand all the steps and important details. This highly-rated video tutorial series covers everything and includes a whopping 12 hours of video footage and slides.
You don't need to watch all 12 hours though, as after 2-3 hours you'll know enough to confidently complete your first build, but the course covers many other interesting topics including some cool stuff like benchmarking the FPS of your rig, basic overclocking, and a huge bonus module on building a higher-end gaming rig with a liquid CPU cooler.
Cooler Master H500 Build Guides & Tips:
Either of the guides above apply no matter which case you use, but if you're going to be using our current top recommended case for the $1000 gaming desktop and want additional information on specifically building using the H500 case, these specific videos aren't necessary but may come in handy if you need help with things like add-on fan connections and placement, cable management, and adding other extras to the case:
Additional Sources/References
Need help planning your PC? Leave a comment on the Gaming PC Builds hub.
Need help building your PC? Leave a comment on the Gaming PC Assembly hub.

Enjoyed the guide or have feedback? Let us know, too.
Lastly, if you found this guide real helpful, help us spread the word about our objective, in-depth noob-friendly guides by sharing it with anyone who might also benefit. Thanks guys, and good luck with your build.