The Best Gaming PC Build Under $1000 (Q4 2018)
Current Recommended Parts to Build the Best 1440p Gaming Computer for 1000 Dollars in October: How to Strategically Maximize Gaming Performance and Reliability
Best $1000 Gaming PC Build (Q4 2018)
CPU: Intel Core i5-8400 2.8GHz 6-Core
CPU Cooler: Stock (included with CPU)
Graphics: EVGA GeForce GTX 1070 8GB SC
Motherboard: 

Gigabyte B360 HD3 ATX
RAM: Kingston HyperX Fury 2x4GB 2666MHz 
HDD: Western Digital 1TB 7200RPM
Power Supply: EVGA SuperNova G3 550 Gold
Case: 

Phanteks Eclipse P400 Mid Tower
Last Updated: Oct 14, 2018

Designed, Written & Edited By: Zenakin
CONTENTS
Best Gaming PC Build Under $1000: Overview
Planning the best $1000 gaming PC build in late 2018 to dominate 1440p resolution gaming in 2019 and beyond, or looking to get super-high frame rates in 1080p such as 144FPS for use with a 144Hz gaming monitor?

You're in the right place 'cause in this comprehensive beginner-friendly guide we'll be objectively looking at how to strategically stretch a budget of around 1000 dollars as far as possible when building your first PC, to end up with the fastest, longest-lasting, highest-quality, best-looking, and overall best PC gaming experience possible based on the current hardware market.
$1000 is a great amount to spend when building your first PC, as the type of battle station you can construct for this sort of price is quite impressive and all the power that a good 80-90% of PC gamers would ever dream of needing or wanting. A 1000 dollar budget gives you plenty to work with to achieve a very enjoyable, super-smooth, long-lasting gaming experience in 1440p (which is technically 2560 x 1440 pixels: a very high-quality resolution) - and running decent graphics settings, too. Depending on the exact game, with the following best $1000 gaming PC build you can expect a flawless 60 frames per second in 1440p on medium, high or even maxed-out ("ultra") settings in modern AAA titles.
But with 1000 bucks you could quite easily run wild and haphazardly overspend on things you don't need, put too much money into components that don't matter as much compared to another, or any other number of rookie mistakes when planning a good build. Our following $1000 gaming PC build example is here to help guide you in your research to hopefully allow you to make wiser, more informed purchasing decisions, and is here to be used as a base for your hardware research as a ton of careful consideration has gone into this well-balanced, finely-tuned list of recommended parts.
Do tweak this build 'till your heart's content if you have any specific wants and needs, as part of the fun of building your own PC is of course designing the ultimate build for you, but don't forget to always double and triple check compatibility and try to think ahead to take into account any likely upgrade path for the future.
Without further ado I bring to you the current best gaming PC build under $1000 for this month, IMHO based on a blend of objective component selections and subjective reasoning as to how I would personally approach a build like this. In other words, if I had 1000 dollars to spend right now on a new setup primarily for gaming, this is how I would roll.
Full Parts-List and Specs/Features

Best Gaming PC Build Under $1000 (Q4 2018)


Check Price
Graphics Card
EVGA GeForce GTX 1070 8GB SC
CPU
Intel Core i5-8400 (2.8GHz, 8th Gen, 6 Cores, 12 Threads, Locked)
CPU Cooler
Stock (comes with CPU)
Motherboard
Gigabyte B360 HD3 (ATX, 4 DDR4 Slots)
RAM
Kingston HyperX Fury 8GB (DDR4, 2 x 4GB, 2666 MHz)
SSD (system drive)
Kingston A400 240GB
HDD (secondary drive)
Western Digital Blue 1TB (7200 RPM, 64MB Cache)
Power Supply
EVGA 550 SuperNOVA G3 (80+ Gold, 550 Watts, Modular)
Case
Phanteks Eclipse P400 Tempered Glass (Mid-Tower)

Estimated Total:


$985 - $1025 (US Dollars)




(Adds Parts to Amazon Cart)



Notable Features Cheatsheet


Estimated Wattage (Power Draw)
78W - 340W
RAM Slots
4 (2 slots free)
Max RAM Support
64GB
CPU Overclockable?
No
Built-in WiFi?
No (buy adaptor: see recommended add-ons below)
Hard Drives Supported
6 x SATA 6Gb/s Drives, 2 x m.2 SSD
VR-Ready?
Yes
Front Panel USB Ports
2 x USB 3.0 (+ tons more on rear of case)
Optical Drive Support?
No
Multi-Monitor Support
Yes
Case Fans
Included: 1 x 120mm (Front) + 1 x 120mm (Rear)

Max Fans Supported: 3 x 120mm OR 2 x 140mm (front), 2 x 120mm OR 2 x 140mm (top), 1 x 120mm (rear)

Case Dimensions

210mm x 465mm x 470mm (W x H x D)
Total Weight (Once Parts Installed)
~ 22.15 lbs / 10 KG
Max GPU/PCI-E Card Length
395mm
Max CPU Cooler Height
160mm
AMD CrossFire Support
Yes
NVidia SLI Support
No (upgrade to better motherboard if you want this as a future option)
Full Motherboard & Case Specs
Gigabyte B360 HD3 | Phanteks Eclipse P400 Tempered Glass
Note: Keep in mind hardware prices fluctuate often, so the total estimated cost for the $1000 gaming PC build may change at any given time. To check current pricing, clicking the "Build It" button above conveniently shows all exact current prices for these parts in one go.
Gaming Performance and 1440p Benchmarks
Below are aggregated benchmarks based on extensive analysis of multiple online benchmark sources to estimate what frame rate you can roughly expect from a system like this month's best $1000 gaming PC build in various AAA titles on maximum/ultra/extreme (whatever your specific game refers to it as) settings in 1440p resolution, which is the resolution recommended for a GTX 1070 PC build around this budget. This setup is a little overkill for standard 60Hz 1080p, although if you're using a 144Hz monitor for 1080p then it's a different story, and these $1000 parts are definitely worth it for 1080p 144Hz.

Estimated Frame Rate for 1440p ULTRA

(i5-8400, 1070 8GB, 2x4GB DDR4 2666MHz)


GAME
AVERAGE FPS
Overwatch
115 - 125 FPS
GTA V
100 - 110 FPS
AS Origins
60 - 70 FPS
Battlefield 1
85 - 95 FPS
COD WW2
85 - 95 FPS
SW Battlefront 2
85 - 95 FPS
Forza Motorsport 7
100 - 110 FPS
Wolfenstein 2
85 - 95 FPS
Rise of the Tomb Raider
65 - 75 FPS
Performance Overview by Resolution:
1080p (1920 x 1080):

1080p 144Hz:


1440p (2560 x 1440):

1440p 144Hz:

VR and 4K:

FLAWLESS

GREAT

GREAT

GOOD/AVERAGE


GOOD/AVERAGE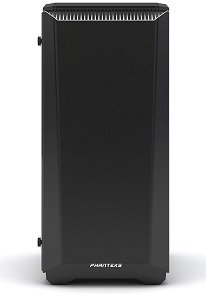 Green = 40FPS and Over (Smooth)
Orange = Under 40FPS (A Little Stutter/Lag)
Red = Under 30FPS (Quite Noticeable Stutter/Lag)
Note On Our Estimated FPS Ratings (Disclaimer):
The performance estimates above for this build are simply an aggregated average based on carefully studying multiple online benchmark sources. Note that these are averages, meaning that in the most action-packed scenes the frame-rate will go lower than the above averages. For example, if we list the Witcher 3 average as 50-60FPS, your FPS may drop to 40FPS-ish in the most intense scenes.
Whilst we do everything we can to make these as accurate as possible, including cross-checking and using as many different reliable sources as possible, please note these are just an average estimation and there is always a chance you won't get the average FPS listed above (although you could get higher, too).
There are a few different factors that could affect your frame rate such as your particular hardware differences, software differences (OS, drivers, game patches/versions, etc), cooling/airflow of your build, specific enabled game features/settings such as Anti-Aliasing, different RAM setups you might be using, and so on. We always err on the side of being conservative with our numbers though, so we'll round things down if we need to instead of rounding up. In saying all that, the above numbers are a good place to start your research.
Build Component Breakdown
Best $1000 PC Build: Recommended GPU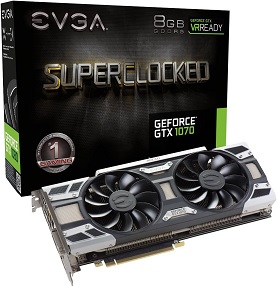 The GTX 1070 makes for a good 1440p PC build and is clearly the best gaming GPU in the $350-$400 market
As always let's start off with the most important component in a gaming rig by far, and when planning the best $1000 gaming PC build the absolute best graphics card you can fit into your budget is a GTX 1070, which has no real competition in its price category and makes for an easy choice.
It provides killer 1080p performance as well as very solid 1440p performance - we're talking a super smooth 60FPS on medium/high settings in many modern games, and 60FPS ultra in 1440p in some titles too. 
Having a mighty GTX 1070 in a 1000 dollar setup is an impressive thing, and not something you'd ever likely see in mainstream pre-built gaming desktops, and this build is a great example of just how much further you can stretch your money and your gaming performance when building your own PC. Good luck getting this kind of graphical firepower in a pre-built system around this price. 
Honorable Mention:
EVGA GeForce GTX 1070 Ti 8GB SC
If you're willing to throw a little more at this suggested $1000 custom build, the logical next step up for this setup is to instead get the 1070's bigger badder brother, the 1070 Ti, which would fit right into this parts-list without having to change any other parts and will give you even better 1440p performance and all but guarantee a maxed-out 60FPS high/ultra experience in most AAA titles.
A 1070 Ti isn't actually a spruced up 1070, but instead more of a watered-down 1080, making it a true high-end GPU for excellent 1440p gaming (and decent 4K performance too although you're better off spending $1500 or higher on your rig for an ideal 4K experience).
I'd also consider keeping an eye out for deals on the 1070 Ti which would bring its cost down to being pretty much on par with a standard 1070. For example, last week the above 1070 Ti from EVGA (which is an excellent well-cooled, aesthetically-pleasing model btw) was on special on Amazon for 400 bucks, making it an obvious choice to get instead of a 1070. To help you on your hunt we're tracking the current best video card deals here which we're updating daily throughout the busy Q4 2018 period, as deals are flying around all the time right now due to the new RTX 2070, 2080 and 2080 Ti cards having just been released.
Best $1000 PC Build: Recommended CPU and Cooler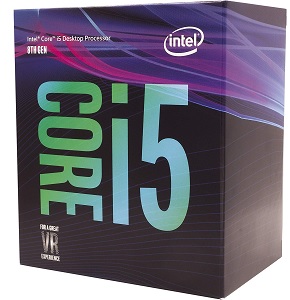 The Core i5-8400; arguably the best bang for your buck gaming CPU...in ANY price tier. Hard to go wrong with this one.
If gaming performance is the most important focus for your new setup, I'd go with an Intel i5 when aiming to build the very fastest $1000 gaming PC right now for the highest frame rates possible. Specifically, the i5-8400 is your best bang for the buck option overall if you don't plan on overclocking. 
Getting a competing AMD option instead - such as the Ryzen 5 2600 which is included in the current best $800 gaming build - is worth considering if you have a bit less to spend on your CPU as it's cheaper (at least in the US as of the time of writing) and almost matches an i5 in terms of gaming performance. And if you're building a hybrid gaming/workstation setup, meaning that you value maximum multitasking and production productivity as much as you value your gaming performance, the Ryzen 5 2600 wins in that regard (though depends on the specific applications).
But for straight-up gaming, and I say this as objectively as possible and without a hint of bias in my bones, an i5, with its superior single threaded performance, cannot be matched right now in terms of overall bang for the buck. When I say Ryzen is the better multitasking/workstation CPU, don't get me wrong as I'm not saying an i5 is a slouch in that regard as it still has 6 cores. Plus, when it comes to building a video editing PC for Adobe programs, Intel chips are actually the slightly better performers in many situations. So again, Intel vs AMD depends on the specific applications you'll be using.
Is the Intel i5-8400's Stock Cooler Good Enough?
Good question. For this month's recommended $1000 build, we've left the stock cooler that comes with this CPU, because it does get the job done in most cases. Pun intended, because what I mean is that if you have a case with good airflow, and your new beast won't be living in an abnormally hot room, the stock cooler is probably going to be good enough.
I say probably though, because for some users Intel's stock coolers can get a little noisy when under real stress, but whether the noise is enough to annoy you or not will depend on you (it's not like it gets really loud or anything, though). Plus, some people just don't like the look of the Intel stock cooler, and I agree that it's not the most aesthetically pleasing looking thing. AMD's current stock coolers are better overall, I must say (and have way cooler names).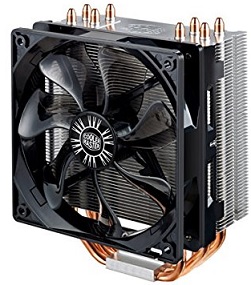 The Cooler Master 212 Evo is an affordable yet solid choice to cool an i5 or i7
Therefore, if you have the extra 30-50 dollars to spend on getting your own custom cooler for the i5-8400 for either aesthetic reasons or to have your processor running as cool and quiet as humanly possible - then consider getting a different cooler such as the very affordable Cooler Master 212 Evo or Cryorig H7 which will do a better job than the Intel stock one.
But for most gamers, and especially if you're trying to keep your build budget as tight as possible with the aim of fully maximizing gaming performance for the money and avoiding spending on nice-to-haves like an aftermarket cooler (which is exactly the aim of this recommended $1000 build), then the stock cooler will get the job done for gaming with the i5-8400 and you shouldn't have any issues with it.
Again, this is assuming your room is not that hot and your case airflow is good (the Phanteks Eclipse case is well designed for cooling if you do decide on that one). Plus, if you decide later on that the stock cooler isn't keeping your CPU as cool and quiet as you would have hoped, you can always easily uninstall the stock one and replace it with something better (just remember to first remove and then re-apply thermal paste).
Best $1000 Gaming PC Build: Recommended Motherboard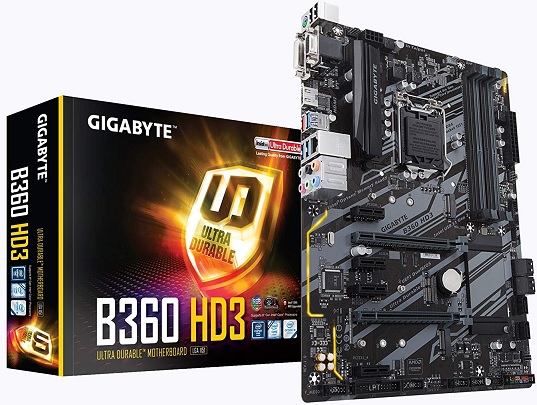 For an i5-8500 your best value for money bet is a locked B360 board like this
For an Intel Core i5-8400 processor, the best option you have in terms of bang for your buck is to get a 2018-released B360 motherboard. This chipset doesn't support overclocking, which is what you want for the i5 8400 as it's a locked (read: not overclockable) processor.
If you want to overclock you'll have to see one of our other recommended monthly builds (some of our builds are overclockable, some aren't, but we generally don't recommend it to first-time builders even though these days overclocking a CPU is straightforward to do if you're the patient type).
Getting an overclocking-friendly board for your locked i5-8400, which would be a "Z370" chipset motherboard, is going to be more expensive and a waste of money for our best $1000 gaming PC build 'cause you won't be using its full functionality.
In other words, Z370 boards aren't ideal for an i5-8400, and only recommended if you're getting an unlocked processor instead such as the i5-8600K (any Intel CPU with a "k" in the model number is unlocked/overclockable).
The Gigabyte B360 HD3 included in this suggested setup is a good value option for the i5-8400 that fits the needs of this build, and has all the basic features you likely need for a standard gaming rig like this. Gigabyte boards are generally great bang for your buck and this one is no exception assuming you don't need any fancy features. All the basics are covered; 4 RAM slots, good LAN, good sound, decent durability, and whilst not the flashiest looking board it does look clean and sharp. Keep in mind, like most motherboards there's no built-in WiFi so if you want wireless you'll need to get a separate adaptor as usual (either a PCI-E card or a USB dongle; either will work fine).
Best $1000 Gaming PC Build: Recommended Memory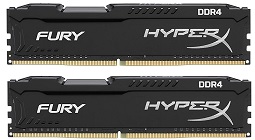 Same 2666Mhz DDR4 modules from the previous recommended build tier...'cause they're good.
As for RAM for the $1000 gaming rig, 8GB is still the ideal for a mid/high-end setup around this price, as the money you'd spend on getting 16GB is best served towards your GPU and/or your CPU as that will influence frame-rates way more than jumping to 16GB from 8GB ever will. Personally I'd only start looking at including 16GB of RAM when you start creeping towards the $1500-ish mark, or if you're building a hybrid gaming/workstation setup (ie for the best video editing PC build).
For our current best gaming PC build under $1000, I've thrown in the same two Kingston HyperX Fury DDR4 2666MHz sticks from the suggested 800 dollar gaming rig which also fits in well with the rest of this parts-list, aesthetically speaking. Dual-channel memory - as in getting 2 sticks compared to the single stick - is always the better option compared to just getting the single module, as it'll run a tad faster, but just make sure when doing this you have additional memory modules free on your motherboard if you think you might want to upgrade RAM later on. The Gigabyte B360 HD3 motherboard included in this parts-list does have a total of 4, meaning you'll have 2 slots free. This is good practice when building a PC 'cause even if you don't think you'll ever upgrade the RAM...you never know if you change your mind later.
Upgrading RAM is a common thing to do, and affordably gives an ageing system a nice little boost, and whilst 8GB is actually all you actually need for flawless 1080p/1440p performance now and into the foreseeable future assuming you have a good CPU and GPU up your sleeve, in a couple years upgrading to 16GB memory may become super helpful for your gaming performance as game requirements mature further. Yes, the odd game or two will run faster on 16GB compared to 8GB RAM in this day and age, but that doesn't make 16GB necessary 'cause if you have a strong CPU and GPU you'll achieve your desired 60FPS/144FPS anyway.
Also, 2666Mhz memory speed is all you need and as mentioned in more detail in other builds we've done, for strictly gaming purposes it's not worth shelling out the extra cash for faster RAM as it makes a negligible difference. In other words, there are diminishing returns as a gamer by spending more on faster RAM such as 3000Mhz or 3200Mhz, so I would only suggest getting that sort of RAM if you don't care about being cost-effective (ie for a luxury gaming setup where you don't care about maximum bang for buck) or if you're building a workstation PC and you'll know that your applications would benefit from it. Besides, 2666MHz is the fastest stock speed for DDR4 RAM, and anything higher means you'll have to overclock (in the BIOS), although to be honest this is simple to do.
Best $1000 Gaming PC Build: Recommended Case and PSU
The Phanteks Eclipse P400 a beautiful, spacious, high-quality and overall excellent bang for your buck Mid-Tower, with good cable management, airflow (comes with 2 fans), and supports long-length GPUs which is ideal for our dual-fan RX 580 as it's quite a long card. Highly recommended for a $1000 ish build, and comes in various colors to suit your taste but the black edition is fairly universally attractive and will look awesome with pretty much any component theme (white version would also look awesome for this setup). The tempered glass side-panel shows off your awesome new parts in style.
Phanteks provide some seriously epic yet affordable cases and the Eclipse P400 series is no exception. High-quality throughout and a slick see-through panel that shows off the insides of your new battle station in style
Of course, case selection is one of the more subjective parts in a custom gaming computer, so feel free to use another mid tower case for a build like this (or a full tower if you have the space for it), but just ensure to do your homework on compatibility, especially if you're using an aftermarket CPU cooler like the 212 Evo as it's a bit of a beast and may cause space issues in the smaller mid-towers.
Last but not least, let's cover your trusty PSU for this budget 1440p gaming PC build. EVGA produce some great value for money yet efficient, high-quality and reliable PSUs these days, and the SuperNova G3 Gold-rated model is one of their better quality units that will reliably, efficiently, and conveniently (it's fully modular) power a powerful gaming system like this for years to come. 550 watts of quality power is also more than enough for the components of the best $1000 gaming PC, with plenty of wiggle room for future upgrades.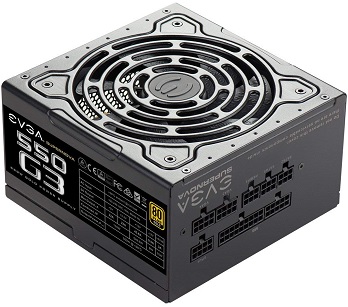 Quality PSU for a quality PC: everytime a bad, cheap PSU is placed in a $1000+ gaming rig, somewhere in the world an innocent kitten dies
Recommended Operating System and Accessories
Windows 10 is what we'd recommend for most people, which if you need to get new comes in a handy USB/flash-drive version or a disk version if you want to make your own bootable flash drive from that (since this build doesn't have an optical drive as they're totally optional these days: feel free to get one, though). Linux is also an option but we don't recommend it unless you know what you're doing, so if you're a newbie just stick with Windows. See our top value for money picks of the best mice, keyboards, screens, headsets, etc, in our peripheral buying guides (see the top menu) should you need to buy these new and you're not reusing old ones. These parts will all come down to personal preference, and of course how much more you have to spend on top of your core components.
Building the $1000 Custom PC and Get Help
That wraps our current best gaming PC build under $1000 as of October 2018 (IMHO based on extensive objective research, comparisons and subjective contemplation). Like all our recommended builds, if you're putting together your first PC fear not as it's very simple to do these days whether you're putting together a budget gaming system like this one or a more powerful high-end gaming computer, and in 2018 if you can build Lego you can essentially build a custom computer without problems if you simply follow a step by step article or video (see How to Build Your First Gaming PC). Need further help or want to share some feedback? Leave a comment on our main builds page which also contains an FAQ on these builds. I hope this example build has helped you in your research and good luck with the new setup!