Plan the Best Gaming PC Build Under $1000
February 2019 Recommended Parts for the Best 1440p Gaming PC Build: How to Stretch Gaming Performance, Reliability, Cooling & Aesthetics for 1000 Dollars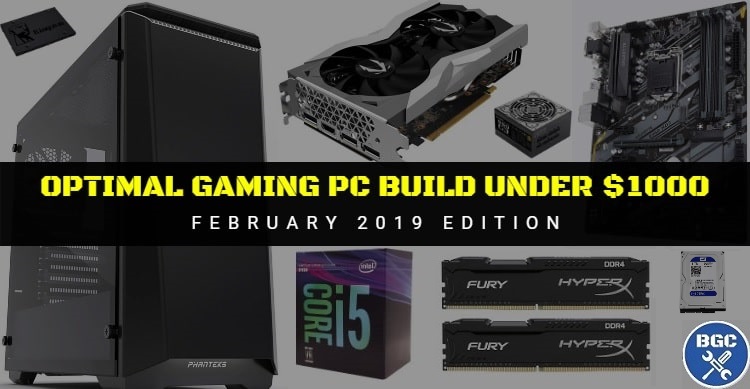 Last Updated: Feb 14, 2019

QUICK NAVIGATION
Current Best $1000 Gaming PC Build: Recommended February 2019 Parts
CPU: Intel Core i5-8400 2.8GHz 6-Core
CPU Cooler: Stock Cooler (or CM 212)
Graphics: Zotac GeForce RTX 2060 6GB
Motherboard: 

Gigabyte B360 HD3 (ATX)
RAM: Kingston HyperX Fury 2x4GB (2666MHz) 
HDD: Western Digital 1TB (7200RPM)
Power Supply: EVGA SuperNova G3 550 Gold
Case: 

Phanteks Eclipse P400 Mid Tower
The $1000 Gaming PC Build: Overview
Planning the best $1000 gaming PC build to dominate 1440p resolution gaming in 2019 and beyond, or looking to get super-high frame rates in 1080p such as 144FPS for use with a 144Hz gaming monitor? In this comprehensive yet beginner-friendly PC guide guide we'll be objectively looking at how to strategically stretch a budget of around 1000 dollars/pounds/euros (or higher for Australia and Canada) as far as possible when building your first PC, to end up with the fastest, longest-lasting, highest-quality, best-looking, and overall best PC gaming experience possible based on the current hardware market.
1000 bucks is a great amount to spend when building your first PC, as the type of battle station you can construct is impressive, well-balanced and long-lasting in all regards, and should be all the power that a good 80-90% of PC gamers would really need (assuming you're not building a gaming PC for 4K resolution). To put it into perspective a little, whilst you most definitely can build much more expensive custom gaming rigs for $1500, $2000 and even beyond that for faster gaming performance, spending 1000 bucks means you're throwing down around twice the amount that a console would cost, so you rest assured that for this price you can expect an epic PC gaming experience that will last a long time. 
Depending on the exact game, with this 1440p gaming PC build you can expect a flawless 60 frames per second on medium, high or even maxed-out (ultra) settings in modern AAA titles (in 1440p). But the many options that a 1000 dollar budget gives you also means you could quite easily run wild and haphazardly overspend on things you don't need, put too much money into components that don't matter as much compared to another, or any other number of rookie mistakes when planning a good custom build. 
Our following best attempt at a current $1000 gaming PC build example is here to help guide you in your research to hopefully allow you to make wiser, more informed purchasing decisions, and is here to be used as a base for your hardware research as a ton of careful consideration has gone into this well-balanced, finely-tuned list of recommended parts.
Do tweak this build 'till your heart's content if you have any specific wants and needs, as part of the fun of building your own PC is of course designing the ultimate build for you, but don't forget to always double and triple check compatibility and try to think ahead to take into account any likely upgrade path for the future. Without further ado I bring to you the current best gaming PC build under $1000 for this month, IMHO based on a blend of objective component selections and subjective reasoning as to how I would personally approach a build like this. In other words, if I had 1000 dollars to spend right now on a new setup primarily for gaming, this is how I would roll.
See Also: The $1200 High-End 1440p Gaming PC Build
Full Parts-List for US, Canada, UK & Australia

Best Gaming PC Build Under $1000 (February 2019)


Check Price (USA)
Graphics Card
Zotac GeForce RTX 2060 6GB Twin Fan Edition
CPU
Intel Core i5-8400 (2.8GHz, 8th Gen, 6 Cores, 12 Threads, Locked)
CPU Cooler
Stock (comes with CPU) or Cooler Master 212 Evo
Motherboard
Gigabyte B360 HD3 (ATX, 4 DDR4 Slots)
RAM
Kingston HyperX Fury 8GB (DDR4, 2 x 4GB, 2666 MHz)
SSD (system drive)
Kingston A400 240GB
HDD (secondary drive)
Western Digital Blue 1TB (7200 RPM, 64MB Cache)
Power Supply
EVGA 550 SuperNOVA G3 (80+ Gold, 550 Watts, Modular)
Case
Phanteks Eclipse P400 Tempered Glass (Mid-Tower)

Estimated Total:


$930 - $950 (US Dollars)





(Orders All Parts on Amazon, Our #1 Recommended US Store)




Notable Features Cheatsheet


Wattage (Power Draw)
Up to 260W
RAM Slots
4 (2 slots free)
Max RAM Support
64GB
CPU Overclockable?
No
Built-in WiFi?
No (get a wireless adaptor for desktop)
Hard Drives Supported
6 x SATA 6Gb/s Drives, 2 x m.2 SSD
VR-Ready?
Yes
Front Panel USB Ports
2 x USB 3.0 (+ tons more on rear of case)
Optical Drive Support?
No
Multi-Monitor Support
Yes
Case Fans
Included: 1 x 120mm (Front) + 1 x 120mm (Rear)

Max Fans Supported: 3 x 120mm OR 2 x 140mm (front), 2 x 120mm OR 2 x 140mm (top), 1 x 120mm (rear)

Case Dimensions

210mm x 465mm x 470mm (W x H x D)
Max GPU/PCI-E Card Length
395mm
Max CPU Cooler Height
160mm
AMD CrossFire Support
Yes
NVidia SLI Support
No (upgrade to better motherboard if you want this as a future option)
Full Motherboard & Case Specs
Gigabyte B360 HD3 | Phanteks Eclipse P400 Tempered Glass

Best Value Picks for Canada, UK & Australia *


Canada:

&nbsp&nbsp&nbsp&nbsp&nbsp&nbsp&nbsp&nbsp&nbsp&nbsp&nbsp&nbsp&nbsp&nbsp



Estimated Total:


$1340 - $1380 (CAD)


UK:

&nbsp&nbsp&nbsp&nbsp&nbsp&nbsp&nbsp&nbsp&nbsp&nbsp&nbsp&nbsp&nbsp&nbsp



Estimated Total:


844 - 884 Pounds


Australia:

&nbsp&nbsp&nbsp&nbsp&nbsp&nbsp&nbsp&nbsp&nbsp&nbsp&nbsp&nbsp&nbsp&nbsp



Estimated Total:


$1420 - $1480 (AUD)


* Note For Builders Outside the USA
Building the $1000 Gaming PC for Australia, UK or Canada? 
The components we recommend for these countries will usually be the exact same parts as our main US-based parts-list listed above, as hardware is an international game and if a part is a good buy in one country chances are it's also good value in another.
However, if one of the main recommendations above is either overpriced or unavailable in Canada, UK, or Australia, we'll substitute that particular part for another more suitable model for that country (that's still 100% compatible of course). In other words, yes we individually pick each part for each of the 4 countries in order to help you get the most bang for buck in your particular corner of the world.
Gaming Performance & 1440p Benchmarks
Performance Overview by Resolution:
1080p (1920 x 1080):

1080p 144Hz:


1440p (2560 x 1440):

1440p 144Hz:

FLAWLESS!

GOOD/AVERAGE

GREAT

AVERAGE/POOR


GOOD
Below we've compiled aggregated benchmarks based on analysis of multiple benchmark sources to estimate what frame rate you can roughly expect from this month's best $1000 gaming PC build in various AAA titles on maximum/ultra/extreme (whatever your specific game refers to it as) settings in 1440p - the resolution generally recommended for this custom PC.

This $1000 rig could definitely be considered a little overkill if all you're playing on is a standard 60Hz 1080p gaming monitor (which is the most common setup overall), and if that's all you're doing the $800 gaming PC build might be all the firepower you need. If you're using an expensive 144Hz monitor for 1080p then it's a different story as the extra CPU and GPU grunt of this setup is practical, and these $1000 parts will do fairly well in many games for 1080p 144Hz. Not all though, and you'll struggle to get 144FPS consistently (or anywhere near that in the first place) in the most demanding titles if you have a need to play on high/ultra settings. 144Hz monitors really do require a beasty rig, even in just 1080p.
As for 1440p gaming you'll get very solid frame rates as listed below. For 1440p 144Hz monitors, you'll want a lot more power than this build, unless you're playing less demanding games and/or don't mind turning down settings considerably. But overall, this $1000 gaming desktop is recommended primarily as a 1440p 60Hz rig, or a long-lasting "future-proofed" 1080p 60Hz setup (and/or budget VR setup).
Learn More: Gaming Refresh Rates Explained

Estimated Frame Rate for 1440p ULTRA

(i5-8400, RTX 2060 6GB, 2x4GB 2666MHz)


GAME
AVERAGE FPS
Overwatch
110 - 130 FPS
AS Origins
70 - 80 FPS
Battlefield 1
95 - 105 FPS
COD WW2
90 - 110 FPS
SW Battlefront 2
90 - 110 FPS
Wolfenstein 2
90 - 110 FPS
Rise of the Tomb Raider
70 - 90 FPS
Average FPS Ratings Disclaimer

The predicted frame rates we list are simply an aggregated estimation of how this build will perform based on carefully cross-checking multiple performance benchmarks from the most reliable sources we could dig up. Note that these are averages, meaning that in the most action-packed scenes your frame-rate may dip a bit lower. For example, if we list 50-60FPS, you may drop to 30-40FPS in the most intense scenes.
Also keep in mind we do everything we can to make these as accurate as possible, please note there's no guarantee you'll get this exact average as there are different factors that could affect your frame rate such as other hardware differences, software differences (OS, drivers, game patches/versions, etc), cooling/airflow of your build, enabled game features/settings such as Anti-Aliasing, different RAM setups you might be using, and so on. But overall, you can rest assured our predicted FPS ratings are a pretty safe bets in terms of what performance you can expect from the specific parts of this custom PC build.
Learn More: What's a Good Gaming Frame Rate?
Component Breakdown & Honorable Mentions
Best $1000 PC Build: Recommended GPU
As always let's start off with the most important component in a gaming rig by far, and when planning the best $1000 gaming PC build at this point of time the best graphics card you can fit into your budget is the just-released RTX 2060. This is the most affordable of NVidia's new RTX range of GPUs with models ranging from $350 to $400, and is also arguably the best overall value for money pick of the new RTX GPUs, beating its bigger brothers (2070, 2080 and 2080 Ti) in terms of pure frames-per-dollar.
The 2060 naturally replaces our previously recommended GTX 1070 for the $1000 PC build, as it's the same price but better performance. The downside compared to the 1070 is the 2060 only has 6GB of VRAM as opposed to 8GB, but this is a non-issue as the 2060 is clearly the faster GPU anyway. 6GB is plenty for modern 1440p gaming, and you only need more VRAM for 4K gaming.
As for which model of the RTX 2060 to get - good question. Is it simply a matter of finding the cheapest model you can get your hands on? Well, sometimes it is, assuming you want the best value for money, however you also should investigate any particular model that you consider buying. The Zotac RTX 2060 Twin Fan version is on the lower end of the 2060's on the market right now, but it checks out real good in terms of having no real flaws, and the cooling reportedly works effectively and without loud noise.

See this review here as an example. We've given it the nod for February's best gaming PC build under $1000, and would buy it ourselves if looking for the best overall value RTX 2060. It looks crisp, too. It's simply cheaper because the Zotac brand name isn't on the same level as the big names like Asus or EVGA, who can afford raising their prices a little. Although to be fair a lot of the time the bigger names do actually ship superior GPUs with better cooling solutions, features, etc, but in this case you're not missing out on much by saving money with a Zotac model.
Honorable Mention:
EVGA GeForce RTX 2060 6GB XC Ultra (Dual Fan)
MSI GeForce RTX 2060 6GB Ventus OC (Dual Fan)

Best $1000 PC Build: Recommended CPU and Cooler
If gaming performance is the most important focus for your new setup, I'd go with an Intel i5 when aiming to build the very fastest $1000 gaming PC right now for the highest frame rates possible. Specifically, the i5-8400 is your best bang for the buck option overall if you don't plan on overclocking. 
Getting a competing AMD option instead - such as the Ryzen 5 2600 which is included in the current best $800 gaming build - is worth considering if you have a bit less to spend on your CPU as it's cheaper (at least in the US as of the time of writing) and almost matches an i5 in terms of gaming performance.
And if you're building a hybrid gaming/workstation setup, meaning that you value maximum multitasking and production productivity as much as you value your gaming performance, the Ryzen 5 2600 wins in that regard (though depends on the specific applications).
But for straight-up gaming, and I say this as objectively as possible and without a hint of bias in my bones, an i5, with its superior single threaded performance, cannot be matched right now in terms of overall bang for the buck. When I say Ryzen is the better multitasking/workstation CPU, don't get me wrong as I'm not saying an i5 is a slouch in that regard as it still has 6 cores. Plus, when it comes to building a video editing PC for Adobe programs, Intel chips are actually the slightly better performers in many situations. So again, Intel vs AMD depends on the specific applications you'll be using.
Is the Intel i5-8400's Stock Cooler Good Enough?
Good question. For this month's recommended $1000 build, we've left the stock cooler that comes with this CPU, because it does get the job done in most cases. Pun intended, because what I mean is that if you have a case with good airflow, and your new beast won't be living in an abnormally hot room, the stock cooler is probably going to be good enough.
I say probably though, because for some users Intel's stock coolers can get a little noisy when under real stress, but whether the noise is enough to annoy you or not will depend on you (it's not like it gets really loud or anything, though). Plus, some people just don't like the look of the Intel stock cooler, and I agree that it's not the most aesthetically pleasing looking thing. AMD's current stock coolers are better overall, I must say (and have way cooler names).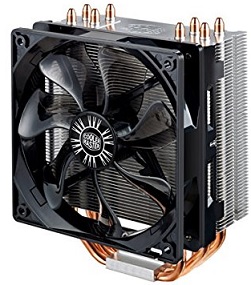 The Cooler Master 212 Evo is an affordable yet solid choice to cool an i5 or i7
Therefore, if you have the extra 30-50 dollars to spend on getting your own custom cooler for the i5-8400 for either aesthetic reasons or to have your processor running as cool and quiet as humanly possible - then consider getting a different cooler such as the very affordable Cooler Master 212 Evo or Cryorig H7 which will do a better job than the Intel stock one.
But for most gamers, and especially if you're trying to keep your build budget as tight as possible with the aim of fully maximizing gaming performance for the money and avoiding spending on nice-to-haves like an aftermarket cooler (which is exactly the aim of this recommended $1000 build), then the stock cooler will get the job done for gaming with the i5-8400 and you shouldn't have any issues with it.
Again, this is assuming your room is not that hot and your case airflow is good (the Phanteks Eclipse case is well designed for cooling if you do decide on that one). Plus, if you decide later on that the stock cooler isn't keeping your CPU as cool and quiet as you would have hoped, you can always easily uninstall the stock one and replace it with something better (just remember to first remove and then re-apply thermal paste).
Best $1000 Gaming PC Build: Recommended Motherboard
For an Intel Core i5-8400 processor, the best option you have in terms of bang for your buck is to get a 2018-released B360 motherboard. This chipset doesn't support overclocking, which is what you want for the i5 8400 as it's a locked (read: not overclockable) processor. If you want to overclock you'll have to see one of our other recommended monthly builds (some of our builds are overclockable, some aren't, but we generally don't recommend it to first-time builders even though these days overclocking a CPU is straightforward to do if you're the patient type).
Getting an overclocking-friendly board for your locked i5-8400, which would be a "Z370" chipset motherboard, is going to be more expensive and a waste of money for our best $1000 gaming PC build 'cause you won't be using its full functionality. In other words, Z370 boards aren't ideal for an i5-8400, and only recommended if you're getting an unlocked processor instead such as the i5-8600K (any Intel CPU with a "k" in the model number is unlocked/overclockable).
The Gigabyte B360 HD3 included in this suggested setup is a good value option for the i5-8400 that fits the needs of this build, and has all the basic features you likely need for a standard gaming rig like this. Gigabyte boards are generally great bang for your buck and this one is no exception assuming you don't need any fancy features. All the basics are covered; 4 RAM slots, good LAN, good sound, decent durability, and whilst not the flashiest looking board it does look clean and sharp. Keep in mind, like most motherboards there's no built-in WiFi so if you want wireless you'll need to get a separate adaptor as usual (either a PCI-E card or a USB dongle; either will work fine).
Honorable Mentions:
Most modern motherboards don't come with built-in wireless, so if you do want WiFi for your build you can buy a wireless desktop adapter or you can spend more on a motherboard that includes WiFi such as these two models that we can recommend (and that also fit with all the other parts of this build)
GIGABYTE B360 AORUS Gaming 3 WiFi (ATX)
ASUS TUF B360-Pro Gaming WiFi (ATX)

Best $1000 Gaming PC Build: Recommended Memory

As for RAM for the $1000 gaming rig, 8GB is still the ideal for a mid/high-end setup around this price, as the money you'd spend on getting 16GB is best served towards your GPU and/or your CPU as that will influence frame-rates way more than jumping to 16GB from 8GB ever will.
Personally I'd only start looking at including 16GB of RAM when you start creeping towards the $1500-ish mark, or if you're building a hybrid gaming/workstation setup (ie for the best video editing PC build).
For our current best gaming PC build under $1000, I've thrown in the same two Kingston HyperX Fury DDR4 2666MHz sticks from the suggested 800 dollar gaming rig which also fits in well with the rest of this parts-list, aesthetically speaking.
Dual-channel memory - as in getting 2 sticks compared to the single stick - is always the better option compared to just getting the single module, as it'll run a tad faster, but just make sure when doing this you have additional memory modules free on your motherboard if you think you might want to upgrade RAM later on. The Gigabyte B360 HD3 motherboard included in this parts-list does have a total of 4, meaning you'll have 2 slots free. This is good practice when building a PC 'cause even if you don't think you'll ever upgrade the RAM...you never know if you change your mind later.
Upgrading RAM is a common thing to do, and affordably gives an ageing system a nice little boost, and whilst 8GB is actually all you actually need for flawless 1080p/1440p performance now and into the foreseeable future assuming you have a good CPU and GPU up your sleeve, in a couple years upgrading to 16GB memory may become super helpful for your gaming performance as game requirements mature further. Yes, the odd game or two will run faster on 16GB compared to 8GB RAM in this day and age, but that doesn't make 16GB necessary 'cause if you have a strong CPU and GPU you'll achieve your desired 60FPS/144FPS anyway.

Also, 2666Mhz memory speed is all you need and as mentioned in more detail in other builds we've done, for strictly gaming purposes it's not worth shelling out the extra cash for faster RAM as it makes a negligible difference. In other words, there are diminishing returns as a gamer by spending more on faster RAM such as 3000Mhz or 3200Mhz, so I would only suggest getting that sort of RAM if you don't care about being cost-effective (ie for a luxury gaming setup where you don't care about maximum bang for buck) or if you're building a workstation PC and you'll know that your applications would benefit from it. Besides, 2666MHz is the fastest stock speed for DDR4 RAM, and anything higher means you'll have to overclock (in the BIOS), although to be honest this is simple to do.
Best $1000 Gaming PC Build: Recommended Case and PSU
The Phanteks Eclipse P400 truly is a beautiful, spacious, high-quality and overall excellent bang for your buck Mid-Tower, with good cable management, airflow (comes with 2 fans), and supports long-length GPUs which is ideal for our dual-fan RX 580 as it's quite a long card. Sounds like I'm on some cheesy informercial right now, but it's genuinely one of the best cases that I personally have no hesitation to recommend to most builders putting together a $1000 gaming PC build (or beyond).
It comes in various colors and styles to suit your taste but the white edition we've listed here for the February edition of the $1000 build is fairly universally attractive and will look awesome with pretty much any component theme. The tempered glass side-panel shows off your awesome new setup in style. Phanteks provide some seriously epic yet still affordable computer cases for enthusiasts and beginners alike, and the Eclipse P400 series is no exception and some of the best overall in terms of bang for your buck, period.
Of course, case selection is one of the more subjective parts in a custom gaming computer, so feel free to use another mid tower case for a build like this (or a full tower if you have the space for it), but just ensure to do your homework on compatibility, especially if you're using an aftermarket CPU cooler like the 212 Evo as it's a bit of a beast and may cause space issues in the smaller mid-towers.

Last but not least, let's cover your trusty PSU for this 1440p gaming PC build. EVGA produce some great value for money yet efficient, high-quality and reliable PSUs these days, and the SuperNova G3 Gold-rated model is one of their better quality units that will reliably, efficiently, and conveniently (it's fully modular) power a powerful gaming system like this for years to come.
550 watts of quality power is also more than enough for the components of the best $1000 gaming PC, with plenty of wiggle room for future upgrades as you can see with the total power draw for these parts listed above in the features cheastsheet being well under par. Overall, the G3 is a quality PSU for a quality PC. Just remember that everytime a bad, cheap PSU is placed in a $1000+ gaming rig, somewhere in the world an innocent kitten dies.
Recommended Operating System & Accessories
As with all our current recommended custom PC builds, 64 bit Windows 10 is what we recommend for the $1500 custom gaming build unless you have a seriously good reason to get another operating system like Linux. You have a few options with buying and installing Windows for your new PC:
Option A: Windows 10 Home 64-Bit (Flash Drive Edition) 

Option B: Windows 10 Home 64-Bit (DVD Disc Edition) (buy if you're getting an optical drive for your gaming build) 

Option C: Buy Windows from Microsoft and download it to an existing computer/laptop, then put it on a flash drive, then use that flash drive when booting up your PC. 

Option D: Reuse your copy of Windows if your edition is eligible for this.

See our top value for money picks of the best mice, keyboards, screens, headsets, etc, in our peripheral buying guides (see the top menu) should you need to buy these new and you're not reusing old parts. These parts will all come down to personal preference, and of course how much more you have to spend on top of your core ~ 1k components.
Building the $1000 Gaming Computer
That wraps our current best gaming PC build under $1000 as of February 2019 and we hope it helps you in planning the right setup for your needs around this price tier. Like all our recommended best gaming PC builds, if you're putting together your first custom system there's no need to fear anything, even if you're a complete hardware newbie, as it really is very simple to do these days. It's very hard to go wrong or get stuck if you simply follow a step by step article or video in your own time like our written PC build walk through for beginners or our current top recommended video tutorial included in our complete guide to building your first gaming PC. Good luck, enjoy, and happy gaming.
References
Zotac Gaming GeForce RTX 2060 Twin Fan Review
Nvidia GeForce RTX 2060 Review & Mega Benchmark
ZOTAC GAMING GeForce RTX 2060 Twin Fan Official Specifications
EVGA GeForce RTX 2060 XC ULTRA GAMING 6GB GDDR6 Dual HDB Fans Official Specifications
MSI GeForce RTX 2060 VENTUS 6G OC Official Specifications
Intel Core i5-8400 Processor Official Specifications
Gigabyte B360 HD3 ATX Motherboard Official Specifications
GIGABYTE B360 AORUS Gaming 3 WiFi ATX Motherboard Official Specifications
GIGABYTE B360 AORUS GAMING 3 WIFI Motherboard Review
ASUS TUF B360-Pro Gaming WiFi ATX Motherboard Official Specifications
Phanteks Eclipse P400 Tempered Glass ATX Mid Tower Official Specifications

About the Author
A hobbyist game programmer turned tech & hardware enthusiast, Julz is the founder of BGC and has kept a keen eye on the latest in DIY gaming ever since starting BGC in his spare time back in '06 as an almost-laughably basic, unimpressive little site with a simple aim to try and make building a PC more accessible to the average gamer since most resources were far from noob friendly.
Over countless reinventions and reiterations to the quality and depth of content over the years, the site has steadily grown into the fairly expansive, comprehensive and constantly-updated PC building resource that it is today, now reaching and helping thousands of gamers and power users each and every month to more effectively plan optimal setups for their exact needs. His fav PC games of all time are HL1, WC3 & SWKOTOR (OOT, Perfect Dark & MGS2 for consoles). You can learn more about the BGC mission here & how to support it.

Questions or Feedback?
Want further help with your build or to share feedback on the above guide (good or bad: constructive criticism is always welcome to help us continue making BGC the best beginner-friendly building resource it can be) - we're listening. Feel free to comment or message on our Fanpage or email us direct and we'll do our best to help you out (or our new Twitter).