Home > Best Deals
The Best PC Hardware and Accessory Deals: Amazon Prime Day 2019 Edition
We're Hand-Picking the Hottest Deals on Quality PC Components, Gaming Accessories, Desktops & Laptops Throughout the Extended 2-Day Prime Day Event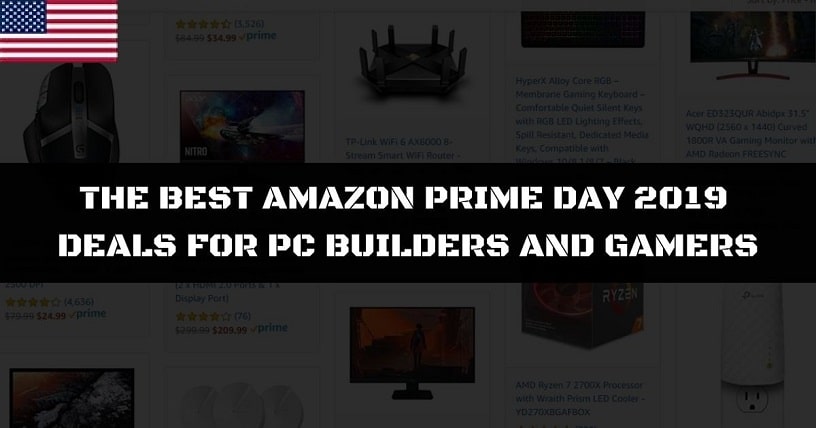 Last Updated: July 16, 2019 (5:59am Pacific Time)
"Summer Black Friday" is here. Amazon's biggest tech sales of the year, Prime Day, is now in its second and final day and there are still loads of excellent deals to be had on all-things PC gaming. A few years back, Amazon's Prime Day really wasn't comparable to the notorious Black Friday (and its cousin Cyber Monday), but these days with Amazon being such a dominant force in eCommerce their Prime Day event is hard to ignore with a wide array of impressive bargains on leading tech brands.
But not all deals are created equal, with some being much more worth it than others, and plus some deals aren't easily found and you must do some digging around instead of relying solely on the main Prime Day Deals section on Amazon. With abundance of coffee and 0 sleep we'll be continually sorting through all the deals throughout the 2 day event and hand-picking the very best that we find on quality PC components, desktops, laptops, and accessories to help you avoid missing out on a great deal (we'll also delete any deals that expire).
How to Claim the Best Deals
To take advantage of some of the best Prime Day deals you need to be an Amazon Prime member, but the good thing is you can sign up for a free 30 day trial, and you could cancel your membership before the free trial ends and never get billed.
Although if you shop regularly on Amazon it is worth it as a member because membership doesn't cost much and you get free shipping plus faster shipping (1-2 day delivery I believe on most products), as well as free access to Amazon streaming services including Twitch, Prime Music and Prime Video.
Lost in Deal Land of Doom?
If you want help deciding on a deal leave a comment below or contact us direct and we'll be glad to help steer you in the right direction.

Also Keep in Mind:
The fully discounted deal price that you see at checkout may be even lower than the prices listed below
Best Deals on Graphics Cards
NVidia GPU Deals
610 bucks for a Zotac RTX 2080 is an amazing deal and the lowest we've seen this high-end monster card - ever. There's also some discounted 2080 Ti's making it a decent day for an extreme upgrade, as well as fairly-discounted RTX 2070's for the mid-range gamers.
AMD GPU Deals
Sold out : (
MSRP Cheatsheet: (Launch Prices in USD)
AMD RADEON RX
RX 550 4GB MSRP: $79
RX 560 4GB MSRP: $99
RX 570 4GB MSRP: $169
RX 580 4GB MSRP: $199
RX 580 8GB MSRP: $229
RX 590 MSRP: $279
RX Vega 56 MSRP: $399
RX Vega 64 MSRP: $499
NVIDIA RTX
RTX 2060 6GB: $349

RTX 2070: $499

RTX 2080: $699
RTX 2080 Ti: Kidney $999
NVIDIA GTX
GTX 1650: $149

GTX 1660: $219

GTX 1660 Ti: $279

GTX 1050 2GB: $109
GTX 1050 Ti 4GB: $139

GTX 1060 3GB: $199
GTX 1060 6GB: $249

GTX 1070: $379
GTX 1070 Ti: $449

GTX 1080: $549
GTX 1080 Ti: $699
Note: The MSRPs (Manufacturer Suggested Retail Price) above are the recommended starting prices for the base models, so overclocked or better-cooled/feature-rich cards will sell for higher. Therefore, some of the best video card deals that we list above may still be over MSRP (yet is still considered a deal as it's still discounted from its normal price).
Best Deals on CPUs
AMD MSRP's: (Launch Prices in USD)
Ryzen 3 1200: $109

Ryzen 3 2200G: $99
Ryzen 5 2400G: $149
Ryzen 5 2600: $199
Ryzen 5 2600X: 
Ryzen 7 2700: $299
Ryzen 7 2700X: $329
Threadripper 2950X: $899

Intel CPU Deals
Best Deals on CPU Coolers
The super popular, excellent value 212 Black cooler (we often include it in our top recommended same gaming builds) is now even more bang for buck at just 25 bucks for Prime Day. Corsair's ever-popular H100i Pro RGB is also discounted at 100 bucks at the time of writing, and a good option for high-end builds and/or overclockers.
Best Deals on Motherboards
Best Deals on RAM/Memory
60 bucks for 16GB of 3000MHz DDR4 memory from a reputable manufacturer is a great price, and 140 dollars for 32GB of 3200MHz is okay but a deal nonetheless. 
Best Deals on SSDs/HDDs
Best Deals on Power Supplies and Cases
Best Deals on Gaming Monitors
4K Monitors
Amazon Prime members can get the excellent Acer Predator XB321HK 4K gaming monitor with all the bells and whistles for just 699 which is a few hundred bucks off. A super deal.
A top of the range 4K 144Hz monitor for those with monstrous rigs that's also a few hundred bucks off.
A budget 4K gaming monitor with AMD Freesync is going for 250 bucks for Prime members. Worth considering if you're rocking a high-end AMD video card and want to get into 4K gaming for less.
These 2 other budget 4K monitors are also up for grabs.
1440p/QHD Monitors
299 for a large 144Hz 1440p monitor from a good manufacturer? Can't go wrong with that.
1080p/FHD Monitors
250 dollar (100 off) this beautiful high-end 27" gaming monitor from LG is a clear standout deal right now. It's got a 144Hz refresh rate as well as a lightning-fast 1ms response rate which is ideal for fast-paced games.
Another good quality 144Hz gaming monitor but 24 inches. Only 40 bucks off but can't complain with that and it's a reliable model.
This Acer 23 inch is currently going for just 150 bucks at the time of writing this, and it's another worthy 144Hz screen on a budget with a fast 1ms response rate too. It's got AMD Freesync which is great if using an AMD video card.
This 2ms 1080p from ASUS is a regular in our recommendations as a top value for money gaming screen and you can grab it today for 120 bucks.
Curved Monitors
Best Deals on Gaming Desktops
Not everyone has the time to plan their own custom build, order each part and wait for them to arrive, and then have to put all the parts together; if you're the impatient type and you just want a new system right now to start gaming as quickly as possible, buying a premade gaming PC is an option to consider so long as you understand the potential drawbacks (see our building vs buying a gaming PC guide for full details). If you do decide to buy a premade system, getting one that's discounted is a godsend as you could save a few hundred dollars, and this Prime Day there are a lot of good prebuilt deals. These are the best right now that we can approve of (in no particular order):
Best Deals on Gaming Laptops
Like last year's sales, this 2019 Prime Day there's a whole bunch of nicely discounted gaming laptops from reputable brands, and the ones below are models we approve of with specs well worth their current price tag. 
Best Deals on Gaming Keyboards



Best Deals on Gaming Mice



A nice collection of respected mice for gamers are on sale right now.
Best Deals on Gaming Headsets



Some decent discounts on high-quality headsets from the top brands this Prime Day including the wireless Corsair Void Pro RGB for 60 bucks (at the time of writing this) which is a very nice deal. 30-50 dollars off the awesome SteelSeries Arctis 7 models is also not too shabby at all. HyperX Cloud II's are also highly regarded (at least IMO) and have discounts.
Best Deals on Gaming Routers



Deals FAQ
Is Prime Day as Good as Black Friday?
Almost. A few years ago - definitely not - but these days Prime Day is hard to ignore as the deals generally get better each year and last year was very good for PC-related stuff. So far as I write this there are very attractive deals for gamers in 2019.
How Often Are These Deals Updated?
For Prime Day we'll be updating these hand-picked deals multiple times throughout the July 15th - 16th sales event to help you pinpoint the best discounts on quality products.
Are Refurbished Parts Okay to Buy?
We wrote an in-depth guide to refurbished PC parts here - to summarize, yes they can be worth buying in some instances, but there's a couple things to keep in mind and some parts are safer to buy refurbished than others (see that guide for all details).
You Left Out a Good Deal You Peasant
Please forgive us, for we are mere mortal Humans, but please do let us know if you find a good PC building (or prebuilt/laptop) deal of a quality product, and we will add it here for other gamers to benefit from if it is indeed a worthy deal from a reputable, reliable brand. Thanks in advance guys.