Best Video Card Deals Right Now (Nov 2018)



Tracking Daily Deals on NVidia's GTX 1080/Ti and 1070/Ti GPUs When Building the Most Cost-Effective High-End Gaming PC This Holiday Season
Last Updated: Nov 20, 2018

NVidia has released their new RTX 20 series graphics cards which means price drops and good video card deals on the previous crop of 10 series GPUs (ie the GTX 1080, 1080 Ti, 1070, and 1070 Ti). If you value getting the absolute most bang for your hard-earned buck when building or upgrading your gaming rig in Q4 2018, the new RTX lineup of the 2070, 2080 and 2080 Ti graphics cards may not be for you as they've been (controversially) priced higher than typical NVidia launches, with many putting this down to the lack of current high-end GPU competition from AMD at this time.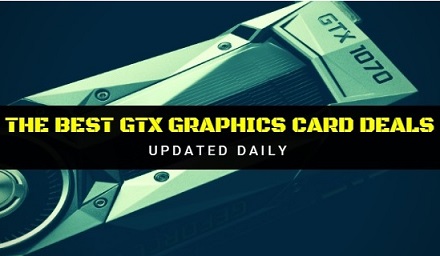 The supreme pricing of the latest NVidia cards won't bother enthusiasts who always want the latest and greatest who are building an extreme gaming PC $2000 and above (or less if you're going for a 2070 for instance) but for many of us gamers who try to be as cost-effective as possible when upgrading you may want to consider getting a 10 series card as if you find one at a good deal then it'll be better overall performance for your hard-earned money. Plus, it's not like they're obsolete now that RTX cards have been released, even if they're around 2 years old now. A GTX 1080/1070 card will still provide excellent gaming performance for years to come. Below we've wrapped up the current best video card deals we could find at the time of writing, and we'll be updating this daily throughout the 2018 holiday season.
Things to Keep in Mind:
If you find a deal you like and want to use that card in one of our recommended gaming builds, make sure to double check compatibility with your PC case and other parts, especially if it's a long GPU with triple fans as smaller cases may not support its length.
Whilst the main focus here is finding the absolute cheapest, best video card deals that we could find on Amazon and Newegg (clearly two of the best retailers for hardware with the best prices, period) - if we see a deal on a GPU model we would not recommend, we won't include it here. We'll only include GPU deals we would actually consider buying ourselves.
---
Current Best GTX 1080 and GTX 1080 Ti Deals
(Updated Nov 20 2018)

Nov 17 Update: Hard to find a 1080 Ti in stock in mid November, let alone at a good deal, so in the $750 - $850 GPU price point just get the new RTX 2080. 1080 Ti's have also stopped being produced.
GTX 1080 MSRP: $549 (US Dollars)
GTX 1080 Ti MSRP: $699 (US Dollars)
---
Current Best GTX 1070 and GTX 1070 Ti Deals
(Updated Nov 20 2018)
GTX 1070 MSRP: $379 (US Dollars)
GTX 1070 Ti MSRP: $449 (US Dollars)
---
RTX vs GTX for a New PC Build in Q4 2018: Which to Buy?
The new RTX cards from NVidia are the fastest latest and greatest GPUs, but they can't be labelled as the most cost-effective bang for your buck options, at least not at their current prices. If you don't mind overspending a tad to because you've the flexibility to simply grab the best of the best that's available for your new build or upgrade, the 2080 or 2080 Ti is for you. But for the majority of PC builders on some sort of budget, only the 2070 is likely within consideration, which is both the cheapest and best overall value (ie frames per dollar) of the new RTX lineup.
Getting a reduced GTX 1080, 1080 Ti (Nov 18 update: 1080 Ti's longer in production and hard to find in stock), 1070, or 1070 Ti is definitely worth considering to get the most for your money as these cards are still powerhouses for 2018, 2019 and beyond, and will still last you a while (depends on your needs though). In other words, the 10 series GPUs are still a good buy for PC builders for great gaming over the next few years, especially if you can snag a decent deal which is what this page is here to help you with. The GTX 1080/1070 cards won't all of a sudden become totally obsolete, as whilst the RTX cards obviously have better performance, at the right price they're as good a buy as the new cards if you don't care for the new features.
The new features in the RTX lineup such as real time ray tracing are just the beginning of these new gaming technologies and so there's no need to rush in and get in on the action now as they're only gonna get better as developers start to actually use them (so far they're only being used in a handful of upcoming titles). Also, it may not even be practical to even enable features like real time ray tracing anyway, as it's been proven to tank performance.
About the Author
Julien "cyberjulz" is the founder of BGC and lover of all things gaming and technology. A computer programmer turned hardware enthusiast and web developer who's been keeping a close eye on the PC hardware industry since 2006, he's been an avid console and PC gamer ever since first stumbling across Warcraft 1 & Theme Park at age 7. His fav games of all time are OOT, Perfect Dark, GE007, SW Rogue Squadron, MGS2, DKC2, Starfox, WC3, HL1, HL2, C&C1, FIFA, & SWKOTOR.