The Best Video Card Deals (March 2019 Updated)

We're Hand-Picking the Best Deals on AMD & NVidia Graphics Cards in the USA to Help You Potentially Find a Cheaper GPU for Your Gaming PC Build or Upgrade
Last Updated: Mar 20, 2019

We monitor the gaming hardware market - and especially GPUs - on a constant basis to allow us to continually update all the in-depth PC build guides here at BGC, so we thought we might as well compile the best video card deals we come across during our normal research here on this dedicated page. 
Your gaming video card purchase is likely going to be the most expensive of all your PC parts, so when it's time to buy a GPU if you can be lucky enough to get a decent deal on a good card like the ones below, it can really help cut costs.
We'll be tracking cheap graphics card deals and discounts on both current and previous-gen AMD and NVidia cards, and we're also checking multiple online stores too for the USA market.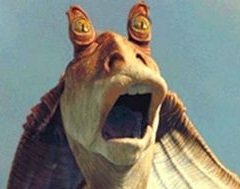 Gungan-style reactions not guaranteed; GPU deals vary wildly from week to week
Sometimes during an update of this page there won't be many if any good deals, yet other times there might be a plethora of cheap GPU deals to report here. It's all luck of the draw and depends on what's going on in the current market; as of this last update in late March 2019 there's some okay deals on NVidia cards, with a couple under MSRP (a rare thing as of late). But the best GPU deals right now lies in AMD's mid-range RX 570 range, with solid discounts on either 4GB or 8GB models. Either would make for a very solid 1080p build. Anyway, happy deal hunting and hope this page might come in handy for someone out there.
Important Disclaimer: The prices quoted for the best video card deals below were only correct at the time and day of the latest update to this page, and the prices we list may become incorrect or change at any time.
---
Best Video Card Deals: NVidia

(as of March 20, 2019)
---
MSRP Cheatsheet:
GTX 1050 2GB MSRP: $109
GTX 1050 Ti 4GB MSRP: $139

GTX 1060 3GB MSRP: $199
GTX 1060 6GB MSRP: $249

GTX 1070 MSRP: $379
GTX 1070 Ti MSRP: $449

GTX 1080 MSRP: $549
GTX 1660 Ti MSRP: $279
RTX 2060 6GB MSRP: $349
RTX 2070 MSRP: $499
RTX 2080 MSRP: $699
RTX 2080 Ti MSRP: Kidney $999

---
Best Video Card Deals: AMD

(as of March 20, 2019)
---
MSRP Cheatsheet:
RX 550 4GB MSRP: $79
RX 560 4GB MSRP: $99
RX 570 4GB MSRP: $169
RX 580 4GB MSRP: $199
RX 580 8GB MSRP: $229
RX 590 MSRP: $279
RX Vega 56 MSRP: $399
RX Vega 64 MSRP: $499
---
GPU Deals FAQ
---
The MSRPs (Manufacturer Suggested Retail Price) above are the recommended starting prices for the base models, so overclocked or better-cooled/feature-rich cards will sell for higher.
We may include a refurbished graphics card if we think it's a good deal and would consider buying it ourselves. Learn more with our guide to buying refurbished PC parts but to summarize make sure there's at least some sort of warranty and avoid buying refurbished from lesser-known brands and/or stores.
Sometimes a GPU 

may still be considered a "deal" if it's at or a little over MSRP

(even if it's a base model), depending on the current state of pricing and availability of that type of card across the market. For example, higher-end RTX cards are universally slightly overpriced right now (especially the 2080 Ti) with one reason being lack of direct competition from AMD in the high-end market, so finding a new RTX card around its MSRP could be considered a "deal" at this time. But this isn't limited to the new cards as classic cards like the GTX 1050 Ti are also slightly over MSRP right now too, so finding one around MSRP is a win there too.
Whilst the main focus here is finding the absolute cheapest, best video card deals that we can find right now - if we see a deal on a GPU model we would not recommend for a PC build, we won't include it here. We'll only include GPU deals we would actually consider buying ourselves. For example, some GPU models have complications, higher than average failure issues, cooling issues, etc.
While we tweak our full gaming PC builds for multiple countries (USA, Canada, UK and Australia), on this page we're only tracking the best video card deals in the USA as this alone takes a fair bit of time with every update (we check as many different stores as we can). We work hard at BGC, but we're not superhuman..at least until we find some NZT-48.
Got a question about one of the GPU deals above? Email us (or tweet us) and we'll try steer you in the right direction.