The Best Budget 1440p Gaming PC Build Under $1000: August 2018 (60FPS 2560x1440 Medium)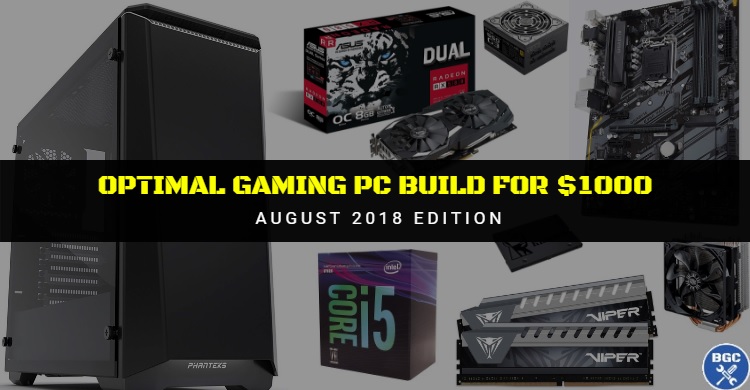 Current Recommended $1000 Custom Gaming PC to Maximize Gaming Performance, Reliability, Cooling, Lastability & Aesthetics for the Money
See Also: Best $800 1080p 60FPS Ultra Build
See Also: Best $1500 High-End 1080p and 1440p Build
Date Published: August 6, 2018
This is an all-new build tier for August which sits in-between our recommended $800 and $1500 gaming computers and is targeted for those building a PC for 1440p gaming on a budget. Meaning, this is the build for you if you want the cheapest PC build for 2560 x 1440 (1440p) resolution to get decent, smooth performance in the majority of modern games.
With a parts-list of this caliber you'll reach a steady 60FPS on medium settings in many titles, high settings in others, and 60FPS on ultra settings (1440p, remember) in less-demanding and older games. This gaming beast will also obviously run 1080p super-well. Let's not muck around with this one and get straight into the best budget 1440p gaming PC build and why each part was carefully selected for this month's setup.
Best Gaming PC Build Under $1000 (August 2018)
Expected Gaming Performance:
1080p (1920 x 1080):


1440p (2560 x 1440):

VR and 4K:

FLAWLESS


GOOD

AVERAGE

The above is the average expected performance of this build at different resolutions when playing a typical, graphically-demanding modern PC game on high/ultra settings.

| | |
| --- | --- |
| CPU | Intel Core i5-8500 (8th Gen, 6 Cores, 6 Threads, Locked) |
| CPU COOLER | Cooler Master 212 Evo |
| MOTHERBOARD | Gigabyte B360 HD3 (ATX, 4xDDR4) |
| RAM | Patriot Viper Elite 8GB (DDR4, 2 x 4GB, 2666MHz, Dual Channel) |
| GRAPHICS CARD | Asus Radeon RX 580 8GB OC |
| SSD (main drive) | Kingston A400 240GB |
| HDD (secondary drive) | Seagate Barracuda 2TB (7200 RPM, 64MB Cache) |
| POWER SUPPLY | EVGA 550 SuperNOVA G3 (80+ Gold, 550 Watts, Modular) |
| CASE | Phanteks Eclipse P400 (ATX Mid-Tower) |

Note: Keep in mind hardware prices fluctuate often, so the current total cost could slightly exceed our target budget of $1000 at any given time. To check current pricing, clicking "Build This PC" quickly and conveniently shows all exact prices for these parts on Amazon.
Best $1000 PC Build: CPU and Cooler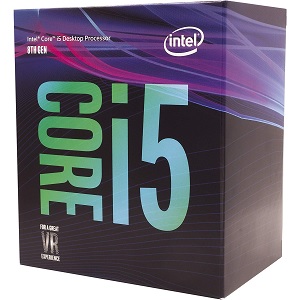 If pure gaming performance is the most important focus, go with an Intel i5 when building a PC in this sort of price tier as they have better single threaded performance than competing AMD chips, which is key to the best gaming performance possible. Simply put, an i5-8500 (or 8400 for that matter) is hands-down the best mid-range gaming CPU for the money right now (if not overclocking).
Getting a competing AMD option instead, such as the Ryzen 5 2600, is worth considering if you really prefer AMD for whatever reason and especially if you value demanding workstation-type applications as much as gaming, as Ryzens are slightly better for a workstation build overall (although depends on the specific applications). 
But if gaming is what you care about most, which is likely true as we are Build-GAMING-Computers.com after all, then just go with Intel for the best possible frame-rate in most gaming situations. Besides, an i5-8500 has 6 cores and 6 threads, meaning its no slouch when it comes to demanding non-gaming applications either.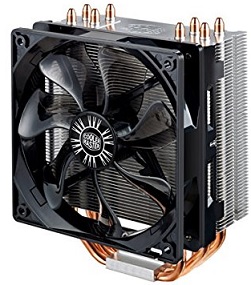 Recommended CPU cooler to replace Intel's average-at-best stock cooler
The i5-8500 does indeed come with a stock cooler, meaning that getting an aftermarket one (which for anyone wondering simply means a non-Intel or non-AMD cooler) for this CPU is not an absolute requirement. However, whilst AMD's recent stock coolers on their Ryzens are actually very decent and something we can comfortably recommend to most gamers, Intel's stock coolers are a different story and we do recommend getting your own cooler if you want to build the best overall gaming PC possible.
The stock cooler that the i5-8500 comes shipped with is basically the bare minimum cooling solution, and "good enough" to cool the 8500 decently-enough under most circumstances such as general use, light gaming, etc. But here's the thing: they can get quite noisy when under load, and won't cool your 8500 effectively enough if you're more of a heavy user as most gamers tend to be.
Your best bet if you'll be doing a ton of demanding gaming on your system and/or you'll be doing other intensive applications for long periods of time is to get an aftermarket cooler. Even a really cheap aftermarket CPU cooler will cool and quieten your i5-8500 better than the stock fan could ever do.
It'll keep your CPU running cooler, quieter, and will increase its lifespan over the long haul. Plus, Intel's stock cooler is an ugly looking thing and aftermarket coolers will look much better, especially if you get a see-through side panel case like the one we recommend for this build. Don't worry about the added installation step you have to do, as it's really no more difficult to install than the stock cooler, really.
So, after all that, we still haven't even mentioned which cooler we've included for the best 1440p gaming build...goes to show that there is a lot of confusion surrounding the topic of CPU coolers and there's a fair bit to say about it. To summarize; unless you don't mind potential for extra noise and higher temps, AND you don't care about the look of your cooler, feel free to stick with the i5's stock one to save a bit of cash.
Otherwise, trust me and go with an aftermarket one like the Cooler Master 212 Evo. This is what we'd suggest if in doubt when choosing a good cooler as it's a long-standing, ever-popular, high-quality choice which is cheap yet will effectively cool your i5 even when its under load and will extend its overall lifespan.
Another good budget CPU cooler for an i5 would be the CRYORIG M9i, or the H7 included in our best high-end gaming computer build. There are many good air cooler options, but these are my top picks right now without spending too much. Note that these cooler do indeed come with their own thermal paste which is of good-quality, so there's no need to buy your own thermal paste.
Best $1000 PC Build: Motherboard and RAM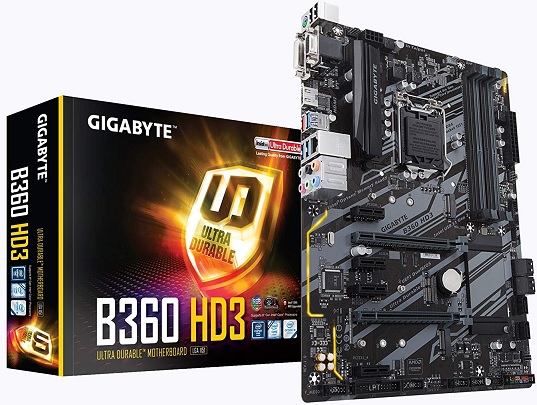 For an i5-8500 your best value for money bet is a locked B360 board like this
So, for an Intel Core i5-8500 (or 8400 if you're getting that one), the best option you have in terms of bang for your buck is to get a 2018-released B360 motherboard. This chipset doesn't support overclocking, which is what you want for the i5 8500 as it's a locked (read: not overclockable) processor. If you want to overclock you'll have to see one of our other recommended monthly builds (some of our builds are overclockable, some aren't, but we generally don't recommend it to first-time builders).
Getting an overclocking-friendly board for your locked i5-8500, which would be a "Z370" chipset motherboard, is going to be more expensive and a waste of money 'cause you won't be using its full functionality. In other words, Z370 boards aren't ideal for an i5-8500, and only recommended if you're getting an unlocked processor instead such as the i5-8600K (any Intel CPU with a "k" in the model number is unlocked/overclockable).
The Gigabyte B360 HD3 is a good value option for the i5-8500 that fits the needs of this build, and has all the basic features you likely need for a standard gaming PC like this. Gigabyte boards are generally great bang for your buck and this one is no exception assuming you don't need any fancy features. But all the basics are covered; 4 RAM slots, good LAN, good sound, decent durability, and whilst not the flashiest looking board it does look clean and sharp. Keep in mind, like most motherboards there's no built-in WiFi so if you want wireless you'll need to get a separate adaptor as usual (either a PCI-E card or a USB dongle; either will work fine).
As for RAM for the $1000 gaming rig, 8GB is still the ideal for a setup around this price, as the money you'd spend on getting 16GB is best served towards your GPU and/or your CPU as that will influence frame-rate way more than jumping to 16GB from 8GB ever will. We've included two 2666MHz sticks from Patriot which also fits in well with the rest of the build, aesthetically speaking.
This speed is all you need and as mentioned in more detail in other builds we've done, for gaming purposes it's not worth shelling out the extra cash for faster RAM as it makes a negligible difference in most gaming situations. Especially with an Intel CPU, as AMD chips do tend to take more advantage of faster RAM than Intel does, however even with an AMD CPU the faster RAM isn't likely good use of your money when trying to build the best cost-effective PC for gaming (without overspending unnecessarily).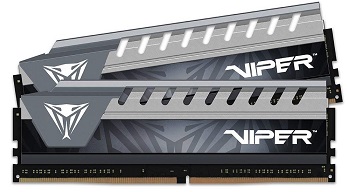 8GB RAM is enough to maximize gaming performance for this price; 16GB is extra money better spent elsewhere
Best $1000 PC Build: Graphics Card
When building the best budget 1440p gaming PC build that you can around the $1000 price point, you're looking at either a RX 580 8GB or GTX 1060 6GB video card, which are neck and neck in terms of both price and gaming performance. Either will serve you well for amazing 1080p performance and really good entry-level 1440p performance, but which should you pick?
Your choice will come down to two main things. Firstly to the obvious: whichever you can find at the better price at the time, which is why we've currently given the 580 the nudge for this month's $1000 build as prices have come down to a very respectable level. Around 250 bucks for a 8GB 580 is not too shabby, especially considering the insane price history of this card in recent times...glad that craziness is over and I'm sure you are too!
Secondly, whether you're building for a specific game, as certain games favor NVidia hardware and vice versa. For example, if you're building specifically for PUBG to max performance in that demanding title, and you care about cranking out every little extra frame you can - ditch the 580 and slot in a nice 1060 6GB instead as it'll run PUBG better. Any version of the 1060 6GB will fit into this PC build without issues.
For flawless 1080p and pretty good 1440p, an RX 580 8GB is a good choice, but so is a 1060 6GB at the right price
Best $1000 PC Build: Case and PSU
The Phanteks Eclipse P400 a beautiful, spacious, high-quality and overall excellent bang for your buck Mid-Tower, with good cable management, airflow (comes with 2 fans), and supports long-length GPUs which is ideal for our dual-fan RX 580 as it's quite a long card. Highly recommended for a $1000 ish build, and comes in various colors to suit your taste but the black edition is fairly universally attractive and will look awesome with pretty much any component theme (white version would also look awesome for this setup). The tempered glass side-panel shows off your awesome new parts in style.
Phanteks provide some seriously good cases and the Eclipse P400 series is no exception
Of course, case selection is one of the more subjective parts in a custom gaming computer, so feel free to use another mid tower case for a build like this (or a full tower if you have the space for it), but just ensure to do your homework on compatibility, especially with the 212 Evo cooler as it's a bit of a beast and may cause space issues in the smaller mid-towers, as well as the RX 580 graphics card which as mentioned is kinda long-ish.

Last but not least, let's cover your trusty PSU for this budget 1440p gaming PC build. EVGA produce some great value for money yet efficient, high-quality and reliable PSUs these days, and the SuperNova G3 Gold-rated model is one of their better quality units that will reliably, efficiently, and conveniently (it's fully modular) power a powerful gaming system like this for years to come. 550 watts of quality power is also more than enough for the components of the best $1000 gaming PC, with plenty of wiggle room for future upgrades.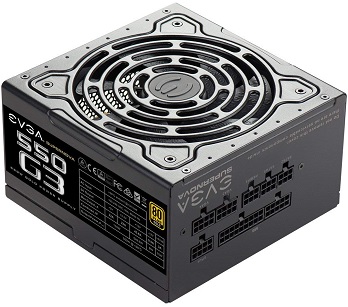 Quality PSU for a quality PC: everytime a bad, cheap PSU is placed in a $1000+ gaming rig, somewhere in the world an innocent kitten dies
Wrapping Up the Best Budget 1440p PC
That wraps up the current best budget 1440p gaming PC build for August 2018 (IMHO). See our Gaming Computer Builds Hub/FAQ for all our build tiers and answers to common questions about our monthly builds. Also see our individual hardware guides for more detail about picking each component.

If you want specific, detailed 1 on 1 help choosing the right parts and accessories for your exact budget (or to get a critique of your parts list) and you don't want to play the waiting game of posting in a forum and praying for an answer (or praying that whoever replies actually know what they're talking about), our full PC building beginner's eBook comes with unlimited email help and support for 90 days where you can ask us anything and we'll take the time to help you 1 on 1.
Alternatively, if you want us to plan, research and optimize a fresh new build for you based on your exact wants and needs, we can also research the best specific build for you with our Personalized Parts-List Service. 
Feedback & Comments Are Welcome
Unlike most large companies who might not care what you have to say, we're an open book here at BGC and we encourage and take onboard any and all feedback (good, bad, ugly) as it may help us to improve our builds and help the site become the best beginner-friendly hardware resource it can be. Feel free to share your feedback by emailing us or share your thoughts on our Facebook Fanpage.