Plan the Best Budget Gaming PC Build Under $500: Recommended February 2019 Parts-List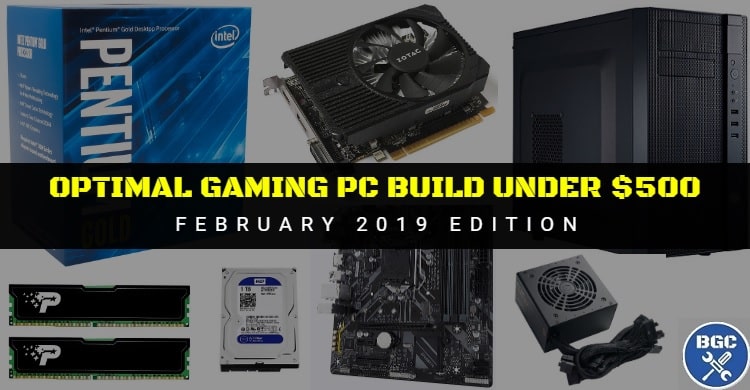 How to Maximize Gaming Performance & Build a Console-Killing Gaming Computer on a Budget Under 500 Dollars/Pounds/Euros (for the US, Canada, UK or Australia)
Last Updated: Feb 5, 2019

CONTENTS

Current Best $500 Gaming PC Build: Recommended February 2019 Parts

CPU: Intel Pentium Gold G5400 (or G5500)
CPU Cooler: Stock (included with CPU)
Graphics: GeForce GTX 1050 Ti 4GB (or 570)
Motherboard: 

Gigabyte B360M DS3H (mATX)
RAM: Patriot DDR4 8GB 2400MHz (2x4GB)
Hard Drive: Western Digital 1TB (7200RPM)
Power Supply: EVGA 450 BT (80+ Bronze)
Case: Cooler Master N200 (or Corsair 100R)
Budget Gaming PC Build: Overview
If you're planning the best budget gaming PC build and need a helping hand with wisely choosing the absolute best bang for your buck hardware components in the 2019 market to stretch your gaming performance and frame rate as far as humanly possible, this carefully-crafted in-depth PC build guide on a budget is here to make your life easier.
We've done the extensive, painstaking research for you and the following example of the best $500 budget gaming PC build right now (and well under 500 pounds/euros for UK readers and higher for Australian/Canadian gamers) is our best attempt at strategically maximizing this sort of budget based on the current market if gaming performance is your chief aim.
Moving on from our cheap gaming PC build under $400 which includes an AMD APU (integrated graphics) to save money on such a tight budget, this 500 dollar budget gaming PC build introduces a dedicated/discrete graphics card which takes 1080p performance to a whole new level that integrated GPUs like AMD's 2200G and 2400G just cannot reach.
Also, even though it's like comparing apples to oranges, this desktop will beat standard modern consoles like the PS4 in terms of graphics quality, and will be about on-par with high-end consoles like the PS4 Pro. Although for the best visual experience, nothing beats the PC as getting the buttery-smooth 60FPS in 1080p (full HD) that this budget computer build will allow is something that consoles just cannot do.
We'll get into all the details of this month's best budget gaming PC build throughout this comprehensive guide, including what frame rate you can expect in some of the most popular modern AAA titles on high settings in 1080p, but to summarize real quick we've gone for a strategic pairing of a very affordable, surprisingly well-performing Pentium G5400 (or G5500 depending on which you find at the better price in your region) with a GTX 1050 Ti 4GB which makes for a capable, well-balanced duo that effectively stretches a 500 dollar PC build budget for maximum gaming performance.
Topped off with 8GB of DDR4 RAM, a standard yet decently-sized 1TB hard drive, and a reliable budget PC case and power supply and you have a very solid gaming computer base, and a system that'll please many PC gamers assuming you're sticking to 1080p resolution (full HD) and don't expect to run the upper-echelon of demanding games at a flawless 60FPS on ultra settings at all times (ie Witcher 3, PUBG, Tomb Raider, BF5 etc).
Also, like all our monthly-updated recommended gaming PC builds this $500 gaming PC build blows similarly-priced pre-built gaming desktops out of the water when it comes to gaming performance, features, expansion options, and overall component quality and reliability. There's just nothing quite like building your own system if you want to stretch a limited budget as far as possible as a gamer, but you're a smart cookie and already knew that otherwise you wouldn't be still reading and you'd already be at your local computer store looking to buy an overpriced prebuilt.

See Also: $600 "Mid-Range" Gaming Build (faster 1080p performance)

Parts-List for US, Canada, UK & Australia

Best Gaming PC Build Under 500 Dollars/Euros/Pounds


Check Price
CPU
Intel Pentium Gold G5400 (Dual Core, 3.7GHz) OR G5500


&nbsp&nbsp

&nbsp&nbsp
CPU Cooler
Stock (comes with CPU)
Graphics Card
Zotac GeForce GTX 1050 Ti 4GB Mini (Single Fan)


&nbsp&nbsp

&nbsp&nbsp
Motherboard
Gigabyte B360M DS3H (Micro ATX, USB 3.1, DDR4x4)


&nbsp&nbsp

&nbsp&nbsp
RAM
Patriot Signature 8GB (DDR4, 2 x 4GB, 2400 MHz)


&nbsp&nbsp

&nbsp&nbsp
Hard Drive
Western Digital Blue 1TB (7200 RPM, 64MB Cache)


&nbsp&nbsp

&nbsp&nbsp
Power Supply
EVGA 450 BT (450 Watts, 80 Plus Bronze, Non Modular)


&nbsp&nbsp

&nbsp&nbsp
Case
Cooler Master N200 Mini Tower


&nbsp&nbsp

&nbsp&nbsp

Estimated Total:


$480 - $520 (US)


Notable Features Cheatsheet


Estimated Wattage (Power Draw)
34W - 158W
RAM Slots
4 (2 slots free)
Max RAM Support
64GB
CPU Overclockable?
No
CPU Architecture
Coffee Lake
CPU / Motherboard Socket
LGA 1151
Built-in WiFi?
No (buy adaptor: see recommended add-ons below)
Hard Drives Supported
6x SATA Drives, 1x m.2 SSD
VR-Ready?
No
Case Fans
2 x 120mm Included (front + rear), 3 Additional 120mm Mounts
Front Panel USB Ports
1 x USB 3.0, 2 x USB 2.0 (+ tons more on rear of case)
Optical Drive Support?
Yes
Multi-Monitor Support
Yes

Case Dimensions

7.9 x 14.9 x 17.5 inches

Max GPU Length Support

355mm / 14 inches

Max CPU Cooler Height Support

160mm / 6.3 inches
Full Motherboard & Case Specs
Gigabyte B360M DS3H | Cooler Master N200
Heads-Up for Builders Outside the USA
Building the $500 Budget Gaming PC in Australia, UK or Canada? 
The parts-list above is primarily based on the US market, but will usually also be the exact same parts we recommend for these countries too (hardware is an international game).
However, if one of the main component recommendations above is either overpriced or unavailable in Canada, UK, or Australia, we'll substitute that particular part for another more suitable model for that country (that's still 100% compatible of course). We do our best with each monthly update to tailor our builds for each country individually to help you get the most bang for your buck in your corner of the world.
PS: We're actually based in Perth Australia, so in the odd chance you live there AND you also want someone to build your custom PC for you (or teach you how to do it if you still want some participation to gain experience), feel free to ask us and we may be able to do it for you at a good price (less than your local store) if time permits.
Performance & 1080p High Benchmarks
Gaming Performance Overview by Resolution
720p (1280 x 720):

900p (1600 x 900):

1080p (1920 x 1080):


1440p (2560 x 1440):

VR and 4K: 

 FLAWLESS

 EXCELLENT


 REALLY GOOD


 AVERAGE

 UNPLAYABLE
Green = 40FPS and Over (Smooth)
Orange = Under 40FPS (A Little Stutter/Lag)
Red = Under 30FPS (Quite Noticeable Stutter/Lag)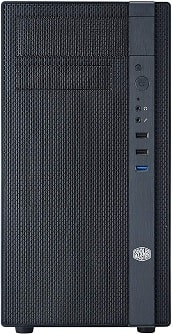 Estimated Frame Rate for 1080p on High Settings

Aggregated Benchmarks for 1080p HIGH Settings

(G5400, 1050 Ti 4GB, 2x4GB DDR4 2400MHz)


GAME
AVERAGE FPS
Fortnite
55 - 65 FPS

PUBG
35 - 45 FPS
Overwatch
90 - 100 FPS
CSGO
140 - 160 FPS
DOTA 2
105 - 115 FPS
GTA V
60 - 70 FPS
AS Origins
35 - 45 FPS
Battlefield 1
55 - 65 FPS
COD WW2
75 - 85 FPS
SW Battlefront 2
50 - 60 FPS
Witcher 3
35 - 45 FPS
Far Cry 5
40 - 50 FPS
Average FPS Ratings Disclaimer

The predicted frame rates we list are simply an aggregated estimation of how this build will perform based on carefully cross-checking multiple performance benchmarks from the most reliable sources we could dig up.
Note that these are averages, meaning that in the most action-packed scenes your frame-rate may dip a bit lower. For example, if we list 50-60FPS, you may drop to 30-40FPS in the most intense scenes.

Also keep in mind we do everything we can to make these as accurate as possible, please note there's no guarantee you'll get this exact average as there are different factors that could affect your frame rate such as other hardware differences, software differences (OS, drivers, game patches/versions, etc), cooling/airflow of your build, enabled game features/settings such as Anti-Aliasing, different RAM setups you might be using, and so on.
But overall, you can rest assured our predicted FPS ratings are a pretty safe bets in terms of what performance you can expect from the specific parts of this custom PC build.
Learn More About Frame Rates & Game Settings
What's the Best Frame Rate for PC Gaming?
As you can see from the benchmark aggregates for the $500 budget gaming PC build above, for 1080p on high settings, with the Intel Pentium Gold G5500/5400 and 1050 Ti pairing in this month's best gaming PC build under 500 dollars/pounds/euros you can expect very good, smooth frame-rates for many AAA titles. Crank things down to medium settings and you'll get a consistent 60FPS in most modern games, whilst cranking up to ultra/maxed settings means you will get you a tad lower than the frame rates listed above (but this build is indeed capable of 60FPS on ultra settings in less demanding games).

A build like this is also suitable for high refresh-rate (ie for a 144Hz monitor) CSGO performance as you'll get up and around 144FPS+ consistently in this game, assuming you'll stick to 1080p. Same thing for League of Legends, another non-demanding title - even though it's not as important to use a high refresh rate monitor for that game when compared to CSGO, you have the power in this build to get 144FPS+ in LoL if you want (LoL pros do use 144Hz or higher refresh-rate screens if you were wondering). But this build isn't suited for 144Hz 1080p gaming in general, as in more demanding games a budget gaming desktop like this won't have the firepower to get 144FPS.
Hardware Component Breakdown
$500 Gaming PC Build: Recommended Budget CPU
Let's begin the hardware breakdown of the best gaming PC build under $500 for this month with the CPU, which you could consider the brains of your new system. The CPU, also known as the processor, is responsible for all the quick mathematical calculations and processes and comes in only second to the graphics card as the most important component when building a computer for maximum gaming performance.
So, as explained in our comprehensive first-time PC builder's guide, to assemble the optimal custom gaming computer for your budget (ie to get the best gaming bang for buck) you want to throw down more money at your graphics card then any other component. But at the same time, you want to pick a good enough CPU for the games (and resolution and settings) you'll be playing to get the sort of performance you want, and choose a well-balanced pairing of graphics card and CPU that maximizes your frame rate.
In this particular situation, when building a computer on a budget, right now your best bang for your buck bet IMHO is one of Intel's budget CPUs which are very cheap (assuming you find one at a good price), allowing you to invest in a very good 1080p gaming GPU (ie a GTX 1050 Ti which we'll get to next) which makes for a great pairing to get 60FPS in 1080p in many modern games (as for which settings, that'll depend on the specific game of course).
Pentium G5400 and G5500: The Lowdown for Budget Builders
The Intel Pentium G5400 Gold (and its slightly faster and more expensive brother, the G5500) build on the previous cult-like following of the Pentium G4560 within the budget gaming community, and are newer versions of it that also pack a fair punch for 60Hz-75Hz gaming (for higher frame rates you'll need a stronger CPU). As of late, they've been hard to find both in stock and at a reasonable price, but if you get lucky and are able to grab one around their MSRP in your particular country, I'd say go for it if you like the look of our frame-rate estimates we covered above in this guide.
The downside is the G5400/5500 are only dual core processors, which doesn't make them ideal for an optimal multitasking/workstation PC as you'd want a quad-core processor if you're serious about that sorta thing, but the truth is that a dual core CPU won't hold you back for a budget gaming computer as not too many games take actual advantage of quad cores (even in 2019).
However, another thing to consider is that you can always upgrade to a better Intel CPU down the line when you save up more money, as the socket type/platform for these cheap Intel processors are the same as the excellent super-fast Intel i5-8400 gaming CPU. So, overall, if building a gaming PC build on a budget under 500 dollars/euros/pounds, you can't really go too wrong with a G5400/5500 when paired with a decent 1080p graphics card.
It's a great bang for your buck setup for smooth 1080p performance in the majority of games (at decent settings) for a while to come. And no, these real cheap budget Intel CPUs will NOT bottleneck a card like the GTX 1050 Ti if you're sticking to a standard 60-75Hz monitor. Just ensure you don't pay a wild price for these and you're golden - I'd give the G5400 a miss if it's more than $70-80, and probably forget about the G5500 also if that one goes for higher than $90 in your country. At these prices or higher, you're best off just getting the Intel Core i3-8100, which would fit in just fine with all the other parts of this custom build.
AMD Ryzen 2200G vs Intel Pentium G5400/G5500
As for weighing up your options on the AMD side of things, for a 500 dollar custom build your best choice there is the Ryzen 2200G, although if the G5400/5500 is at a good current price then you're looking at spending a little more for the 2200G. For gaming performance, it's going to be quite neck and neck overall between one of these latest Pentiums and the 2200G, however the Pentium dual core CPUs will actually win in lightly-threaded titles (read: most games) while the 2200G will be slightly better in some more demanding, multi-threaded games that tap into its extra cores (the Pentiums have 2 cores and 4 threads, while the 2200G has 4/4).
See this gaming CPU benchmark here which includes the G4560 and G5600 compared to the Ryzen 2200G (and even the 2400G) in various games. The G5400 and G5500 aren't included, but their performance will lie between the G4560 and G5600, so by taking that into account you'll notice that any of the budget Pentium CPUs will beat the higher-priced 2200G in most games.
Most games still don't actually use 4 cores (where the 2200G wins), even at this stage in 2019 despite what some gamers might scream on a forum, but there are some out there and in the future more and more games will take advantage of the extra cores. Therefore, you could argue that going for the Ryzen 2200G with a GTX 1050Ti/RX 570 (make sure to switch to an AMD motherboard if you are doing so) is the better long-term play than going for our current recommended Pentium G5400/5500 and GTX 1050 Ti/RX 570.
However, at the right price the Pentiums are hard to beat for pure gaming performance value in most games, and whilst more games will start tapping into quad core CPUs over time, it'll be a slow transition so I personally don't see any problem with a budget Pentium serving you well for a few years to come (plus you can always upgrade to a powerful i5-8400 later on as the motherboard socket type is the same). Overall, either option (AMD or Intel) is just fine in 2019 when building a gaming computer on a budget.
Honorable Mentions:
Intel Pentium G5500 Gold 3.8GHz Dual Core (if you find for cheaper, or even less, than the G5400)

Intel Core i3-8100 3.6GHz Quad Core (if the G5400 and G5500 are both too overpriced, or if you just want to spend a little more on a quad-core CPU)

$500 Gaming PC Build: Recommended Budget GPU
As for the most important gaming PC part of all, your trusty GPU (Graphics Processing Unit for any first-timers; don't worry we've all been there). For a budget gaming PC build under $500, to maximize gaming performance you'll want to spend around $130 to $170 on the best graphics card you can get your hands on, and on the current market that means either a GTX 1050 Ti 4GB, a less expensive yet slightly slower GTX 1050 (2GB or the newer 3GB model depending on price), or the faster yet typically more expensive RX 570 4GB. 
NVidia GTX 1050 Ti vs AMD RX 570: Budget GPU Battle

AMD doesn't normally have a direct competitor to the GTX 1050 Ti, as the RX 570 is more powerful yet typically quite a bit more expensive. However, in early 2019, and a trend that has continued on from late last year, the decision in this GPU price range has become murkier as there are often 570's that sell for only a little more than the 1050 Ti and sometimes for even less.
In that case, you should seriously consider getting a 570 instead as it offers quite a fair bit more performance than the 1050 Ti in pretty much every game out there. A 570 does use more power but would still work well with this particular parts-list, as the suggested EVGA 450 watt power supply is enough. It also has the 8 pin PCIe connector that a 570 needs, something which the 1050 Ti doesn't. Not all power supplies have this, especially budget PSUs, but this one does so you're good to go if you want a 570.
But overall, either a 1050 Ti or 570, which is a decision that comes down to current pricing and whether you would prefer the lower power draw of the 1050 Ti, is a great choice for 1080p gaming. Right now at the time of writing this build update for February, the Zotac mini edition of the 1050 Ti as it the best overall price so we've included that particular model. But feel free to include any 1050 Ti model as pretty much any is going to fit this build, even the dual fan models. Hardware prices - and especially GPUs - fluctuate often so you should pick the cheapest model you can find at the time that you build.
So, if you do end up going with the GTX 1050 Ti for your new desktop as opposed to picking a 570 (if you manage to find a good deal) - what can this little thing produce? Expect really good, smooth 1080p performance that'll please most, and without getting into specifics as we did above in our aggregated benchmarks from around the web you can expect a flawless 60FPS on medium/high settings in many modern games. 60FPS on ultra/maxed settings in lesser demanding titles. It'll have you gaming nice and smoothly in most games in 1080p for at least 2-3 years, and once again - no, a budget Pentium CPU won't get in the way of performance for a decent budget/mid-range GPU like the 1050 Ti.

Honorable GPU Mentions (Alternate Models for $500 February Build):

Asus Rog Strix Radeon RX 570 4GB Gaming OC (Dual Fan)
Powercolor Radeon RX 570 4GB Red Dragon OC (Dual Fan)
Biostar Radeon RX 570 4GB (Dual Fan)
EVGA GeForce GTX 1050 Ti 4GB SuperClocked (Single Fan) (if better-priced than the Asus 1050 Ti)
EVGA GeForce GTX 1050 3GB SuperClocked (Single Fan) (if 1050 Ti is out of your budget)

$500 Gaming PC Build: Recommended Budget Motherboard
Picking the best motherboard for any desktop build is usually one of the trickier, confusing selections to make, as it's easy to get lost in the myriad of seemingly similarly-named boards with various features and little details and nuances. Shopping for a motherboard can easily and quickly make your head spin, even for the more experienced builder.
So, for the best budget gaming PC build under $500 right now, you'll want a cheap-ish yet still-decent-quality board that has all the basic features to make a solid gaming base. The Gigabyte B360M DS3H mATX fits that bill nicely, and is a very affordable option from a good manufacturer. It supports i5 and i7 processors (8th gen) so you can always upgrade your budget Pentium processor later down the track should you want to give your build a complete overhaul when you have more money to invest.
It has 4 memory slots which is nice for a budget board, yet a must if you want future RAM upgrade potential whilst taking advantage of dual channel memory now with your 2 memory sticks. It's also got good quality LAN and on-board audio as any modern motherboard should have these days, as well USB 3.1 support. Simply put, a basic, inexpensive B360 Intel motherboard from a reliable manufacturer like Gigabyte is all you need for a non-overclocking budget PC gaming PC build like this.
$500 Gaming PC Build: Recommended RAM
If you've read our cheaper PC builds for this month, you'll notice that for this $500 PC build we're dropping down to 2400Mhz RAM modules instead of the 2666MHz modules included in the $400 build. Ryzen CPUs, and APUs for that matter, take more advantage of faster RAM, whereas the G5400 and G5500 (and even the next tier up in the i3-8100) only support a maximum speed of 2400Mhz. So there's no point getting 2666Mhz modules for these budget Intel Pentium CPUs as you couldn't utilize the faster speed anyway.
As for the size of the RAM, 8GB is all you need for the far majority of games right now to maximize performance now and into the near future, and plus you can't fit any more into a budget of 500 dollars/pounds/euros anyway. Patriot is also a solid name in the memory game.
You don't need any more than 8GB of memory unless you're building a high-end gaming computer of around 1000 dollars or higher, or if you're assembling a streaming PC build or workstation setup where the extra RAM would actually be totally practical.
But when building a budget gaming PC build for around/under $500 - or even $600-$1000 to be honest - 8GB is perfect and fitting 12-16GB into your parts-list would probably not be a smart allocation of your money as you're better off sticking with 8GB when on a budget and investing that saved money into your graphics card. For example, if we went with 16GB for this $500 build (which would be silly), we would be lucky to be able to squeeze in a GTX 1050 which would decrease your gaming performance a fair bit.

Also, we've included dual channel RAM (that is, 2x4GB sticks instead of the 1 8GB module) because you do see an increase in gaming performance with dual channel memory compared to single channel. It's not a huge difference in frame rates, and perhaps a 10-15FPS increase at the absolute best, but dual channel RAM is usually around the same sort of price so you might as well go for them if you can to crank out those extra few frames. Check out this benchmark below which tests the G4560 - a very similar processor to the G5400 - with single vs dual channel RAM which shows a nice little performance boost:
$500 Gaming PC Build: Recommended Hard Drive & PSU

These components remain the same as in our best entry level gaming PC build so see that build's explanation if you want to know our reasoning behind these selections. To quickly summarize, the Western Digital Blue 1TB is a fast, reliable and value for money pick, and the EVGA 450 BT is a reliable quality-brand bang for your buck PSU that's also suitable for this build and an 80+ bronze certified model for decent guaranteed efficiency which is the minimum you should aim for when choosing a PSU. Feel free to include an SSD if you like as a small one that'll boost your boot and load times isn't expensive, but we've opted out of one for this tier to focus on pure gaming performance and other more crucial features.
Just one thing to point out about power supplies. A common misconception among beginners is how much power you really need for your components, and you usually need less than you may imagine. For this $500 build, believe it or not but 450 watts of power from a decently-reliable unit is all you actually need, and it includes some wiggle room for future upgrades, too. Only reason to get a higher powered unit such as 500 watts or more is if you're planning on some extensive upgrades outside the norm of a standard budget gaming build. Learn more about how much power you need and everything else about PSUs in our in-depth computer power supply guide for gamers.
$500 Gaming PC Build: Recommended Case
Last but not least, the Cooler Master N200 is a stellar budget case that's compact, good overall quality with very decent durability for the price, and has a simple yet clean, crisp look that might be up your ally if you don't need any fancy aesthetics and design. This is the case we used in the example build for the photos in our PC building tutorial and it was a very easy case to work with that has handy cable management features as well.
As for cooling, which is something to consider when building a gaming PC, and the case comes with 2 pre-installed fans which is enough for this setup. Plus, it has a meshed front panel which helps overall airflow. Consider getting more fans if you'll be tweaking this setup further with added power (ie overclocking, faster graphics card, etc) or if you live in a real hot climate and your system gets real hot and/or loud, but the 2 strategically-situated included fans will be enough for most. Overall, the Cooler Master's N200 is a decent-quality, wallet-friendly compact case that is hard to fault for a budget gaming build.
Honorable Mention:
Corsair Carbide 100R Mid-Tower
Another great value for money case for a budget gaming build that we suggest is the Corsair Carbide 100R Mid-Tower, which is a little bigger than the Cooler Master N200 Mini Tower and therefore has slightly more future upgrade potential. It's another simplistic, classic design of a case with nothing fancy about it, but not every builder wants a flashy case. More importantly, along with the N200 it's got a solid set features and good overall quality for (normally) very affordable price tag. If you find it $50 or under, it's an excellent buy if you'd prefer a Mid Tower over a Mini Tower for this budget build.
Recommended OS & Accessories
Recommended OS
No surprises here. Windows 10 (64-bit if you wanna get technical) is what we'd suggest (Home edition if you're on a budget), and there are a few different ways to buy and install it on the $500 budget gaming PC.
C: Buy Windows from Microsoft and download it to an existing computer/laptop, then put it on a flash drive, then use that flash drive when booting up your PC.
Recommended Optical Drive
Like all our monthly gaming PC builds, we don't include an optical drive as it's a totally optional component when building a computer these days as not everyone needs to play or burn CDs and DVDs (or Blu-ray if you wanna get fancy). But if you want to include one for the budget gaming build, go right ahead as the current recommended case (Cooler Master N200) does indeed have room for one (not all cases do). Below is the model we'd suggest in terms of bang for buck, but you can see all the best optical drives for PC builds here.
Recommended Budget PC Gaming Accessories
When planning the best gaming PC build under $500, if you're also buying accessories because you don't have any left over from a previous setup to save money, then you'll also want to also be smart about your selections and pick good value for money yet decent models as a gamer. Here are our top bang for your buck picks for this particular $500 budget build, but see our in-depth accessory buying guides (on our main menu up top) if you want to see all our top picks for all budgets:
Building the $500 Budget Gaming PC
Assembling the $500 Parts-List
Building your first custom computer - no matter whether it's a cheap budget gaming PC like this or a high-end gaming computer - is genuinely very straightforward to do and simply a matter of following instructions, plugging things in, connecting things, perhaps screwing a few things in (although not necessarily as many modern computer cases have tool-free designs) and following some simple safety procedures. See How to Build a PC Step by Step for the full instructions.
Conclusion
This essentially wraps up our monthly-updated guide to building the absolute best gaming PC build on a budget under 500 dollars/pounds/euros (higher for Canadian and Australian gamers). We hope it helps you whether you're assembling this exact computer, or using this guide as a base for your ongoing research. Anyway, thanks for reading, good luck with your build, and happy gaming.
Get Notified of Build Updates
If you're building your computer in the near future and want to be notified the exact moment we release the next monthly instalment of this build (or any of our builds), subscribe to our email list below to receive build updates straight to your inbox the moment they are published, as well as any other noteworthy gaming hardware news, guides, notable CPU/GPU releases, and any special deals related to building PCs:
Comparing Similar Prebuilt Desktops
Let's do a quick comparison of the $500 custom budget gaming computer build versus the best prebuilt gaming desktops that we could find on the current market that have similar specs. We list these prebuilts here for two reasons.
Firstly, it can help you to precisely compare how much money you can save building your own system compared to buying a premade computer, as well as the higher level of component quality and reliability that you get when choosing your own parts (if you investigate all the parts of a prebuilt, more often than not the brand/model quality won't be as high as a custom build).
Secondly, if you would rather just buy a pre-made PC even if you're aware that 9 times out of 10 it'll cost you more, these are the premade systems we can recommend. We're all for DIY here at BGC, but buying a prebuilt computer 

isn't the end of the world as some people don't have the time, patience or interest to build their own despite understanding the benefits of going DIY.
So, these are the closest (in terms of specs) prebuilts at the best price we could find right now, and that would make acceptable alternate buys to the above custom PC if you really don't want to build your own:
References
- Intel Pentium G5400 3.7GHz Dual Core Processor Price History, Specs & Reviews (PCPartPicker)
- Intel Core i9-9900K Review (includes budget Intel vs budget AMD benchmarks)
- The Best Value CPU: Pentium Gold G5400 vs. Ryzen 3 2200G
- GeForce 1050 Ti vs Radeon 570
- Zotac Cerberus GTX 1050 Ti 4GB GDDR5 Mini Specifications
- EVGA GeForce GTX 1050 Ti SC GAMING 4GB GDDR5 ACX 2.0 Single Fan Specifications
- Intel Pentium G5400 3.7GHz Dual Core Specifications
- Gigabyte B360M DS3H Micro ATX Motherboard Specifications
- Patriot Signature Line DDR4 Specifications
- Western Digital Blue 1TB 7200RPM Desktop Hard Drive Specifications
- EVGA 450 BT 80+ BRONZE 450W Power Supply Specifications
- Cooler Master N200 Mini Tower Specifications
- Carbide Series 100R Mid-Tower Case Specifications

Your Comments/Feedback
Got a question or want to share your thoughts on this guide? We're listening and you can reach us on the platforms below (or feel free to email us). Also, constructive criticism is always appreciated as it helps us continue making BGC the best noob-friendly DIY resource it can be.
Get a Tailored Build

Have more specific wants and needs for your build and want to tap into our build design experience to thoroughly plan the perfect parts-list for your exact situation?
We'll be glad to help: send in your budget, performance aims and any other requirements here in as much detail as possible, then leave a small tip in our tip jar to cover the time necessary to properly do this for you (we'd love to research builds all day for free but BGC would suffer for this as the site requires a 110% workload as-is and that math doesn't add up ;p)
We'll then get to work on your build ASAP and email it within 1-4 business days (depends on our current schedule) including any relevant info on your parts that we think you may need. If instead you simply want us to look-over your parts-list feel free to email us here and we'll gladly give you a few pointers (100% free of course) assuming we're not too crazy-busy.
About the Author
Former hobbyist game programmer turned tech enthusiast, Julz is the founder of BGC and has kept a keen eye on the latest in DIY gaming since starting the site in his spare time over a decade ago as an almost-laughably basic, unimpressive little site with a simple aim to try and make building a PC more accessible to the average gamer since most resources were far from noob friendly.
Over countless reinventions and reiterations to the quality and depth of content over the years, the site has steadily grown into the fairly expansive, comprehensive and constantly-updated PC building resource that it is today, now reaching and helping thousands of gamers and power users each and every month to more effectively plan optimal setups for their exact needs. His fav PC games of all time are HL1, WC3, C&C TS and SWKOTOR (OOT, Perfect Dark, DKC2 & MGS2 for consoles) and he promises never to speak in third-person again. You can learn more about the BGC mission here & how to support it.