The Best Budget Gaming PC Build Under $500 in September 2018 (Really Good 1080p)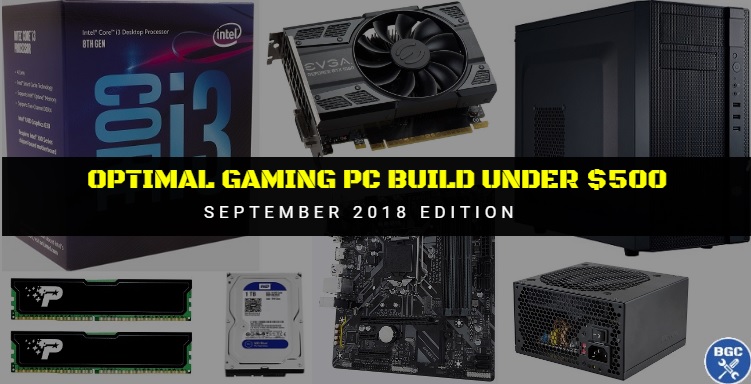 Current Recommended $500 Budget Gaming Computer for Gamers to Maximize Performance, Reliability, Cooling, & Lastability for the Money When Building a PC
Last Updated: Sep 9, 2018
The following best budget gaming PC build under $500 for September 2018 is how we would strategically select parts for a new gaming computer around this price tier for this month. At this price, unlike our recommended $300 and $400 gaming rigs that are graphically powered by the CPU, we introduce a dedicated graphics card (technically called a "discrete card" but that's a confusing way to put it IMO) which is a must-have component when building a PC for really good 1080p performance.
And really good 1080p at a very affordable price is exactly what this rig is all about. With a parts-list like the one we suggest below, you can expect to play any modern game in Full HD (1080p) real smoothly even on relatively good settings (depending on the title). For most eSports (on a 60Hz screen) and less demanding games, this gaming rig is also all the graphical grunt you really need.
Alright, let's break down the carefully-considered best budget gaming PC build for $500 which is a solid example of how to really stretch your money as far as possible and which blows similarly-priced pre-built gaming desktops out of the water when it comes to pure gaming performance, features, expansion options, and overall component reliability.
As with all our monthly recommended PC builds, we don't just say "part X or Y is best", but we comprehensively explain why each part was carefully chosen and picked as the best in its class for this month so you can make up your own mind as to whether it best fits your wants and needs when planning the very best budget gaming PC build for the money right now. Enough small talk and let's get down to business.
Best $500 Gaming PC Build (Sept 2018)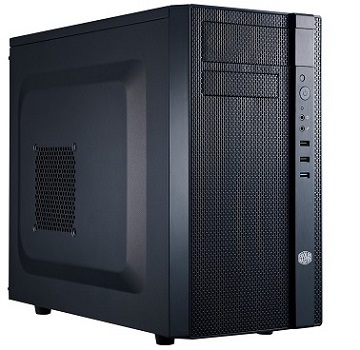 Estimated Gaming Performance:
720p (1280 x 720):

1080p (1920 x 1080):


1440p (2560 x 1440):

VR and 4K:

FLAWLESS


REALLY GOOD


POOR

UNPLAYABLE

The above is the average expected performance of this build at different resolutions when playing a typical, graphically-demanding modern PC game on high/ultra settings.

Note: Keep in mind that hardware prices can fluctuate often, so the current total cost could slightly exceed our target budget of $500 at any given time. To check current pricing, click "Build This PC" which conveniently shows all exact prices for these parts on Amazon.
$500 Build CPU
Let's begin our breakdown of the best budget gaming PC build for $500 with the brains of your system - the CPU. As of right now, the Intel Core i3-8100 is one of your best bets as a budget-friendly gaming CPU and when paired with a decent graphics card will offer very good 1080p performance.
You could opt for a cheaper Intel option such as the previously recommended G5400, or even the older G4560 if you can find it at a real good sub-$60 price, but if you can afford it the Intel Core i3-8100 is ideal as a budget processor for gamers as it's going to last you quite a while longer than the G5400 and G4560 as it's a quad-core chip (compared to the G-series CPUs being only dual-core) and the i3 will give you a noticeable boost in frame-rate from the get-go.
In other words, for a $500 budget gaming computer build, you're looking at throwing down around $80 to $130 for a CPU, and in that tier the i3-8100 takes the cake as the best overall gaming processor for the money. Keep in mind that it's a locked processor, meaning it can't be overclocked, and also that it does come with its own stock CPU cooler which is adequate for a basic gaming rig like this (therefore no need to buy a CPU cooler).
Although feel free to get your own CPU cooler to replace the stock cooler, which is what we recommend for more expensive PC builds because the stock cooler only just gets the job done and there are better performing and better looking CPU coolers for a very affordable price. But yeah, for a basic gaming PC like this where we assume you WON'T be overclocking - you can get away with the stock cooler, especially if you don't really care about how your PC looks (although the Intel stock cooler doesn't look THAT bad).
$500 Build Graphics Card
As for the most important gaming PC part of all, your trusty GPU (Graphics Processing Unit for any first-timers; don't worry we've all been there!), and for a budget gaming PC build around this 500 dollar mark getting a GTX 1050 is likely your best bet. We say "likely" because AMD do have attractive options as well with the RX 550 slightly below the 1050 in price, and the RX 560 slightly above, with both providing good gaming performance as well and both being at much better prices these days now that the GPU mining craze is pretty much over, but overall as of right now based on current pricing I would personally pick a GTX 1050 for a budget gaming PC build right now.
Although, if you're looking to squeeze out the absolute max frame-rate possible for the cheapest possible price, some games do run better on AMD hardware (and vice versa), so if your particular game does indeed favor AMD cards (such as CS:GO as we mention in our guide to building the best CSGO PC) then by all means go for a RX 550 or RX 560 instead for this build to fully maximize overall performance for the money.
The GTX 1050 is a great budget 1080p card that will play all modern games well at that resolution, even on high settings. For smooth performance on ultra settings it's going to depend on the game, but in some of the less demanding games you'll be good to max out the settings and have a nice, smooth experience.
As for deciding between 1050 versions, it's simply a matter of picking the best priced option you can find as they all have very similar clock speeds and features that's not going to make much of a difference. There's also a recently introduced 3GB version of the 1050, but unless you can find it at a very attractive price near to the 2GB models, I'd just stick to the 2GB edition as it's (IMHO) the overall best bang for your buck.
$500 Build Motherboard
Picking the best motherboard for any build is usually one of the trickier, confusing selections to make, as it's easy to get lost in the myriad of seemingly similarly-named boards with various features and little details and nuances. Shopping for a motherboard can easily and quickly make your head spin, even for the more experienced builder.
So, for the best budget gaming PC build under $500 right now, you'll want a cheap-ish yet still-decent-quality board that has all the basic features to make a solid gaming base. The Gigabyte B360M DS3H mATX fits that bill nicely, and is a very affordable option from a good manufacturer.
It has 4 memory slots which is good for a budget board, yet is a must if you want future RAM upgrade potential whilst taking advantage of dual channel memory now. It's also got good quality LAN and on-board audio as any modern motherboard should have these days, as well USB 3.1 support. Just note that it supports a maximum RAM speed of 2666/2667MHz (they're the same thing for anyone wondering), which is the RAM speed we've opted for anyway. Speaking of RAM...
$500 Build RAM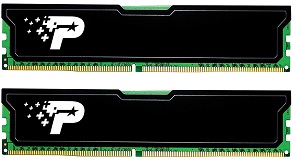 If you've read our previous recommended builds then these modules will look familiar, but what's that saying? Don't fix what isn't broken. These Patriot DDR4 2 x 4GB sticks are great value that clocks in at a fairly speedy 2666MHz, and 8GB is all you need for gaming right now and into the near future. Plus, Patriot has always been a solid name in the memory game.
8GB is the sweet spot, and you really don't need any more than this unless you're building a high-end gaming computer or you're putting together a capable streaming PC build or solid workstation. But when assembling the best budget gaming PC build for $500, 8GB is perfect and 16GB would be overkill and not spending your money as cost-effectively as possible.
$500 Build Hard Drive & Power Supply
These components remain the same as in our best entry level gaming PC build so see that build's explanation if you want to know our reasoning behind these selections. To quickly summarize, the Western Digital Blue 1TB is a fast, reliable and value for money pick, and the Antec VP-450 is a reliable quality-brand bang for your buck PSU that's also suitable for this build. Feel free to include an SSD if you like as a small one that'll boost your boot and load times isn't expensive, but we've opted out of one for this tier to focus on pure gaming performance and other more crucial features (we start recommending SSDs in the next build tier and beyond for those wondering; ie $600 builds and above)
Just one thing to point out about power supplies. A common misconception among beginners is how much power you really need for your components, and you usually need less than you may imagine. For this $500 build, believe it or not but 450 watts of power from a quality unit such as the Antec VP-450 is all you actually need, and it includes some wiggle room for future upgrades, too. Only reason to get a higher powered unit such as 500 watts or more is if you're planning on some extensive upgrades outside the norm of a standard budget gaming build. Learn more about how much power you need and everything else about PSUs in our in-depth computer power supply guide for gamers.
$500 Build Case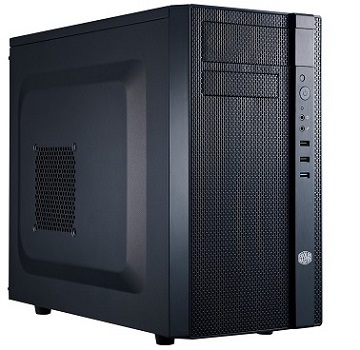 Last but not least, the Cooler Master N200 is a stellar budget case that's compact, good overall quality with very decent durability for the price, and has a simple yet clean, crisp look that might be up your ally if you don't need any fancy aesthetics and design.
This is the case we used in the example build for the photos in our PC building eBook and it was a very easy case to work with that has handy cable management features as well. As for cooling, which is something to consider when building a gaming PC, and the case comes with 2 pre-installed fans which is enough for this setup. Plus, it has a meshed front panel which helps overall airflow.
Consider getting more fans if you'll be tweaking this setup further with added power (ie overclocking, faster graphics card, etc) or if you live in a real hot climate and your system gets real hot and/or loud, but the 2 strategically-situated included fans will be enough for most. 
Overall, the N200 is highly recommended and easily one of the better bang for your buck budget gaming cases on the market right now. 
Recommended Operating System
For a budget gaming PC build, or any build for that matter, we recommend Windows 10 which you can get in a handy USB/flash-drive version or a disk version if you want to make your own bootable flash drive from that (since this build doesn't have an optical drive as they're totally optional these days):
Recommended Peripherals
See our top value for money budget picks of these accessories in our peripheral buying guides (see the top menu) should you need to buy these new and you're not reusing old ones. Simply put, you can choose any that you like for this gaming computer build as they come down to personal preference.