The Best Gaming PC Build Under $500:
Recommended Q4 2018 Budget Build
How to Strategically Maximize Gaming Performance for 500 Dollars in October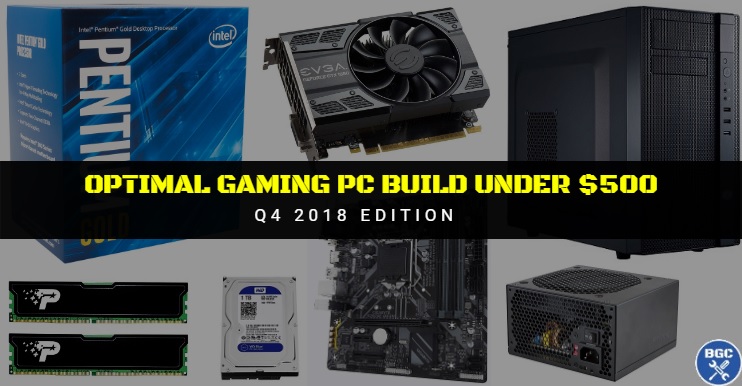 Last Updated: Oct 6, 2018

Designed, Written & Edited By: Zenakin
CONTENTS

Best $500 Gaming PC Build: (quick reference)

CPU: Intel Pentium G5400 3.7GHz Dual Core
CPU Cooler: Stock (included with CPU)
Graphics: EVGA GeForce GTX 1050 Ti 4GB
Motherboard: 

Gigabyte B360M DS3H mATX
RAM: Patriot DDR4 8GB 2400MHz (2x4GB)
Hard Drive: Western Digital 1TB 7200RPM
Power Supply: Antec VP-450 80 Plus
Case: Cooler Master N200 Mini Tower
The $500 Budget Gaming PC Build: Overview
Building on the previous build tier - our current recommended cheap gaming build under $400 - this setup introduces a dedicated/discrete graphics card which takes gaming performance to a whole new level that integrated GPUs like AMD's 2200G and 2400G just cannot reach, no matter how good they are as super-cheap solutions.

The following best gaming PC build under $500 dollars, like all our recommended PC builds for gamers, represents the very best bang for your buck component selections possible based on the current market to squeeze out as much gaming performance as humanly possible for your hard-earned money.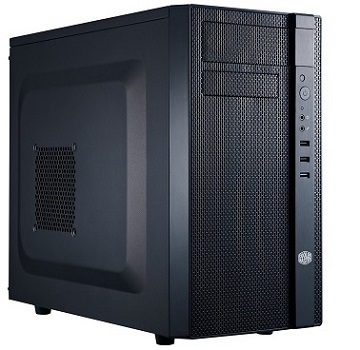 500 dollars give you plenty to work with for a very solid, cost-effective, smooth 1080p gaming system with plenty of upgrade options
This build includes a strategic pairing of the surprisingly good value for money Pentium G5400 CPU with an excellent budget graphics card in the GTX 1050 Ti 4GB, which is a smart setup proven to provide seriously good 1080p performance for a very affordable price.
Topped off with 8GB of DDR4 RAM, a standard yet decently-sized 1TB hard drive, and a reliable case and power supply and you have a very solid gaming base that'll hold you in good stead for a while to come, and a custom build that is hard to match in terms of overall bang for your buck.

Like all our recommended gaming PC builds (some more so than others), this custom setup blows similarly-priced pre-built gaming desktops out of the water when it comes to pure gaming performance, features, expansion options, and overall component quality and reliability.
There's just nothing quite like building your own system if you want to stretch your dollar further, and when we say it's easy to build your own PC in 2018 we really do mean that and not just saying that 'cause we run a site about building computers. It's literally Lego for adults, and with a detailed-enough step by step guide by your side (such as our own full-blown PC install tutorial which actually used very similar parts to this budget build) it's hard to go wrong.

As with all our monthly recommended PC builds, we don't just say "part X or Y is best", but we comprehensively explain why each part was carefully chosen and picked as the best in its class for this month/quarter so you can make up your own mind as to whether it best fits your wants and needs when planning the very best budget gaming PC build under $500 or so.
Alright, enough small talk and let's dive deeper into the hardware details and benchmarks based on many hours scouring the web for specific performance estimates for this carefully-selected parts-list.
Full Parts-List, Specs and Features

Best $500 Gaming PC Build (Q4 2018)


Check Price
Graphics Card
EVGA GeForce GTX 1050 Ti 4GB
CPU
Intel Pentium G5400 (3.70 GHz, Dual Core)
CPU Cooler
Stock (comes with CPU)
Motherboard
Gigabyte B360M DS3H (Micro ATX, USB 3.1, DDR4x4)
RAM
Patriot Signature 8GB (DDR4, 2 x 4GB, 2400 MHz)
Hard Drive
Western Digital Blue 1TB (7200 RPM, 64MB Cache)
Power Supply
Antec VP-450 (450 Watts, 80 Plus Certified)
Case
Cooler Master N200 Mini Tower (mATX/mITX motherboard support)

Estimated Total:


$485 - $505 (US Dollars)




(Adds Parts to Amazon Cart)



Notable Features Cheatsheet


Estimated Wattage (Power Draw)
49W - 218W
RAM Slots
4 (2 slots free)
Max RAM Support
64GB
CPU Overclockable?
No
Built-in WiFi?
No (buy adaptor: see recommended add-ons below)
Hard Drives Supported
6x SATA Drives, 1x m.2 SSD
VR-Ready?
No
Case Fans
2 x 120mm Included (front + rear), 3 Additional 120mm Mounts
Front Panel USB Ports
1 x USB 3.0, 2 x USB 2.0 (+ tons more on rear of case)
Optical Drive Support?
Yes
Multi-Monitor Support
Yes

Case Dimensions

7.9 x 14.9 x 17.5 inches
Total Weight (Once Parts Installed)
~ 18.46 Pounds / 8.4 KG
Full Motherboard & Case Specs
Gigabyte B360M DS3H | Cooler Master N200
Build Performance and 1080p Benchmarks
Gaming Performance Overview by Resolution
720p (1280 x 720):

900p (1600 x 900):

1080p (1920 x 1080):


1440p (2560 x 1440):

VR and 4K:

Minesweeper: 

FLAWLESS

EXCELLENT


REALLY GOOD


AVERAGE

UNPLAYABLE

UNPLAYABLE
1080p HIGH Settings: Aggregated Benchmarks (Average FPS)
Below is the Expected Average Frame Rate in 1080p Resolution on High Preset/Settings After Careful Extensive Analysis of Multiple Benchmark Sources for a G5400 Gold + GTX 1050 Ti 4GB + 2x4GB DDR4 2400MHz Setup

Aggregated Benchmarks for 1080p HIGH Settings

(G5400 Gold, 1050 Ti 4GB, 2x4GB DDR4 2400MHz)


GAME
AVERAGE FPS
Fortnite
55 - 65 FPS

PUBG
35 - 45 FPS
Overwatch
90 - 100 FPS
CSGO
140 - 160 FPS
DOTA 2
105 - 115 FPS
GTA V
60 - 70 FPS
AS Origins
35 - 45 FPS
Battlefield 1
55 - 65 FPS
COD WW2
75 - 85 FPS
SW Battlefront 2
50 - 60 FPS
Witcher 3
35 - 45 FPS
Far Cry 5
40 - 50 FPS
Green = 40FPS and Over (Smooth)
Orange = Under 40FPS (A Little Stutter/Lag)
Red = Under 30FPS (Quite Noticeable Stutter/Lag)
As you can see from the benchmark aggregates above (1080p high settings), with the G5400 and 1050 Ti pairing in this month's suggested $500 budget gaming PC build you can expect good, smooth frame-rates for many AAA titles, even on high graphics settings. Crank things down to medium settings and you'll get pretty much get a consistent 60FPS in most games, whilst cranking up to ultra/maxed settings will get you a tad lower than what we found above.
A build like this is also suitable for high refresh-rate (ie for a 144Hz monitor) CSGO performance as you'll get up and around 144FPS+ consistently in this game, assuming you'll stick to 1080p. Same thing for League of Legends, another non-demanding title - even though it's not as important to use a high refresh rate monitor for that game when compared to CSGO, you have the power in this build to get 144FPS+ in LoL if you want (LoL pros do use 144Hz or higher refresh-rate screens if you were wondering).
Note On Our Estimated FPS Ratings (Disclaimer):
The performance estimates above for this build are simply an aggregated average based on carefully studying multiple online benchmark sources. Whilst we do everything we can to make these as accurate as possible, including cross-checking and using as many different reliable sources as possible, please note these are just an average estimation and there is always a chance you won't get the average FPS listed above (although you could get higher, too).
There are a few different factors that could affect your frame rate such as your particular hardware differences, software differences (OS, drivers, game patches/versions, etc), cooling/airflow of your build, specific enabled game features/settings such as Anti-Aliasing, different RAM setups you might be using, and so on. We always err on the side of being conservative with our numbers though, so we'll round things down if we need to instead of rounding up. In saying all that, the above numbers are a good place to start your research.
Hardware Component Breakdown
Best $500 Gaming PC Build: Recommended CPU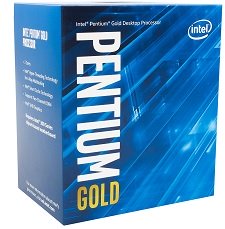 Don't be fooled by the seemingly-old "Pentium" name; the G5400, like the G4560 before it, is a great budget gaming CPU
When building a budget computer for gaming, Intel offers some hard-to-ignore options right now and the Intel Pentium G5400 Gold is clearly one of them if you can find it at the right place. At a price around $70-$80 it's great value and you'll be hard pressed finding a better overall bang for the buck gaming processor for this price. In early October the price has been inflated, so make sure to only buy at a sub 80 dollar price (hopefully the price will return to normal soon), otherwise you might as well get the next tier up (i3-8100 like in our Best Mid-Range Gaming Build).
The G5400 replaces our previously recommended G4560 which we used to include in budget gaming PC builds all the time (and the CPU we used in our most recent PC building tutorial), as the G5400 is the slightly faster, newer model for only a fraction extra cost. Plus, when you get the G5400 instead of the older G4560, you have a better upgrade path for your setup 'cause you have the option to throw in a very strong i5-8500 CPU later on down the track should you wish to upgrade your CPU.
The G5400 will hold its own in modern 1080p gaming and won't let down (read: bottleneck) a good budget graphics card like the GTX 1050 or 1050 Ti. Heck, it wouldn't even bottleneck a mid-range GPU like the GTX 1060 in most cases, but we've found that the G5400/1050 Ti combo to be a very nice sweet spot pairing, and if you do wish to get a 1060 graphics card instead then we'd recommend upping your processor choice as well to an Intel i3 (assuming you're going for Intel).
There's also the G5500 and G5600 processors which are a little more than the G5400, but overall the G5400 is arguably the best value of them the trio as the performance jump you get from those other two options don't really justify the cost and you'd be better off just getting a i3-8100 or 8300 instead at that point.
So, if you want to cost-effectively build the very best gaming PC under 500 bucks right now, a G5400 is a friend very worthy of consideration and what I'd personally opt for myself if building this type of cheap setup. Many people believe a dual core processor, which the G5400 is, just isn't good enough for modern 1080p gaming, but the facts prove this just doesn't stack up in reality when it comes to the majority of games. 

If you're not aiming for super-high frame rates such as 144FPS for use with a high-refresh rate monitor, and you're just sticking to a standard 60Hz screen, the G5400 when paired with a budget GPU will get you by quite nicely and 60FPS is well within reach in modern games even on high settings (depends on the title; see benchmarks above). Overall, the G5400 is highly recommended for budget 1080p gaming and won't let you down so long as you're not a heavy multitasker (in non-gaming apps, that is) in which case you'd be better off getting a quad-core CPU or better.
Best $500 Gaming PC Build: Recommended Graphics Card
As for the most important gaming PC part of all, your trusty GPU (Graphics Processing Unit for any first-timers; don't worry we've all been there), and for a budget gaming PC build under 500 dollars a GTX 1050 Ti is the absolute best card you can squeeze in. AMD have decent budget GPU alternatives such as the RX 560 and RX 570, with these two cards coming in cheaper and more costly respectively, but overall the GTX 1050 Ti is hard to beat especially if you can find it at a decent price ($150-$180 in today's market conditions) and it also uses less power and produces less heat and noise than AMD cards in this tier.
A 1050 Ti is going to provide really good 1080p performance for the price, and without getting into specifics as we did above in our aggregated benchmarks from around the web, you can expect a flawless 60FPS on medium/high settings in many modern games, and 60FPS on ultra/maxed settings in the lesser demanding titles. Highly recommended card for a budget build that'll have you gaming well in 1080p for 2-3 years minimum.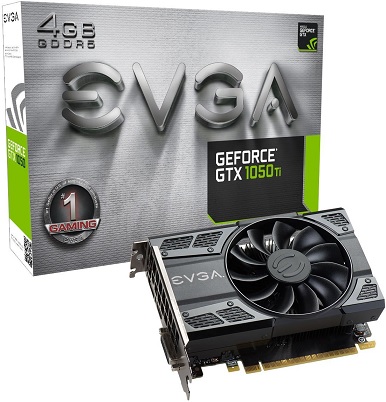 The 1050 Ti is an excellent budget gaming card in 2018
Best $500 Gaming PC Build: Recommended Motherboard
Picking the best motherboard for any build is usually one of the trickier, confusing selections to make, as it's easy to get lost in the myriad of seemingly similarly-named boards with various features and little details and nuances. Shopping for a motherboard can easily and quickly make your head spin, even for the more experienced builder.
So, for the best budget gaming PC build under $500 right now, you'll want a cheap-ish yet still-decent-quality board that has all the basic features to make a solid gaming base. The Gigabyte B360M DS3H mATX fits that bill nicely, and is a very affordable option from a good manufacturer. It supports i5 and i7 processors (8th gen) so you can always upgrade your G5400 processor later down the track should you want to give your build a complete overhaul when you have more money to invest.
It has 4 memory slots which is nice for a budget board, yet a must if you want future RAM upgrade potential whilst taking advantage of dual channel memory now with your 2 memory sticks. It's also got good quality LAN and on-board audio as any modern motherboard should have these days, as well USB 3.1 support.
Best $500 Gaming PC Build: Recommended RAM
If you've read our previous recommended builds then these modules will look familiar, but what's that saying? Don't fix what isn't broken. Although, these sticks are different 'cause they're 2400Mhz instead of 2666MHz which is the speed of the suggested memory in the previous tier's build. Why? Well, the G5600 (and even the i3 processors) only support a maximum stock speed of 2400Mhz, so there's no point getting 2666Mhz modules for this CPU choice.
As for the size of the RAM, 8GB is all you need for gaming right now and into the near future, and anyway you can't fit any more into a budget of 500 dollars anyway. Also, Patriot is a solid name in the memory game and these modules have not let people down speed and reliability-wise.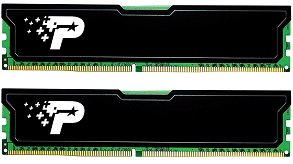 You really don't need any more than 8GB of RAM unless you're building a luxury high-end gaming computer or you're putting together a streaming PC build or workstation setup where the extra RAM actually comes in handy. But when assembling a budget gaming PC build for around/under $500 - or even $600-$1000 to be honest - 8GB is perfect and 12-16GB would be overkill and probably not a smart allocation of your funds.

Also, we've included dual channel RAM (that is, 2x4GB sticks instead of the 1 8GB module) because you do see an increase in gaming performance with dual channel memory compared to single channel. It's not a huge difference in frame rates, and perhaps a 10-15FPS increase at the absolute best, but dual channel RAM is usually around the same sort of price so you might as well go for them if you can to crank out those extra few frames. Check out this benchmark below which tests the G4560 - a very similar processor to the G5400 - with single vs dual channel RAM which shows a nice little performance boost:
Best $500 Gaming PC Build: Recommended Hard Drive & PSU

These components remain the same as in our best entry level gaming PC build so see that build's explanation if you want to know our reasoning behind these selections. To quickly summarize, the Western Digital Blue 1TB is a fast, reliable and value for money pick, and the Antec VP-450 is a reliable quality-brand bang for your buck PSU that's also suitable for this build. Feel free to include an SSD if you like as a small one that'll boost your boot and load times isn't expensive, but we've opted out of one for this tier to focus on pure gaming performance and other more crucial features.
Just one thing to point out about power supplies. A common misconception among beginners is how much power you really need for your components, and you usually need less than you may imagine. For this $500 build, believe it or not but 450 watts of power from a quality unit such as the Antec VP-450 is all you actually need, and it includes some wiggle room for future upgrades, too. Only reason to get a higher powered unit such as 500 watts or more is if you're planning on some extensive upgrades outside the norm of a standard budget gaming build. Learn more about how much power you need and everything else about PSUs in our in-depth computer power supply guide for gamers.
Best $500 Gaming PC Build: Recommended Case
Last but not least, the Cooler Master N200 is a stellar budget case that's compact, good overall quality with very decent durability for the price, and has a simple yet clean, crisp look that might be up your ally if you don't need any fancy aesthetics and design. This is the case we used in the example build for the photos in our PC building tutorial and it was a very easy case to work with that has handy cable management features as well.
As for cooling, which is something to consider when building a gaming PC, and the case comes with 2 pre-installed fans which is enough for this setup. Plus, it has a meshed front panel which helps overall airflow. Consider getting more fans if you'll be tweaking this setup further with added power (ie overclocking, faster graphics card, etc) or if you live in a real hot climate and your system gets real hot and/or loud, but the 2 strategically-situated included fans will be enough for most.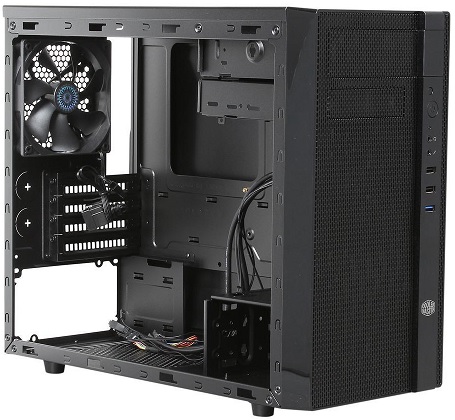 Cooler Master's N200 is a decent-quality, wallet-friendly compact case that is hard to fault for a budget gaming build
Recommended Operating System and Accessories
For a budget gaming PC build, or any build for that matter, we recommend Windows 10 which you can get in a handy USB/flash-drive version or a disk version if you want to make your own bootable flash drive from that (since this build doesn't have an optical drive as they're totally optional these days).
For other accessories like keyboards, mice, speakers, headsets, monitors, and other add-ons, see our peripheral buying guides should you need to buy these new and want some ideas on good value for money models to consider. Simply put, you can choose any accessories that you like for the $500 budget gaming PC build as they come down to personal preference.
Building the $500 PC and Questions/Feedback
That's it for the current best gaming PC build under 500 dollars as of October 2018 (IMHO based on extensive objective research, comparisons and subjective contemplation). Use it as-is or as a base of inspiration and research for a more customized setup to suit your more specific wants and needs.
If you're putting together your first PC, fear not as it's very simple to do these days whether you're putting together a budget gaming system like this one or a more powerful high-end gaming computer, and in 2018 if you can build Lego you can essentially build a custom computer without problems if you simply follow a step by step article or video (see How to Build a PC for Beginners). 
For questions, comments or feedback (good, bad, ugly - we're all ears if you disagree somewhere) on the best $500 budget gaming PC build (or any of our builds) leave a comment on the main Best Gaming PC Builds page, our Facebook page, or email us and we'll help where and when we can. Hopefully this build write-up helps a bit, and best of luck to you.
About the Author
Julien "cyberjulz" is the founder of BGC and lover of all things gaming and technology. A computer programmer turned hardware enthusiast and web developer who's been keeping a close eye on the PC hardware industry since 2006, he's been an avid console and PC gamer ever since first stumbling across Warcraft 1 & Theme Park at age 7. His fav games of all time are OOT, Perfect Dark, GE007, SW Rogue Squadron, MGS2, DKC2, Starfox, WC3, HL1, HL2, C&C1, FIFA, & SWKOTOR.