Home > PC Builds > $400 Gaming PC
Plan the Best Cheap Gaming PC Build Under $400



Q2 2019 Hardware Guide to Building the Fastest PC for 400 Dollars in May or June
Strategically choosing good parts for a $400 gaming PC build allows for surprisingly decent performance in many games
Last Updated: May 6, 2019
CONTENTS
The Best $400 Gaming PC Build: Top Recommended Q2 2019 Parts

CPU: AMD Ryzen 5 2400G APU 3.9GHz Quad Core
CPU Cooler:

Stock (comes with CPU)
Graphics: Vega RX11 (integrated in CPU)
Motherboard: 

MSI B450M Bazooka V2 (mATX)
RAM: Crucial Ballistix Sport LT 8GB (2666MHz)
Hard Drive: Western Digital 1TB 7200RPM
Power Supply: EVGA 450 BT (80+ Bronze)
Case: 

Thermaltake Versa H15 SPCC Mini Tower
The Cheap Gaming PC Build: Overview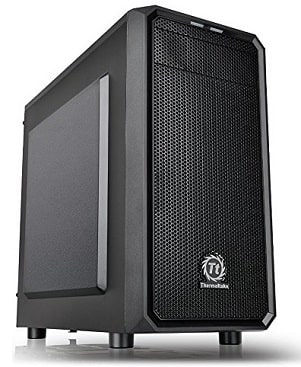 Building a computer for less than 400 dollars (or euros/pounds) allows for playable 1080p performance in many modern games on medium settings including Fortnite
If you're planning to build the very best cheap gaming computer you can get your hands on, and want to make the absolute most of a limited budget to get the fastest PC for your money, this guide to building the optimal gaming rig on a super-cheap budget was carefully crafted just for you. In this guide we detail our current highest recommended, 400 dollar gaming PC build (under 400 euros/pounds for UK readers too, but a bit more for our builders in Canada and Australia).

Spending a $400 budget wisely when building a PC will allow you to assemble a respectable, decently-capable custom gaming desktop that's a nice step up from the $300 gaming PC build and that'll provide a fair bit better 1080p performance in many modern titles (we'll cover specific estimated frame rates later in the guide) which is nice considering that this cheap PC build still includes a CPU with integrated graphics to cut costs.

Let's not muck around and dive straight into the Q2 2019 parts-list for $400 which is primarily aimed at casual gamers or those just playing older/less-demanding titles. We'll breakdown why each carefully considered component made the cut for our sample setup, list our top recommended value for money peripherals to along with it, look at what sort of performance you can expect in certain AAA games, and including everything else we feel you might need to know when choosing the best parts for a $400 custom PC. Let's do this.

See Also: $500 Gaming PC Build (stronger 1080p performance)
Parts-List for US, Canada, UK & Australia

Best Gaming PC Build Under 400 Dollars/Pounds (Q2 2019)


Check Price
Graphics Card
Integrated Vega RX 11 (comes with CPU)
CPU
AMD Ryzen 5 2400G APU (3.90GHz, Quad Core, 2nd Gen "Raven Ridge")


&nbsp&nbsp

&nbsp&nbsp
CPU Cooler
Stock (comes with CPU)
Motherboard
MSI B450M Bazooka V2 (Micro ATX, 4 x DDR4 Slots)


&nbsp&nbsp

&nbsp&nbsp
RAM
Crucial Ballistix Sport LT 8GB (DDR4, 2 x 4GB, 2666 MHz)


&nbsp&nbsp

&nbsp&nbsp
Hard Drive
Western Digital Blue 1TB (7200 RPM, 64MB Cache)


&nbsp&nbsp

&nbsp&nbsp
Power Supply
EVGA 450 BT (450 Watts, 80 Plus Bronze, Non Modular)


&nbsp&nbsp

&nbsp&nbsp
Case
Thermaltake Versa H15 SPCC (Mini Tower, Micro ATX)


&nbsp&nbsp

&nbsp&nbsp

Estimated Total:


$399 - $421 (US Dollars)






(Adds All Parts to Your Amazon Cart in 1 Click) *


Notable Features Cheatsheet


Total Wattage
90W
RAM Slots
4 (2 slots free)
Max RAM Support
64GB
CPU Overclockable?
Yes
Built-in WiFi?
No (buy wireless adapter)
Hard Drives Supported
4x SATA Drives, 1x m.2 SSD
RAID Support
Yes (RAID 0, 1, or 10)
VR-Ready?
No
Case Fans
1 x 120mm Included (rear), 2 Additional 120mm Mounts
Front Panel USB Ports
1 x 3.0, 1 x 2.0
Optical Drive Support?
Yes (1 x 5.25" Bay)
Max CPU Cooler Height
155mm
Max GPU Length
315mm Length GPUs
CrossFire/SLI Support
No/No
Multi-Monitor Support
Dual Monitor Support
Case Dimensions
15 x 7.8 x 16.2 inches (H x W x D)
Full Motherboard & Case Specs
MSI B450M Bazooka V2 | Thermaltake Versa H15 Mini
*  "Build It" button (which orders all parts on Amazon in just 1 click) is a feature for our US readers only.
Heads-Up for Builders Outside the USA
Building the $400 Gaming PC for Australia, UK or Canada?
The parts-list above is primarily based on the US market, but will usually also be the exact same parts we recommend for these countries too (hardware is an international game). However, if one of the main component recommendations above is either overpriced or unavailable in Canada, UK, or Australia, we'll substitute that particular part for another more suitable model for that country (that's still 100% compatible of course). We do our best with each monthly update to tailor our builds for each country individually to help you get the most bang for your buck in your corner of the world.
Performance & 1080p Benchmarks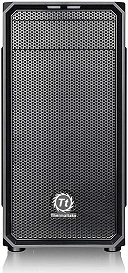 720p (1280 x 720):

900p (1600 x 900):

1080p (1920 x 1080):


1440p (2560 x 1440):

VR and 4K:

EXCELLENT

GOOD

GOOD


UNPLAYABLE


SERIOUSLY?

Confused? This is the average expected performance of this parts-list at different resolutions and refresh-rates when playing a typical, graphically-demanding modern PC game on high/ultra/maxed settings. If you're not sure what refresh-rate your gaming monitor is, chances are it's a standard 60Hz screen. For more see our refresh rate guide.

Estimated Average Frame Rate (Ryzen 5 2400G Stock, 2x4GB 2666 MHz)

Now to frame-rate estimates for the $400 gaming PC build which is what you're probably wondering about the most. After scouring the web for benchmarks and doing the painstaking research for you, the FPS ratings below is about what you can expect from the Ryzen 5 2400G with its integrated GPU when paired with 8GB of DDR4 2666MHz RAM as we've included in this recommended build.
Average FPS: 1080p MEDIUM Settings

CS:GO:


Overwatch:


Rocket League:

Fortnite:

DOTA 2:

PUBG:

GTA V: 

100-120 FPS


50-60 FPS


66-65 FPS


35-45 FPS

60-70 FPS

15-25 FPS

25-35 FPS
Average FPS: 1080p HIGH Settings

CS:GO:


Overwatch:


Rocket League:

Fortnite:

DOTA 2:

PUBG:

GTA V:

90-110 FPS


40-50 FPS


45-55 FPS


25-35 FPS

50-60 FPS

Unplayable

20-30 FPS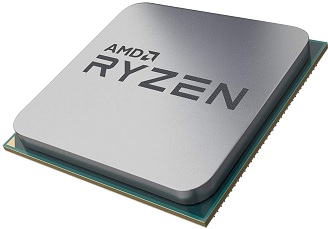 Overall, a cheap 400 dollar custom gaming computer will get you very good 1080p performance in less-demanding titles like League of Legends and CSGO, decent performance in medium-demanding games like Overwatch, DOTA 2, Fortnite and Rocket League, but only playable performance in a small handful of the more demanding titles such as GTA V and PUBG - and only if you turn down those settings to low.
For example, PUBG is only going to be playable on low settings in 1080p. Anything else and you're out of luck as it'll be too laggy to enjoy. But with this build Fortnite is totally playable on low or medium settings.

And yup, you guessed it - in 720p resolution this build will play any of the aforementioned games without issues. So if you don't mind this resolution, you can play PUBG, Fortnite, GTA V, and even the most demanding titles of all such as Witcher 3 and get good performance. But for 1080p, you're looking at only low/medium settings for playable FPS in demanding titles, but good performance with all the other games on medium/high settings.
Sidenote: How We Calculate Average FPS

The average FPS (Frames Per Second) ratings are an aggregated estimation based on carefully studying multiple online benchmark sources. Note these are averages, meaning that in the most action-packed scenes the frame-rate will go lower. For example, if we list the Witcher 3 average as 50-60FPS, your FPS may drop to 30-40FPS in the most intense scenes, so take that into account in your build planning. Whilst we do everything we can to make these as accurate as possible, please note there's no guarantee you'll get this exact average as there are different factors that could affect your frame rate such as other hardware differences, software differences (OS, drivers, game patches/versions, etc), cooling/airflow of your build, enabled game features/settings such as Anti-Aliasing, different RAM setups you might be using, and so on. We always err on the side of being conservative with our numbers though, so we'll round things down if we need to instead of rounding up, so you can rest assured our averages are pretty safe bets in terms of what performance you can expect from a certain setup.
Learn About Frame Rates & Graphics Settings:
What's the Best Frame Rate for PC Gaming?
Component Breakdown & Honorable Mentions
Recommended CPU for a $400 Gaming PC Build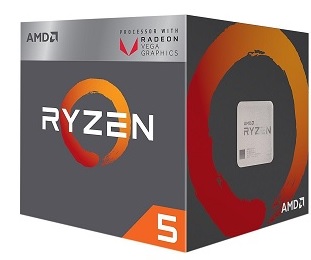 For a $400 gaming desktop, the Ryzen 2400G is hard to ignore as an excellent value choice
When building a $400 PC for gaming right now, you've essentially got two options: either get the AMD Ryzen 5 2400G that is a combined decent CPU and graphics solution (ie integrated graphics, meaning you don't need to buy a separate graphics card to save money), or get a cheap Intel or AMD processor and pair that up with a dedicated budget-friendly graphics card such as the GT 1030, RX 560 (or better).
For the fastest, best overall cheap gaming PC build under $400 right now, we've gone with integrated graphics. Why? AMD's latest processor/graphics combo, the Ryzen 3 2400G, packs serious punch for the price and whilst you obviously can't expect any crazy gaming performance, it's capable of handling 1080p in a decent manner if you don't mind turning down the settings to low/medium (depending on the game).
But where it really shines is with older, classic games, and the 2400G is all the firepower you need to play modern eSports like CSGO, Overwatch, LoL, and Fortnite at decently-smooth frame rates on medium settings in 1080p. For more demanding games like PUBG and GTA 5 you'll need to either go low settings for a decent experience, or drop down to 720p resolution if you don't mind that.
Plus, the 2400G is not only a good cheap CPU GPU combo for entry-level gaming, it's a decent quad-core processor in its own right, meaning not just decent gaming performance but overall system performance for general applications and multitasking. That also means it'll last you a fair while, and will be enough processing power to continue on with should you decide to buy a dedicated graphics card down the track to boost your gaming performance significantly.
Recommended Motherboard for a $400 Gaming PC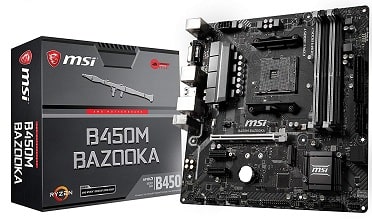 An excellent value, good-looking, feature-rich and well-priced B450 motherboard that's perfect for a cheap yet reliable cheap gaming PC build
For your Ryzen 5 2400G CPU/GPU you have a few choices in terms of motherboard types to get (refered to as the motherboard chipset). You could get an older (and oftentimes a little cheaper) Ryzen generation 1 motherboard - either the A320 or B350 chipsets - as these would still be compatible with the 2nd generation Ryzen (2400G) assuming that the BIOS on these motherboards have been updated. This BIOS update will typically already have been done by the manufacturer before the board gets shipped out to you, although there is the odd chance you receive a non-updated motherboard which means you'd have to update the BIOS yourself when you receive the A320/B350 board which is annoying as you'd need to have an older CPU lying around to be able to perform the update (the motherboard manufacturer should be able to send you one for free to do this).
Therefore, to avoid this potential dilemma (even though it's kinda rare by now as most older boards have been updated for the new Ryzens), and to get the latest and greatest motherboard platform, you're best off just getting the latest B450 motherboards. Plus, they typically aren't much more expensive, especially if you are smart about shopping around for well-priced models. Speaking of which, that's what we do best here at BGC, and right now the MSI B450 Bazooka is at a solid price and what we would recommend. It's a great little (micro ATX) board that looks nice and slick, has plenty of features considering it's a budget board (including a handy 4 RAM slots), and will set up a cheap gaming PC build well for the future. It's also overclocking friendly, and reportedly does it quite well, so if you wish to push your Ryzen 2400G past stock speeds, you can absolutely do so with this motherboard and with this PC build overall.
Speaking of overclocking your AMD CPU, whilst we don't recommend it to most beginners building their first cheap gaming desktop build, if you do decide to go ahead with it (it's not hard at all but just takes a little patience) then the good news is that the stock cooler that comes with the Ryzen 2400G will indeed be just fine, assuming you're doing mild to medium overclocking. If you research around on other enthusiast's experiences with overclocking the 2400G, you'll find that the stock cooler well serve you well up to a certain point. You would only really need an aftermarket cooler for this processor if you're really pushing the CPU to the max, or if you decide that you want to keep it running as cool and quiet as possible (or for aesthetic purposes as an aftermarket cooler will allow you to pick the best looking model that fits your build if you care about looks; stock coolers are quite basic looking).
Like all modern motherboards it comes with decent onboard sound and LAN working, but also like most motherboards it doesn't come with wireless/WiFi built-in. If you want wireless internet, you will have to do what most other builders have to do as well which is get either an internal wireless network card that slots into a spare PCIe port on your motherboard, or buy a USB WiFi adapter instead if you prefer to do it that way (either can work; see PCIe vs USB wireless adapters for gaming to learn more).
Recommended RAM for the Best $400 Gaming PC Build
Crucial has always been a good memory manufacturer, and the Ballistix Sport LT modules included for the current $400 gaming computer are well-priced and at a fairly-fast 2667/2666Mhz (same thing) speed. No need to get faster memory than this, although it's not really feasible on a real cheap $400 budget anyway without sacrificing other parts. APUs like the AMD 2400G do take advantage of faster RAM, so if you find 3000MHz modules on special (that are also compatible with your motherboard AND with the 2400G) then feel free to go for that, but we stuck with 2666Mhz (a sort of mid-tier speed) as right now compatible 3000MHz sticks would take us over budget for this rig. Using 3000MHz wouldn't be a huge performance boost in most games though, and 2666MHz is plenty.

As mentioned above, getting 2 memory modules only takes up 2 of your 4 total RAM slots, so you have room for a RAM upgrade later should you want to upgrade to 16GB in the future. 16GB is only recommended for higher-end builds or for heavy workstation tasks (such as video editing PC builds etc). 8GB of RAM is all you can fit into a cheap system, but is all the memory you really need right now to maximize performance in 1080p in the majority of modern games and won't hold you back for a while to come.
Recommended HDD for a $400 PC Build
Western Digital have long been the most reliable when it comes to HDDs (short for Hard Disk Drives if you're brand new to all this stuff) and 1TB of storage is more than enough for most gamers, although feel free to include less or more storage as needed. 7200RPM is also a good speed to shoot for when getting a HDD which is what this drive runs at. Yes, Solid State Drives (SSDs) are faster than a standard HDD like this, but are more of a luxury component as their size to cost ratio is much higher and we only recommend SSDs for more expensive builds.
Recommended PSUs for a $400 Gaming PC Build
For the power supply we've gone with an excellent value for money yet decent-quality (for a budget model) PSU from a trusted name in the PSU game (EVGA). Specifically, the 450 BT, which is a nice balance of value and quality, and 450 watts is all the power you need for this setup even taking into account any type of future upgrades (even adding a mid-range graphics card later on such as the RX 570 which would be a common upgrade path for this rig to boost gaming performance considerably).
It's not a high-end PSU, but it's good enough for these parts, and it's also an 80 Plus Bronze certified model which means it's got decent efficiency (85%). Can't go wrong for its price; plus, we would never do you wrong and include a dodgy PSU in our build recommendations, especially considering how much importance we place on buying a good quality power supply for any type of computer that you're building. If you want to minimize excess cabling within your system to keep things as neat as possible (in other words, if you value the best cable management setup possible) then consider spending a little more on a semi-modular model such as the Corsair CX 450 linked below. And if you want a little extra power to take into account more powerful future GPU upgrades such as throwing in the fairly-power hungry RX 580 later on, consider a 500 watt unit such as EVGA's BT 500 or BQ 500 models (BQ is semi modular but a little more expensive).
Honorable Mentions:
Corsair CX 450 (450 Watts, 80+ Bronze, Semi Modular)

Another decent, budget 450 watt 80+ Bronze unit which is also semi-modular (which means less leftover cabling and a cleaner build); I'd get this if it's the same price or less than the 450 BT (if it's on sale etc).

EVGA BT 500 (500 Watts, 80+ Bronze, Non Modular)

A good value for money 500 watt unit for further future-upgrade flexibility (the BQ semi-modular model included in our current $800 build is also a good value choice), though remember that 450 watts for this $400 parts-list is easily more than enough.



Recommended Cases for a $400 PC Build
Now to the case for our current recommended $400 gaming computer, and as of Q2 2019 the Thermaltake Versa H15 is an excellent choice and is without question one of the better-quality, best-looking, overall bang for your buck cases on the market today. It has a clean, minimalist yet stylish design, good quality and durability for the price, and has the space and features you need for a basic gaming desktop like this. It's only got the one pre-built fan installed (1 x 120mm rear fan), but for this cheap $400 parts-list that's actually all the airflow you need as these parts won't produce much heat at all. Only situation where I'd buy an extra fan to install in this case would be when overclocking your AMD 2200G or if you live in a seething-hot place like Mustafar, but for an entry-level PC the one single case fan is all you need in most cases (pun intended).
One of the better overall cases in the sub 50 dollar case market that has everything you need for a cheap gaming rig and is very easy to work with for beginners
The Versa H15 is a Mini Tower size meaning it's not going to take up much room; great for those who prefer a more compact case. Overall, you'll be hard-pressed finding a better overall option in this price range, as cheap cases are usually fraught with little issues and drawbacks, but not this one and for the price it truly is hard to fault. Feel free to use any Mini or Mid Tower case for your custom setup, but this one is a very safe bet and highly recommended for cheap builds like this especially if you find it under $40 - $45. It's also perfect for your first PC build as a newbie, as it's widely reported to be user-friendly and a breeze to work with (never used it personally but we do thorough research before ever including a case, or any part for that matter, in our builds).
Honorable Mention:
Cooler Master N200 ATX Mid Tower Case
The Cooler Master N200 is another stellar cheap gaming PC case that's also quite compact, has good overall quality/durability for a budget case, and has a simple yet clean, crisp look that might be up your ally. This is the case we used in our latest photo guide to building a PC step by step, so if you choose this one then definitely see that guide for tips (although that guide is handy for building in any case). It was a very easy case to work with overall and I couldn't recommend it highly enough to a first-time builder, especially if you find it under 50 bucks.
As for cooling, which is always something to consider when building a PC (even a cheap one), the N200 comes with 2 pre-installed fans which is plenty of airflow for this particular parts-list. Plus, it has a meshed front panel which further helps airflow. Consider getting more fans if you'll be tweaking this setup further with added power (ie overclocking, faster graphics card, etc) or if you live in a real hot climate (Mustafar style) and your system gets real hot and/or loud, but the 2 strategically-situated included fans will be enough for most.
Recommended OS & Accessories
Recommended Operating System and Software
For the $400 cheap gaming PC build, or any of our suggested builds, we recommend Windows 10 64-Bit (Home or Pro edition, but Home is fine for most people especially if you're just gaming). Linux is another option but only suggested for advanced users who know what they're doing. To get Windows 10 for your custom build you have various options:
Option C: Buy Windows from Microsoft and download it to an existing computer/laptop, then put it on a flash drive, then use that flash drive when booting up your PC. 
As for other good programs to kick-off your new setup in style, if you want our thoughts on that see our guide to the best things to install on a new gaming PC which includes recommended anti-virus/malware, hardware monitoring, utility programs, etc.
Recommended Optical Drive (totally optional)
Whilst optical drives are being used less and less by PC builders due to the rise in digital media and streaming, if you still want to play DVDs, CDs, or burn DVDs/CDs (or to install the DVD edition of Windows 10 mentioned above as it's usually cheaper than the flash drive version), you'll want to get an optical drive, which this $400 custom PC build does have support for (the Thermaltake H15 case has room for 1 optical drive up top). This is the cheap yet reliable, decent-quality model we'd suggest:

Recommended Cheap Accessories
If you also need to get a monitor, input peripherals (keyboard and mouse), and a headset or speakers for audio, these are our current top picks to go along with a cheap gaming PC build like this one. See our full accessory buying guides (in the main menu up top) to see all our recommendations for these parts, including details on what to look for in a good gaming monitor, headset, mouse, and so on.
Building the $400 Custom Computer

Assembling the $400 Parts-List
See our photo-filled written guide to installing PC parts or if you prefer video see our latest video tutorial recommendations in the full guide to planning and building your first PC. If it's your very first time, there's nothing to fear as building your own computer is very simple these days, no matter whether it's a 400 dollar/euro/pound budget machine like this or a more high-end system.
When people say building a custom PC is essentially Adult Lego, that's no exaggeration, as it really is just a matter of plugging things in, connecting things, perhaps screwing a couple things in here or there, following some very basic safety procedures, and loading up some software to then follow on-screen instructions.
Conclusion
Besides taking a quick look at similar-spec prebuilt computers below to showcase just how much better it is to build your own system, this pretty much wraps up our guide to planning the best cheap custom PC build under 400 dollars based on extensive monthly analysis of the current state of the market from the perspective of a gamer looking for the most bang for buck and reliability (among other secondary factors). We hope this in-depth PC build guide serves you well as-is or as a base for your on-going build research, and either way enjoy your new system.
Lastly please note the links in this guide may be affiliate links; clicking them may earn us a small commission if you make any type of purchase and helps to support the site and the time that goes into these guides. This does not affect our recommendations in any way though. Thanks and good luck guys.

Comparing Similar Prebuilt Desktops
Let's do a quick comparison of the $400 custom gaming PC build versus the best prebuilt gaming desktops that we could find on the current market that have similar specs. We list these prebuilts here for two reasons.
Firstly, it can help you to precisely compare how much money you can save building your own system compared to buying a premade computer, as well as the higher level of component quality and reliability that you get when choosing your own parts (if you investigate all the parts of a prebuilt, more often than not the brand/model quality won't be as high as a custom build).
Secondly, if you would rather just buy a pre-made PC even if you're aware that 9 times out of 10 it'll cost you more, these are the premade systems we can recommend. We're all for DIY here at BGC, but buying a prebuilt computer 

isn't the end of the world as some people don't have the time, patience or interest to build their own despite understanding and appreciating the benefits of going DIY.
References
- AMD Ryzen B350 vs B450 Chipset Difference

- Analyzing B450 for AMD Ryzen: A Quick Look at 25+ Motherboards

- Thermaltake Versa H15 SPCC Computer Case Specifications

- EVGA 450 BT 80+ Bronze Power Supply Specifications

- Crucial Ballistix Sport LT White 8GB Kit (2 x 4GB) DDR4-2666 UDIMM Specifications & Motheboard Compatibility Checker

- AMD Ryzen 5 2400G with Radeon RX Vega 11 Graphics Specifications

- MSI B450M Bazooka V2 Micro ATX Motherboard Specifications

- Western Digital Blue 1TB Desktop PC Hard Drive Specifications
Your Feedback/Get Help 

(New)
Enjoyed the article? Give it a thumbs up above, share it with a gaming buddy who might also benefit, or let us know below in our new comments section. Some of you guys asked for one and we've obliged.
Need help? If you have a quick question or two, or you want a quick critique of your potential parts-list, post below and we'll help a brother out. If you need more in-depth guidance, we can also plan a fresh new 100% customized parts-list for your exact situation - see our Human Build Generator email help service.
Any other feedback or constructive criticism is also always more than welcome as we continue our mission to making BGC the most helpful, accurate, beginner-friendly DIY resource it can be. Hope this guide helped and good luck.
Note: You can post anonymously by clicking the "I'd rather post as a Guest" that pops up after writing your comment.