The Best Gaming PC Build Under $400:
Q4 2018 Edition (October Updated)
The Cheap Gaming PC Build: Current Recommended $400 Custom Computer for Great 720p and Playable/Decent 1080p Performance in Many Modern Games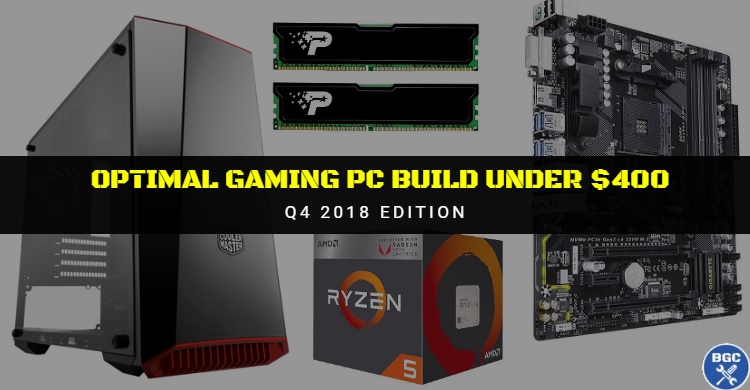 Last Updated: Oct 4, 2018
Written By: Julien "Zenakin"

Best $400 Gaming PC Build: (Quick Reference)

CPU: AMD Ryzen 5 2400G
Graphics: Integrated
Motherboard: Gigabyte GA-AB350M-DS3H
RAM: Patriot Signature 8GB 2666MHz
Hard Drive: Western Digital 1TB
Power Supply: Antec VP-450
Case: Cooler Master MasterBox Lite 3.1
The Cheap Gaming PC Build: Overview
Building a super cheap custom gaming PC and want to make the absolute most of your limited budget? Our current recommended best gaming PC build under $400 might be the type of custom setup you need. Each month we tweak this build (and all our builds) to the best of our ability to ensure it remains a great example of how to stretch $400 further to get the best performance and reliability possible for this price tier.
Spending a budget of 400 dollars wisely by choosing the current best bang for your buck gaming components on the market right now will allow you to build a fairly good system capable of excellent 720p performance and very acceptable 1080p frame rates in many modern titles (specific FPS estimates of this recommended build are included later on).

The downside to such a cheap gaming build is you have to get an integrated graphics card, meaning the graphics is included with your processor, however these days AMD provide very capable integrated solutions which means that unlike days gone by, in 2018 you can absolutely put together a very decent custom gaming computer without a dedicated graphics card (to costs considerably) and STILL be able to get good performance in many games.
Let's dive deep into the current best cheap gaming PC build under $400, including the important specs you need to know about, performance estimates, and most importantly a breakdown of why each component was chosen. We'll wrap with our top recommended peripherals and accessories that don't break the bank and would serve the $400 gaming PC build well.
Full Parts-List, Specs & Features

Best $400 Gaming PC Build (Q4 2018)


Check Price
Graphics Card
Integrated Vega RX 11 (comes with CPU)
CPU
AMD Ryzen 5 2400G (3.90 GHz, Quad Core)
CPU Cooler
Stock (comes with CPU)
Motherboard
Gigabyte GA-AB350M-DS3H (micro-ATX, DDR4)
RAM
Patriot Signature 8GB (DDR4, 2 x 4GB, 2666 MHz) **
Hard Drive
Western Digital Blue 1TB (7200 RPM, 64MB Cache)
Power Supply
Antec VP-450 (450 Watts, 80 Plus Certified)
Case
Cooler Master MasterBox Lite 3.1 (micro-ATX)

Estimated Total:


$389 - $409 (US Dollars)




(Adds Parts to Amazon Cart)


** Couldn't find same RAM on Newegg so linked to alternative model


Features Cheatsheet


Estimated Wattage (Power Draw)
32W - 150W
RAM Slots
4 (2 slots free)
Max RAM Support
64GB
CPU Overclockable?
Yes (buy a better CPU cooler if doing so)
Built-in WiFi?
No (buy adaptor: see recommended add-ons below)
Hard Drives Supported
4x SATA Drives, 1x m.2 SSD
VR-Ready?
No
Case Fans
1 x 120mm Included (rear), 2 Additional 120mm Mounts
Front Panel USB Ports
1 x 3.0, 1 x 2.0 (+ tons more on rear of case)
Optical Drive Support?
No
Multi-Monitor Support
No

Case Dimensions

17.6 x 7.5 x 15 inches (L x W x H)
Total Weight (Once Parts Installed)
~ 16.6 Pounds / 7.5 KG
Full Motherboard & Case Specs
Gigabyte GA-AB350M-DS3H Motherboard | Cooler Master Masterbox Lite 3.1 Mini Tower
Gaming Performance & 1080p Benchmarks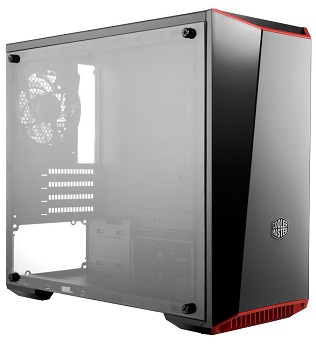 720p (1280 x 720):

900p (1600 x 900):

1080p (1920 x 1080):


1440p (2560 x 1440):

VR and 4K:

EXCELLENT

GOOD

GOOD


UNPLAYABLE


UNPLAYABLE

Now to frame-rate estimates for the best $400 gaming PC build which is what you're probably wondering about the most. After scouring the web for benchmarks and doing the painstaking research for you, the FPS ratings below is about what you can expect from the Ryzen 5 2400G with its integrated GPU when paired with 8GB of DDR4 2666MHz RAM as we've included in this recommended build.
Estimated Average Frame Rate (Ryzen 5 2400G Stock, 2x4GB 2666 MHz)

Average FPS 1080p MEDIUM Settings

CS:GO:


Overwatch:


Rocket League:

Fortnite:

DOTA 2:

PUBG:

GTA V: 

100-120 FPS


50-60 FPS


66-65 FPS


35-45 FPS

60-70 FPS

15-25 FPS

25-35 FPS
Average FPS 1080p HIGH Settings

CS:GO:


Overwatch:


Rocket League:

Fortnite:

DOTA 2:

PUBG:

GTA V:

90-110 FPS


40-50 FPS


45-55 FPS


25-35 FPS

50-60 FPS

Unplayable

20-30 FPS

Overally, this setup will get you very good 1080p performance in less-demanding titles like League of Legends and CSGO, decent performance in medium-demanding games like Overwatch, DOTA 2, Fortnite and Rocket League, but only playable performance in a small handful of the more demanding titles such as GTA V and PUBG - and only if you turn down those settings to low. For example, PUBG is only going to be playable on low settings in 1080p. Anything else and you're out of luck as it'll be too laggy to enjoy. But with this build Fortnite is totally playable on low or medium settings.
And yup, you guessed it - in 720p resolution this build will play any of the aforementioned games without issues. So if you don't mind this resolution, you can play PUBG, Fortnite, GTA V, and even the most demanding titles of all such as Witcher 3 and get good performance. But for 1080p, you're looking at only low/medium settings for playable FPS in demanding titles, but good performance with all the other games on medium/high settings.
Note On Our Estimated FPS Ratings (Disclaimer):
The performance estimates above for this build are simply an aggregated average based on carefully studying multiple online benchmark sources. Whilst we do everything we can to make these as accurate as possible, including cross-checking and using as many different reliable sources as possible, please note these are just an average estimation and there is always a chance you won't get the average FPS listed above (although you could get higher, too).
There are a few different factors that could affect your frame rate such as your particular hardware differences, software differences (OS, drivers, game patches/versions, etc), cooling/airflow of your build, specific enabled game features/settings such as Anti-Aliasing, different RAM setups you might be using, and so on. We always err on the side of being conservative with our numbers though, so we'll round things down if we need to instead of rounding up. In saying all that, the above numbers are a good place to start your research.
Full Component Breakdown
$400 PC Build: Recommended Cheap Processor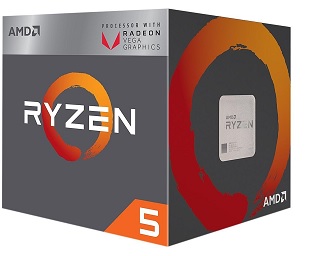 At this point in time, in this cheap price tier you've essentially got two options: either get the AMD Ryzen 5 2400G that is a combined decent CPU and graphics solution, or get a cheap Intel processor such as a G4560, G4400 or newer G5400 and pair that up with a dedicated budget-friendly graphics card such as the GT 1030.
For the best cheap gaming PC build under $400 right now, we've gone with the former. Why? AMD's latest processor/graphics combo unit, the Ryzen 3 2400G, packs serious punch for the price and whilst you obviously can't expect any crazy gaming performance, it's capable of handling 1080p in a decent manner if you don't mind turning down the settings to low/medium (depending on the game).
It's all you need for older games, and modern hits like CSGO, Overwatch, LoL, and Fortnite at smooth frame rates on medium settings in 1080p. For more demanding games like PUBG and GTA 5 you'll need to either go low settings for a decent experience, or drop down to 720p resolution if you don't mind that.
Plus, the 2400G is not only a good cheap gaming CPU GPU combo, it's a decent quad-core processor in its own right, meaning not just decent gaming performance but overall system performance for general applications and multitasking. That also means it'll last you a fair while, and will be enough processing power to continue on with should you decide to buy a dedicated graphics card down the track for better gaming performance.
$400 PC Build: Recommended Cheap Motherboard & RAM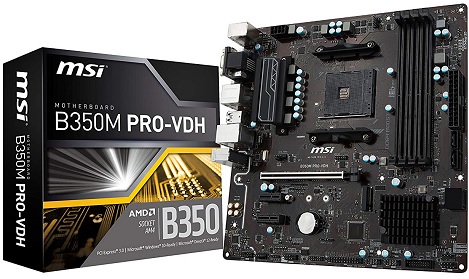 The Gigabyte GA-AB350M-DS3H is a no-frills AMD micro-ATX motherboard from a reliable motherboard manufacturer, and is all you need for a basic gaming build on a tight budget like this. Just obviously don't expect any fancy features for the price.
It's got 4 memory slots which is nice for such a cheap board though, meaning that you'll have 2 spare slots should you want to add some more memory down the track to make a total of 16GB that'll give your system a nice little longevity boost in a few years (the board supports a maximum of 64GB RAM so you're safe there).

Like all modern motherboards it comes with decent onboard sound and LAN working, but also like most motheboards it doesn't come with wireless/WiFi built-in. If you want wireless internet on your build, you will have to do what most other builders have to do as well which is get either an internal wireless network card that slots into your motherboard, or a USB dongle/adapter version if you prefer to do it that way. Either can work just as well as each other (see the Builds FAQ for more on this including our recommendations).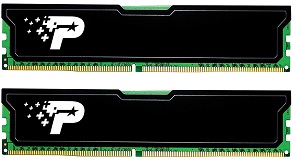 Patriot has always been a good memory manufacturer, and these Patriot modules are well-priced and at a nice 2667Mhz speed. If you're wondering, yes 2667 and 2666Mhz modules are the same thing. 8GB is the sweet spot for gaming right now and all you need for modern games now and into the future.

As mentioned above, these 2 modules only take up 2 of your 4 total RAM slots, so you have room for a RAM upgrade later should you want to upgrade to 16GB in the future. But right now in 2018, 16GB is a luxury as a gamer and only recommended for high-end gaming builds or for heavy workstation tasks (such as video editing PC builds etc). 8GB of RAM is enough to maximize performance in 1080p in the far majority of situations.
Best $400 Gaming PC Build: Recommended Hard Drive, PSU & Case
Western Digital have long been the most reliable when it comes to HDDs (short for Hard Disk Drives if you're brand new to all this stuff) and 1TB of storage is more than enough for most gamers, although feel free to include less or more storage as needed. 7200RPM is also a good speed to shoot for when getting a HDD which is what this drive runs at. Yes, Solid State Drives (SSDs) are faster than a standard HDD like this, but are more of a luxury component as their size to cost ratio is much higher and we only recommend SSDs for more expensive builds.
Antec are a reliable name in the PSU game (PSU = Power Supply Unit) and the VP-450 is a great value, decent-quality unit that'll serve the $400 build well for (hopefully) a long time. A common mistake newbies make when building a PC that you want to avoid is simply picking the cheapest no-name PSU you can find, which can bite you in the backside later on as it's always a risk when a power supply fails; worst case is it could take some or all of your other parts along to the cemetery with it! Learn more in our guide to buying a good power supply, but you can rest that this is a high-quality budget PSU that is hard to beat for the price.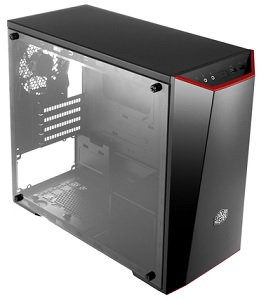 Last but not least we have a great value for money case in the MasterBox Lite 3.1 from Cooler Master, which not only looks seriously awesome for such a cheap case but doesn't lack in features either.
The see-through side panel is typically a feature reserved for more expensive cases and a real nice touch for the price, but most importantly it's a decent-quality chassis with a hybrid steel/plastic make; it's not some super-flimsy, super-questionable-quality case that is sometimes the case (pun intended) when you settle for a budget option, and it's one of the overall better bang for your buck budget cases around right now.
It's only got one pre-installed fan that it comes with, however this is literally all you need for the $400 parts-list as you're obviously not building an over-the-top beast of a system and therefore your cooling requirements are low.
Recommended Operating System & Accessories
For the $400 cheap gaming PC build we recommend Windows 10 which you can get in a handy USB/flash-drive version or a disc version if you want to make your own bootable flash drive from that (since this build doesn't have an optical drive as they're totally optional these days):
See our top value for money budget picks of these accessories in our peripheral buying guides (see the top menu) should you need to buy these new and you're not reusing old ones. Simply put, you can choose any that you like for this gaming computer build as they come down to personal preference.
Building the $400 Gaming PC & Questions/Feedback

That's it for the current best cheap gaming PC build under 400 dollars as of October 2018 (IMHO). We hope it serves you well as-is or as a base for your on-going build research. If you're putting together your first PC, fear not as it's very simple to do these days and in 2018 if you can build Lego you can build a PC no problems (see our PC installation guide for all the steps). For questions, comments or feedback leave a comment on the main best gaming PC builds page, our Facebook page, or email us and we'll help where and when we can.
About the Author
Julien "cyberjulz" is the founder of BGC and lover of all things gaming and technology. A computer programmer turned hardware enthusiast and web developer who's been keeping a close eye on the PC hardware industry since 2006, he's been an avid console and PC gamer ever since first stumbling across Warcraft 1 & Theme Park at age 7. His fav games of all time are OOT, Perfect Dark, GE007, SW Rogue Squadron, MGS2, DKC2, Starfox, WC3, HL1, HL2, C&C1, FIFA, & SWKOTOR.