Home > PC Builds > $300 Gaming PC
Plan the Best $300 Entry-Level Gaming PC Build
How to Choose Hardware Components to Build An Ultra Cheap Computer in the US, UK, Canada, or Australia for 1080p Low Settings, 720p, or Classic Games
Last Updated: May 7, 2019

CONTENTS
Current Best $300 Gaming PC Build: Recommended Q2 2019 Hardware Parts
CPU: AMD Ryzen 3 2200G 3.7GHz Quad Core
CPU Cooler: Stock (comes with CPU)
Graphics: Vega RX8 (integrated in CPU)
Motherboard: 

Asus Prime B450M-A/CSM (mATX)
RAM: Patriot Viper Elite 1x8GB DDR4 (2666MHz)
Hard Drive: Western Digital 1TB (7200RPM)
Power Supply: EVGA 450 BT (80+ Bronze)
Case: Rosewill FBM-05 Mini Tower (mATX, mITX)
The Entry-Level PC Build: Overview
300 dollars goes a surprisingly long way when you know how to carefully pick the best bang for your buck gaming parts on the market like the PC ninja you are (or are about to become after reading this guide)
If you're on a super tight budget and looking to put together the best gaming PC build under $300, despite what anyone may tell you, whilst you obviously can't build a beast system capable of super smooth gaming performance on high graphical settings, by wisely choosing a cheap list of parts you can indeed assemble a very respectable, decent-quality, and surprisingly reliable custom computer for around 300 dollars (US dollars; a little under 300 pounds/euros for UK builders and a bit more for readers in Canada or Australia) that is also fairly future-proof in terms of being able to easily upgrade it later on with a graphics card, more RAM, and even a better AMD CPU (the AM4 socket type is quite flexible).
This fairly small and compact entry-level $300 gaming PC build is capable of playable 1080p gaming performance if you don't mind turning down the in-game graphics settings to low or medium, and if you're looking for the absolute cheapest PC build in 2019 to play popular lesser-demanding games like Fortnite, League of Legends, Overwatch, DOTA2, CSGO, etc - then this type of entry-level custom PC build may be all the power you really need. 
Also, if you turn down your gaming resolution to 720p instead of 1080p, this PC build will really shine. Same goes for playing old PC classics, most indie games, and many emulators. Let's cut the small talk and get into all the details of the entry level gaming computer for mid 2019. As with all our recommended gaming PC builds, we hope this guide helps whether you run with this exact parts-list as is for your first custom PC, or as a base for your ongoing hardware research. Good luck, gamer.
See Also: Recommended $400 Gaming PC Build
Parts-List for US, Canada, UK & Australia

Best Gaming PC Build Under 300 Dollars/Pounds/Euros


Check Price
Graphics Card
Integrated (comes with CPU)
CPU
AMD Ryzen 3 2200G (3.70 GHz, Quad Core, Ryzen 2nd Gen "Raven Ridge")


&nbsp&nbsp

&nbsp&nbsp
CPU Cooler
Stock (again, comes with CPU. CPU also makes your morning toast)
Motherboard
Asus Prime B450M-A/CSM (Micro-ATX, 4 x DDR4 RAM Slots)

&nbsp&nbsp

&nbsp&nbsp
RAM
Patriot Viper Elite Series 8GB (DDR4, 1x8GB, 2666MHz)


&nbsp&nbsp

&nbsp&nbsp
Hard Drive
Western Digital Blue 1TB (7200 RPM, 64MB Cache)


&nbsp&nbsp

&nbsp&nbsp
Power Supply
EVGA 450 BT (450 Watts, 80+ Bronze, Non Modular)


&nbsp&nbsp

&nbsp&nbsp
Case
Rosewill FBM-05 (Mini Tower, USB 3.0, mATX or mITX Motherboards)


&nbsp&nbsp

&nbsp&nbsp

Estimated Total:


$300 - $330 (US Dollars)






(Adds All Parts to Your Amazon Cart in 1 Click)


Notable Features Cheatsheet


Wattage (Power Draw)
90W
RAM Slots
4 (3 slots free)
Max RAM Support
64GB
CPU Overclockable?
Yes
Built-in WiFi?
No (get wireless desktop adapter)
Hard Drives Supported
4 x SATA3 Drives (HDD or SSD), 1 x m.2 SSD
VR-Ready?
Bruh... give it a miss
Case Fans
1 x 120mm Included (front), 1 x 80mm Included (rear)
Front Panel USB Ports
1 x 3.0, 2 x 2.0
Optical Drive Support?
Yes (2 x 5.25" Drive Bays)
Multi-Monitor Support
Triple Monitor Support
Case Dimensions
14.96 x 13.86 x 6.89 inches
Full Mobo & Case Specs
ASUS Prime B450M-A/CSM | Rosewill FBM-05
Heads-Up for Builders Outside the USA
Building the $300 Gaming PC for Australia, UK or Canada? 
The parts-list above is primarily based on the US market, but will usually also be the exact same parts we recommend for these countries too (hardware is an international game). However, if one of the main component recommendations above is either overpriced or unavailable in Canada, UK, or Australia, we'll substitute that particular part for another more suitable model for that country (that's still 100% compatible of course). We do our best with each monthly update to tailor our builds for each country individually to help you get the most bang for your buck in your corner of the world.
Performance & 1080p Benchmarks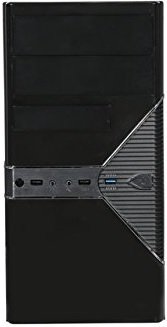 Performance Overview:

720p (1280 x 720):

1080p (1920 x 1080):


1440p (2560 x 1440):

VR and 4K:

GOOD


AVERAGE

UNPLAYABLE

JUST..DON'T.
Confused? The above is the average expected performance of this parts-list at different resolutions and refresh-rates when playing a typical, graphically-demanding modern PC game on high/ultra/maxed settings. If you're not sure what refresh-rate your gaming monitor is, chances are it's a standard 60Hz screen. Learn more here: what is the best refresh rate for PC gaming.
Now to what many of you will care about - can you really build a gaming PC for less than $300 and play modern AAA games? What sort of performance can you expect from this entry-level desktop build, and what specific frame rates will you get with the integrated graphics of the AMD Ryzen 3 2200G processor (on stock settings; not overclocked) when paired up with an 8GB stick of 2666Mhz RAM which is all we could fit in a 300 dollar/euro/pound budget.
Overall, the $300 entry-level rig will give you decent, playable performance in 1080p on low/medium settings when running less-demanding titles such as League of Legends, Fortnite, Overwatch and CSGO. With more demanding games like PlayerUnknown's Battlegrounds, Assassins Creed Odyssey, Battlefront 2, GTA V and so on you'll need a more powerful system for sure such as the best $400 gaming PC build or the next tier up from that (the $500 gaming PC build), especially if you want to play in 1080p and don't want to drop down to 720p resolution. Ok, let's get into the 1080p gaming benchmarks for the AMD Ryzen 3 2200G and 8GB of 2666/2667 MHz RAM (they're the same thing for anyone wondering) based on our research from around the web.
Estimated Average FPS for 1080p (Ryzen 3 2200G, 1x8GB 2666MHz)
1080p LOW Settings:
League of Legends:

CS:GO:

Overwatch:


Rocket League:

Fortnite:

DOTA 2:

Minecraft:

100-120 FPS

45-65 FPS

50-70 FPS


50-70 FPS


35-55 FPS

60-78 FPS

45-65 FPS
1080p MEDIUM Settings:
League of Legends:

CS:GO:

Overwatch:


Rocket League:

Fortnite:

DOTA 2:

Minecraft:

85-105 FPS

40-60 FPS


45-65 FPS


35-55 FPS


25-45 FPS


50-70 FPS


45-65 FPS
Side Note on Our FPS Estimates
The average FPS (Frames Per Second) ratings are an aggregated estimation based on carefully studying multiple online benchmark sources. Note these are averages, meaning that in the most action-packed scenes the frame-rate will go lower. For example, if we list the Witcher 3 average as 50-60FPS, your FPS may drop to 30-40FPS in the most intense scenes, so take that into account in your build planning.

Whilst we do everything we can to make these as accurate as possible, please note there's no guarantee you'll get this exact average as there are different factors that could affect your frame rate such as other hardware differences, software differences (OS, drivers, game patches/versions, etc), cooling/airflow of your build, enabled game features/settings such as Anti-Aliasing, different RAM setups you might be using, and so on. We always err on the side of being conservative with our numbers though, so we'll round things down if we need to instead of rounding up, so you can rest assured our averages are pretty safe bets in terms of what performance you can expect from a certain setup.
Confused About Frame Rates & Game Settings?
What's the Best Frame Rate for PC Gaming?
Not too shabby for an ultra cheap budget of 300 dollars, right? For example, if you're just playing League of Legends or a game of similar performance requirements, this setup will dominate and is all the gaming power you need. It's also fine for plenty of other games assuming you don't mind turning down those graphics settings to low or medium depending on the game. And yes, these estimates are only for 1080p, so if you're willing to play in 720p resolution you'll get much better performance than the above. These parts also work great for most indie games and emulators, too (though check the requirements of course as some indie titles can be demanding).
Component Breakdown & Honorable Mentions
Recommended CPU for a $300 Gaming PC Build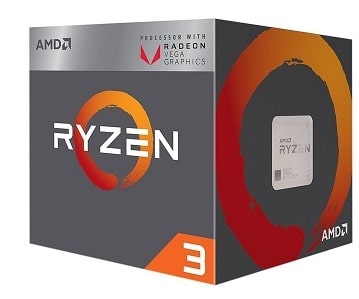 When building a budget computer for gaming around $250 - $350, the Ryzen 3 2200G APU is a no-brainer and great bang for the buck
The Ryzen 2200G stays as the best overall value choice for a gaming PC build under $300, and we can't see that changing anytime soon. The 2200G is not only a very decent quad core CPU in its own right, which allows for very capable general/multitasking performance for a while to come, but includes integrated graphics (codenamed Vega) which blow previous integrated graphics solutions out of the water.
For beginners, integrated graphics (technically referred to as iGPUs or APUS) means you don't need a graphics card as its included with the CPU, and in the past they really were to be avoided if you wanted any sort of respectable gaming performance, even in the lower-end/entry-level side of things.
However, these new APUs (AMD Accelerated Processing Unit), namely the 2200G and bigger brother 2400G (included in our next suggested $400 gaming PC build) have changed that and they both provide very decent graphics performance suitable for modern gaming, and good enough to be included in our recommended cheap/budget/entry-level builds from now on.
Ryzen 3 2200G Gaming Performance
Simply put, on a strict budget of around 300 bucks for a new gaming PC build, the Ryzen 3 2200G is a no-brainer, with this 4-core chip clocking in at a very respectable 3.7GHz and delivering excellent value for money graphics, and the 2400G is also an excellent bang for your buck option too.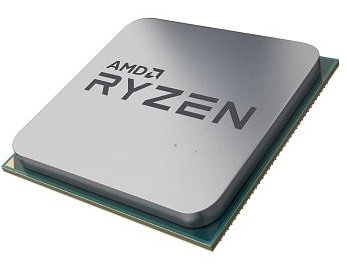 The latest AMD Ryzen 2200G and 2400G budget CPUs have the best integrated graphics performance we've seen so far as builders
With a Ryzen 3 2200G and its integrated "RX Vega 8" graphics you can expect performance roughly on par with a GT 1030 graphics card if it were paired with a budget CPU. That means real good 720p resolution performance in modern titles and playable/decent 1080p (full HD) on low/medium settings (depending on the game).
It's perfect for older and less-demanding games as well, including many popular eSports, so if you're say building a PC for League of Legends or Dota 2/CSGO/Overwatch, you're good to go with this setup for very decent performance in 1080p (low - medium settings for ideal performance) and excellent frame-rates in 720p.
The Ryzen 3 2200G is also a great option if you want to put together a system now for as cheap as possible, and get a dedicated graphics card later down the track to bolster your 1080p performance further when you save up some more coin, whilst still having a good base to work with in the meantime. The Ryzen AM4 platform is flexible and you could even upgrade to a better Ryzen CPU later on as well.
You also don't need a CPU cooler for this build as the 2200G comes with its own stock cooler, a Wraith Stealth Cooler, which is of quite decent quality and all you need especially if you won't be overclocking this little build. Speaking of overclocking your AMD CPU, the 2200G is unlocked meaning that you can go ahead and squeeze out a little faster performance by doing a little tweaking around should you want to go down that route.
Not generally recommended for first-time builders, but these days overclocking a CPU (or GPU) is quite straightforward to do so don't rule it out even if you're a fairly inexperienced gamer as you can get a little extra performance for very little effort (and no extra money). You could still use the stock cooler for that if you wanted and you're not pushing the chip too far, but it's recommended to get an even better aftermarket CPU cooler if you do end up overclocking.
Recommended Motherboards for a $300 Gaming PC
For an entry-level Ryzen 2200G gaming PC build, you have a few options in terms of choosing a motherboard. You could go for the older A320 or B350 form factor motherboards, which were released for the Ryzen 1 series (we're now at Ryzen 2nd edition models), as these boards will still support these newer 2nd gen Ryzen CPUs with a BIOS update (which should already be done by the manufacturer before they ship the board out to you).
Or you could just get the latest and greatest B450 platform, which is what we've done here for the $300 build, as the price difference right now isn't much if anything between the older B350 boards and new B450 models. The Asus Prime B450M is a one of the current best bang for your buck models in early 2019 and despite being a very affordable, fairly basic board, it comes with everything you need for an entry level gaming PC build like this and Asus is well known as one of the most reliable motherboard manufacturers in the modern hardware game. No WiFi is included on this board (most boards don't) so you'll need to buy an internal or external wireless adapter if you want WiFi for this setup.
Honorable Mention:

Gigabyte B450M DS3H MicroATX AM4 Motherboard



Recommended Hard Drive for a $300 Gaming PC Build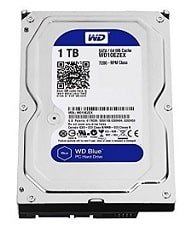 For the current best gaming PC build under $300 we haven't sacrificed on storage because it's quite affordable to get a nicely-sized 1TB hard drive, and also because of the stellar value of the Ryzen 2200G which frees up the rest of your 300 dollar budget for some decent components. Of course, if you don't need a big 1TB drive, then by all means go for a smaller one to cut costs to either save your money or put that towards something else such as your peripherals (or RAM).
As for the specific HDD (Hard Disk Drive if you're a curious noob) - we've selected Western Digital which is the best in terms of overall reliability and speed for the money, although Seagate is a close second in our opinion so feel free to opt for them if you prefer. It should go without saying though that a Solid State Drive (SSD) doesn't represent enough value for money to be included in such a tight-budget build, but of course feel free to include one if you really want to as it'll slot into this parts-list without issues.
Recommended Cases for a $300 Gaming PC Build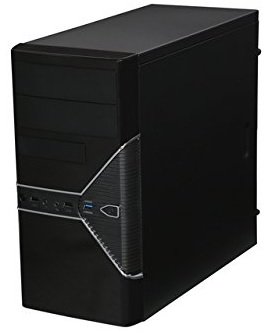 Wallet-friendly yet decent case that gets the job done and is beginner-friendly
Rosewill have catered really well to budget builders over the years with their excellent value cheap case options, and as of 2019 nothing really has changed in that regard with their entry-level gaming PC cases still well worthy of consideration if all you need is a basic setup. Specifically, the FBM-05 model is one of the better picks among the ultra-budget crowd of cases out there and easily one of the best bang for your buck options for a mini entry level gaming rig like this when you're looking to cut costs as much as humanly possible. Obviously don't expect too much from it, but it gets the job done for a standard gaming build and really doesn't look too shabby either with a simplistic yet clean design.
For such a cheap case the USB 3.0 support is nice (only 1 3.0 port on the front of the case though), as well as 2 built-in case fans (one 80mm and one 120mm) to provide more than enough cooling for the 300 dollar custom build. For under 30 bucks or so, you can't go wrong with this one, and it's also easy to work with as a fresh-faced beginner first-time PC builder. Feel free to pick a different case as pretty much any model out there is going to fit these entry-level PC parts no problem. A decent alternative around the same really low price that we can give the nod ahead for this build would be Rosewill's FBM-X1.
Honorable Mention:
Rosewill FBM-X1 Mini Tower Gaming Case
Recommended Power Supplies for a $300 Gaming PC
Last but certainly not least is the PSU (Power Supply Unit for the complete computer beginners: no judgin' as we've all been there ;p), which isn't something you should skimp too much on, even on a super-tight PC building budget of around $300. Meaning, don't simply try and find the cheapest model you can get your hands on without looking into whether it's an actually alright unit with decent reliability. It could be a costly mistake to buy a crazy cheap no-name PSU just 'cause it's at the lowest possible price with the logic that it's "just a power supply and so what does it matter".
For an entry-level rig around 300 bucks, that could mean being tempted by some 20-30 dollar unit from some unknown company, just for the sake of saving 10-30 bucks...don't do it. Whilst components like your graphics and CPU are overall the most important parts of a custom gaming build in terms of what performance you'll get, what's also important is the fact that a desktop computer is kinda only as strong as its weakest link, and a bad PSU can become a big problem down the track if it fails and potentially damages your other precious parts at the same time during its selfish departure from this Earth.
Therefore, you always want to choose a good PSU that is at least of decent quality and reliability so there's less chance of this sort of thing happening. This doesn't mean you need to spend a lot on a top of the range power supply for a cheap $300 computer like this, but make sure to consciously choose your PSU instead of just haphazardly picking the cheapest-looking model you find. To reliably power all the components of this edition of the $300 parts-list for gaming, we've gone for the 450 BT from ever-reliable EVGA which is a decent quality unit at an affordable price. It's also 80 Plus Bronze rated, which means 85% efficiency, which is a good feature to have in a budget PSU.
As for power requirements for this parts-list, 450 watts is way more than we actually need though it gives you a ton of flexibility for the future should you wish to add a discrete graphics card at a later date. For example, a common upgrade path for this $300 PC build would be to buy an affordable RX 570 4GB/8GB graphics card later on to boost gaming performance once you have more money to invest in your rig, and doing so would be just fine with a 450 watt power supply like the EVGA BT.
Honorable Mentions:
Corsair CX 450 (450 Watts, 80+ Bronze, Semi Modular)

Another decent, budget 450 watt 80+ Bronze unit which is also semi-modular (which means less leftover cabling and a cleaner build); I'd get this if it's the same price or less than the 450 BT (if it's on sale etc).

EVGA BT 500 (500 Watts, 80+ Bronze, Non Modular)

Get a decent, affordable 500 watt unit instead if you'll be planning to add a more powerful graphics card than the RX 570 later on (such as the more power hungry RX 580). This is the non-modular version which tends to be cheaper, but if you care about minimizing excess cabling in your build as much as possible then consider the semi-modular "BQ" model from EVGA which we include in our higher-tier PC builds such as our high-end 1080p ultra gaming PC build.




Recommended OS & Accessories
Recommended Operating System
For the $300 entry-level gaming PC build, or any of our suggested gaming builds for that matter, we recommend Windows 10 64-Bit (Home or Pro) to the far majority of gamers. Linux is only suggested for advanced users who know what they're doing and exactly why they're opting for Linux over Windows. As for buying Windows 10 for your new entry-level gaming rig, you have various options to go about this:
Option C: Buy Windows from Microsoft and download it to an existing computer/laptop, then put it on a flash drive, then use that flash drive when booting up your PC. 
Recommended Optical Drive (optional)
The Rosewill FBM-05 case included in the current $300 entry level custom computer build does indeed have the option for an optical drive to be installed (it has 2 x 5.25 inch drive bays). So if you want to get one for your setup to play DVDs, CDs, or burn DVDs/CDs (or to install the DVD edition of Windows 10 mentioned above as it's usually cheaper than the flash drive version), this is the cheap yet reliable optical drive we'd use for this build:
Recommended Entry-Level Monitors and Headsets/Speakers
Your $300 gaming PC build isn't going to be of much use without a screen or some audio capability, and these are the cheap entry-level options we'd include for this setup if you don't already have a monitor or headset laying around from a previous build. See our gaming monitor, gaming headset, and gaming speakers guides for all our current top picks of these accessories for all price ranges.
Recommended Entry-Level Keyboard and Mouse
For an entry-level gaming PC build, your aim is to cut costs as much as humanly possible, and this naturally extends to your peripheral choices too should you need to buy these new. We recommend the super cheap yet decent Logitech MK120 Keyboard and Mouse Combo Bundle, or the below separate keyboard and mice on a budget. If you're using this entry-level PC build for eSports and competitive gaming and want the most accuracy, control, and comfort possible then you'll want to spend a bit more on a proper gaming mouse and maybe even a gaming keyboard too with macro keys etc.
Building the $300 Custom Computer
Ready to assemble the $300 parts? 
See our photo-filled written guide to installing PC parts or if you prefer video see our latest video tutorial recommendations in the full guide to planning and building your first PC. If it's your very first time, there's nothing to fear as building your own computer is very simple these days, no matter whether it's a 300 dollar budget machine like this or a more high-end system.
When people say building a custom PC is essentially Adult Lego, that's no exaggeration, as it really is just a matter of plugging things in, connecting things, perhaps screwing a couple things in here or there, following some very basic safety procedures, and loading up some software to then follow on-screen instructions.
Conclusion
This wraps up our indepth breakdown of the best gaming PC build under 300 dollars IMHO (or 300 euros/pounds for UK builders and a bit higher for readers in Canada and Australia) which will suit those who don't have high gaming demands, or if you're simply really strapped for cash and want to build a decent base that you can upgrade later on with say a dedicated graphics card, more RAM, and even a better AMD CPU (the AM4 CPU socket is quite flexible). 
So, to summarize once last time, can you really build a good gaming PC for less than 300 dollars and is it worth it? Yes - assuming you know what you'll be using it for, and what your limitations in performance will be. As with all our monthly gaming desktop builds, all of the above component and accessory recommendations are based on a combination of extensive, objective research and analysis of the current hardware market as well as our own subjective opinion based on over a decade of helping gamers to make smarter purchase decisions.
We hope this in-depth PC build guide has helped make things a bit easier in your research and with choosing cheap yet good parts. Lastly please note the links in this guide may be affiliate links; clicking them may earn us a small commission if you make any type of purchase and helps to support the site and the time that goes into these guides. This does not affect our recommendations in any way though. Thanks and good luck guys.
Comparing Similar Prebuilt Desktops
Let's do a quick comparison of the $300 custom gaming PC build versus the best prebuilt gaming desktops that we could find on the current market that have similar specs. We list these prebuilts here for two reasons.
Firstly, it can help you to precisely compare how much money you can save building your own system compared to buying a premade computer, as well as the higher level of component quality and reliability that you get when choosing your own parts (if you investigate all the parts of a prebuilt, more often than not the brand/model quality won't be as high as a custom build).
Secondly, if you would rather just buy a pre-made PC even if you're aware that 9 times out of 10 it'll cost you more, these are the premade systems we can recommend. We're all for DIY here at BGC, but buying a prebuilt computer 

isn't the end of the world as some people don't have the time, patience or interest to build their own despite understanding and appreciating the benefits of going DIY.
Next Tier: Current Best Gaming PC Build Under $400
References
- ASUS Prime B450M-A/CSM Micro ATX Motherboard Specifications
- Rosewill FBM-05 Mini Tower Computer Case Specifications
- Western Digital Blue 1TB 7200RPM Desktop Hard Drive Specifications
- EVGA 450 BT 80 Plus Bronze Power Supply Specifications
- AMD Ryzen 3 2200G APU Specifications
Your Feedback/Get Help 

(New)
Enjoyed the article? Give it a thumbs up above, share it with a gaming buddy who might also benefit, or let us know below in our new comments section. Some of you guys asked for one and we've obliged.
Need help? If you have a quick question or two, or you want a quick critique of your potential parts-list, post below and we'll help a brother out. If you need more in-depth guidance, we can also plan a fresh new 100% customized parts-list for your exact situation - see our Human Build Generator email help service.
Any other feedback or constructive criticism is also always more than welcome as we continue our mission to making BGC the most helpful, accurate, beginner-friendly DIY resource it can be. Hope this guide helped and good luck.
Note: You can post anonymously by clicking the "I'd rather post as a Guest" that pops up after writing your comment.