Home > PC Builds > $300 Gaming PC
Plan the Best $300 Gaming PC Build
Top Value PC Components for Solid Entry-Level 1080p Gaming
Guide to Strategically Choosing Ultra-Affordable Components to Build a Reliable Entry-Level 1080p Gaming PC for Decent Performance in Many Popular Games & eSports
Last Updated: Aug 2, 2019
CONTENTS
Current Best $300 Gaming PC Build: Recommended Q3 2019 Hardware Parts
CPU: AMD Ryzen 3 2200G 3.7GHz (Quad Core)
CPU Cooler: Stock (comes with CPU)
Graphics: Vega RX8 (integrated in CPU)
Motherboard: 

Asus Prime B450M-A/CSM (mATX)
RAM: 

Crucial Ballistix Sport LT 2x4GB (2666MHz)
Hard Drive: Western Digital 1TB (7200RPM)
Power Supply: EVGA 450 BT (80+ Bronze)
Case: Rosewill FBM-05 Mini Tower (mATX, mITX)
The Entry-Level $300 Gaming PC: Overview
$300 goes a surprisingly long way as a budget gamer thanks to AMD's ultra value APUs (CPU & GPU combo)
On a super tight budget and looking to assemble the cheapest eSports gaming PC build for under 300 dollars? Despite what any spoilt (or hard-working) high-spec gamer may tell you, while you obviously can't build a beast capable of great performance on high settings in demanding AAA games at this entry-level price tier, a building a $300 gaming PC can go a surprisingly long way if you're only playing less-demanding titles (including many popular eSports which are highly optimized for low-spec setups).
Performance needs vary greatly from gamer to gamer, so if all you need is decently smooth performance in games like Fortnite, League of Legends, Overwatch, DOTA2, CSGO, Minecraft, Rocket League, and any older games (or retro/emulator/indie titles) - AND you don't mind turning down the graphics settings if gaming in 1080p (full HD) - this $300 gaming PC build guide is for you and may be all the power you need. Besides being a good entry-level 1080p gaming desktop, if you also turn down your gaming resolution to 900p/720p, a custom $300 gaming PC like this will shine even more brightly. 
By carefully picking out the current top value, bang for buck PC components on the market right now, which is what this $300 build guide will explain in detail, and basing your system around a very respectable budget AMD APU like the Ryzen 3 2200G (or recently-released Ryzen 3 3200G; more on that later) along with well thought-out cast of decent-quality and reliable supporting components, for only 300 bucks you can indeed assemble a surprisingly-good ultra budget gaming computer that's quite flexible overall (as "future-proofed" as you can get for such a dirt cheap PC).
Keep in mind that's 300 US dollars, so it'll come in a bit under 300 pounds/euros for UK/Europe builders, and a bit more for our friendly folks in Canada and Australia. Plus, building an entry-level custom PC for 1080p gaming will not just give you decent frame rates in many currently popular titles and eSports, but it doesn't limit you for the future and you can easily add a graphics card later on when you save some money to really boost performance, or upgrade to another 8GB of 2666MHz RAM to make a formidable overall PC. Our careful combination of part selections also allows you to upgrade to a better CPU later on if you like for even further performance.
As with all our recommended gaming PC builds we publish, our picks are based on a combination of extensive, objective research and analysis of the current market, blended with our own subjective opinion based on over a decade helping gamers make smarter purchase decisions. But despite the painstaking hours and careful thought put into all our gaming PC build guides for beginners, always remember to do your own research to ensure you buy the right parts for your specific situation (everyone has different needs). Anyway, hope this guide helps in your research for the ultimate affordable new gaming PC, and leave a comment at the end if you have a question or to share your own opinion on what makes the best $300 build for gaming right now in Q3 2019.

See Also: Current Top Recommended $400 Gaming PC Build
Full Parts-List and Specs Cheatsheet

Recommended $300 Gaming PC Build (August 2019)



Full Specs


Graphics Card
Vega 8 Integrated (comes with CPU)
-
CPU
AMD Ryzen 3 2200G (3.70 GHz, Quad Core, 2nd Gen)
AMD
CPU Cooler
Stock (comes with CPU)
-
Motherboard
ASUS Prime B450M-A/CSM (microATX, 4 x DDR4 Slots, USB3)
ASUS
RAM
Crucial Ballistix Sport LT 8GB (2x4GB, 2666MHz, DDR4)
Crucial
Hard Drive
Western Digital Blue 1TB (7200 RPM, 64MB Cache)
WD
Power Supply
EVGA 450 BT (450 Watts, 80+ Bronze, Non Modular)
EVGA
Case
Rosewill FBM-05 (Mini Tower, USB 3.0, mATX/mITX)
Rosewill



Estimated Total: $300 - $330 (US Dollars)






(Adds All Parts to Cart on Amazon, Our #1 Recommended Store. USA Only)



Notable Build Features Cheatsheet


CPU Series/Architecture
2nd Gen Ryzen (Zen+)
Estimated Wattage
~ 90W
RAM Slots
4 (2 slots free)
Max RAM Support
64GB
CPU Overclockable?
Yes
Built-in WiFi?
No (get wireless desktop adapter)
Hard Drives Supported
4 x SATA3 Drives (HDD or SSD), 1 x m.2 SSD
VR-Ready?
Bruh...come on now
Case Fans
1 x 120mm Included (front), 1 x 80mm Included (rear)
Front Panel USB Ports
1 x 3.0, 2 x 2.0
Optical Drive Support?
Yes (2 x 5.25" Drive Bays)
Multi-Monitor Support
Triple Monitor Support
Case Dimensions
14.96 x 13.86 x 6.89 inches
Performance & 1080p Gaming Benchmarks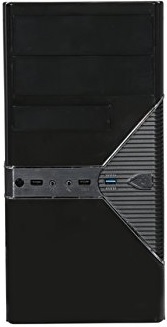 Gaming Performance Overview:
(Demanding AAA Games, High/Ultra Settings)

720p (1280 x 720):

1080p (1920 x 1080):


1440p (2560 x 1440):

VR and 4K:

GOOD


AVERAGE

UNPLAYABLE

JUST...DON'T
The above is the average expected performance of the $300 parts-list at different resolutions when playing graphically-demanding modern AAA titles on high/ultra/maxed settings. Don't be put off if you're playing less-demanding games and/or playing on lower settings, as you'll get better performance (sometimes much better).
Can you really build a $300 gaming PC for 1080p gaming? Our frame rate estimates below will answer that for you, as it depends on the games you play (and your resolution and settings). Don't be too put off by our "average" rating above for 1080p performance if you don't have high needs as a gamer, as it's our general rating for demanding AAA games on high/ultra settings), because as mentioned earlier you might not even need much firepower for the games that you play, especially if you're okay with dialling back the graphics settings in the more medium-demanding games.
Playing on low or medium settings is a trade-off you gotta make as an ultra budget gamer, but for many titles gaming on lower settings won't affect your experience as the gameplay is what matters most. For highly-demanding modern games though, the truth is you would need to spend more on your build, as for example you can't play PUBG on this setup. Let's look at what specific frame rates you can expect with the parts we've included in our recommended $300 entry level gaming rig, which uses the integrated graphics of the AMD Ryzen 3 2200G processor (on stock settings; not overclocked) and a dual channel 8GB at 2666Mhz RAM which is the best value configuration (IMHO) we could fit in our target $300 budget (learn why we chose the 2200G over the 3200G in the parts breakdown later).
Estimated Average FPS for 1080p (R3 2200G, Dual Channel 8GB 2666MHz)

1080p LOW Settings:
League of Legends:

CS:GO:

Overwatch:


Rocket League:

Fortnite:

DOTA 2:

Minecraft:

110-140 FPS

50-70 FPS

55-75 FPS


55-75 FPS


40-60 FPS

65-85 FPS

50-70 FPS
1080p MEDIUM Settings:
League of Legends:

CS:GO:

Overwatch:


Rocket League:

Fortnite:

DOTA 2:

Minecraft:

90-120 FPS

45-65 FPS


50-70 FPS


40-60 FPS


30-50 FPS


55-75 FPS


55-75 FPS
Really not bad FPS numbers there for such an ultra cheap 300 dollar computer. For example, if you're just playing League of Legends you'll get excellent performance of around 100FPS or higher on low or medium settings. With Dota 2 you'll get around 60FPS on medium settings too. Not too shabby at all. The R3 2200G with integrated graphics is also just fine for plenty of other popular games including Fortnite, assuming you don't mind turning down those graphics settings to low or medium (depending on the game) which doesn't affect the fun for most people (gameplay is always what matters most in many games).
Speaking of Fortnite, on medium settings we've estimated around 30-50FPS, which is more than playable. Crank down to low settings and you'll average around 50FPS for a nicely smooth experience. With more demanding games like PlayerUnknown's Battlegrounds, Apex Legends, Assassins Creed Odyssey, Battlefront 2, GTA V, and so on, reality does strike back though and you'll definitely be needing a more powerful system such as a $400 gaming PC build or a $500 gaming PC build. But overall, for a $300 gaming PC build, these numbers are objectively impressive and its all thanks to AMD and their breakthrough integrated GPUs like the 2200G and 2400G which are amazing overall value.
Average FPS Disclaimer

The average FPS (Frames Per Second) ratings are an aggregated estimation based on carefully studying multiple online benchmark sources. Note these are averages, meaning that in the most action-packed scenes the frame-rate will go lower. For example, if we list the Witcher 3 average as 50-60FPS, your FPS may drop to 30-40FPS in the most intense scenes, so take that into account in your build planning. But while we do a lot of benchmark research to bring to you the most accurate FPS estimates possible, and we do lean towards being conservative in the numbers (we'll round the numbers down if we're in doubt), please note we can't 100% guarantee you'll get these average frame rates listed as there are different factors that could affect your performance.
These variables include hardware differences, software differences (OS, drivers, game patches/versions), cooling/airflow of your build (and how hot your specific system may be running, enabled game features/settings such as Anti-Aliasing, different RAM setups/speeds you might be running, and so on. Overall though, you can rest assured our averages are pretty safe ballpark estimates though, assuming we didn't mess up in our research (if you think we did then do let us know to help us keep the builds as helpful as possible for the next reader- much appreciated in advance). We recommend doing your own research if performance in a certain game is important to you.
Parts Breakdown & Honorable Mentions
Recommended CPUs for a $300 Gaming PC Build
Top Pick: AMD Ryzen 3 2200G

Honorable Mention: AMD Ryzen 3 3200G *Read Disclaimer Below*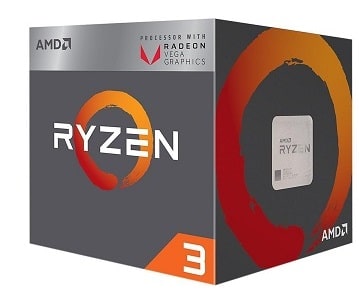 With a limited budget of $300, a Ryzen 3 with integrated graphics is a no-brainer and great bang for the buck
Despite the 3rd-gen 3200G having just been released, the 2nd-gen Ryzen 2200G stays as our top entry-level gaming CPU selection for gamers. Why? We'll get to that, but let's explain what the 2200G brings to the table first, and why it's such a great value for money buy when on a really tight budget. The 2200G is not only a very decent quad core CPU in its own right, which allows for good general/multitasking performance considering its price, but it includes integrated graphics (specifically Vega 8) which blow previous integrated graphics solutions out of the water.
For beginners, AMD's integrated graphics (called an APU, or iGPU for Intel CPUs) means you don't need to spend the money on buying a separate graphics card. In the past, APUs/iGPUs didn't provide enough oomph for entry-level gamers looking for respectable gaming performance in popular games. But AMD changed the landscape in recent years with their groundbreaking new APUs which opened up very decent 1080p gaming performance, meaning gamers on low budgets could save a stack of money by not needing to buy a graphics card for respectable performance in modern games.
Ryzen 3 2200G: Super Bang for Budget Buck

Simply put, with a total PC build budget of around 300 bucks as a gamer, the Ryzen 3 2200G is a clear winner. This 4-core chip clocks in at a respectable 3.7GHz and delivers integrated graphics performance roughly on par with a GT 1030 graphics card (if it were paired with a budget CPU). That means real good 720p resolution performance in modern titles, but most importantly you'll get a smooth 1080p gaming experience on low/medium settings in many games as explained in the FPS estimates earlier in this build guide.
The Ryzen 3 2200G is also a decent option to consider if you want to put together a system now for as cheap as possible, and get a dedicated graphics card later down the track to bolster your 1080p performance further when you save up some more coin.
You also don't need to buy a CPU cooler as the 2200G comes with its own stock cooler, a Wraith Stealth Cooler, which is all you need especially if you won't be overclocking. Speaking of overclocking your AMD CPU, the 2200G is unlocked meaning that you can go ahead and squeeze out a little faster performance by doing a little tweaking around (should you want to go down that route).
Not generally recommended for first-time builders, but these days overclocking a CPU (or GPU) is quite straightforward to do and can net you a little extra performance for very little effort (and no extra money). At the budget level, an extra 5-10 FPS can make a noticeable difference in smoothness. You could still use the stock cooler for overclocking a 2200G if you wanted, assuming you're not pushing the chip to an extreme, but if you do end up overclocking it's best to rock a slightly better cooler if you want to be extra safe.
Why the 2200G Remains Our Top Pick
Those reading who aren't completely new to the hardware world will know AMD have just released the new and refreshed bigger brother to the 2200G, the 3200G, which offers slightly better performance for a slightly higher price tag. So why have we stuck with the 2200G for our example $300 build for August? Here's the deal: if you're building a new system from scratch (ie not upgrading) and you're a beginner, the 2200G is the better buy right now for most people building a new PC IMHO.
Why? Since the 3200G release last month, the 2200G is now even cheaper (at least in the USA), and you're not getting a huge improvement in performance with the 3200G as it's essentially an overclocked 2200G in a sense as the 3200G is actually still based on the 2nd-gen Zen+ architecture (and not the new Zen 2 architecture like the other more powerful 3000 series chips).
But even more importantly, we suggest the 2200G over the 3200G for anyone who wants to build right now because pairing the new 3200G with a B450 motherboard would require you to update the B450 motherboard's BIOS for it to work with a new Ryzen 3000 series CPU like the 3200G (and there have been widespread issues for people trying to do this). And for a super cheap entry level system like this, a B450 motherboard (or even older B350) is your only realistic option as the new X570 motherboards (that support the new Ryzen 3000 series CPUs straight out of the box) are way out of this price tier. 
Why Updating the BIOS Can Be a Pain (+ Important Note if Buying a 3200G)
BIOS updates aren't generally hard to do, but here's the problem: you would need an old CPU to be able to perform the update, which would require you to either have an old AMD CPU lying around, or to bring it into a shop for them to do (or to request AMD send you what's called a bootkit). Furthermore, you could get a B450 MSI motherboard that has a featured called a BIOS Flashback which would allow you to update the BIOS without needing an old compatible CPU, however a great many people have reported problems when trying to do this with their MSI boards (so it's risky). 
Therefore, overall we can't comfortably recommend a Ryzen 3000 series CPU with a B450 motherboard (X570 motherboards for higher-end builds are fine), so in this particular price tier, the 2200G is the easiest hassle-free option and like mentioned it's even more affordable now. If you're perhaps a bit more experienced, or you don't mind the extra steps and risk involved, there's nobody stopping you getting the 3200G with a B450 motherboard as you could very well be able to update the BIOS without a problem (using one of the various methods available depending on the board you get). If you do this though, make sure to check that the particular B450 board you buy has been successfully used by others online for Ryzen 3000. 
Another option you have besides getting the 2200G or getting the 3200G with the potential for headaches, and if you are patient and not in a hurry to build a new PC right now in August, is to wait for MSI's upcoming "Max" B450 motherboards which will come with built-in support for the 3200G (though nobody knows exactly when these will release). You'd have to wait even longer for the upcoming brand new B550 board range though, as they could be released next year. Overall, if you want to build a new PC right now for 300 bucks, the 2200G gets our top recommendation - especially for first-time builders (again, assuming it's cheaper than the 3200G, which in the USA it is at the time of writing).
Recommended Motherboards for the Cheapest R3 2200G Build
Top Pick: Asus Prime B450M-A/CSM mATX AM4

Honorable Mention: Gigabyte B450M DS3H mATX AM4

For an entry-level Ryzen 2200G gaming PC build, you have a few options in terms of choosing a motherboard. You could go for the older A320 or B350 form factor motherboards, which were released for the initial Ryzen 1 series, as these boards will still support 2nd gen Ryzen CPUs with a BIOS update (which will already be done by the manufacturer before they ship the board out to you).
Or you could just get the latest and greatest B450 platform (at least within the value market; X470 and now the new X570 boards are not for budget PCs), which is what we've done here as the price difference right now isn't much if anything between older B350 boards and current B450 models.
The Asus Prime B450M is a solid value model at a good price right now, and despite being a very affordable, fairly basic board, it comes with everything you need for this $300 custom PC. It's got 4 RAM slots to accommodate future upgrades (a nice feature for a super budget board), dual channel memory support (important for an APU build), USB 3 support for your case's front panel port, and is overall one of the better low-cost B450's out there. MSI's B450 range has better options, but will set you back a bit more and would take us over the 300 dollar budget so the Asus will suffice for our needs here.

No WiFi is included on this board (most boards don't) so you'll need to buy an internal or external wireless adapter if you want WiFi for this setup, though for a small form factor PC build like this, with its microATX motherboard and mini tower case, we'd lean towards getting a USB adaptor to avoid potential space issues that some add-on PCIe network cards could bring.
Recommended RAM for the Cheapest R3 2200G Gaming PC
Top Pick: Crucial Ballistix Sport LT 8GB (2x4GB, 2666MHz, DDR4)

Honorable Mention: Cheapest Compatible 3000/3200MHz (2x4GB) You Can Find

8GB memory isn't expensive these days, which is great because that's the minimum amount you really want to shot for  these days for modern gaming and solid overall system performance. We've recommended a mere 4GB for entry-level gaming PC builds until just recently, but now as we move into the second half of 2019 there's really no need to limit yourself like that as RAM prices are quite attractive right now (at least compared to recent years). The difference you'd save from using only 4GB of RAM versus 8GB just isn't justified anymore, and as mentioned, 4GB for a gaming rig just won't cut it anymore moving forward.
Sizes aside, Ryzen APUs like the 2200G and newer 3200G benefit from dual channel memory (as in, having 2 sticks instead of 1), therefore it's a wise move to go for 2 4GB modules instead of a single 8GB module. The Crucial Ballistix Sport LT sticks we've included here were at the best price at the time of writing coming at under 40 bucks, which is a good buy as they're from a reliable memory manufacturer and at a nice speed of 2666MHz.
It's true you would squeeze out further performance from 3000Mhz or 3200MHz RAM, as Ryzen APUs do take advantage of memory more so than other setups, however doing that would take us out of our target $300 build budget. Besides, two 2666Mhz modules is really not too shabby, especially for such an ultra affordable computer, and as you can see from our FPS estimates above it'll provide solid levels of performance with the 2200G's integrated graphics. If you find 3000/3200Mhz modules at a good price though, consider getting that instead for a little extra FPS (and yes, if you go for our suggested ASUS Prime B450M-A/CSM, it supports 3000 and 3200MHz).
Recommended Hard Drive for a $300 Gaming PC Build
While building a gaming PC build for $300 means having to sacrifice an SSD (though you could squeeze one in if you really wanted to as they're becoming quite affordable nowadays), we haven't sacrificed on overall storage space and included a nicely-sized 1TB hard drive which is a nice amount to start off with for most people.
Dropping down to a smaller HDD really won't really save you much, and 1TB HDDs are the sweet spot right now in terms of overall value. As for the specific model hard drive we've gone for, the blue drives from Western Digital are great value and have been for what seems an eternity, with good reliability and speed for the money (7200RPM is a good speed and always choose that over 5400RPM drives). Can't go wrong with one of these and we recommend them for many of our builds.
Recommended Cases for a $300 Gaming PC Build
Wallet-friendly yet decent case that gets the job done and is beginner-friendly
Rosewill have catered really well to budget builders over the years with their excellent value cheap case options, and as of 2019 nothing really has changed in that regard with their entry-level gaming PC cases still well worthy of consideration if all you need is a basic setup. Specifically, the FBM-05 model is one of the better picks among the ultra-budget crowd of cases out there and easily one of the best bang for your buck options for a mini entry level gaming rig like this when you're looking to cut costs as much as humanly possible.
Obviously don't expect too much from it, but it gets the job done for a standard gaming build and really doesn't look too shabby either with a simplistic yet clean design. For such a cheap case the USB 3.0 support is nice too (only 1 3.0 port on the front of the case though, and yes, for discerning readers, the Asus motherboard includes a front-panel USB 3.0 header connection which is necessary for compatibility with this feature). For airflow it's got 2 built-in case fans (one 80mm and one 120mm) to provide more than enough cooling for a low-tier gaming rig like this.
For under 30 bucks or so, you can't go wrong with this one, and it's also easy to work with as a fresh-faced first-time PC builder. Pick a different super-budget case if it isn't your cup of tea, as pretty much any model out there is going to fit these entry-level PC parts no problem. A decent alternative around the same really low price that we can give the nod ahead for this parts-list would be Rosewill's FBM-X1.
Honorable Mention:
Rosewill FBM-X1 Mini Tower Gaming Case
Recommended Power Supplies for a $300 Gaming PC
Last but certainly not least is the PSU (Power Supply Unit for the complete computer beginners: no judgin' as we've all been there ;p), which isn't something you should skimp too much on, even on a super-tight PC building budget of around $300. Meaning, don't simply try and find the cheapest model you can get your hands on without looking into whether it's an actually alright unit with decent reliability. It could be a costly mistake to buy a crazy cheap no-name PSU just 'cause it's at the lowest possible price with the logic that it's "just a power supply and so what does it matter".
For an entry-level rig around 300 bucks, that could mean being tempted by some 20-30 dollar unit from some unknown company, just for the sake of saving 10-30 bucks...don't do it. Whilst components like your graphics and CPU are overall the most important parts of a custom gaming build in terms of what performance you'll get, what's also important is the fact that a desktop computer is kinda only as strong as its weakest link, and a bad PSU can become a big problem down the track if it fails and potentially damages your other precious parts at the same time during its selfish departure from this Earth.
Therefore, you always want to choose a good PSU that is at least of decent quality and reliability so there's less chance of this sort of thing happening. This doesn't mean you need to spend a lot on a top of the range power supply for a cheap $300 computer like this, but make sure to consciously choose your PSU instead of just haphazardly picking the cheapest-looking model you find. The 450 BT from EVGA isn't the greatest quality PSU in the world, but it fits our needs here for a $300 system and is a nice balance of price and quality/reliability. It's also 80 Plus Bronze rated, which means 85% efficiency; a good feature to have in a budget PSU.

As for power requirements for the $300 parts-list as it is now, 450 watts is way more than we actually need though it gives flexibility for the future should you wish to add a discrete graphics card at a later date. For example, a common upgrade path for this $300 PC build would be to buy an affordable RX 570 4GB/8GB graphics card later on to boost gaming performance once you have more money to invest in your rig, and doing so would be just fine with a 450 watt power supply like the EVGA BT.
Honorable Mentions:
Corsair CX 450 (450 Watts, 80+ Bronze, Semi Modular)

Another decent, budget 450 watt 80+ Bronze unit which is also semi-modular (which means less leftover cabling and a cleaner build); I'd get this if it's the same price or less than the 450 BT (if it's on sale etc).

EVGA BT 500 (500 Watts, 80+ Bronze, Non Modular)

Get a decent, affordable 500 watt unit instead if you'll be planning to add a more powerful graphics card than the RX 570 later on (such as the more power hungry RX 580). Although in saying that, some RX 570 models list 500w as their minimum required PSU, so if you're absolutely sure about adding the popular RX 570 later on, I'd lean towards a 500w unit like this instead of a 450w unit just to extra safe and to keep your options a little more open come upgrade time. Price differences between 450 and 500 watt PSUs aren't big at all.

This is the non-modular version which tends to be cheaper, but if you care about minimizing excess cabling in your build as much as possible then consider the semi-modular "BQ" model from EVGA which we include in our higher-tier PC builds such as our high-end 1080p ultra gaming PC build.




Recommended Operating System & Accessories
Recommended Operating System
For the $300 entry-level gaming PC build, or any of our suggested gaming builds for that matter, we recommend Windows 10 64-Bit (Home or Pro) to the far majority of gamers. Linux is only suggested for advanced users who know what they're doing and exactly why they're opting for Linux over Windows. As for buying Windows 10 for your new entry-level gaming rig, you have various options to go about this:
Option C: Buy Windows from Microsoft and download it to an existing computer/laptop, then put it on a flash drive, then use that flash drive when booting up your PC. 
Recommended Optical Drive (optional)
The Rosewill FBM-05 case included in the current $300 entry level custom computer build does indeed have the option for an optical drive to be installed (it has 2 x 5.25 inch drive bays). So if you want to get one for your setup to play DVDs, CDs, or burn DVDs/CDs (or to install the DVD edition of Windows 10 mentioned above as it's usually cheaper than the flash drive version), this is the cheap yet reliable optical drive we'd use for this build:
ASUS DRW-24B1LT DVD-RW Serial-ATA Internal OEM Optical Drive
Recommended Entry-Level Monitors and Headsets/Speakers
Your gaming computer isn't going to be of much use without a screen or some audio capability, and these are the cheap entry-level options we'd consider for this particular $300 parts-list if you need new gear and want to continue the theme of this build of keeping costs as low as humanly possible. See our gaming monitor, gaming headset, and gaming speakers guides for all our top picks, but the following are great value and still have the specs you need as a gamer (eg 5ms and under for a gaming monitor) including a couple budget options if you want the AMD Freesync feature (not necessary for a nice-to-have):
Sceptre E205W-1600 V1 20" LED Monitor (1080p, 60Hz refresh rate, 5ms response rate)
Acer G226HQL 21.5" LED Monitor (1080p, 60Hz refresh rate, 5ms response rate)
Acer Nitro VG220Q 21.5" IPS Gaming Monitor (1080p, 75Hz refresh rate, 1ms response rate, AMD Freesync)
AOPEN 24MX1 24" Gaming Monitor (1080p, 60Hz refresh rate, 1ms response rate, AMD Freesync)
Creative Sound Blaster Blaze Gaming Headset (Good Cheap Headset)
Creative A250 2.1 Multimedia Speaker System (Good Cheap Speakers)

Recommended Super-Cheap Keyboards/Mice
For gaming on a super tight budget you don't need to buy an expensive gaming mouse or keyboard, and you can easily get away using a very cheap basic keyboard and mouse such as the Logitech MK120 Keyboard and Mouse Combo Bundle or the below separate keyboards and mice to save your money. If you're using this entry-level PC build for eSports and competitive gaming though, and want the most accuracy, control, and comfort possible then you'll want to invest more in a proper gaming mouse and maybe a decent gaming keyboard too with macro keys, better comfort, etc.
Microsoft Wired Keyboard 600
Microsoft Basic Optical Mouse

Recommended WiFi Adapters
Most modern motherboards don't include built-in wireless, so it's not surprise the motherboard we recommend for the $300 custom PC doesn't have wireless as it's a budget model after all. To get WiFi for your computer you'll need a WiFi adapter which comes in two types (see USB vs PCIe for Desktop WiFi). For a mini form factor build like this, with limited space on the motherboard, we recommend a USB dongle (though a small PCIe card could fit too). See our latest top recommended USB WiFi adapters.
Building the $300 PC & Upgrade Path
Assembling the $300 Gaming PC
For a detailed tutorial see our guide to installing your PC parts step by step which walks you through a budget build slowly and carefully with included photos from our latest budget build (a GTX 1050 Ti + Pentium G4560 setup if you're wondering). If you prefer a video tutorial, see our latest recommended YouTube video on installation within our introduction to building gaming computers.
If it's your very first time, there's nothing to fear as building your own computer is very simple these days as we've repeated many times around the site, and that's no matter whether you're assembling a 300 dollar ultra-budget machine like this or a more high-end system.
When people say building a custom PC is essentially Adult Lego, that's no exaggeration, as it really is just a matter of plugging things in, connecting things, screwing a couple things in here or there, following some very basic safety procedures, and loading up some software to then follow on-screen instructions. If you end up building this August 2019 $300 gaming PC (or a slight variation of it), make sure to let us know in the comments below! We'd love to hear how it goes for you.
Upgrade Path Example (Adding a GPU)
A 300 dollar entry-level gaming computer won't deliver crazy levels of performance, but will not let you down if you don't have super high expectations and you're mostly playing lesser-demanding titles like League of Legends, Fortnite, CSGO, etc. It's also a worthy build to consider if you're simply really strapped for cash and want a decent base to work with now that you can upgrade later on with a graphics card to really boost gaming performance 2-3x.

If adding a GPU later, I'd look at an RX 570 4GB which would set you back around $140 but would very nicely boost 1080p performance to allow this entry-level setup to take on any of the latest demanding games. Or buy a second hand card and throw that into your rig. Just make sure whatever GPU you add is compatible size-wise (ie not too big as it's a small case and motherboard), and is compatible with your PSU (read our PSU section above because anything over an RX 570 4GB may need a 500w PSU minimum).
Comparing Similar Prebuilt Desktops
Let's do a quick comparison of our current recommended gaming PC build for $300 versus the best value, respectable prebuilt gaming desktops we could find on the current market that have similar specs. If you look over these prebuilts and look carefully at the components, brands, and overall specs compared to our custom parts-list, you'll see that building your own gaming PC is best overall. The custom $300 rig has better overall bang for buck in various ways. That said, a prebuilt PC is more convenient if you don't mind spending extra and you just don't have the patience to build your own, so these options are worht considering if you fall in that camp. But for most gamers, even complete hardware beginners, you're better off long-term by building your own and it's not hard to do.
HP Pavilion 590-p0020 2200G Desktop
Centaurus Druid 2 2200G Gaming Desktop
CUK DeskMini 2200G Gaming Desktop

---
Hope this guide helped in your research, and good luck with your new setup. Need further help?
For Simple Questions
If you need further help choosing the optimal bang-for-buck parts-list for your specific requirements, feel free to post a question in our main comments section (on our Latest Gaming PC Builds page). We'll respond to you ASAP and do our best to help steer you in the right direction.
For Detailed Help (Premium Email Support)
To have ongoing access to our exclusive support email (reserved for customers only), check out the "Master" or "VIP" editions of our book (The Gaming Build Blueprint Manual). These editions come with included long-term support. This might come in real handy if you're building your first PC but are still a bit worried or intimidated. You'll have the peace of mind to be able to ask us for help at any stage of your build.
Next Tier: Best Gaming PC Build Under $400