The Best Gaming PC Build Under $300:




Q4 2018 Edition (October Updated)



The Entry-Level Gaming PC Build: How to Stretch a Super Tight Budget of $300 to Build a Computer for Good 720p & Entry-Level 1080p on Low/Medium Settings
Last Updated: Oct 4, 2018
Written By: Julien "Zenakin"
Best $300 Gaming PC Build: (Quick Reference)
CPU: AMD Ryzen 3 2200G
Graphics: Integrated
Motherboard: Gigabyte GA-AB350M-DS3H
RAM: Patriot Viper Elite 4GB
Hard Drive: Western Digital 1TB
Power Supply: Antec VP-450
Case: Thermaltake Versa H15
The Best Entry-Level Gaming PC Build: Introduction
300 dollars goes a surprisingly long way when building a PC in 2018
Planning the best gaming PC build under $300? Despite what anyone may tell you, whilst you obviously can't get too much graphical power for this price, by being smart about the hardware parts you choose you absolutely can put together a decent gaming system capable of playing quite a few modern games decently for only 300 dollars. 
The current best $300 gaming PC build - in our humble opinion based on both extensive objective research of the current market and our own  opinion based on years recommending PC builds for gamers - is a good setup if you're looking for the cheapest Fortnite, League of Legends, Overwatch, DOTA2, or CSGO gaming build (or for other non-demanding games). This build is also recommended if you're playing in 720p resolution.
This entry-level 1080p gaming PC build also works well as a fairly flexible base for future upgrades such as throwing in more RAM or a dedicated graphics card later on once you've saved up more cash for a dramatic  performance boost.
Keep in mind that this build is very similar to our next build, the recommended $400 gaming PC build, but has a lower tier AMD CPU/GPU combo instead and a difference case. I just want to point out that if you prefer the case of the $400 PC instead, which is a tad "cooler" looking than the case included below, feel free to use that case for this custom computer if you prefer its style. Both are great entry-level gaming PC cases, but if you prefer a simplistic, minimal case design then you'll love the case included in the best $300 build here below.
Let's stop beating around the bush and get into all the juicy details of the recommended $300 gaming PC build for this month, including a full cheatsheet of specs and features, general and specific gaming performance estimates, recommended accessories and add-ons, and everything else you need to know to make a wise decision as to whether or not building a PC of this caliber is right for your needs. Depending on your gaming needs, it may be all the grunt you actually need, or on the other hand - a total flop. Let's find out.
Core Parts-List and Specs

Best $300 Gaming PC Build (Q4 2018)


Check Price
Graphics Card
Integrated (comes with CPU)
CPU
AMD Ryzen 3 2200G (3.70 GHz, Quad Core, Vega RX8 GPU)
CPU Cooler
Stock (comes with CPU)
Motherboard
Gigabyte GA-AB350M-DS3H (micro-ATX, DDR4)
RAM
Patriot Viper Elite 4GB (DDR4, 1 x 4GB, 2400MHz)
Hard Drive
Western Digital Blue 1TB (7200 RPM, 64MB Cache)
Power Supply
Antec VP-450 (450 Watts, 80 Plus Certified)
Case
Thermaltake Versa H15 SPCC (Mini Tower, Micro-ATX)

Estimated Total:


$285 - $309 (US Dollars)




(Adds Parts to Amazon Cart)



Features Cheatsheet


Estimated Wattage (Power Draw)
29W - 147W
RAM Slots
4 (3 slots free)
Max RAM Support
64GB
CPU Overclockable?
Yes (buy a better CPU cooler if doing so)
Built-in WiFi?
No (buy adaptor: see recommended add-ons below)
Hard Drives Supported
4x SATA Drives, 1x m.2 SSD
VR-Ready?
No
Case Fans
1 x 120mm Included (rear), 4 Additional 120mm Mounts
Front Panel USB Ports
1 x 3.0, 1 x 2.0 (+ tons more on rear of case)
Optical Drive Support?
Yes
Multi-Monitor Support
No

Case Dimensions

15" x 7.8" x 16.2" (H x W x D)
Total Weight (Once Parts Installed)
~ 14.8 Pounds / 6.7 KG
Full Motherboard & Case Specs
Gigabyte GA-AB350M-DS3H Motherboard | Thermaltake Versa H15 Case
Gaming Performance & 1080p Low/Med Benchmarks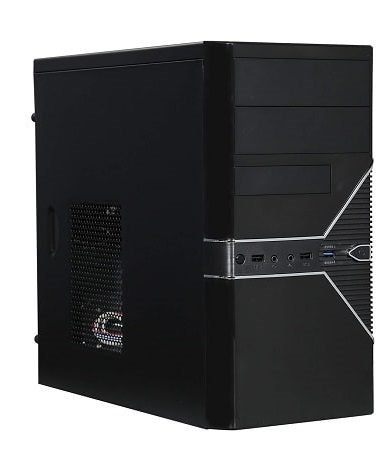 Performance Overview: (specific FPS further below)

720p (1280 x 720):

1080p (1920 x 1080):


1440p (2560 x 1440):

VR and 4K:

GOOD


AVERAGE

UNPLAYABLE

UNPLAYABLE

Now to what you probably actually care about - what specific performance you can expect in certain titles for this month's best gaming PC build under $300. Specifically, what frame rates you'll get with the AMD Ryzen 3 2200G (on stock settings; not overclocked) when paired up with only the measly 4GB of 2400Mhz RAM which is all we could fit in the $300 budget (if you have more to spend on this build upgrade your RAM first).
Overally, the $300 gaming PC build will give you decent, playable performance in 1080p on low/medium settings when running less-demanding/most-optimized titles such as League of Legends, Fortnite, Overwatch and CSGO.
With more demanding games like PUBG, Assassins Creed, Battlefront 2, GTA V and so on you'll need a more powerful system for sure such as the best $400 gaming PC build or the best $500 gaming PC build, especially if you want to play in 1080p and don't want to drop down to 720p resolution. Ok, let's get into the 1080p gaming benchmarks for the AMD Ryzen 3 2200G and 4GB 2400Mhz RAM based on our research around the web.
Estimated Average FPS for 1080p (Ryzen 3 2200G, 1x4GB 2400MHz)
1080p LOW Settings
League of Legends:

CS:GO:

Overwatch:


Rocket League:

Fortnite:

DOTA 2:

Minecraft:

PUBG: (needs 8GB RAM)


103 FPS

46 FPS

50 FPS


55 FPS


34 FPS

61 FPS

43 FPS


Unplayable
1080p MEDIUM Settings
League of Legends:

CS:GO:

Overwatch:


Rocket League:

Fortnite:

DOTA 2:

Minecraft:

PUBG: (needs 8GB RAM)

82 FPS

44 FPS


45 FPS


35 FPS


23 FPS

47 FPS

35 FPS

Unplayable
And yes, these are only for 1080p, so if you're willing to play in 720p resolution you'll get much better performance than the above. Here's a video which shows the 2200G + 4GB 2400Mhz benchmarks which also includes a few more games than included above. The results this guy got fits with our further research from analysing other benchmark sources for this hardware setup:
He also compares 4GB vs 8GB memory performance (2400MHz) with a 2200G setup in the vid below if you're curious how much better performance will be with the added RAM:
Full Component Breakdown
$300 PC Build: Recommended CPU and Graphics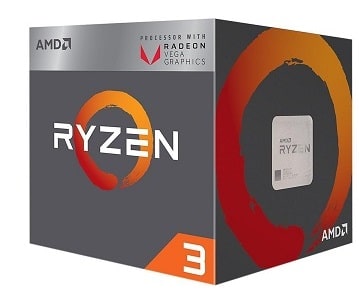 The Ryzen 2200G stays as the best overall value choice for a gaming PC build under $300, and we can't see that changing anytime soon. The 2200G is not only a very decent quad core CPU in its own right, which allows for very capable general/multitasking performance for a while to come, but includes integrated graphics (codenamed Vega) which blow previous integrated graphics solutions out of the water.
For beginners, integrated graphics (technically referred to as iGPUs or APUS) means you don't need a graphics card as its included with the CPU, and in the past they really were to be avoided if you wanted any sort of respectable gaming performance, even in the lower-end/entry-level side of things.
However, these new APUs (AMD Accelerated Processing Unit), namely the 2200G and bigger brother 2400G (included in our next suggested $400 gaming PC build) have changed that and they both provide very decent graphics performance suitable for modern gaming, and good enough to be included in our recommended cheap/budget/entry-level builds from now on.
Ryzen 3 2200G Gaming Performance
Simply put, on a strict budget of around 300 bucks for a new gaming PC build, the Ryzen 3 2200G is a no-brainer, with this 4-core chip clocking in at a very respectable 3.7GHz and delivering excellent value for money graphics, and the 2400G is also an excellent bang for your buck option too.

With a Ryzen 3 2200G and its integrated "RX Vega 8" graphics you can expect performance roughly on par with a GT 1030 graphics card if it were paired with a budget CPU. That means real good 720p resolution performance in modern titles and playable/decent 1080p (full HD) on low/medium settings (depending on the game).
It's perfect for older and less-demanding games as well, including many popular eSports, so if you're say building a PC for League of Legends or Dota 2/CSGO/Overwatch, you're good to go with this setup for very decent performance in 1080p (low - medium settings for ideal performance) and excellent frame-rates in 720p.
The Ryzen 3 2200G is also a great option if you want to put together a system now for as cheap a price as possible, and get a dedicated graphics card later down the track to bolster your 1080p performance further when you save up some more money, whilst still having a good base to work with in the meantime as the Ryzen AM4 platform is flexible and you could even upgrade to an even better Ryzen CPU later on as well as getting a dedicated graphics card. 
You also don't need a CPU cooler as the 2200G comes with its own stock cooler, a Wraith Stealth Cooler, which is of very decent quality and all you need especially if you won't be overclocking this little beast. Speaking of overclocking your AMD CPU, the 2200G is unlocked meaning that you can go ahead and squeeze out a little faster performance by doing a little tweaking around should you want to go down that route.
Not generally recommended for first-time builders, but these days overclocking a CPU (or GPU) is quite straightforward to do so don't rule it out even if you're a fairly inexperienced gamer as you can get a little extra performance for very little effort (and no extra money). You could still use the stock cooler for that if you wanted and you're not pushing the chip too far, but it's recommended to get an even better aftermarket CPU cooler if you do end up overclocking.
$300 PC Build: Recommended Motherboard and RAM
For this month's best $300 gaming PC build, and likely for many more months to come as it pairs well with the 2200G, we've selected the Gigabyte GA-AB350M-DS3H micro ATX board because it's a cheap yet decent mainboard that gets the job done. Obviously you can't expect anything amazing or any fancy features for the price, but do expect all your basic gaming needs covered: passable durability, good LAN and on-board audio, 4 RAM slots, decent amount of ports, 64GB max RAM support, and so on.
This is the same motherboard we've included in our next $400 build also, as it also provides a good affordable base for the 2400G processor as well as a 2200G if you decide on that processor instead for a little extra processing and graphical grunt. Just remember that no WiFi is included on this board (most boards don't) so you'll need to get either a wireless PCI-E/PCI adaptor card or USB WiFi dongle if you want wireless networking/internet for this build. See our Gaming Desktop Builds Hub for recommendations on these accessories.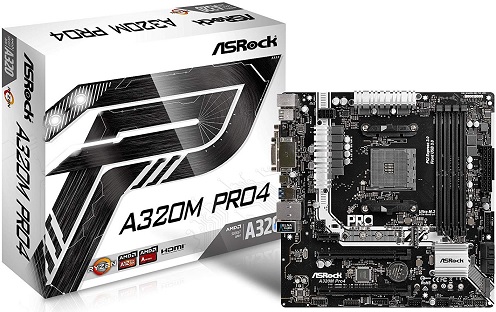 Very cheap, yet very decent base for an entry-level gaming rig
When building a very cheap entry-level gaming PC like this, you obviously have to cut costs wherever possible, and that means you can't kit out a ton of RAM. 4GB is all you can fit into this sort of budget without sacrificing the other parts, although that's assuming you really want to stay under the $300 budget limit. If you don't mind spending a tad more on this setup then do get 8GB of memory instead which is the sweet spot for gaming right now and will boost your frame-rates (and dramatically so in some games; see the video linked above).
However, in truth 4GB isn't all that bad if you're just doing light gaming, such as sticking to older/less-demanding games like League of Legends, or if you're running in 720p resolution which believe it or not doesn't affect the fun in some games such as CSGO which is all about the gameplay and not the graphics. Pro players of CSGO even purposefully play in lower resolutions.
For 1080p gaming though, 4GB is going to be fine only if you see the benchmarks above and are happy with that type of estimated performance for the game/s you'll be playing. Plus, if you go with 4GB for now, you can always easily and quite cheaply upgrade with another 4GB stick later on when you have the cash to make for a total of 8GB which is an amount that will hold you in good stead for a while to come. Or, just get 8GB from the get-go for this build if you don't mind spending an extra 30-40-50 bucks and you see that it'll make a worthwhile improvement in your favorite games.
Only 4GB of RAM, but that's enough for playable 1080p in non-demanding games and good general PC performance so long as you're not doing heavy tasks like video editing
$300 Gaming PC Build: Recommended Hard Drive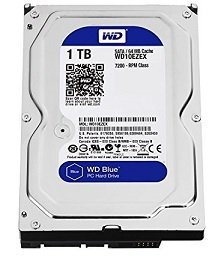 As with the RAM, for the best gaming PC build under $300 we haven't sacrificed on storage either, which has typically been what we've recommended in the past. Instead of cutting costs and squeezing in a 250, 320 or 500GB hard drive like super-budget builds of the past, we've stuck with a large 1TB drive which is ideal for longevity.
Again, the reason we can fit in a nicely sized 1TB HDD for this month's $300 setup is 'cause of the amazing value of AMD's Ryzen 3 2200G, which is the star of the show and sets you up with real flexibility to not skimp on any of your parts to build a truly kick-ass entry-level build. Of course, if you don't need a big 1TB drive, then by all means go for a smaller one to cut costs to either save your money or put that towards something else such as your peripherals.
As for the specific HDD (Hard Disk Drive if you're a curious noob) - we've selected Western Digital which is the best in terms of overall reliability and speed for the money, although Seagate is a close second in our opinion so feel free to opt for them if you prefer. It should go without saying though that a Solid State Drive (SSD) doesn't represent enough value for money to be included in such a tight-budget build, but of course feel free to include one if you really want one as it'll slot into this parts-list without issues.
$300 Gaming PC Build: Recommended Case and Power Supply
Now to the case for our best entry level gaming PC build under $300, and at this point in time the Thermaltake Versa H15 is a very solid choice. It has a clean, minimalist yet stylish design, good quality and durability for the price, and has the space and features you need for a basic gaming desktop like this.
It's only got the one pre-built fan installed (1 x 120mm rear fan), but for this parts-list that's actually all you need as these parts won't produce much heat at all. Only situation where I'd buy an extra fan to install in this case would be when overclocking your 2200G or if you live in a really hot climate and your build starts to get quite hot under load, but for an entry-level PC the one single case fan is all you need in most cases (pun intended).
The Versa H15 is a Mini Tower size meaning it's not going to take up much room; great for those who prefer a more compact case. Overall, you'll be hard-pressed finding a better overall option in this price range, as cheap cases are usually fraught with little issues and drawbacks, but not this one and for the price it truly is hard to fault.
Highly recommended for cheap builds like this. Note that if you prefer the case included in the best cheap gaming PC build for $400 with its slightly bolder red theme and see-through side panel, feel free to get that instead if you prefer that look to this simple one, as either case will work well for either the $300 or $400 builds.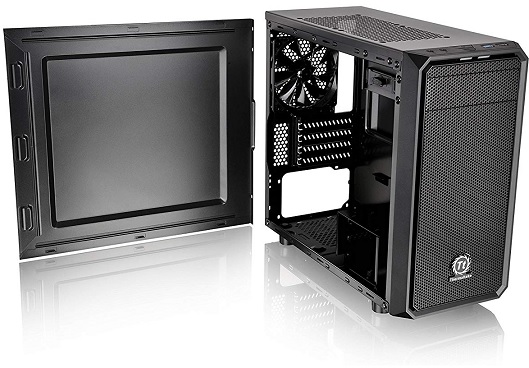 An excellent, cheap, noob-friendly builders case; 'nuff said
Last but certainly not least is the PSU (Power Supply Unit for the beginners: no judgin' as we've all been there!), which isn't something you should skimp too much on, even on a super-tight PC building budget of around $300. Avoid making the common rookie mistake of getting a cheap no-name PSU just 'cause it's at the lowest possible price with the logic that it's "just a power supply and so what does it matter".
Your gaming computer build is kinda only as strong as its weakest link, and a bad PSU can become a big problem down the track if it fails and potentially damages your other precious parts, so always choose a good PSU that won't let you down. Doesn't mean you need to spend a lot on a top of the range model, especially when building an entry-level gaming system like this, but make sure to consciously choose your PSU instead of just haphazardly picking the cheapest-looking model you find.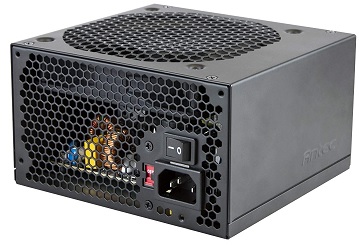 Bland yet built to last, Antec PSUs usually rock
To reliably power all the components of the best gaming PC build under $300, we have the Antec VP-450, a mainstay pick of ours as Antec is a top-name brand yet at a very affordable price, and this particular model is a proven good-quality high-value choice over the years.
450 watts of power is also more than enough for this build, with plenty of wiggle room to take into account any common upgrades you may wish to make later (yes, even if you plan on adding a dedicated graphics card to this setup later down the track). That wraps up the core components for the best entry level gaming PC build for $300 right now, so let's quickly get into the operating system software and peripherals should you need those too.
Recommended Operating System & Accessories
For the $300 entry-level gaming PC build, or any build for that matter, we recommend Windows 10 to most people which you can get in a handy USB/flash-drive version or a disk version if you want to make your own bootable flash drive from that (since this build doesn't have an optical drive as they're totally optional these days). Linux is only suggested for advanced users who know what they're doing and exactly why they're opting for Linux over Windows.
See our top value for money budget picks of these accessories in our peripheral buying guides (see the top menu) should you need to buy these new and you're not reusing old ones. Simply put, you can choose any that you like as accessory choices are a lot more subjective compared to choosing the best hardware for the money which is much more a science.
Building the $300 PC & Questions/Feedback
This wraps up the current best gaming PC build under 300 dollars in Q4 2018, in our humble opinon based on a combination of extensive objective research and our own subjective opinion based on many years helping gamers build better PCs. When you're reading to install your parts, see our full step by step tutorial on building a PC or have a hunt around YouTube if you'd prefer a video guide. Some first-timers prefer an in-depth written guide, whilst others prefer video, so take your pick). Good luck with your new build or upgrade and I hope this sample build and performance breakdown has helped in some way. Got questions or feedback? Comment on our Builds FAQ, Facebook fanpage or email us and we'll try our best.
Next Tier: The Best Gaming PC Build Under $400
About the Author
Julien "cyberjulz" is the founder of BGC and lover of all things gaming and technology. A computer programmer turned hardware enthusiast and web developer who's been keeping a close eye on the PC hardware industry since 2006, he's been an avid console and PC gamer ever since first stumbling across Warcraft 1 & Theme Park at age 7. His fav games of all time are OOT, Perfect Dark, GE007, SW Rogue Squadron, MGS2, DKC2, Starfox, WC3, HL1, HL2, C&C1, FIFA, & SWKOTOR.