---
The Best High-End Gaming PC Builds
for the Money: April 2018 Edition
---
(Recommended High-End Gaming Computer Builds for $800 and $1200
to Maximize Performance, Reliability & Lastability)
Best $800 and $1200 Gaming Builds for April 2018
Last Updated: Apr 8, 2018

The following are our current top-rated, best high-end gaming PC builds for April 2018 showing you how to strategically maximize performance, reliability, cooling, lastability (and aesthetics too) for spending amounts of under/around $800 and $1200 when building a top-tier rig for excellent performance.
These two best high-end gaming builds are simply our own humble opinion and you should of course do your own research to take into account any other specific requirements that you may have for your new system, however all our PC build examples are thoroughly checked for compatibility and fine-tuned to the best of our ability and so they are suitable to be used exactly as-is should they fit your gaming needs.
Keep in mind these high-end computer build examples are targeted for gamers wanting flawless 1080p/FHD performance or good performance in higher resolutions/virtual reality/other demanding tasks. These builds are overkill (especially the $1200 build) if you're simply looking to get into PC gaming and don't have high performance requirements: see our best budget gaming PC builds instead if that sounds like you.
But if you want to build a killer system that will last you a long time, let's get into the first of our two recommended high-end PC builds which is a solid example of how to maximize a healthy budget of around $800 to dominate 1080p gaming for a while to come. When you're ready to put your parts together see our comprehensive guide How to Build a PC from Scratch if you prefer a written guide to follow.
Important to Know:
Our suggested high-end pc parts below do not include Operating System Software or peripherals which are required for a new working build. If you don't already have these accessories, we recommend Windows 10 and for peripherals see our buying guides on gaming monitors, keyboards, mice, and headsets. Also, if you want a CD/DVD drive in your build, make sure you choose a case that has at least one drive bay and this is the drive we would pick.

Plus, for gaming purposes wired internet access is ideal (all motherboards have a LAN port for this) but you may want wireless capability for general use as well which in that case you'll need to get a wireless network adapter as the majority of motherboards do not come with wireless built-in. You have two choices for making your gaming PC wireless: getting a network card (this is a good choice or this one for faster routers) which you install on your motherboard, or buying an external USB dongle like this one - your call as either works well.
---
The Best High-End Gaming PC Build
~ $800 for April 2018
---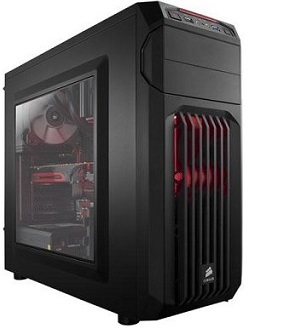 Expected Gaming Performance:
1080p (1920 x 1080):


1440p (2560 x 1440):

VR and 4K:

FLAWLESS

GOOD


AVERAGE
The above is the average expected performance of this build at different resolutions when playing a typical, graphically-demanding modern PC game on high/ultra settings.

* Total cost is only an estimate at the time of writing as hardware prices fluctuate
April Note: This build's currently a bit over our usual target budget due to current GPU prices being higher than normal due to cryptocurrency mining (learn details here).
This is another carefully-considered, well-balanced, excellent bang for your buck custom gaming desktop build that will last you years of playing the latest games real well, and it's going to provide flawless performance for 1080p (full HD) in the majority of modern titles on max settings and will also hold its own in 1440p as well.
However, there's always exceptions to the rule and in the absolute most demanding games of all such as Witcher 3 you won't be getting flawless 60FPS+ at all times on max/ultra settings @ 1080p, but like I said for most games you will as games like Witcher 3 are overly-demanding pieces of work compared to average.
This carefully considered high end gaming PC build is also upgrade-friendly with plenty of room and expansion options, it has great cooling and airflow, and to top it off it looks seriously awesome when finished with a stylish case boasting a see-through side panel and a nice red and black theme (with red LED built-in case fans). 
Let's take a closer look at each component chosen for the first of our 2 suggested best high end gaming PC builds for this month, and more importantly why they were hand-picked out of the vast sea of hardware available out there.
$800 Build Graphics Card:
MSI GeForce GTX 1060 6GB
April 8th Mid-Month Build Update: Changed the previous 1060 3GB we included in this build to a MSI 1060 6GB which is actually cheaper at the time of writing. For how long who knows, but a 1060 6GB around $350-$380 right now is not too shabby at all based on the current market.
First to what matters most to us gamers, the graphics card, and at this moment in time your best bet based on the current market is opting for one of NVidia's GTX 1060 GPUs which come in 3GB and 6GB variants. AMD's 570 and 580 are excellent choices, and the 570 gives NVidia's 1060 a run for its money in terms of bang for buck, however stock and pricing of AMD cards has been real bad recently (worse than NVidia) and so it's tough to find them at a reasonable price if you manage to see them in stock at all.
As for the performance differences between a 1060 3GB and a 1060 6GB model: it isn't huge and so your choice depends mostly on current pricing, but lean to a 6GB variant if you'll be running higher resolutions than the standard 1080p as the extra video memory will come in handy for those added pixels on screen. But either 3GB or 6GB will do just fine for 1080p gaming now and over the next couple of years.

$800 Build CPU:
AMD Ryzen 5 1500X (3.7 GHz, 4/8 Cores/Threads)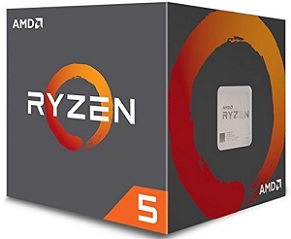 For a custom PC build around this price the AMD Ryzen 5 1500X is a great bang for your buck CPU choice and what we'd suggest in this price-tier. This 4-core, 8-thread 3.7 GHz processor provides excellent performance for both gaming and other demanding non-gaming applications, and it comes with a stock cooler which is all you need for most situations especially if you won't be overclocking your CPU which is not something we generally recommend to most gamers and/or newbies (otherwise definitely get an aftermarket CPU cooler). Ryzen's have undergone a price slash in recent times and that's really helped ease just a little of the pain of the current higher-than-normal GPU prices.
$800 Build Motherboard:
Gigabyte GA-AB350 (DDR4, USB 3.1, ATX)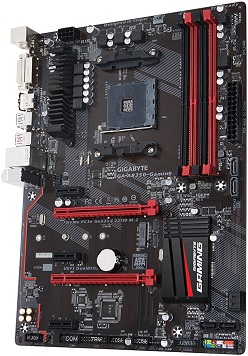 This is a good no-frills, well-priced motherboard that'll serve as a nice base for your AMD Ryzen rig. It has a total of four memory sockets, which will leave you with two free sockets for upgrades if you choose the memory we've suggested for this custom build (the board has support for up to 64GB).
The GA-AB350 also covers all the basics you'd expect from a good gaming motherboard such as solid built-in audio, LAN, plenty of USB ports and add-on sockets. Most modern motherboard's don't have built-in WiFi support, and this one is no exception, so you'll need a separate wireless adapter or dongle should you want wireless internet/networking (info on that is near the top of this page).
$800 Build RAM:
Crucial Ballistix Sport LT DDR4 8GB

As mentioned in our budget builds, 8GB is the sweet spot for gaming these days and any more is just a luxury. 8GB of memory in your build will allow you to fully maximize performance in most games for the foreseeable future. Crucial has long been a reliable manufacturer with great RAM at good prices, and the model we've included is no exception, although to be honest when it comes to choosing RAM most brand names are going to serve you well as you can't really go wrong in most cases. Also, 2400Mhz is a fast enough speed; in general the speed of your RAM rarely matters when it comes to most gaming situations so there's no need to get higher speed models.
$800 Hard Drive:
Western Digital Blue 1TB
At around this sort of price point you could include an SSD if you wanted to in order to store your OS and most frequently-used programs/games for faster loading (SSDs are noticeable faster than HDDs) and have the HDD for everything else, but I've decided to leave it out for this build as the current total cost is well over the $800 target as it is thanks to cryptocurrency and would rather not downgrade another more important part just to accommodate an SSD.
But it's personal preference of course, so feel free to include a small to medium sized SSD (120GB - 240GB etc) such as the one included in the next high-end gaming computer build below. As for the standard hard drive for this build, just like for both the budget gaming builds the 1TB Western Digital Blue stays as it's hard to beat in terms of value. 1TB is more than enough for most gamers, unless you know you need more.
And for any beginners wondering, yes you can add a larger HDD and an SSD to this build without changing any of the other parts. Storage is storage is storage, and they don't use up much power either. Speaking of power...
$800 Build Power Supply:
Seasonic G-Series 550 Watts (80+ Gold, Modular)
Some beginners make the tempting mistake of picking the cheapest PSU they can get their hands on in order to cut costs on their build thinking that it doesn't matter, but as we've said before (see our power supply buying guide) this is the last thing you want to do if you care about building a quality, reliable system that has the most chance of lasting the distance and to avoid hurting your components.
For this month's best $800 high-end gaming computer we've included a good-quality yet currently well-priced Seasonic unit which is also gold-rated (a nice bonus (even though the rating isn't the only determining factor of quality). Seasonic have been renown for quality PSUs for a long time now and this model is no exception. It's also a modular design which means you can do without any cables you don't need for your particular build (unlike non-modular PSUs which can add to the clutter in your case if there are cables you don't need connections for).
550 watts of power that this Seasonic provides is actually all you need for this particular parts-list (a common newbie mistake is overestimating how much power you really need), and that's still taking into account having enough wiggle room for potential common upgrades you may wish to make later such as adding an SSD (or add one now if you want), adding another 8GB of RAM, changing GPU/CPU, adding other optional parts, or even for dual-GPU SLI (even though NVidia doesn't officially support 2 x 1060's and nor do we recommend it). Overall, a great PSU choice that will serve your high-end PC well.
$800 Build Case:
Corsair Carbide SPEC-02 Mid Tower
To top off the $800 computer build we have the Spec 02 - a stylish, quite feature-rich mid-tower case at a good price that is hugely popular among DIY gamers and for good reason as it fits the bill well for most mainstream-level builds.
It's got a clear side panel so you can see the insides of your new masterpiece in action, and it comes with 2 pre-installed fans which is all the airflow you need for this setup (that also have cool red LED lighting which is a nice touch). It's also got 2 USB 3.0 front ports, decent cable management features for the price, and plenty of room for upgrades. There's no need getting a full-tower sized case unless you have a good reason to.
That wraps up our suggested best high end gaming computer build for $800 (IMHO). If you need even more grunt for higher resolutions/refresh rates, virtual reality (this build will play VR but not at its max potential) or workstation-specific tasks, or if you're a super picky gamer who wants flawless maxed out 1080p performance in EVERY single game including the most demanding of all (ie Witcher 3) then let's move to the next best high end PC build below for budgets of around $1200 where we start venturing into serious hardcore performance territory.
But yeah, if you're sticking with good-old 1080p with a 60Hz monitor then the majority of gamers would be more than satisfied sticking with the above $800 build and it'll serve you well for roughly 3-4 years minimum or so (random guess based on experience and it'll depend on how picky you are though, ie which exact games/settings/frame-rates keep you happy as well as how gaming demands evolve over coming years).
---
The Best High-End Gaming PC Build
~ $1200 for April 2018
---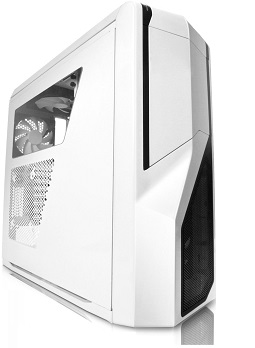 Expected Gaming Performance:
1080p (1920 x 1080):


1440p (2560 x 1440):

VR and 4K:

FLAWLESS

GREAT


GOOD
The above is the average expected performance of this build at different resolutions when playing a typical, graphically-demanding modern PC game on high/ultra settings.

* Total cost is only an estimate at the time of writing as hardware prices fluctuate

April 2018 Note: This build is a bit over the normal target price this month due to the current GPU stock/pricing dilemma (learn more here).
A high-end gaming computer of this caliber is enough to please the majority of gamers out there with the powerful pairing of the epic GTX 1070 graphics card and the latest 8th gen Intel i5, and will have you playing the latest games perfectly in 1080p and very nicely in 1440p throughout 2018 and beyond without any real need to upgrade for a long time. Don't think you ever need to spend any more than this on a custom gaming PC unless you're absolutely sure you need more power such as for maxed-out 1440p, great 4K performance, etc (see our extreme PC builds). As with all our monthly builds, let's break down each individual part of this slick setup and why they made the cut.
$1200 Build Graphics Card:
EVGA GeForce GTX 1070 8GB SC
The 1070 is an obvious choice with no equal right now in the $500 - $700 price category (previously the $450 - $600 category pre-cryptocurrency :/) in terms of performance for your dollar, and it'll dominate 1080p (full HD) gaming flawlessly as well as provide a smooth 1440p experience. 4K and VR will be decent too, though it'll depend on the title, game settings, and what sort of frame-rate you're happy with. Stepping up to a 1080 or 1080 Ti card instead would be absolutely ideal for 4K or VR, but a 1070 is absolutely no slouch and you won't be missing out on too much and is enough graphics grunt to please a huge amount of gamers out there.
$1200 Build CPU:
Intel Core i5-8400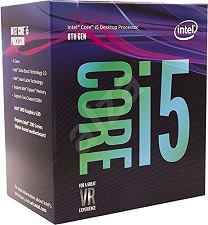 Now to Intel's all-new "Coffee Lake" 8th generation CPU, the i5-8400, which makes its debut in our high-end build lineup this month and slightly edges out our previously recommended Ryzen 5 1600 in terms of pure gaming performance.
Note that this is the locked version, meaning it's not meant for overclocking, so if you're an enthusiast and do wish to push your CPU further then make sure to get the unlocked i5-8600K instead (which would fit into this build without having to change anything).
In fact, if you wish to spend the extra on the 8600K instead of the 8400, go right ahead as you'll get slightly faster base performance without needing overclock, however we've picked the 8400 for this build as overall we believe it's the better value for money and we assume most our readers aren't into overclocking.
As for cooling, the 8400's stock CPU cooler is adequate and all you need for most situations. For those getting the 8600K instead, consider getting a decent third-party cooler as the Cooler Master 212 Evo especially if you'll be overclocking.
$1200 Build Motherboard:
MSI Z370-A Pro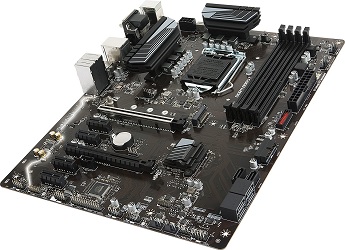 The MSI Z370-A Pro is a good value 8th gen Intel motherboard that'll serve your new Coffee Lake i5 build well, with all the basic features you need for a typical gaming build and a slick design. 'Nuff said really.

Keep in mind, like most motherboards there's no built-in WiFi so if you want wireless you'll need to get a separate adapter as usual (either a PCI-E card or a USB dongle; either will work fine).
It also has SLI support for any hardcore enthusiasts out there who may consider adding a second GTX 1070 to the mix later down the track. Speaking of SLI, the PSU included in this rig is more than capable to accommodate a second card.
$1200 Build RAM:
Corsair Vengeance LPX 16GB 3000MHz
Can't go wrong with Corsair memory, and at this price we've bumped up from the gaming sweet spot of 8GB to the "all-out" amount of 16GB to future-proof this system to maximize gaming and non-gaming performance over the next few years.
Although to be completely honest, you could get away with 8GB when you have such a powerful GPU and CPU and not see a flicker of difference when it comes to gaming in almost all situations over the next year or so.
So it comes down to whether or not you'd rather spend the extra amount on 16GB now, which makes sense if you like the idea of fully future-proofing your rig without having to upgrade later, or if you'll be doing memory-intensive tasks like heavy multitasking or high-resolution video editing, or whether you'd rather put the added cost of 16GB towards something else in your rig. 
$1200 Build HDD & SSD:
+
For this build we've gone for a standard 1TB HDD as well as a good value 120GB SSD from Crucial that's on sale for Black Friday. SSDs aren't recommended when building a super cost-effective build, but at this price point it makes a lot of sense to include one as the performance increase is worth it. Whilst 120GB is a solid amount and will hold a few key games/programs as well as your Windows install for super-fast loading, feel free to go for a 240GB model instead to store more on there.
$1200 Build Power Supply:
EVGA 650 GQ 650W
As mentioned in the previous build, when assembling a high-end gaming system you really want to get a high-quality power supply, and this EVGA unit is definitely that. It has a 80-Plus Gold-rating, it's semi-modular which means less messy cabling and better cable management when it comes time to build, and overall has good efficiency and reliability.
$1200 Build Case:
NZXT Phantom 410
Last but not least we have our choice of enclosure to house the precious insides of your shiny new high-end gaming PC build, which long-time readers will notice has been a mainstay in our recommended builds. We just love it. At this point in time the NZXT Phantom 410 Mid-Tower comes out on top as one of the very best choices for a value-for-money yet high-quality gaming PC case.
We're big fans of NZXT in general and the Phantom 410 has the quality and features of an expensive top of the range case minus the huge price tag. At under 100 dollars at the time of writing it's seriously good value.
First of all, it looks amazing with a very sharp and sleek design. We chose white based on taste however feel free to pick whichever color you prefer as they're all the same (was hard to pick). Aesthetics aside, all of the other important aspects of a good case are present. You've got excellent airflow and built-in cooling (comes with 2 x 140mm fans and 1 x 120mm fan), tons of room to work with (it's a generously-sized mid tower), plenty of ports/bays, and a bunch of other nice features.
Highly recommended, however feel free to pick a different case if this one isn't up your ally. Most mid or full tower sized cases will do the trick, but do your homework on compatibility especially if it's a mid tower (some may not have enough room for a build of this nature). Anyway, that wraps up our current best high end gaming PC builds that'll set you up well for memorable elite-level gaming experiences for years to come. 
NEXT: The Extreme Gaming Computer Builds
Got Questions or Feedback?
If you want help choosing parts and/or mixing and matching parts around, feel free to email us or alternatively you can ask a question on our Facebook fan-page.
However keep in mind that maintaining the site keeps us super busy, and we give priority email support to our customers first and foremost, so please keep any questions straight to the point for the highest chance of a reply. We may be able to give you a quick critique of your parts-list, but don't expect to be spoon-fed a personalized build.
Also, if you're a hardware pro and ever have constructive feedback on a build we're all ears as our #1 priority is to always keep these builds as on-point as humanly possible for the DIY community. Thanks and all the best.