Home > PC Builds > $3000 Gaming PC
The $3000 Ultimate Gaming PC Build (Q2 2019)

Beginner-Friendly Guide to Building the Best Gaming PC Under 3000 US Dollars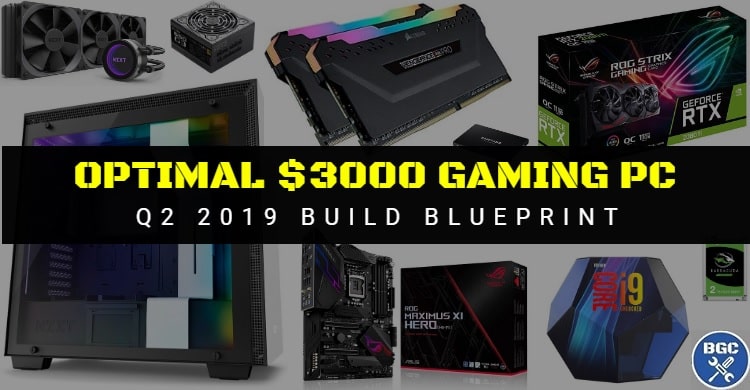 Looks great and all, but the real question remains.. can it run Crysis? ;p
Strategically Choosing the Fastest, Highest Quality, Well-Balanced, Well-Cooled & Aesthetically Pleasing Compatible Components for 4K Ultra, 1440p 144Hz, or VR
Published April 4, 2019
QUICK NAVIGATION
Best $3000 Gaming PC Build: (Q2 2019)
GPU: Asus Rog Strix RTX 2080 Ti OC
CPU: Intel Core i9-9900K 3.6GHz (8 Cores)
CPU Cooler: 

NZXT Kraken X72 RGB (360mm)
Motherboard: 

Asus Rog Maximus XI Hero WiFi
RAM: Vengeance Pro RGB 32GB (3200MHz) 
SSD: Samsung 860 Evo 500GB (SATA 3)
HDD: Seagate Barracuda 2TB (7200RPM)
PSU: EVGA SuperNova G3 850 Gold (Modular)
Case: 

NZXT H700i Mid Tower Smart RGB Case
The Ultimate Gaming PC Build: Overview
If you're some kind of Emperor with deep pockets overseeing the construction of the ultimate gaming PC build battlestation of gaming glory in Q2 2019 (ie April, May or June) to dominate 4K and/or high refresh-rate gaming for years to come, this hardcore build guide is you, Jedi.
Or should I say Sith, for you could reasonably argue the desire to wield such monstrous planet-destroying power from a home PC isn't the way of the protectors of peace and justice in the galaxy now is it. Whether you're light or dark side, if you snicker at our $2000 RTX 2080 build, scoff at the $2500 RTX 2080 Ti build, and want more more more - welcome to the next level.
Fairly bad SW jokes aside, the following $3000 gaming PC build for Q2 2019 is our best attempt at carefully hand-picking the best luxury component selections on the current market whilst still staying in the realm of practicality (ie getting the most for your money, even with a ridiculously high budget).
This custom desktop combines the current king of gaming CPUs, the ridiculously-fast i9-9900K, with a high-end triple-fan RTX 2080 Ti that's nicely overclocked out of the box, and a mega 32GB of 3200MHz RAM to make for truly mindblowing performance whether you're gaming in 4K, 1080p 144Hz/240Hz, 1440p 144Hz, VR, or taking over the world. If you're new to hardware and those numbers/specs confuse you, let me summarize in plain non-gamer-speak English: this PC is an absolute MONSTER and most definitely overkill for most.
Though not for the feint of heart or those looking for more practical bang for buck for 4K gaming (see our $2500 gaming PC build for that), this $3000 gaming PC build might be the droid you're looking for if you have a loose budget and simply want to go all-out with the very best high-end gaming parts across the board complete with bells and whistles such as supreme cooling and top-notch (matching) aesthetics. 
It's also the type of PC you'd want to build as a current or future pro eSports star, where you'll be able to crank out consistently-high above-average frame rates for high refresh rate (144Hz+) gaming monitors without breaking a sweat (a must for fast-paced pro gaming).

Before we break down this epic beast of a build in detail, as with all our sample builds this $3000 gaming PC build is here to be used as a base of reference for your ongoing build research (everyone has slightly different needs), but feel free to use this parts-list exactly as-is as we do our due diligence to ensure it's a really good "safe bet" build suitable for most gamers lucky enough to be building in this price range.

Let's cut the hype and cheap SW jokes and get down to business to break down this build in detail, including exactly why each carefully-considered component was selected, what performance you can expect from these parts in 4K on ultra settings in popular AAA games, and our secondary hardware recommendations to help you with tweaking the right $3000 PC for you. We provide direct products links for your local Amazon store whether you're in the US, Canada, UK, or Australia, and make substitutions when necessary (such as when a certain part isn't available in a certain country or overpriced etc). To support us continuing to create in-depth objective build guides like this, if after your ongoing research you do decide to purchase one of our recommendations please consider using the links we provide as we may earn a small commission.
Note: See the PC Builds FAQ to compare all our current recommended gaming desktop builds, and which answers common questions about these sample builds.
Full Parts-List & Specs Cheatsheet (US)

Best Gaming PC Build for $3000 (April 2019 Updated)


Check Price (USA)
Graphics Card
Asus Rox Strix GeForce RTX 2080 Ti Gaming OC (11GB GDDR6)

OR

EVGA GeForce RTX 2080 Ti FTW3 Ultra Gaming (11GB GDDR6)






CPU
Intel Core i9-9900K (3.6GHz, 9th Gen, 8 Cores, 16 Threads, Unlocked)
CPU Cooler
NZXT Kraken X72 (360mm Radiator, 3 x 120mm Fans)
Motherboard
Asus ROG Maximus XI Hero WiFi (Z390, ATX, 4xDDR4, SLI)
RAM
Corsair Vengeance RGB Pro 32GB (2 x 16GB, DDR4, 3200MHz)
SSD (system drive)
Samsung 860 EVO 500GB (SATA 3)
HDD (secondary drive)
Seagate Barracuda 2TB (7200 RPM, 64MB Cache)
Power Supply
EVGA SuperNOVA 850 G3 (80+ Gold, 850 Watts, Fully Modular)
Case
NZXT H700i (ATX Mid-Tower, 4x120mm Fans, RGB & Fan Control)

Estimated Total:


$2960 - $3060 (US Dollars)





(Orders Parts on Amazon, Our #1 Recommended Store)



Notable Build Features


Estimated Wattage (Power Draw)
118W - 419W
RAM Slots
4 (2 slots free)
Motherboard Support
mITX, mATX, ATX, EATX
Max RAM Support
64GB
CPU Overclockable?
Yes
Built-in WiFi?
Yes (802.11ac)
Storage Support
6 x SATA 6Gb/s Drives
2 x m.2 SSD
Raid 0, 1, 5, 10
VR-Ready?
Take a wild guess
Front Panel USB Ports
2 x USB 3.1, 2 x USB 2.0
Optical Drive Support?
No
Multi-Monitor Support
Up to 4 Displays
Case Fans
Front: 3 x 120mm or 2 x 140mm (3 x 120mm Included)
Top: 3 x 120mm or 2 x 140mm
Rear: 1 x 120mm or x 140mm (1 x 140mm Included)

Case Dimensions (W x H x D)

230mm x 494mm x 494mm (without feet)
Max GPU/PCI-E Card Length
413mm
Max CPU Cooler Height
185mm
AMD CrossFire Support
Yes (up to 3-way)
NVidia SLI Support
Yes (up to 2-way)
Full Motherboard & Case Specs
ASUS Rog Maximus XI Hero WiFi | NZXT H700i
Parts for Canada, UK, & Australia

The Ultimate Gaming PC Build for Australia, UK or Canada *



(2 stores included for Australia because Amazon AU isn't always best)



Graphics Card:
&nbsp&nbsp&nbsp&nbsp&nbsp&nbsp
CPU/Processor:
&nbsp&nbsp&nbsp&nbsp&nbsp&nbsp
CPU Cooler:
&nbsp&nbsp&nbsp&nbsp&nbsp&nbsp
Motherboard:
&nbsp&nbsp&nbsp&nbsp&nbsp&nbsp
RAM/Memory:
&nbsp&nbsp&nbsp&nbsp&nbsp&nbsp
Solid State Drive:
&nbsp&nbsp&nbsp&nbsp&nbsp&nbsp
Hard Drive:
&nbsp&nbsp&nbsp&nbsp&nbsp&nbsp
Power Supply:
&nbsp&nbsp&nbsp&nbsp&nbsp&nbsp
Case:
&nbsp&nbsp&nbsp&nbsp&nbsp&nbsp
* Planning a $3000 Gaming PC Build in Australia, UK & Canada?
The parts-list above is primarily based on the US market, but will usually also be the exact same parts we recommend for these countries too (hardware is an international game). However, if one of the main component recommendations above is either overpriced or unavailable in Canada, UK, or Australia, we'll substitute that particular part for another more suitable model for that country (that's still 100% compatible of course). We do our best with each monthly update to tailor our builds for each country individually to help you get the most bang for your buck in your corner of the world.
Performance & 4K Ultra Benchmarks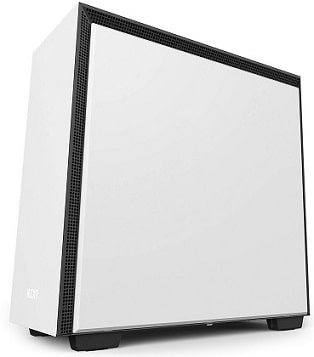 1080p 60Hz:

1080p 144Hz:

1440p 60Hz:

1440p 144Hz:

4K 60Hz:

4K 144Hz:


VR:

Minesweeper:


FLAWLESS

GREAT/FLAWLESS

FLAWLESS

GREAT


GREAT/FLAWLESS


AVERAGE


FLAWLESS


UNPLAYABLE

The above is the average expected performance of this build at different resolutions and refresh-rates when playing a typical, graphically-demanding modern PC game on high/ultra/maxed settings. If you're not sure what refresh-rate your gaming monitor is, chances are it's a standard 60Hz screen. See PC gaming refresh rates explained for more.

Average Frame Rate for 4K ULTRA

(i9-9900K, RTX 2080 Ti OC, 32GB 3000MHz)


GAME
AVERAGE FPS
GTA V
95 - 110 FPS

PUBG
70 - 80 FPS
Far Cry 5
70 - 80 FPS
Shadow of the Tomb Raider
55 - 65 FPS
Assassin's Creed Origins
55 - 65 FPS
The Witcher 3
70 - 80 FPS
Rainbow Six Siege
115 - 125 FPS
Monster Hunter: World
40 - 50 FPS
Deus Ex: Mankind Divided
40 - 55 FPS
Estimated Frame Rates: Disclaimer
The average FPS (Frames Per Second) ratings are an aggregated estimation based on carefully studying multiple online benchmark sources. Note these are averages, meaning that in the most action-packed scenes the frame-rate will go lower. For example, if we list the Witcher 3 average as 50-60FPS, your FPS may drop to 30-40FPS in the most intense scenes, so take that into account in your build planning.

Whilst we do everything we can to make these as accurate as possible, please note there's no guarantee you'll get this exact average as there are different factors that could affect your frame rate such as other hardware differences, software differences (OS, drivers, game patches/versions, etc), cooling/airflow of your build, enabled game features/settings such as Anti-Aliasing, different RAM setups you might be using, and so on.
We always err on the side of being conservative with our numbers though, so we'll round things down if we need to instead of rounding up, so you can rest assured our averages are pretty safe bets in terms of what performance you can expect from a certain setup.
Build Breakdown & Honorable Mentions
Recommended GPUs 

for a $3000 Gaming PC Build
Asus Rog Strix RTX 2080 Ti OC 11GB

Honorable Mention: EVGA GeForce RTX 2080 Ti FTW3 11GB
When building a $3000 PC for gaming in mid 2019, thanks to a lack of AMD competition at this level there's only one real choice for graphics - a mighty RTX 2080 Ti. So the question is, which 2080 Ti model and brand should you get?

Asus and EVGA are typically the cream of the crop, and at the moment that's no exception and their triple-fan Strix and FTW3 editions of the 2080 Ti are arguably the two best cards you can get. It's real hard to split them and either is going to serve you well with the very best, most effective cooling (and looks) possible, along with faster-than-stock out of the box speeds, so the decision comes down to current pricing and preference.  
These cards aren't the best overall bang for your buck, as a standard model 2080 Ti such as EVGA's popular Black Edition is going to be very close in terms of pure gaming performance and the better overall buy, but for a $3000 budget you can comfortably squeeze in one of the higher-end 2080 Ti's because..why not? You'll be getting a slightly superior card and the best cooling possible, and it makes sense when going all-out on an ultimate gaming PC build like this where the aim isn't necessarily building the most value for money setup but the overall most premium, long-lasting, fastest and best-looking gaming computer possible.
Another way of putting it is you could make the argument that the price jump from the previous $2500 build to this $3000 build isn't justified in the pure gaming performance statistics alone, as you won't see a huge difference in 4K gaming between the two GPU/CPU setups. But where this setup really outshines the $2500 PC is in high refresh rate gaming and workstation performance, as the extra RAM of this PC and most-importantly the faster i9-9900K CPU takes things to the next level in those areas (CPU is important for high refresh-rate, high frame-rate gaming). This $3000 gaming PC build will also last you a bit longer than the better overall value of the $2500 rig, and also has the better motherboard, more SSD storage, better CPU cooler, and better overclocking support.
That all said, we can only suggest this build (and specifically the high-end RTX 2080 Ti Strix or FTW) to the most hardcore, avid gamers with a want (need?) for flawless 4K performance, or those fortunate enough to not really know what having a budget is and are just going all-out for the most impressive, most future-proof build (that's also perfect for any VR title now and over the next few years). If you're looking for maximum value for your money, look elsewhere: our best 4K gaming PC build under $2500 is the better value buy for 4K gamers overall, and will still get a buttery smooth 60FPS in many situations (depends on the game/settings though).
Recommended 

CPU & Cooler for a $3000 Gaming PC Build
Intel Core i9-9900K 3.6GHz (8 Cores, 16 Threads)

The i9-9900K is fitting for the ultimate build and truly is the ultimate gaming CPU on the market right now. Boasting 8 cores and 16 threads, it can handle even the most processor-intensive modern games with ease and then some, and is also the ideal brain to have in your build for getting those consistently high frame rates for 144Hz displays (which relies a lot on the CPU). This chip will also overclock to at least 5GHz should you want to go down that road.
To cool the beast that is the 9900K you'll want a trusty liquid CPU cooler, and NZXT's Kraken X72 is a great choice with widespread praise across the community, with all the oomph needed even if overclocking.

Top Pick: NZXT Kraken X72 (360mm Radiator, 3 x 120mm Fans)

Honorable Mention: Cooler Master Hydro H150i Pro RGB
But even if you're not overclocking, it's a wise move to get a high-end cooler like this for such a powerful processor. There are some very good alternatives out there like the Corsair H150i - another great high-end 360mm radiator with RGB as well that would make a great pairing with the 9900K.
For the first-time builders, don't let the term liquid cooling psyche you out thinking it's going to require a computer engineering degree to work with, as all-in-one liquid coolers like this are relatively straightforward installations and nothing like building an actual water-cooling loop PC. Speaking of which, that's always something you could add to this setup later down the track should you have the audacity to venture into those waters (pun intended), but this isn't necessary whatsoever and not recommended to the far majority of builders.

Recommended 

Motherboard and RAM for a $3000 PC Build
Asus ROG Maximus XI Hero WiFi (Z390, ATX, 4xDDR4, SLI)
The Asus Rog Maximus XI Hero is a safe bet to be a highly-reliable, well-designed and quality central nervous system for your ultimate gaming PC, and comes with every feature you'd expect from a top-notch board from the best motherboard manufacture (IMHO). It's got built-in 802.11ac WiFi too, so no need to include a wireless network adapter.  The Aura Sync RGB effects on this board can be matched with the RGB of the Asus Rog Strix RTX 2080 Ti graphics card, making for an impressive lighting display that you can easily control and sync using the Asus software. 
The RAM also plays its part in the light show, with the aesthetically-pleasing set of two 16GB Corsair Vengeance modules that gel well with the Asus Rog Maximus XI Hero. 32GB of memory is a boatload and most definitely overkill for gaming, but you can comfortably fit in such a lofty amount when working with a $3000 budget, and it does mean you'll be "future-proofed" for a long, long time to come. Plus, 32GB of RAM will come in handy for demanding non-gaming tasks such as multitasking, video editing, streaming, and so on.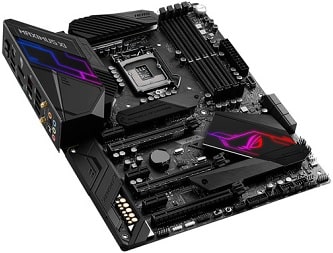 Top Pick: Corsair Vengeance RGB Pro 32GB (2 x 16GB, DDR4, 3200MHz)

Honorable Mention: G.SKILL TridentZ RGB Series 2 x 16GB (3200MHz DDR4)
The TridentZ sticks are an excellent alternative to the Corsair Pro modules; G.SKILL memory is top-notch and these are no exception and well-priced. Either choices run at 3200MHz, which is quite fast as far as RAM speeds go, and a speed you might as well buy for such an epic all-out build as the price difference isn't huge compared to slower speeds such as 3000MHz. You could say 3200MHz is the "sweet spot" for high-end gaming PCs, as any higher is a bit of a waste of money. If you want to shave costs and you find 3000MHz RAM at a great price that also matches this build well, by all means go for it as you're not going to see a performance different when it comes to gaming (besides, as mentioned before with 32GB you're in overkill territory as far as gaming is concerned).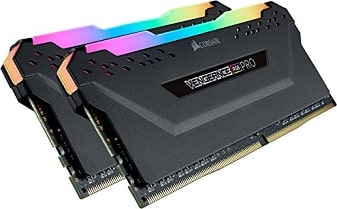 Since your motherboard (and any high-end motherboard) has 4 RAM slots you should probably favor getting 2 x 16GB modules, instead of the 4 x 8GB memory kits you see out there which could mean you'll have no slots left for future upgrades. Not that you would ever need to upgrade beyond 32GB, but some power users would indeed love to have a whopping 64GB at some point in the future so keep those extra 2 RAM slots free if that sounds like you.
However, there is a case for getting 4 x 8GB instead of 2 x 16GB, as having those 2 extra sticks now means more RGB lighting as well as making your build look a bit more "complete" when peeking in from the side panel (2 bare memory slots just scream "fill me!"). Either way, it's personal preference. 
Recommended Cases for a $3000 PC Build
Top Pick:
NZXT H700i RGB Mid Tower

Honorable Mentions:
Lian Li PC-O11DW Mid Tower
Corsair Obsidian 500D RGB Mid Tower
Choosing the core components for a 3000 dollar gaming pc build such as the video card and CPU is fairly straightforward, as nothing is going to beat a 2080 Ti and i9-9900K combination in this tier. But when it comes to picking a good top-tier case for your ultimate setup, you're spoilt for choice. For a build of this budget you can comfortable allow for a $150 - $200 case, of which there are plenty of solid options to consider. 
NZXT's H700i is one such good option with a nice array of features. It's a Mid Tower case, but don't let that fool you into thinking it's not suitable for an extreme monster build like this, as it's quite roomy and you don't need a Full Tower sized case for high-end setups like this. Either will do, assuming the model is on the roomier end of the spectrum when it comes to Mid Tower if that's what you're going for.
With its huge see-through side panel, tempered glass construction, and RGB lighting with included fan controller, it'll show off the ultimate gaming PC in style and is one of the best looking cases out there when everything is up and running. Photos don't really do it justice, as it looks kinda plain and uninspiring in product images, but it really does come to life with RGB (see the videos included further below under our "Building the $3000 PC" section to see what I mean).
It also comes with 4 120mm fans, 3 120mm ones on the front and 1 140mm on the back, which is very handy and means there's no need to buy any more fans for cooling (or extra RGB) purposes unless you want to (or need to; if you'll be doing extreme overclocking, for instance, you may want a couple extra fans to mount on the top of the case).
You also get two included RGB strips, and a unique stand-out feature: a smart fan hub that uses a software called CAM to tap into machine learning to automatically find the best settings for your fans to run at an optimal noise to performance ratio. Pretty impressive stuff, and despite some people complaining about CAM being hard to use, if you follow a YouTube tutorial from a top tech YouTuber who have fully figured it out, you should be just fine with it.
As your choice of case comes more down to personal preference than perhaps any other component in a PC build (besides storage which really is up in the air for you to decide on depending on your needs), let's quickly discuss a couple solid alternatives that would also house this $3000 build reliably and in style (and with full compatibility with all these parts; we don't cut corners here at BGC and make sure every alternate recommendation is fully compatible).
A mention must go to the now super-duper popular Lian Li PC-011DW Mid Tower, which despite the uninspiring generic name is a top-notch quality, very attractive piece of machinery. Lando would definitely be interested. The Corsair Obsidian 500D is also hard to ignore as an epic case for an epic build like this, but it is a little bit more expensive than the H700i and the Lian Li Whatever-the-hell-model-name. Although the Lian Li would also work out a fair bit more than the H700i as it doesn't come with any case fans at all, so you'd need to factor that cost into things as well.
These two alternative cases, as well as our main pick (H700i), are all technically Mid Towers, though they have all the room you need for a rig like this that has a large GPU and liquid cooler, even taking into account future upgrades you may wish to make (and yes, all 3 are just fine to include a custom water cooling loop for your build should you be up to the challenge).
That's it for the breakdown of the recommended $3000 gaming PC build; we'll skip the power supply and storage, not because they're unimportant but simply because the same picks remain from the previous build so see that breakdown for explanations of those parts.
Recommended OS & Accessories
You're best off with 64 bit Windows 10 (Home or Pro) unless you have a good reason to get another operating system like Linux. You have a few options to get it:
Option C: Buy Windows from Microsoft and download it to an existing computer/laptop, then put it on a flash drive, then use that flash drive when booting up your PC. 
As for accessories and optional-add on parts for our current recommended 3K rig, here are some solid options but these ultimately come down to personal preference not to mention how much cash you're willing to drop on these.
Building the $3000 Gaming Computer
Our main guide on how to build a PC still applies for installing a high-end $3000 PC like this (even though we take you by the hand through a budget $500 build in that guide) as the main steps and principles are the same, but what might also come in handy are specific videos on installing with the h700i case such as these:
If you're planning your very first gaming PC build then an extreme setup like this may seem a bit intimidating to assemble, but don't be overwhelmed by the extreme power as the truth is that putting together a high-end list of parts like this is genuinely the same level of difficulty (ie straightforward if you can simply follow instructions) compared to building a cheaper setup. There's nothing more complicated about it and installing the included all-in-one CPU liquid cooler isn't any harder than installing a typical air cooler.
Only thing different than building a budget PC is that it'll take you a little longer to install everything. Installing a custom water cooling loop is another story and where powerful PC builds become complicated installations that beginners should avoid at all costs, but thanks to great all-in-one liquid cooling solutions like the NZXT Kraken included in this build, a high-end $3000 setup like this is very much within the capability of any first-time builder. Just obviously take your time without rushing anything.
Comparing Similar Prebuilt Desktops
Whilst we're all about building your own system here at BGC, and wholeheartedly recommend it to all PC gamers even if you're a complete hardware beginner who's a little intimidated as it really is easy to do, you might still want a pre-assembled setup when forking out so much cash on a new setup. Maybe you simply don't have the time or patience to assemble it yourself, and you don't mind spending a little more money (prebuilts are going to cost you more for the same component quality). The following two prebuilt desktops are the closest spec setups we could find compared to the above custom rig (that are also worth considering if you want a prebuilt: we ignored any low-quality brands and products), and they work out around the same price. However if you look closely you'll see the overall parts-list isn't as good as the custom build across the board.
References
- EVGA GeForce RTX 2080 Ti FTW3 Ultra 11 GB Review
- EVGA RTX 2080Ti FTW3 Ultra Review
- This much GPU power is just insane. RTX 2080Ti FTW 3
- EVGA GeForce RTX 2080 Ti FTW3 Ultra Gaming Specifications
- GeForce RTX 2080 Ti DUKE 11G OC Specifications
- Review: MSI GeForce RTX 2080 Ti Duke 11G OC
- MSI GeForce RTX 2080 Ti Duke Review
- ASUS Rog Maximus XI Hero WiFi ATX Motherboard Specifications
- NZXT H700i ATX Mid Tower Computer Case Specifications

Need help planning your PC? Leave a comment on the Gaming PC Builds hub.
Need help building your PC? Leave a comment on the Gaming PC Assembly hub.

Enjoyed the guide or have feedback? Let us know, too.
Lastly, if you found this guide real helpful, help us spread the word about our objective, in-depth noob-friendly guides by sharing it with anyone who might also benefit. Thanks guys, and good luck with your build.