THE GAMING BUILD BLUEPRINT: 2018 EDITION (V3)
The Comprehensive Digital Manual Covering Every Step on Planning, Building, Optimizing & Maintaining Your First Custom Gaming PC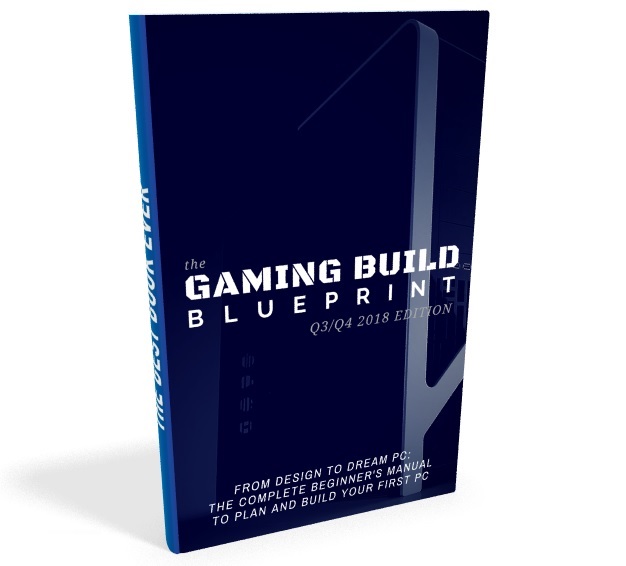 Full eBook tutorial for beginners to finally, and easily, overcome any fears or concerns and confidently break into the fun, beneficial, money-saving world of DIY gaming
Building your own computer is a lot easier than it used to be, and overall quite a straightforward process, but as a first-time PC builder or an intermediate needing a refresher, you're going to need a complete step-by-step roadmap that takes you through the process in precise detail so you can easily understand each step, do them properly and safely without making a mistake that you'll have to fix later on, and to avoid getting stuck or confused along the way.

Unfortunately, when building your first computer you can't simply rely on the manuals that came with your hardware components as they don't actually come with instructions (besides not-very-useful, oftentimes-confusing little diagrams with no detail whatsoever).

Plus, besides needing specific instructions for each step of building your computer, there are quite a few little details and nuances you need to be aware of as a beginner to make for a smooth process without the frustrations, such as setting up an ideal work area to build your computer safely and efficiently, understanding static electricity and how to avoid it damaging your components (or yourself), how to find and fix any first-boot errors or mistakes that you might make, all the steps you need to do after you've installed your parts and your software, and more such as how to maintain your hardware and software, optimize your new rig to run as smoothly as possible for as long as possible, and more.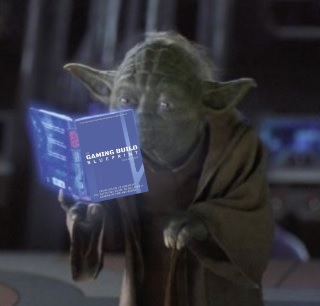 Be swayed to the dark side, you must not be, for that is the path to over-priced, over-bloated, un-optimized pre-built PCs
If you've ever considered building your own system 'cause you know of the various benefits it provides, plus you realize it's a heck of a lot more fun and satisfying way to get into the PC master race, but you just never went ahead with it 'cause you were a little overwhelmed by the many planning and building steps involved or you're worried about making mistakes and wasting your time and money - this guide could be your savior.
Unlike other guides or video tutorials on building your own PC which often leave out important steps, rush over crucial little details and nuances that you really should know as a first-timer, or aren't really made with the intimidated, confused newbie in mind (sometimes hardware enthusiasts forget what it's like to be a noob and have a hard time explaining things from a noob-friendly perspective) - the Gaming Build Blueprint eBook has been carefully-crafted with first-time builders in mind so no noob gets left behind.
This 111-page, instantly downloadable eBook is your definitive, zero B.S, step-by-step guide to building a computer, and is written in as simple language as possible with included explanations of every step so that you're not just told what to do but WHY so you can truly level up your knowledge and be able to confidently plan, build and maintain your own PCs - now and for the rest of your gaming career.
The guide is also logically-ordered into 9 bite-sized modules that allows you to take things one step at a time to fully understand everything you need to do before moving onto the next module. Funnily enough, the aim with creating The Gaming Build Blueprint has been to allow even your Pentium-4-wielding Grandma to be able to build her own gaming PC with ease should she one day wake up with a sudden strange urge to join the Master Race herself. Hey, better late than never.
So, if you've ever thought about building your own computer like any true Jedi, warrior, or future gaming pro would, this guide will cut through any excuses or concerns you might have had in the past and allow you to finally make your DIY dream a reality.
"I would like to express my gratitude for the great content included in your guide. I was able to build my first gaming PC, and without your product probably it would have taken me more time. You did a great job."
- Daniel Gallegos, USA
What You'll Learn in the Full-Length eBook, The Gaming Build Blueprint
(CONTENTS)
17.95 USD
Includes 90 Days of Available 1-on-1 Email Support Which Includes a Free Critique/Second Opinion of Your Parts-List
With your download of The Gaming Build Blueprint eBook you get unlimited access to our exclusive 1-on-1 support email reserved only for customers where you can ask us anything about planning or building your PC and we'll take the time to give you personalized, specific advice for your exact situation. Whether you want a second opinion or critique of your parts-list, or help regarding anything else related to building computers, you'll have us in your corner should you ever get stuck (valid for up to 90 days after your download).
Backed By Our 100% Money-Back Guarantee
Download risk-free: if after finishing the Gaming Build Blueprint comprehensive manual you're not 100% satisfied with the knowledge, skill, and confidence you've gained, simply reach out to me and I'll refund you no quested asked. If you don't think the guide will save you 10x its cost in terms of overall money and time YOU save over the long run by becoming a smarter gaming PC builder, we don't want your money.
About the Author
Julien "cyberjulz" (typical/usual PC/PSN username/alter-ego/fifakiller) is the creator of BGC and has been an avid PC and console gamer since as long as he can remember. As a young teen he would teach himself game programming which led to an interest in gaming technology, hardware, PC building, game benchmarking, gaming gear, and eSports, and then the idea for the beginner-friendly, non-confusing, simplified and data-backed PC building resource was born. BGC started out as seriously average, very-limited drivel on my random thoughts on studying hardware and computer science which I used to learn on the side whilst working a full time job, but the site has steadily grown over the years and taken on a mini life of its own and is a project I now run full-time which allows me to work within topics and industries that I know well and love: gaming and technology. Fav games of all time? are OOT, Perfect Dark, G007, MSG1-2, HL1-2, WC3, C&C1, FIFA, CSGO and good old Donkey Kong 1-3. Thanks for being a reader and I hope BGC helps you in some way.
PS: With your download you get 100% free access to any future updated/improved editions of the guide.
PPS: Your download of the Gaming Build Blueprint also helps BGC become a better resource for gaming hardware beginners, as  profits made are invested back into the site to help grow it further. Thanks in advance for your support, it's much appreciated.