---
The Gaming Build Blueprint: 2018 Edition
---
The Ultimate Digital Manual for DIY Gaming Beginners: How to Plan, Build & Maintain Your First Custom Gaming PC Step-by-Step Without Getting Stuck or Making Mistakes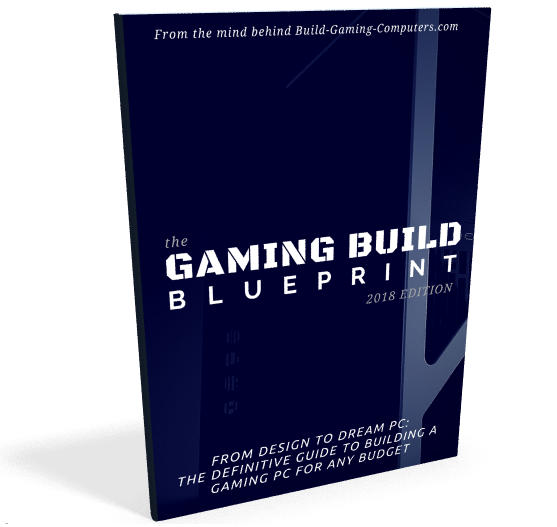 Our Latest Downloadable & Print-Friendly eBook on Building a Great First PC
Learn everything you need to design, assemble, tweak and maintain your first cost-effective, high-performance, long-lasting gaming PC all in the one downloadable guide. You don't need a full book to build your first PC, and an online tutorial on installing your PC parts is all that some first-timers need to assemble your PC.
However, if you want to go deeper with your knowledge and understand every single step of the process in more detail, including planning your build in detail, how to troubleshoot common build errors should you make mistakes, full safety precautions and tips on setting up the perfect workspace and picking the right tools, optimizing performance of your rig, how to maintain your hardware and software, and everything you need to know about upgrades - look no further than The Gaming Build Blueprint, our A to Z manual for gamers wanting to go from DIY PC noob to ninja.
Here's what you'll learn in the most complete, in-depth guide to building a gaming PC that you'll find anywhere:
Step by step instructions on designing your dream build from scratch, including choosing the right spending budget for your wants and needs, picking the right parts, optional add-on parts, and peripherals, as well as bonus tips on buying your parts either online or offline
Simple yet effective hacks to instantly increase both the general and gaming performance of your new rig to keep it running as smooth as possible and to crank out a few extra frames-per-second in all of your games
The best add-on software programs to install on a fresh new build in 2018 including our top-rated anti-virus, hardware/performance monitoring software, and other applications to consider installing as a gamer
The important things to know about maintaining your new PC including how to safely look after and clean your PC and parts, how to avoid and clean dust safely to extend your system's lifespan, and tips on maintaining your operating system, software, and device drivers
Everything you need to know as a beginner about upgrading your gaming PC down the road, including how to know when to upgrade something, how to check if your CPU is bottle-necking your system and limiting your gaming performance back, tips on upgrading your GPU, how to upgrade RAM to avoid compatibility issues, how to safely uninstall parts such as your CPU, cooler, and thermal paste, and how to upgrade to an SSD later and migrate Windows from a HDD to an SSD
Includes exclusive access to our dedicated 1-on-1 priority support email (reserved only for customers) if you have any questions about choosing parts, building your PC, troubleshooting, maintenance, etc. We can even give you a free critique of your parts-list if you want a fresh second opinion before pulling the trigger and buying them
Here's a peak at the table of contents of the eBook manual: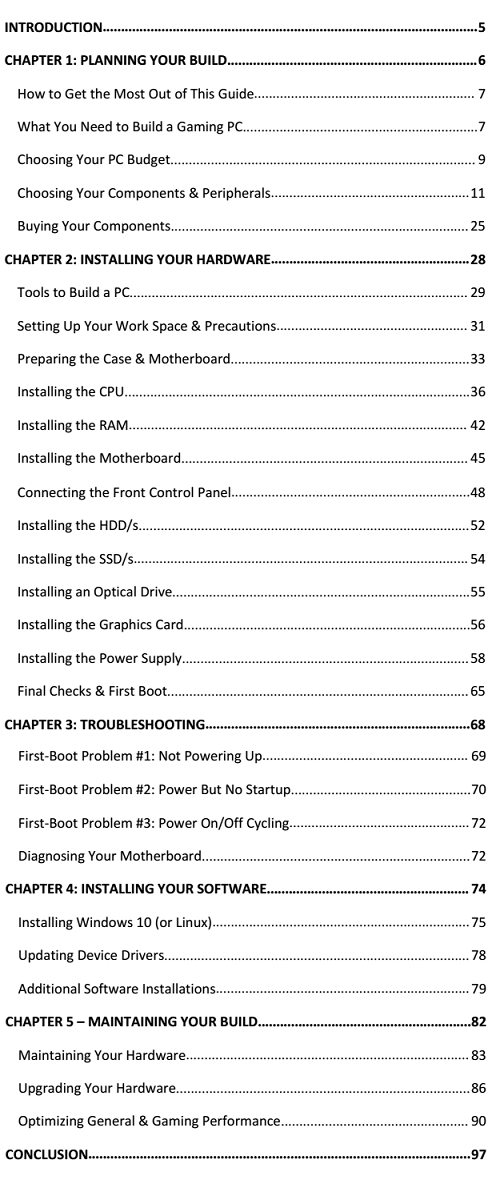 Download Now for Just $17 USD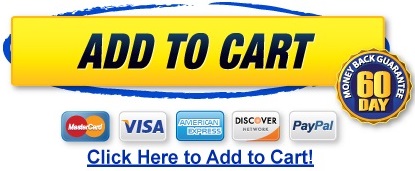 NOTE: The Gaming Build Blueprint is a downloadable eBook. After you order you'll get instant access to download the eBook onto your computer. The eBook comes in PDF format which can be viewed on either Windows or Mac.
Includes Free Email Help & Support (for up to 60 days)

With your download of the manual you get access to our exclusive support email which is reserved only for owners of the manual, where you can ask us any questions you like on any aspect of planning or building a PC, including getting a full critique of your parts-list should you want a second expert opinion on your selections before ordering your parts.
60-Day Money-Back Guarantee: Download Risk-Free
Not satisfied with your purchase in any way? No worries: simply let us know within 60 days of purchase and we'll happily refund you, no questions asked. We don't want your money if you're not 100% happy, so you have nothing to lose and a lot of invaluable DIY knowledge to gain that'll have you easily building and upgrading PCs - for life!