---
THE GAMING BUILD BLUEPRINT: 2018 EDITION
---
The Ultimate Idiot-Proof Manual: Everything You Need to Know to Plan, Build & Optimize Your First Dream PC All in the One Downloadable, Print-Friendly Guide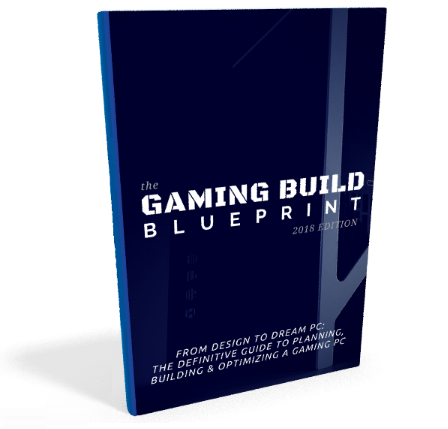 Our Latest Detailed PDF eBook on Building a PC
Last Updated: Mar 17, 2018
The Gaming Build Blueprint: 2018 Edition is the most in-depth, current, written PC building guide for newbies that will take you by the hand through all the A to Z steps of planning, building, troubleshooting and maintaining your first custom gaming computer from absolute scratch for any spending budget, logically-ordered and easy-to-follow so no noob gets left behind.
This is a much more complete, more easily-digestible version of our basic PC build walkthrough and contains all the main installation instructions in that tutorial in a more easy-to-digest, downloadable and print-friendly format that you can conveniently reference back to again and again (even when offline), PLUS with exclusive added content not found on the site including:
A dedicated chapter on designing your build and fast-tracking the selection process for all your parts and optional add-on parts, which is a handy, simplified, all-in-one parts-list buying guide that cuts out the fat from the many various buying guides across our site and articulates just the key important points to know as a first-timer in 2018
Simple, effective tips and tricks to instantly increase both the general and gaming performance of your new rig to keep it running as smooth as possible and to crank out a few extra frames-per-second in all of your games
The best add-on programs to install on a fresh new build in 2018 including top-rated anti-virus, hardware/performance monitoring software, and other applications to consider installing as a gamer
The important things to know about maintaining your new PC including how to safely look after and clean your PC and parts, how to avoid and clean dust safely to extend your system's lifespan, and tips on maintaining your operating system, software, and device drivers
Everything you need to know as a beginner about upgrading your gaming PC down the road, including how to know when to upgrade something, how to check if your CPU is bottle-necking and holding your system back, tips on upgrading your GPU, tips on upgrading RAM to avoid compatibility issues, how to safely uninstall parts such as your CPU, cooler, and thermal paste, and how to upgrade to an SSD later and migrate Windows from a HDD to an SSD
Plus you get access to our dedicated 1-on-1 priority support email (reserved only for customers) where we can help you should you get stuck or need a second opinion on anything to do with designing, building or maintaining your system
Here's a peak at the table of contents of The Gaming Build Blueprint manual: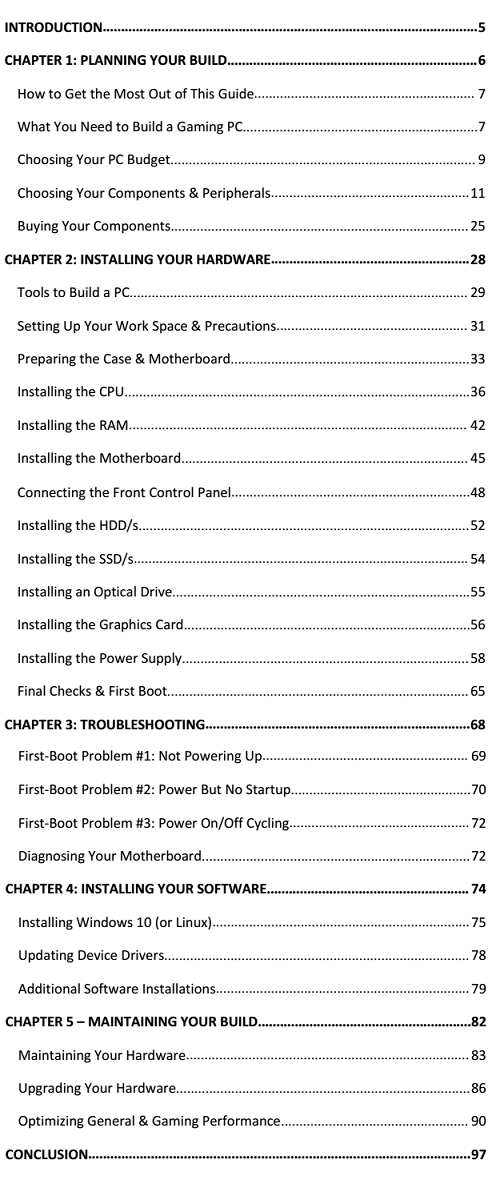 To begin your quest to constructing the ultimate gaming battle station and download the guide that will help you make the absolute most of the journey now and into the future, click 'Add to Cart' below to access our secure order page. 
Enjoy, good luck, and thanks for showing your support for Build-Gaming-Computers.com - any profits from the book are put back into further improving the site to continually make it a better and better resource for the DIY community.
Price: $7.95

Format: PDF eBook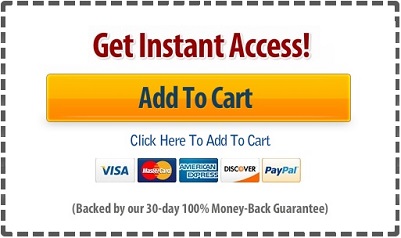 30-Day Money-Back Guarantee
Not satisfied with your purchase in any way? No worries: simply let us know within 30 days of purchase and we'll happily refund you, no questions asked. We don't want your money if you're not 100% happy, so you have nothing to lose and a lot of invaluable wisdom to gain by ordering your copy of the guide.
Priority 1-on-1 Support Included
Got questions or get stuck along your journey? With your order of the guide you get exclusive access to our priority support email for customers only where we can help you with choosing parts, building your system, or anything else.
About the Author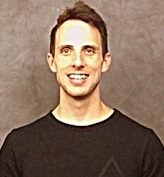 Julien "cyberjulz" is the proprietor of Build-Gaming-Computers.com and the author of The Gaming Build Blueprint. He grew up as an avid console & PC gamer which led him to studying computer science in his teens, which then led to a keen interest in game programming and development which culminated in the creation of an indie arena-based first-person shooter he coded in good-old C++ with a friend. When he's not building websites or keeping up with the latest in tech he loves travel, fitness, sports, music & stand-up comedy. His fav PC games of all time are C&C1, HL1 & WC3.