Home > PC Assembly > Extended Manual
THE GAMING BUILD BLUEPRINT
The Ultimate All-in-One, Idiot-Proof Manual for First-Time Builders: How to Plan, Build, Troubleshoot, Maintain & Optimize Your First Custom PC (Version 3)
Everything you need to plan, build, and maintain your first custom gaming PC - all in the one guide
Here at BGC we cover all sorts of topics related to building your own custom computers across a wide range of different articles and tutorials.

But if you're a beginner who doesn't want to spend the time reading separate in-depth article after in-depth article, having to manually sort through and piece together all the information you need for a successful first build - we get it.
To save you time and make things as easy and convenient as possible, we've crafted a special all-in-one mega-manual: The Gaming Build Blueprint.
This comprehensive all-in-one guide includes absolutely everything you need to know to plan, build, maintain and optimize your first custom PC from scratch, all in the one handy, downloadable, and print-friendly PDF manual that's easier to follow along with, simpler to navigate, and more convenient to refer back to over and over at any time (and on any device).
Plus, along with combining all the key, crucial information you need as a complete beginner from all over our site in more condensed, easy to digest chapters (that weed out any extra fluff info you don't need to know for a successful first build) - the manual includes extra bonus chapters not found anywhere else that will help you make the most of your first build:
Bonus Chapter #1

How to Maintain Hardware and Software, Upgrade Tips, & Effectively Cleaning Your First Custom PC

Learn how to effectively extend the lifespan of your new build including what to know about upgrading hardware components, an easy hack to know if your CPU is bottlenecking your GPU and your gaming performance, how to safely clean and dust the inside and outside of your PC to keep it running optimally for longer (and always looking fresh), what to know about maintaining software including device drivers, and more.
Bonus Chapter #2
8 Tips & Tricks to Easily Boost the Gaming & General Performance of Your First Custom PC
Learn various methods and strategies to fine-tuning the performance of your new PC build to maximize how fast your games and general applications perform now and over the long-term, including quick and easy ways to get higher FPS for free, how to avoid your system slowly degrading in performance too quickly, and much more.
But these exclusive bonus modules are just the tip of the iceberg, and in this 111 page instantly-downloadable PDF manual you'll go through 9 easily-digestible, logically-ordered chapters that will take you by the hand through every single step of planning, building, troubleshooting, maintaining and fine-tuning your first custom gaming (or hybrid gaming/workstation) computer from ground zero.
One of the bonus chapters
If you've ever considered building your own system 'cause you know of the many benefits it provides, and you realize it's a much more fun and satisfying way to get into PC gaming - but you just never went ahead with it 'cause you were either overwhelmed by all the planning, building, troubleshooting and maintenance steps involved, or worried about making mistakes and wasting your time and/or money - this guide makes things easy and covers the entire journey of a first build in simple language (without any jargon/lingo).

Why Most PC Building Guides Can Be Confusing As a Noob
The thing is, advanced PC users and hardware enthusiasts (who are often the ones creating guides on building PCs) often forget what it's like to be a complete noob, which oftentimes leads to them often rushing over (or entirely skipping) important little details, explanations, and/or steps when explaining PC building topics.

That's great if you already have decent understanding of hardware and just looking for a refresher, but if you're a first time builder a lot of the information out there can often just create more confusion (and more questions in your head than you had going in). Truth is, most advice on building computers out there is incomplete and/or a little rushed for complete newbies.
As a first-timer, you want everything - and I mean everything - explained to you clearly and concisely, in as simple-to-understand basic terms as possible, so you can gain full confidence you can do all the steps to planning and building your computer with 100% confidence and peace of mind. Instead of just advice that says "do this, and do that", as a newbie you want instructions that also explains WHY you should do X, or why you shouldn't do Y. 
That's where The Gaming Build Blueprint comes in, which has been carefully-crafted specifically for you as a complete hardware novice wanting to be slowly but surely guided through every single step of the way, all the way from choosing how much to spend, picking parts, buying parts, installing parts, to fixing any mistakes or issues with your first boot, software installations, maintenance, and much more.
Everything is explained in as straightforward a manner as humanly possible so that nobody gets left behind at any stage, even if you have zero prior experience with computers and never even seen inside a computer before. Funny enough, the aim when I first wrote The Gaming Build Blueprint (now in its third edition which was released last year but still applies to 2019) was to allow even your Pentium-4-wielding Grandma to be able to build her own gaming PC with ease should she one day wake up with a sudden urge to join the Master Race and starting slaying in Dota or Apex.
"I would like to express my gratitude for the great content included in your guide. I was able to build my first gaming PC, and without your product probably it would have taken me more time. You did a great job."
- Daniel Gallegos, USA
Downloaded the manual and found it helpful? Send in your own testimonial here and we may feature it on this page. Thanks guys.
Hey - better late than never, and don't rule her out winning a pro title someday, as with advancements and breakthroughs in modern medicine and health she could be living to 120. Unlike the majority of other tutorials on building PCs, which often leave out important little details that's crucial to know as a newbie in order to fully grasp and understand the various steps required, The Gaming Build Blueprint covers absolutely everything you'd need to know in the one place to pretty much guarantee you have a smooth, headache-free, successful first PC build.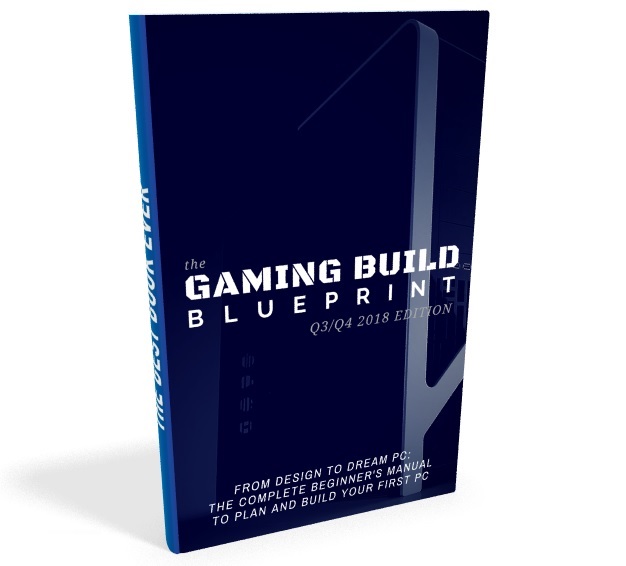 Overcome any fears or concerns you might have about planning, building, troubleshooting, and maintaining your first custom PC with the most comprehensive newbie guide you'll find anywhere
With the manual by your side you will also likely save a whole stack of time having to endlessly research everything you need to know to build your first PC, and having to piece together all the information you need while simultaneously trying to sort through the good, the average, and the tons of straight-up bad (or dangerous) advice out there in the hardware wilderness (not easy to do as a complete beginner).

If you've ever thought about taking the leap into the wonderful world of building and upgrading your own PC, with this manual by your side (either digitally on your computer or printed out to have right next to you) you'll have all the knowledge conveniently in the one place.
It will help you to cut through any excuses or concerns you might have had in the past about building your own PC, so you can finally make your DIY dream a reality and not have to give in to the easier, less advantageous (and less fun) path of buying an average prebuilt PC just because you didn't have the confidence to build your own.
Peak Inside the Manual
(click to zoom)

Included: FREE Access to Future Editions
With your download of the manual (version 3) you'll also get 100% free access to any upcoming new editions (we'll send a notification to your email inbox). Version 4 may be releasing in 2020 or 2021, which would include new photos from a brand new build as well as extra information and tips (and likely more bonus chapters too).
Download Risk-Free (100% Money-Back Guarantee)
A lot went into making the Gaming Build Blueprint the most comprehensive yet easy-to-follow PC building tutorial that you'll find anywhere online, but if after reading you're not 100% satisfied and don't think it's worth a lot more than what you paid - we don't want your money and simply reach out to us within 30 days of purchase and I'll happily refund you.
About the Author
Julz is the creator of BGC and has been an avid PC and console gamer since as long as he can remember. As a teen he got into game programming with C++, OpenGL and DirectX which led to various mini gamedev projects which culminated in the creation of a small multiplayer arena-based FPS game engine he created with a friend in high school. That led to a strong interest in graphics/hardware technology and tinkering with PCs, and one day he had an idea for a more accessible, beginner-friendly DIY resource as most info online seemed quite complicated for newbies. Learn more here.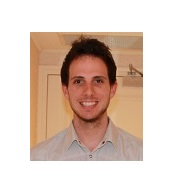 Begin Your Journey to a Smooth First Build
Get immediate access to The Gaming Build Blueprint and learn every single step you need to plan, build, maintain and fine-tune your first dream custom PC for gaming and/or work - without getting confused, stuck or overwhelmed as you have absolutely all the information you need as a first-timer all in the one handy, simplified-yet-detailed manual. Hope it comes in real handy for your 1st build, and for any future upgrades you make later on when the time comes. Most of all - enjoy.
Price: $7.95 (USD)

Format: PDF Download (Viewable on Any Device)

Current Edition: Version 3
Yoda's Official Review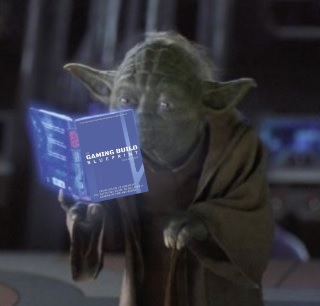 "Be swayed to the PC dark side, you must not be, for that is the path to over-priced, over-bloated, un-optimized CPU-heavy GPU-weak penurious-PSU-filled prebuilt PCs. Build your own PC, you must. Helpful for apprentices, this manual is. A DIY Jedi, you will become. Store this in the Temple files, I will. A joke, this is not."
- Yoda, Coruscant (100% Verified Purchase)