Plan the Best Gaming PC Build Under $600: February 2019 Recommended Mid-Range Build
How to Build the Best Value 1080p Gaming PC Build Under 600 Dollars/Euros/Pounds in the US, Canada, UK or Australia to Get 60FPS on High/Ultra Settings in AAA Games
Last Updated: Feb 5, 2019

CONTENTS
Current Best $600 Gaming PC Build: Recommended February 2019 Parts

CPU: Intel Core i3-8100 3.6GHz Quad Core
CPU Cooler: Stock (included with CPU)
Graphics: EVGA GeForce GTX 1060 3GB SC
Motherboard: 

Gigabyte B360M DS3H (mATX)
RAM: Corsair Vengeance LPX 2x4GB 2400MHz
HDD: Western Digital 1TB (7200RPM)
Power Supply:

EVGA 450 BT 80+ Bronze
Case: Corsair 100R Mid-Tower Windowed
Mid-Range Gaming PC Build: Overview
Building on our 500 dollar budget gaming PC build, the following mid-range build is similar but steps things up where it matters most as a gamer and includes a faster processor and graphics card to crank out more frames in 1080p and allow you to run higher graphics settings.
When building a gaming PC under 600 dollars/euros/pounds (higher for Australia or Canada though) you can assemble a formidable 1080p gaming computer build with a well-balanced pairing of the i3 8100 and GTX 1060 which provides enough processing power and graphical grunt to achieve a solid 60FPS across the spectrum of current AAA titles on high/ultra settings (depending on the game).
In other words, if you're sticking to 1080p gaming (and 60-75Hz monitors), this type of custom PC build really is all the power you need, and spending more would only be practical if you want to absolutely guarantee 60FPS at all times on ultra settings in the most demanding games (or you have the money to spend on a more future-proofed system).

As with all our custom computer build examples, you'll be hard-pressed finding a pre-built gaming desktop computer with the same gaming power, component quality plus reliability, and overall build flexibility as this $600 custom parts list.
In fact, we can safely say it's pretty much impossible to find a new off-the-shelf system that contains the very capable i3-8100 gaming CPU and mighty mid-range 1060 video card for only 600 US dollars - not to mention the solid lineup of quality supporting components (motherboard, PSU, case, RAM, SSD and HDD).
Let's tone down the excitement for now and get real practical with the full details of this killer mid-range build, and then if you find it's the type of rig you want and need you can crank that excitement right back up and get ready for excellent 1080p gaming for the next few years.
As with all our suggested PC builds, you can use these parts exactly as they are or as a base for your ongoing hardware research, but whatever you do just always remember to do your compatibility checks when mixing and matching components around.
See Also: 1080p Ultra 60FPS Build Under $800 (for flawless 1080p/decent 1440p)
Parts-List for US, Canada, UK & Australia

Best Gaming PC Build Under 600 Dollars, Euros or Pounds


Check Price
Graphics Card
EVGA GeForce GTX 1060 3GB SC (Single Fan)
&nbsp&nbsp

&nbsp&nbsp
CPU
Intel Core i3 8100 (8th Gen, 3.60 GHz, Quad Core)
&nbsp&nbsp

&nbsp&nbsp
CPU Cooler
Stock (comes with CPU)
Motherboard
Gigabyte B360M DS3H (Micro ATX, USB 3.1, 4xDDR4 Slots)
&nbsp&nbsp

&nbsp&nbsp
RAM
Corsair Vengeance LPX 8GB (DDR4, 2 x 4GB, 2400 MHz)
&nbsp&nbsp

&nbsp&nbsp
SSD (main drive)
Kingston A400 240GB (2.5", SATA 3)
&nbsp&nbsp

&nbsp&nbsp
HDD (secondary drive)
Western Digital Blue 1TB (7200 RPM, 64MB Cache)
&nbsp&nbsp

&nbsp&nbsp
Power Supply
EVGA 450 BT (450 Watts, 80 Plus Bronze, Non Modular)
&nbsp&nbsp

&nbsp&nbsp
Case
Corsair Carbide 100R Mid Tower Windowed Edition (mITX/mATX/ATX)
&nbsp&nbsp

&nbsp&nbsp

Estimated Total:


$590 - $610 (US Dollars)





(Orders Parts on Amazon, Our #1 Recommended Store. For US Readers Only)



Notable Build Features


Estimated Wattage (Power Draw)
47W - 210W
RAM Slots
4 (2 slots free)
Max RAM Support
64GB
CPU Overclockable?
No
Built-in WiFi?
No (buy internal or external PCI/USB adaptor)
Hard Drives Supported
6x SATA Drives, 1x m.2 SSD
VR-Ready?
Yes (an entry-level VR PC build though)
Front Panel USB Ports
2 x USB 3.0
Optical Drive Support?
Yes (2 x 5.25" Drive Bays)
Multi-Monitor Support
Yes
Case Fan Options
Supports Upto 5 Fans.
Front: 2 x 120mm/140mm.
Top: 2 x 120mm
Rear: 1 x 120mm (included)

Case Dimensions

18.5 x 7.9 x 16.9 inches
Maximum CPU Cooler Height
150mm
Maximum Video Card Length
414mm
AMD CrossFire Support
Yes (not recommended)
NVidia SLI Support
No
Full Motherboard & Case Specs
Gigabyte B360M DS3H | Corsair 100R
Side Note for Builders Outside USA
Building the $600 Gaming PC for Australia, UK or Canada? 
The parts-list above is primarily based on the US market, but will also usually be the exact same parts we recommend for these countries too (hardware is an international game).
We do tweak our selections for each individual country though, in order to help you get the best value for your particular location - if one of our main component recommendations listed above is either overpriced or unavailable in Canada, UK, or Australia, we'll substitute it for another more suitable, bang for buck model for that country (that's still 100% compatible).
PS: We're based in Perth Australia, so in the odd chance you live there AND also want someone to build your PC for you, feel free to ask us and if we're not too busy we should be able to do it for you for less than your local store ('cause I enjoy it).
Performance & 1080p Ultra Benchmarks
Below are aggregated benchmarks based on extensive analysis of multiple online benchmark sources to estimate what FPS you can expect from the $600 gaming PC build in various AAA titles on maximum/ultra settings in full HD (1080p) resolution.


Estimated Frame Rate for 1080p ULTRA

(i3-8100, GTX 1060 3GB, 2x4GB DDR4 2400MHz)


GAME
AVERAGE FPS
Fortnite
80 - 100 FPS

PUBG
50 - 65 FPS
Overwatch
100 - 120 FPS
CSGO
190 - 210 FPS
DOTA 2
120 - 140 FPS
League of Legends
100 - 120 FPS
GTA V
60 - 80 FPS
AS Origins
50 - 60 FPS
Battlefield 1
75 - 90 FPS
Battlefield 5
50 - 60 FPS
COD WW2
80 - 95 FPS
SW Battlefront 2
80 - 90 FPS
Witcher 3
50 - 60 FPS
Far Cry 5
50 - 60 FPS
Performance Overview by Resolution:
1080p (1920 x 1080):

1440p (2560 x 1440):

VR and 4K:

GREAT!

GOOD/AVERAGE

AVERAGE/POOR

Green = 40FPS and Over (Smooth)
Orange = Under 40FPS (A Little Stutter/Lag)
Red = Under 30FPS (Quite Noticeable Stutter/Lag)
How We Calculate Average FPS & A Disclaimer

The average frame rate ratings for this custom build are an aggregated estimation based on careful cross-check analysis of multiple benchmark data from trusted sources around the web. Simply put, we've done the extensive performance research on this parts-list for you to save time, but we encourage you to not just take our numbers for granted and to always do your own research.
However, we do everything we can to make these as accurate as possible, please note there's no guarantee you'll get this exact average as there are different factors that could affect your frame rate such as other hardware differences, software differences (OS, drivers, game patches/versions, etc), cooling/airflow of your build, enabled game features/settings such as Anti-Aliasing, different RAM setups you might be using, and so on.
Also keep in mind these are averages, meaning that in the most action-packed scenes the frame-rate will go lower. For example, if we list the Witcher 3 average as 50-60FPS, your FPS may drop to 30-40FPS in the most intense scenes, so take that into account in your build planning.
We always err on the conservative side with our numbers though, so we'll round things down if we need to instead of rounding up, so you can rest assured our averages are pretty safe bets in terms of what performance you can expect from a PC build like this.
Confused About Frame Rates & Game Settings?
What's the Best Frame Rate for PC Gaming?
What's the Best Settings? Is Ultra Worth It?
Hardware Component Breakdown
Best $600 Gaming PC Build: Recommended CPU and Motherboard
Let's begin our breakdown of the current best gaming PC build under $600 with the brains of your system, and as of right now the Intel Core i3-8100 is clearly one of the best budget gaming CPUs around, and when paired with a decent graphics card is all you need for flawless 1080p performance. Pound for pound it's hard to beat in terms of frames per dollar and will not bottleneck a semi-powerful graphics card like the GTX 1060 no matter what anyone says. You could even pair this processor with a fairly mighty GTX 1070 just fine.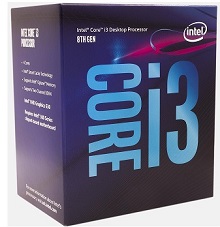 Hard to beat a Core i3 in terms of pure gaming bang for the buck when building a budget/mid-range 1080p gaming PC
That's assuming you're playing on a standard 60Hz gaming monitor though, as you'll need a stronger CPU to reach super-high above-normal frame-rate counts for high refresh rate monitors such as 144Hz, but for most gamers who are trying to be cost-effective, an i3 will serve you well.
The suggested motherboard for the $600 mid-range PC build is the same Gigabyte board included in the $500 budget PC build so see that breakdown for why we've picked it. To summarize, it's a decent board at a decent price that's all you need for a standard value for money gaming computer of this nature. 
As with most modern motherboards, it doesn't come with built-in WiFi so if you want wireless capability for online gaming or general internet (although we suggest wired internet for the fastest, most reliable online gaming experience) you'll need to buy either a PCI/PCI-E wireless card or get a USB WiFi dongle. See our builds FAQ for details and recommendations on these.
Best $600 Gaming PC Build: Recommended Graphics Card
For a mid-range graphics card for 1080p gaming in the $180-$220 mark, which is a good amount to spend on your GPU for a build like this to maximize gaming performance, your best bets are either the NVidia GTX 1060 3GB or the AMD RX 570 4GB/8GB. Personally I'd opt for the 1060 3GB over the 570 4GB, as quite a lot of our readers will be building a PC to play the current massive hits Fortnite or PUBG, and NVidia performs better in those titles, especially if you find the 1060 3GB at a good price of around $190-$200.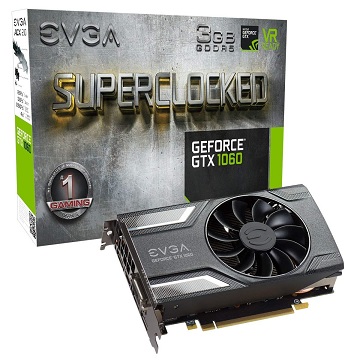 A GTX 1060 3GB is plenty of firepower to get a flawless 60FPS in 1080p in most games on high/ultra, and will do for a while to come
But in truth it's a really close call because at the time of writing this you can find RX 570 cards for significantly less than the 1060 3GB, which a few months ago was not something you could really do because of the GPU price hike situation. But now that graphics card pricing is back to normality at long last (phew, thank god), the playing field is well and truly open and if you find a good deal on an RX 570 4GB/8GB, I'd lean towards that when building a 600 dollar gaming rig.

In terms of actual performance data between the GTX 1060 3GB and RX 570 4GB, it's neck and neck with some games performing better on the 1060, and vice versa for the 570. Overall though, the 1060 3GB slightly wins overall. Check out this benchmark for which games will run better on each card if you care about small differences in frame rates, which actually can make the difference between playable and annoyingly-unplayable performance.
For example, 35 FPS makes a fairly big difference over say, 25 FPS, which is too low a FPS to play comfortably for most gamers. And 45FPS is quite a fair bit smoother than 35FPS. As an example, generally speaking you'll get better performance in Counter Strike with an AMD Radeon, as explained our guide to building the best CSGO PC, whereas if you'd rather optimize your new setup for better Fortnite or PUBG performance, you're best off sticking with NVidia as previously mentioned.

For a mid-range 1080 gaming PC build, the 3GB 1060 is also arguably the better bang for your buck compared to the 6GB 1060. The 6GB models are typically around 50 dollars more, but that jump in price doesn't justify the slight 5-15% boost in frame rate you'll get. That's assuming you're sticking to 1080p though, as in 1440p it's a slightly different story as the 6GB 1060 will give you slightly bigger FPS gains (around ~ 15-20%) in that resolution compared to the 3GB. But if you have more to spend than $200 and under for a 1060 3GB or 570 4/8GB, and the GTX 1070 is out of your league, then do consider the next tier up in the 1060 6GB or RX 580.
Is 3GB-4GB of VRAM Enough in 2019?
As for video memory (VRAM that is, not to be confused with RAM), is 3GB or 4GB really enough for 2019 and beyond? It's a fair question, as the truth is that even in 1080p (still easily the most common PC gaming resolution) a handful of demanding games are starting to eat up these amounts of VRAM, and having 3-4GB in those very demanding VRAM-sucking titles can limit performance a little. However, the good news is that in most games 3-4GB of video memory in 2019 is actually still enough and won't limit you assuming you're sticking to 1080p.
Single vs Dual Fan GTX 1060?
As for the whole single vs dual fan debate, for a standard gaming computer build like this either a mini (single fan) or a dual fan variant is going to be just fine. The 1060 doesn't use much power and won't produce much heat, so the slight added cooling of dual fans isn't necessary, but a nice touch to have if you find a suitably-priced dual-fan model like the Asus 1030 3GB mentioned below which also looks awesome with its white theme. But the only reason you'd need to ensure to get a dual fan 1060 is if your build is struggling for cooling such as if your rig lives in a really hot room and climate, you have poor case airflow, or if a particular single fan model is overly loud, etc.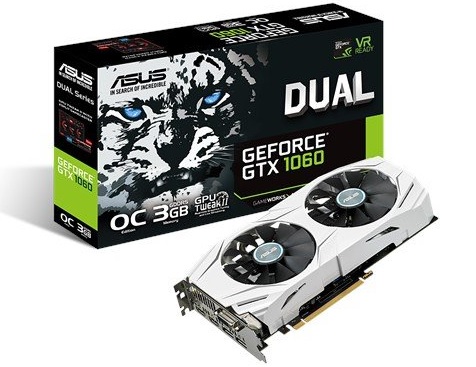 If you can find this Asus dual fan white edition of the 1060 3GB for around the same price as a single fan model then I'd buy this instead
There are also versions of the 1060 that are factory overclocked, denoted "SC" or "OC" in the model number which stand for Super Clocked and Over Clocked respectively, which means they run a little faster out of the box. The model we've included in this mid-range setup is infact a SC model because it's currently at a better price than the non-overclocked standard model. But the difference in gaming performance between overclocked and standard models is quite minimal and so it's not going to make a huge difference (2-5 frames here or there, 10 if you're lucky). Meaning, there's no need to get a SC/OC edition of a graphics card unless you find it at a good price like we have this at the time of writing.
Good Alternative GPUs:
Asus GeForce GTX 1060 3GB (dual fan model)
Gigabyte Aorus RX 570 4GB
MSI RX 570 8GB



Best $600 Gaming PC Build: Recommended Memory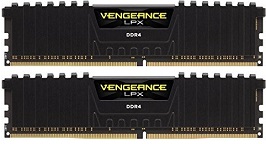 As mentioned in all our other PC builds on a budget, 8GB is the sweet spot for budget gaming these days (meaning: best overall value for budget/mid-range setups) and all you need for decent 1080p gaming now and into the near future. 16GB is just not cost-effective when planning a gaming PC build under $600 or so, and we'd only recommended investing in 16 gigs if you're putting together a more expensive rig 1000 bucks and above or so.
Dual channel RAM, meaning getting 2 x 4GB instead of 1 x 8GB, is the better option as they'll run a little faster and is what we've done here for this setup, although it's not as important when compared to choosing RAM for an integrated GPU build like our 400 dollar AMD gaming build (integrated AMD CPU/GPU combos love fast, dual-channel RAM).
Also, the motherboard for this setup has a total of 4 RAM slots, which is good for a budget board like this, so you have the room to upgrade to another 8GB later on to make the ideal gaming total of 16GB (in a perfect world where money's no issue). Also, 2400Mhz, which is the speed of these sticks, is all you can use with this build as the core i3-8100 only supports a max speed of 2400Mhz believe it or not. So if you got faster RAM than 2400Mhz (which isn't necessary at all for gaming anyway unless you're using an integrated APU/iGPU as mentioned before) you'd just be wasting money unless you want to overclock that RAM which isn't recommended.
Best $600 Gaming PC Build: Recommended HDD + SSD
In terms of storage for a mid-range build like this, at this budget you can and should consider a small or medium SSD as you can get a decent Kingston 240GB model for hardly much money and it will really speed up Windows 10 and the small handful of your most frequently used programs that you can also fit on it. Solid state drives are a fair bit faster than traditional hard drives, so they're recommended for your most crucial applications to load as fast as possible.
Then we've got the same 1TB hard drive which stays from most our other builds as it's a great value pick from ever-reliable Western Digital. A value for money HDD and SSD combination like this gives you the best of both worlds, with a super fast main system drive and a large secondary drive to store all your other stuff.
Best $600 Gaming PC Build: Recommended PSU and Case
We include the same well-priced, decent EVGA PSU from all our budget builds because even for this $600 parts-list 450 watts is more than enough, even taking into account common future upgrades you may wish to make. Feel free to get a 500 or 550 watt unit if you're planning to do extensive upgrades later on, but for most gamers 450 will actually serve you well. Many first-time builders overestimate how much power you actually need for a computer build, but as you'll see from the specs cheatsheet above the maximum power draw of this setup won't go too much higher than 200 watts so you have a lot of flexibility with 450 watts. NVidia cards in the mid-range use less power than their AMD competition.
Now to the case for the $600 mid-range gaming build to house your precious parts for years to come, and the Corsair 100R is an excellent value mid-range tower that's hard to fault for around 50 dollars. It's got a basic yet good-looking clean design that isn't all in your face, but you can definitely spruce it up if you like with some LED additions (lighting strip or using LED case fans which we'll get to below). It does have a nice see-through side panel window to see your finished build in action. The 100R replaces our previously recommended Spec02, which is now discounted as far as we know, although it's still available on Newegg at the time of writing so feel free to use that instead for this build as it's also great value.
Case Fans for Corsair 100R
The 100R only comes with one case fan though - a 120mm fan pre-installed in the back - so the question you're likely asking in your mind is whether or not you need another fan or two (or 3 or 4 or 5 - the 100R supports up to 5). For this type of gaming PC build, I would go for 2-3 fans in total, so that means buying 2 more fans.
You could actually get away with the one lone fan that the case comes with, but cooling and airflow would not be optimal and I wouldn't recommend it to keep your rig running long and strong. But feel free to try it out with just the one fan if your rig is going to live in a cool room, and then you can monitor temps and decide if you want more fans.
Only reasons you'd need to get more than 3 fans for this setup is if you're kitting out more high-end components, if you live in an usually hot climate, if you're doing some extensive overclocking, or for aesthetic purposes should you want to get a full set of LED fans for maximum lighting effects (not everyone's cup of tea though).
So yeah, for most people, I'd suggest getting 2 extra fans. Corsair's own AF120 ones are a good value choice. They aren't silent but fairly quiet overall, and you have a choice between LED or non LED ones. If you get LED ones, use them as intake fans for maximum lighting effect or as exhaust fans instead for a softer effect. Lastly, you also have the option of getting the "Silent" version of the 100R, which is only a tad more expensive but comes with 2 pre-installed fans instead of the standard edition's 1 fan.
Recommended OS & Accessories
Recommended OS
As with all our builds, 64 bit Windows 10 is what we recommend for the $600 gaming PC build unless you have a good reason to get another operating system like Linux or an older Windows. You have a few options with buying and installing Windows 10 for your new setup:
Option C: Buy Windows from Microsoft and download it to an existing computer/laptop, then put it on a flash drive, then use that flash drive when booting up your PC. 
Recommended Optical Drive
Optical drives are totally optional components these days when building a PC, as not everyone has a need to play or burn CDs and DVDs due to everything being done online these days, but if you want to buy an optical drive for your build anyway then go ahead as the Corsair 100R case included in this mid-range build comes with 2 available 5.25" optical drive bays (though keep in mind the Spec04, our recommended alternative case pick, does NOT have room for an optical drive). This is the value for the money drive we'd get:
Recommended Mid-Range 60Hz or 144Hz Monitor
This build is for 1080p gaming, and so if you're buying a new screen you're going to need a 1080p model (1980 x 1080 pixels). As for which refresh rate to get for gaming with this type gaming computer, we recommend a standard 60Hz or 75Hz monitor to most people as it's the cheapest option. Higher refresh rate displays such as 144Hz are not just more expensive screens to buy, but will require more powerful hardware to take advantage of, as getting up and around 144FPS is no easy task even in 1080p resolution.
Although you could indeed get a 144Hz screen for the mid-range PC build if you wanted to, as you don't need to get 144FPS for a more smooth experience - even if you reach 100FPS, you'll still "see" those extra frames and that would mean smoother visuals than say 60FPS which would be the maximum you could see on a 60Hz screen. Plus, you could lower the settings in your games to get higher framer rates up near 100-144FPS if you'd rather have the smoothest experience possible in fast-paced games rather than the highest graphics quality settings.

Furthermore, if you get a 144Hz screen now you can always upgrade your hardware later to take full advantage of those extra Hz in the future. Overall, 60/75Hz vs 144Hz comes down to how much you want to spend on your monitor now, but don't worry if you go for the cheaper option as 60FPS on a decent 60Hz monitor (or 75FPS on 75Hz) is still a very smooth, great experience. Keep in mind the above two monitor recommendations are just 2 good options, but there are tons of good value 1080p monitors on the market (see all our recommended gaming monitors).
Recommended Mid-Range Gaming Peripherals
The following are suggestions for most gamers, but if you have more specific needs and want to pinpoint your peripheral selections more accurately towards your budget and/or needs (eg some mice are better for certain game genres than others) then see our in-depth buying guides on these parts in the main menu of our site.
Building the $600 Mid-Range Computer
That's it for the current best gaming PC build under 600 dollars for February 2019 based on our in-depth monthly analysis of the current hardware market blended with subjective opinion from the perspective of a gamer looking for maximum bang for buck, top component reliability, max cooling/airflow, and last but not least, good old clean aesthetics that would please most gamers.
If you're putting together your first PC, fear not as it's very simple to do these days whether you're putting together a budget gaming system like this one or a more powerful high-end gaming computer, and as cliche as it sounds, if you can build Lego you can easily build a custom computer without problems if you simply follow a step by step article or video (see our gaming PC build guide for first-timers which includes both tutorials). Good luck with your new setup, we hope this helps you to plan and build the best $600 custom gaming PC, and most of all happy gaming.
Comparing Similar Prebuilt Desktops
Whilst we're all about building your own system here at BGC, and wholeheartedly recommend it to all PC gamers even if you're a complete hardware beginner who's a little intimidated as it really is easy to do and hard to mess up these days if you simply follow one instruction at a time, some gamers will still just want to get a pre-assembled PC. And that's okay...we're not snobby know-it-alls, and we won't judge ;-)
Maybe you don't have the time or patience to assemble a PC yourself, and you don't mind spending a little more money as pre-builts are almost always going to be more expensive for the same specs. Whatever your reason, there are some decent prebuilt deals out there from reliable manufacturers, and below are our top picks that are as close to the specs of the $600 custom gaming PC build as possible.
Even if you're set on building your own PC, comparing these prebuilts to the custom parts-list can help clarify the advantages of building a computer 'cause you'll see that it's borderline impossible to find a prebuilt with not only the same gaming power but the same high-quality components across the board (including PSU, case, motherboard, etc). Prebuilt desktops often include cheaper, more stock-standard parts and brands.
Note: A third option you have a gamer besides building your own or buying a prebuilt, is getting a made-to-order PC. In other words, getting a PC builder to build you a customized system. We'd do it for you but we're a busy bunch, so see the good guys over at Xidax which is our current number 1 rated PC builder in the USA for decent-priced, reliable customizable gaming desktops. You can pick the parts and features you want and they'll build it and ship it out to you, with a lifetime limited warranty (the best you'll get in the industry). You can see all our recommended custom gaming computer for the USA here.
SkyTech Shadow Gaming Desktop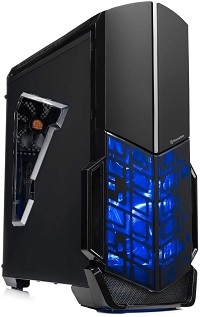 CPU: Ryzen 1200 3.1GHz Quad-Core
GPU: NVidia GeForce GTX 1060 3GB
RAM: 8GB DDR4 2400MHz
Other Parts & Features: 500W 80+ PSU, 1TB HDD, 24X DVD Burner, Wi-Fi, Windows 10 Home 64-bit
Our Thoughts: SkyTech offer decent prices on gaming-focused desktops, at least for a prebuilt that is, and they also tend to use good quality parts for the most part.
This one will have essentially the same performance as our custom build, albet with a tad less FPS due to the marginally slower gaming CPU, but on the plus side it has built-in WiFi and a DVD optical drive included, and Windows 10 pre-installed like all prebuilts.
CYBERPOWERPC Gamer Xtreme VR

CPU: Intel Core i5-8400 2.8GHz 6 Core
GPU: NVidia GeForce GTX 1060 3GB
RAM: 8GB DDR4 2400MHz
Other Parts & Features: 500W 80+ PSU, 120GB SSD, 1TB HDD, Wi-Fi, Windows 10 Home 64-bit
Our Thoughts: Pros include built-in WiFi, a small SSD, a cool looking case, Win 10 pre-installed, included keyboard and mouse, and a better processor than the i3 included in our $600 custom parts-list. Downside is that for around the same gaming performance you're paying $200 - $250 more. CyberPowerPC offer some fair value prebuilts and at the right price this one is worth considering.
They also include "VR" in the model title, but don't be fooled by the marketing as this will indeed run VR, but if you want to play VR for a few years we highly recommend you get a GTX 1070 minimum (see our VR PC hardware guide).
Sources
- GeForce GTX 1060 3GB vs. Radeon RX 570 4GB: 2018 Update
- Intel Core i3-8100 CPU Review
- Corsair Carbide SPEC-04 Review: Fan Placement Testing, Noise, & More
- Intel Core i3-8100 Specifications
- ASUS GeForce GTX 1060 3GB OC Specifications
- EVGA GeForce GTX 1060 3GB Gaming Specifications
- Gigabyte B360M DS3H Specifications
- Corsair Vengeance LPX 2x4GB 2400MHz Specifications
- Western Digital Blue 1TB 7200RPM Desktop Hard Drive Specifications
- EVGA 450 BT 80+ Bronze Power Supply Specifications
- Corsair Carbide Series 100R Mid-Tower Case Specifications

Your Comments/Feedback
Got a question or want to share your thoughts on this guide? We're listening and you can reach us on the platforms below (or feel free to email us). Also, constructive criticism is always appreciated as it helps us continue making BGC the best noob-friendly DIY resource it can be.
Get a Tailored Build

Have more specific wants and needs for your build and want to tap into our build design experience to thoroughly plan the perfect parts-list for your exact situation?
We'll be glad to help: send in your budget, performance aims and any other requirements here in as much detail as possible, then leave a small tip in our tip jar to cover the time necessary to properly do this for you (we'd love to research builds all day for free but BGC would suffer for this as the site requires a 110% workload as-is and that math doesn't add up ;p)
We'll then get to work on your build ASAP and email it within 1-4 business days (depends on our current schedule) including any relevant info on your parts that we think you may need. If instead you simply want us to look-over your parts-list feel free to email us here and we'll gladly give you a few pointers (100% free of course) assuming we're not too crazy-busy.
About the Author
Former hobbyist game programmer turned tech enthusiast, Julz is the founder of BGC and has kept a keen eye on the latest in DIY gaming since starting the site in his spare time over a decade ago as an almost-laughably basic, unimpressive little site with a simple aim to try and make building a PC more accessible to the average gamer since most resources were far from noob friendly.
Over countless reinventions and reiterations to the quality and depth of content over the years, the site has steadily grown into the fairly expansive, comprehensive and constantly-updated PC building resource that it is today, now reaching and helping thousands of gamers and power users each and every month to more effectively plan optimal setups for their exact needs. His fav PC games of all time are HL1, WC3, C&C TS and SWKOTOR (OOT, Perfect Dark, DKC2 & MGS2 for consoles) and he promises never to speak in third-person again. You can learn more about the BGC mission here & how to support it.