Best Mid-Range Gaming PC Build Under/Around $600 for July 2018 (1080p 60FPS Medium)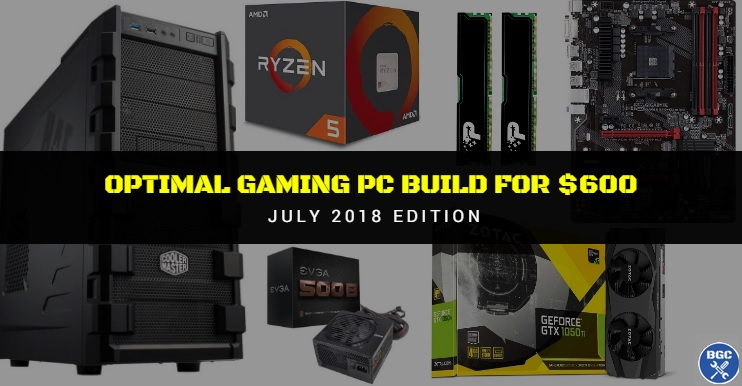 Recommended $600 Rig for Gamers to Maximize Performance, Component Reliability, Cooling, Upgrade Options, & Lastability for the Money in July 2018
Last Updated: July 7, 2018
The aim for this custom gaming computer build is to explain how we would strategically select the current best bang for your buck parts to build the best mid range gaming PC build for under $600 to get generally great 1080p performance in most games including popular current titles like PUBG, Overwatch and Fortnite.
Specifically, this build is aimed for a constant/near-constant 60FPS on medium-high settings in the majority of modern titles. In more optimized titles you'll get 60FPS on ultra/maxed settings.
Even during these annoying times where GPUs prices are slightly inflated due to cryptocurrency mining lowering stock and increasing prices, you'll be hard pressed finding a pre-built gaming PC to buy that has the same gaming and non-gaming power as this custom rig for anywhere close to this sorta price. 
Heck, all of the best cheap gaming PC builds we recommend for this month blow the vast majority of pre-built gaming desktops out of the water not just in terms of gaming performance, but overall reliability as each part is carefully hand-picked for quality as well as overall value.
Let's dive into our current recommended, best mid range gaming PC build under $600 to get 60FPS 1080p medium/high (ultra/maxed in some games), and most importantly a breakdown of why each value for money component was carefully chosen.

Best Gaming PC Build for $600 (July 2018)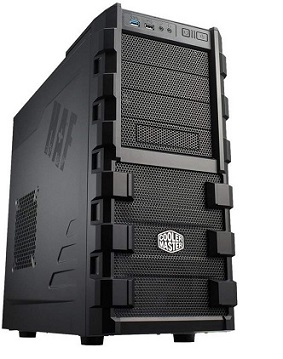 Estimated Gaming Performance:
720p (1280 x 720):

1080p (1920 x 1080):


1440p (2560 x 1440):

VR and 4K:

FLAWLESS


GREAT


AVERAGE

POOR
The above is the average expected performance of this build at different resolutions when playing a typical, graphically-demanding modern PC game on high/ultra/maxed settings.


Note: Keep in mind that hardware prices can fluctuate often, so the current total cost could slightly exceed our target budget of $600 at any given time. To check pricing, click "Build This PC" which conveniently shows all exact current prices for this parts-list on Amazon.
Best $600 PC Build: CPU/Processor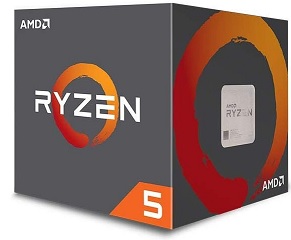 Great bang for your buck gaming CPU in July 2018
As with most of our recommended builds, we'll start with the brains of the build, and for the best gaming PC build under $600 (to get 1080p 60FPS medium), we've opted for the AMD Ryzen 5 1500X which is tough to beat in terms of overall gaming and non-gaming value in this CPU tier.
It's a step up from the i3-8100, another good value gaming option, and has 4 cores and an impressive 8 threads which not only makes it a great bang for your buck gaming chip but a very decent multitasking/productivity processor that'll serve you well for years to come.
It comes with a decent stock fan, the Wraith Spire Cooler, which is good enough for our requirements here. The 1500X has good overclocking potential, and isn't too difficult to do even if you're fairly inexperienced (see our beginner's guide to overclocking AMD CPUs, so if you do want to push this CPU further then don't forget to grab yourself a decent aftermarket heatsink to replace the stock one.

Best $600 Build: Graphics Card/GPU
The NVidia GeForce GTX 1050 Ti is a great bang for your buck video card that will give you very good performance in 1080p/FullHD, and is a no-brainer value pick when building a mid-range gaming computer. Specifically, with a 1050 Ti combined with the solid 1500X processor you can expect a super-smooth 60FPS on medium-high settings in the majority of modern games, and it'll do this for a while to come. In more well-optimized titles, and older games, you'll get 60FPS on max/ultra settings as well. 
You'd only really need to go up a GPU tier, such as spending more on a GTX 1060 instead of a 1050 Ti, if you are picky about getting absolutely flawless performance (ie 60FPS plus) on ultra settings in essentially all games in 1080p. Or, if you want much more playable performance for 1440p and VR (although for a good virtual reality PC build we highly suggest a GTX 1070 minimum).
As for choosing a specific model of the 1050 Ti, which comes in various flavors, it's going to first and foremost come down to price. The low-profile Zotac model we've slotted into this month's $600 build is simply the current best price at the time of writing. Note that it doesn't matter whether you get the low-profile or standard version for this build, but if you're opting for a different, smaller computer case than the Mid-Tower we've included here, then the low-profile card may be necessary for you (although a standard single fan 1050 Ti doesn't take up much room either).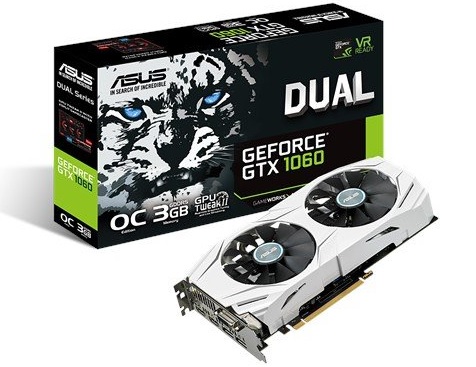 The 1050 Ti: 1080p 60FPS Medium/High in Most Games
There are versions of the 1050 Ti that are factory overclocked, denoted "SC" or "OC" in the model number which stand for Super Clocked and Over Clocked respectively, which means they run a little faster out of the box. But since the difference in gaming performance will be minimal between different versions, I would personally simply get the cheapest 1050 Ti (essentially from any brand) you can find, unless you can find one of the slightly faster OC or SC models at a good price that's not much more than the standard version.
There's also single fan versions vs dual fans; again, it's not going to make a difference for a typical mid range gaming PC setup like this though. The 1050 Ti doesn't use much power (only 75 watts at stock clocks!) and won't produce much heat, so the added cooling of a dual fan isn't necessary so a single fan version is fine. Only reason you'd need to ensure to get a dual fan 1050 Ti is if your build is struggling for cooling or if your rig lives in a really hot room. This recommended $600 gaming PC setup has adequate overall cooling, though.
Best $600 Build: Motherboard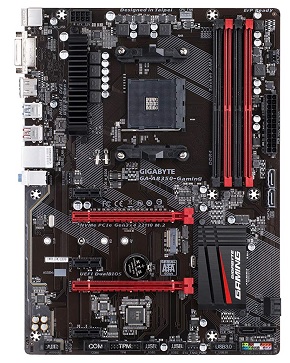 Good-quality Good-Value No-Frills ATX Board. "Nuff Said
For this mid-range 1080p $600 rig you have the Gigabyte GA-AB350-Gaming, a good value for money ATX-sized AM4 motherboard with 4 RAM slots, good expansion options, and a solid set of features.
Gigabyte is a solid, reliable mainboard manufacturer who create good value options, and this one's no exception and all you need for a fairly basic gaming build like this. It's a B350 board too, meaning that it's overclock-friendly should you want to push your Ryzen 1500X past its stock speeds.
The HAF 912 case fits either ATX or mATX boards, so feel free to get either as an ATX board isn't necessary at all as a good mATX board will likely have everything you need for a standard gaming PC anyway.
We picked this ATX version for this month's setup though 'cause it was hardly more expensive than the same model mATX version, and ATX does indeed offer a little more overall flexibility and a bit more features. But as mentioned, for most builders ATX vs mATX is not going to matter much.
As with most modern motherboards, it doesn't come with built-in WiFi so if you want wireless capability for online gaming or general internet (although we suggest wired internet for the fastest, most reliable online gaming experience) you'll need to buy either a PCI/PCI-E wireless card or get a USB WiFi dongle. See our best desktop builds FAQ for details and recommendations on these.
Best $600 Build: RAM/Memory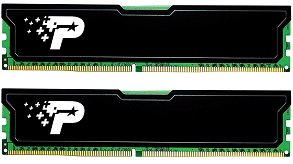 As mentioned in all our other PC builds on a budget, 8GB is the sweet spot for budget gaming these days (meaning: best overall value for budget/mid-range setups) and all you need for decent 1080p gaming now and into the near future. 16GB is just not cost-effective for a $600 machine, and we'd only recommended investing in 16 gigs if you're putting together a more expensive rig around 800/1000 bucks and above.
Dual channel RAM, meaning getting 2 x 4GB instead of 1 x 8GB, is the better option as they'll run a little faster and is what we've done here for this setup. Your motherboard has a total of 4 RAM slots so you have the room to upgrade to another 8GB later on to make the ideal gaming total of 16GB. 

As for which RAM speed to choose, the truth is for a very cost-effective mid-range machine like this, it's not going to matter for gaming performance. Yes, Ryzen does benefit from higher speed sticks, however the difference in pure gaming performance is only noticeable when you have a higher-end graphics card.
With a budget card such as the 1050 Ti, or even the next tier up in the 1060 or 580, RAM speed isn't going to make a difference and is not the best use of your fairly limited budget so you're best off getting the best value for money option whether that's 2133Mhz, 2400Mhz or even 2666Mhz if you can find them at a good price like the Patriot's we have for this build.
So to clarify, spending the extra money on 3000Mhz, 3200Mhz or higher RAM modules isn't the best bang for your buck when using a budget/mid-range GPU, and you're better off using the extra money you would have spend on those faster modules towards something else that will make more of a difference. Check out this video which explains it in more detail with various benchmarks to back it up should you wish to know more:
Best $600 Build: Hard Drive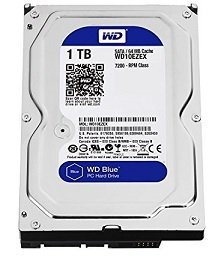 For storage we've included a nicely-sized 1TB hard drive from trusty Western Digital, our number one pick for a reliable drive (followed closely by Seagate so feel free to go them instead). Now, whether or not to include an SSD in a mid range rig around $600 or so is going to come down to personal preference.
We've left one out to focus the budget on gaming performance first and foremost, but since you can pick up a small, entry-level SSD (120GB etc which is enough for your OS and a few programs) for around 50 bucks, consider doing that if you have a little more to throw down than $600. Although remember that this price doesn't include peripherals and your OS, which you'll need if you're not reusing any old accessories that you might have, so factor that into your decision as well. 
This is the last PC build that we don't include/recommend an SSD though, and all our other monthly recommended desktop builds beyond this price-tier include at least a small one.
Best $600 Build: Power Supply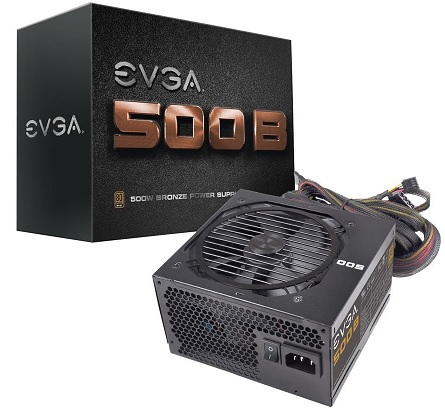 Bang for your buck decent quality/reliability PSU
500 watts is plenty of power for this month's best $600 gaming PC build, with the super-low power requirements of the 1050 Ti graphics card (only 75w) one reason for that, but also 'cause there's no extended fancy features in this typical mid-range gaming rig. Unless you're planning on some out of the norm upgrades later on, this is all the power you need and you still have some extra power for typical upgrades (more RAM, more drives, add-on cards, etc).
EVGA produce great value for money yet decently efficient, high-quality and reliable PSUs these days, and the 500B model, whilst cheap, is good enough and will (fingers crossed) serve this build well for years to come. It's 80 Plus Bronze certified as well, which isn't the only indicator of quality when it comes to buying the right power supply for your PC, but a decent rating to have.
It's not a modular PSU though, which means you can't remove any power cables that you won't need for your build (so you'll have to tuck them away within your case as best you can to avoid negatively impacting your airflow), but the Mid-Tower case selected for this build has plenty of room so it's a non-issue. Feel free to spend extra on a modular PSU if you really want to, though, but it's not necessary and not the best use of your money IMHO for a fairly tight-budget PC like this.
Best $600 Build: Case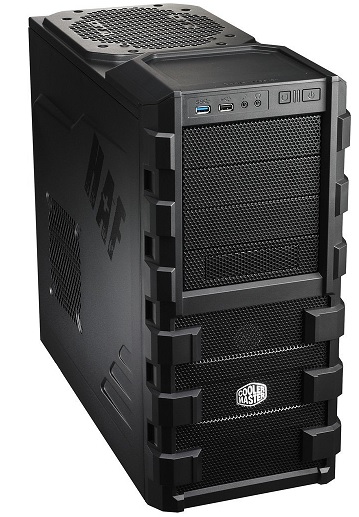 A BGC Favorite
More discerning/time-readers of BGC may remember this chassis as one that we previously included in our monthly builds for a long, long time but we haven't included it for a while into our suggested setups. It's time for a come back tho, and for good reason as in 2018 it still is an amazing value mid-range gaming PC case and we don't use the word 'amazing' too often.
Simply put, if you're building a mid-tier setup and you want a Mid-Tower (meaning not too big and not too small, but just right), give this one serious consideration. Heck, even for a high-end 800-1000 dollar plus setup it'll serve you well.
So what's all the fuss about? Well, it's hard to fault for the very affordable price and comes with everything most custom gamers will need. It's a Mid Tower but comes with plenty of room, so upgrades and expanding this build out over time isn't likely to be an issue unless you're really kitting out something extreme.
One thing that stands out as well is the design, with a bold/aggressive yet clean and crisp look that is pretty universally attractive. It doesn't have a see-through side panel though, so if you're building a work of art that you want to show off, you'll have to look elsewhere (see our next tier build which includes a nice see-through case in a similar price range).
Cooling is good, with decent airflow thanks to the combination of decent space (for a mid-tower) and strategically placed pre-installed fans (comes with a rear 120mm and a front 120mm). It also has 4 more fan locations but whether you need more fans or not will depend on your particular setup: if you're sticking with this recommended gaming PC build for $600, the 2 fans it comes with will suffice unless you live in a real hot location. Overclocking is another reason to up your cooling game/get more fans, so if you plan on pushing your 1500X chip further than stock levels then by all means get an extra 120mm fan or two.
The HAF 212 is also of decent durability and quality, with a hybrid steel and plastic make. You'd think with all the talking up of this case that we work for Cooler Master, but we just really like this one and glad it's back in our monthly build lineup. Highly recommended.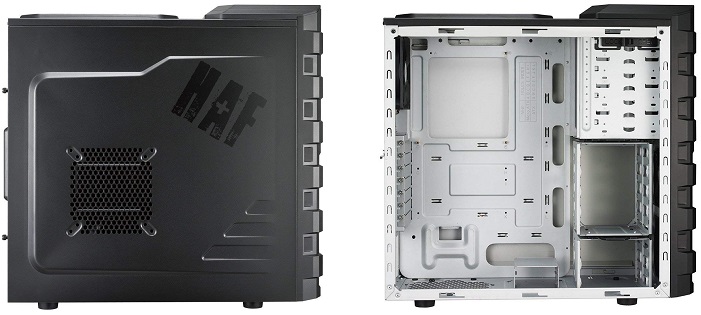 Good quality for the price, solid cooling, fairly spacious and good expansion options, awesome aesthetics that will please most. No see-through side, though.
Recommended Operating System Software
We recommend Windows 10 which you can get in a handy USB/flash-drive version or a disk version if you want to make your own bootable flash drive from that (since this build doesn't have an optical drive as they're totally optional these days). Linux is also an option but we don't recommend it unless you know what you're doing, so if you're a newbie save yourself the headache and stick with Windows.
Recommended Peripherals/Accessories
See our top value for money picks of the best mice, keyboards, screens, headsets, etc, in our peripheral buying guides (see the top menu) should you need to buy these new and you're not reusing old ones. These parts will all come down to personal preference, and of course how much more you have to spend on top of the $600 you're investing to get to that holy 60FPS in 1080p.
Wrapping Up Our Recommended $600 Gaming Rig
Continue Your Build Research
That wraps up the current best mid-range gaming PC build under $600 (IMHO) for 1080p 60FPS on medium/high settings (ultra in some games). See our Gaming Computer Builds Hub/FAQ for all our build tiers and answers to common questions about our monthly-updated recommended PC builds. Also see our individual hardware guides for more detail about picking each component.
Get 1 on 1 Help With Your Build
If you want specific, detailed 1 on 1 help choosing the right parts and accessories for your exact budget (or to get a critique of your parts list) and you don't want to play the waiting game of posting in a forum and praying for an answer (or praying that whoever replies actually know what they're talking about), our premium PC building beginner's eBook comes with unlimited email help and support for 90 days where you can ask us anything and we'll take the time to help you 1 on 1.
Have Us Research the Best Personalized Build for Your Needs
Alternatively, if you want us to plan, research and optimize a fresh new build for you based on your exact wants and needs, we can also research the best specific build for you with our Personalized Parts-List Service. 
Feedback & Comments Are Welcome
Unlike big companies who might not care what you have to say, we're an open book here at BGC and we encourage and take onboard any and all feedback (good, bad, ugly) as it may help us to improve our builds and help the site become the best beginner-friendly hardware resource it can be. Feel free to share your feedback by emailing us or share your thoughts on our Facebook Fanpage.